How 4-Year-Olds Learn Particle Physics
Some say apps that make learning fun are key, but what's lost when all that learning is spent looking at a screen?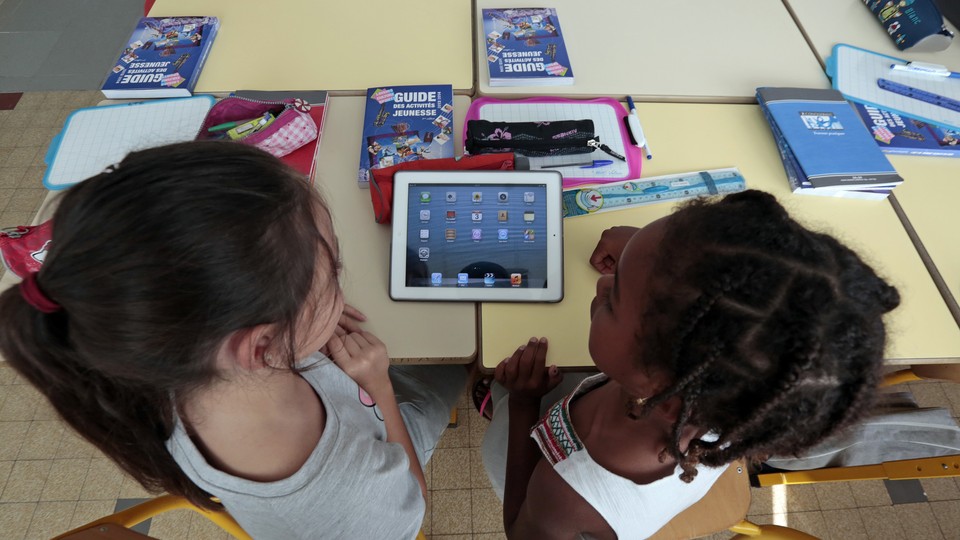 "The game actually doesn't teach you anything," Lauri Järvilehto told me over lunch in Helsinki, Finland. I scratched my head, because Järvilehto, 39, is a co-founder and the CEO of a Finnish education gaming company called Lightneer, which is poised to launch its first app, "Big Bang Legends," in the coming months. I thought "teaching"is what these learning apps are supposed to do.
Järvilehto's road to co-founding Lightneer is as intriguing as his clothing style. (The day we chatted, he wore a black T-shirt with a huge Batman logo, a yellow hooded sweatshirt, yellow sneakers, and an Apple Watch with a yellow band.) At the age of 17, Järvilehto began a 10-year career as a pop-music producer in Finland, but eventually burned out, moved to France, and started reading philosophers like Plato. Then he returned to Helsinki to pursue a master's degree in philosophy (just for fun), after which he received a Ph.D., got hired to consult Rovio's video-game franchise Angry Birds on education issues, and eventually wrote a 2014 book called Learning as Fun. Then in October 2015, Järvilehto founded Lightneer with another Rovio alum.
Järvilehto's criticism of today's learning apps is that they tend to focus on drilling content (the work of traditional "teaching"), which makes for pretty boring games. On the other hand, the glaring problem with hit mobile games, such as Candy Crush and Pokémon Go, is that they don't facilitate useful, real-world learning (although they are ridiculously fun to play). Lightneer seeks to address these shortcomings by developing the world's first "mainstream" learning game, through emphasizing fun and embedding meaningful learning. As apparent proof that this strategy works, Järvilehto told me a little story.
The other day he was driving his two sons around town, when he eavesdropped on one of their conversations. "You make atoms out of quarks?" the 4-year-old said to his 7-year-old brother. "No, no, no," the 7-year-old replied, "you don't make atoms out of quarks. You make these protons out of quarks, and then you make atoms out of protons." Järvilehto had allowed his sons to demo Big Bang Legends at home, which led to their backseat discussion. These two boys were beginning to grasp the elementary hierarchy of particle physics, without being "taught."
Big Bang Legends is a role-playing puzzle game, in which the goal is to recreate the universe out of atoms, one by one. Players learn about the periodic table, nuclear fusion, and atomic composition, while battling enemies, collecting quarks, and making protons. In Big Bang Legends, the entire periodic table gets transformed into cute, Pokémon-style characters.
Lightneer recruited one of the world's leading authorities on anti-matter, Rolf Landua (a research physicist at CERN), and Mikko Voutilainen, an associate professor of physics at Helsinki University, to shape the learning inside the game. Big Bang Legends arrives in the United States in 2017. (There's even a children's TV show in the works, too.)
Lightneer doesn't want to compete with schools and teachers. Instead, the startup wants to enhance classroom learning by activating children's interests in (relatively) abstract subjects such as physics and chemistry. Through "stealth learning," Lightneer's games would apparently help children understand a variety of sophisticated concepts through simply playing their fun games. So when a chemistry teacher displays the periodic table, Järvilehto hopes that students in that classroom, who have played Big Bang Legends, will feel a rush of excitement rather than a sense of dread.
I want to believe that a company like Lightneer is going to ultimately improve learning for kids, but I confess that I have my hesitations. The success of mainstream mobile games largely depends on how addictive they are, and while Lightneer's mission of making gaming fun and educational is admirable, I wonder how their efforts might contribute to major problems that already face today's children: internet and videogame addiction.
According to Mobile Gaming 2014, a report by the NPD Group, Americans (two and up) spend more than two hours on mobile gaming every day, which is 57 percent more than 2012. Tweens spend more time per gaming session than any other age group. Lightneer doesn't appear to be shying away from this picture of excessive mobile gaming (in fact, I found a link to this very study on its blog), but it's trying to reframe the issue, suggesting that its games could help addicted gamers learn something meaningful while they play.
Still, from a learning perspective, the consequences of internet and videogame addiction are potentially devastating.
In Finland, the recent results of a longitudinal study published in the Journal of Youth and Adolescence found a link between internet addiction and school burnout. The research involved more than 3,000 Helsinki adolescents from more than 50 schools, between the ages of 12 and 14 and 16 and 18. The study showed that internet addiction, through school burnout, can ultimately lead to depression. Furthermore, boys were more prone to excessive internet use than were girls, a finding that corroborated my own experiences as a teacher at a Helsinki public school.
On my Finnish school's playground, I'd often find clusters of young boys sitting on benches, hunched over their mobile devices playing the hottest mobile games, and in the hallways in between lessons, I'd regularly find teenage boys slouched against the walls with their eyes glued to their smartphone screens. Back then, I had heard that Finland's boys lagged behind girls in academic achievement, but this disparity never sounded surprising, given the significant internet use and mobile gaming I observed among male students. On the 2012 PISA—the high-profile set of standardized international tests for evaluating critical thinking in math, reading, and science—Finnish 15-year-old girls outperformed the boys by a whopping 62 points on the reading test, the largest gap among those countries represented, and twice as much as America's.
Some children and teens who suffer from high videogame-addiction tendencies may be at risk for obesity-related disorders, poor cardio-metabolic health, and sleep deprivation, according to a 2016 study. "It is urgent," said Katherine Morrison, a co-author and an associate professor of pediatrics at McMaster University in Canada, "to target early lifestyle behaviors such as videogame addictive tendencies that could lead to major future health consequences."
By building the world's first mainstream learning game, Lightneer is on an exciting mission to do what no other education gaming company has done before. But at what cost?