From Convict to College Student
California's public universities are starting to embrace a program that helps transition people from prison to campus.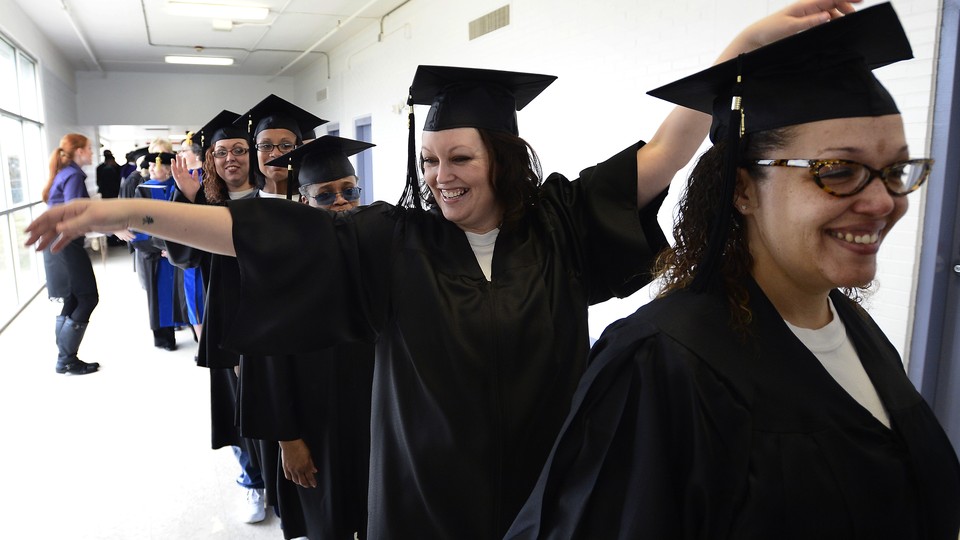 A program at San Francisco State University has quietly been helping former prisoners earn college degrees for decades. Now, it's gaining wider attention as schools around the state begin to look for ways to help formerly incarcerated men and women gain access to higher education.
In 1967, John Irwin, who had been incarcerated before becoming a sociology professor at SF State, launched Project Rebound. The idea was that helping formerly incarcerated people earn degrees would drastically limit the chances that they would end up behind bars again. Nearly 50 years later, that's proven to be the case. In California, more than half of the people released from prison wind up behind bars again. But just 3 percent of Project Rebound students return to prison, according to 2010 figures. Graduation rates for Project Rebound students are high, too; more than 90 percent eventually graduate, while the university's overall graduation rate is closer to 50 percent.
The men and women who participate in the project have "a psychological hardiness," said Jason Bell, the current director, who himself participated in the program before taking the helm in 2005. Bell had struggled through high school. While he did earn a diploma, he never thought he'd "be college material." He didn't know anyone who had pursued postsecondary education, he said. Then, a fight at a barbeque ended badly and he found himself in prison on attempted murder charges. He spent his entire 20s behind bars.
While he was locked up, Bell asked about continuing his education, but discovered the system didn't offer much beyond the high-school level. Eventually, he found a prison-correspondence program through Ohio University, earned about 25 credits, and was able to transfer to SF State after his release. Now, with a bachelor's and a master's under his belt, he's running Project Rebound. "I knew what it did for me, and I didn't want to see it fold," he said, of taking over after Irwin's departure.
Every Project Rebound student's experience is different. There are no required weekly meetings or courses, so it's hard to pin down exactly why students who go through it are so successful. But the gist is that students have support wherever and whenever they need it. Bell and a few others help students as needs arise. They answer letters from people still in prison about how to transfer in. They liaise with the admissions office to help shepherd applicants through the admissions process. (While Bell says Project Rebound students must apply and be admitted like any other student, he works with the school to identify people who may not have traditional resumes but who might be successful students.) They show men who have spent 30 years behind bars how to set up email accounts and submit coursework online. They serve as mentors. They provide food vouchers, transportation stipends, and money for books. Sometimes they help with housing. They keep in touch with alumni who have gone on to launch successful businesses and might be willing to hire other graduates. Mostly, they serve as a constant source of support and a reminder to students that they are capable of success.
On the day I visited Project Rebound's office, Bell was fielding calls from nervous students about required forms and deadlines to select classes. School was starting the following day, and the 30 or so new program participants weren't entirely sure what to expect. Bell answered them all calmly but firmly. No excuses, but no prejudgments or stereotypes either.
"They have a lot to say," Bell said, of the students, who so often were overlooked by counselors and others as teenagers. Grown men have collapsed into tears in his office, he said, when they finally realize they can earn degrees. "They thought something was wrong with them," he said.
Chris Bettinger, an associate professor of sociology at the school who has taught a number of Project Rebound students, said he appreciates the different perspectives the students bring to everything from math exercises to discussions of the works of the economist John Maynard Keynes. "There's a myth that math is about talent," he said. "But it's really about work. Those guys put in the work."
Around 140 students have graduated through Project Rebound since Bell took over in 2005. But those numbers stand to go up because Bell is spearheading a statewide effort to bring similar projects to seven other colleges in the California State University system. Bell has also advised schools like Rutgers University in New Jersey on how to start programs for formerly incarcerated students. The expansion is part of a larger nationwide pledge by colleges across the United States and the Obama administration to reduce barriers to higher education for people with criminal records.
Bell expects the expansion to start small, with just a handful of students at each of the participating campuses, but it's an important step in expanding access to higher education because formerly incarcerated people typically can't just move to San Francisco to enroll in Project Rebound. They are often tied to a certain location as part of their parole. The expansion, according to SF State, will make similar programs accessible to 70 percent of the men and women monitored by California's Department of Corrections and Rehabilitation, which could ultimately help reduce recidivism and give more people a chance to become productive adults.
There have been some growing pains, though. Some schools are nervous that admitting former prisoners who don't necessarily have high GPAs or stellar extracurriculars will damage their reputation. There's a division, Bettinger said, between elite schools and second-tier universities, and he isn't surprised at resistance from elite schools that often pride themselves on exclusivity. Schools may also be worried, he acknowledged, about pushback from parents of young students who are nervous about the prospect of a former felon sitting next to their sons and daughters in class.
But Bell reminds the schools that they've made a commitment to help educate the next generation of leaders. These programs, he points out, make economic sense because people with degrees are more likely to have access to good jobs and less likely to end up back in prison, where, in California, it costs about $47,000 a year to incarcerate an inmate.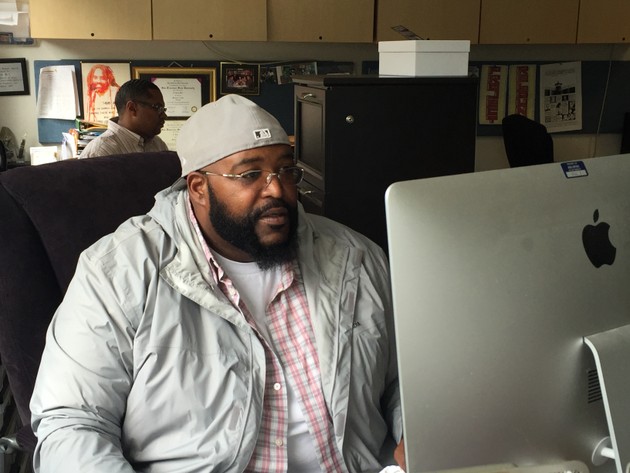 And while SF State says it is supportive of Project Rebound, some of the people who work on the project say there's tension around who should lead it, with some at the university pushing for a tenured academic to run things and give the program more clout, even if that person lacks prison experience. For Joseph Miles, who is finishing up his senior year through the program and also works for Project Rebound responding to letters from prospective students, fielding phone calls, and mentoring students, that doesn't make sense. "There's just no replacing that experience [of incarceration]." Students, he said, need to trust that the people running the program know what they've been through, and it's important for students to see people with similar backgrounds go on to earn degrees and be successful. Miles, who spent time behind bars in his late 20s and early 30s for selling narcotics, said the program worked for him because "there was a camaraderie here." (After my visit, a spokesman for SF State wrote me an email, saying that the school's president "has always believed that the mission and goals of Project Rebound are best served with a leader who was formerly incarcerated.")
Funding is also somewhat tenuous. While Project Rebound gets funding from foundations and from SF State's student government, the student officers change every year, meaning priorities could shift. There is little direct financial assistance from the university itself. The expansion to other schools in California will be funded through a grant from the Opportunity Institute, but it's up to each individual school to keep its program up and running.
Despite any challenges, Bell expects the programs to succeed. Whenever prisoners are offered access to college, he said, "people are lining up around the yard." The opportunity to actually complete a degree after their release is the logical next step. "It's like a new beginning," he said.