The Fine Line Between Safe Space and Segregation
Schools want black students to feel welcome, but sometimes their attempts go awry.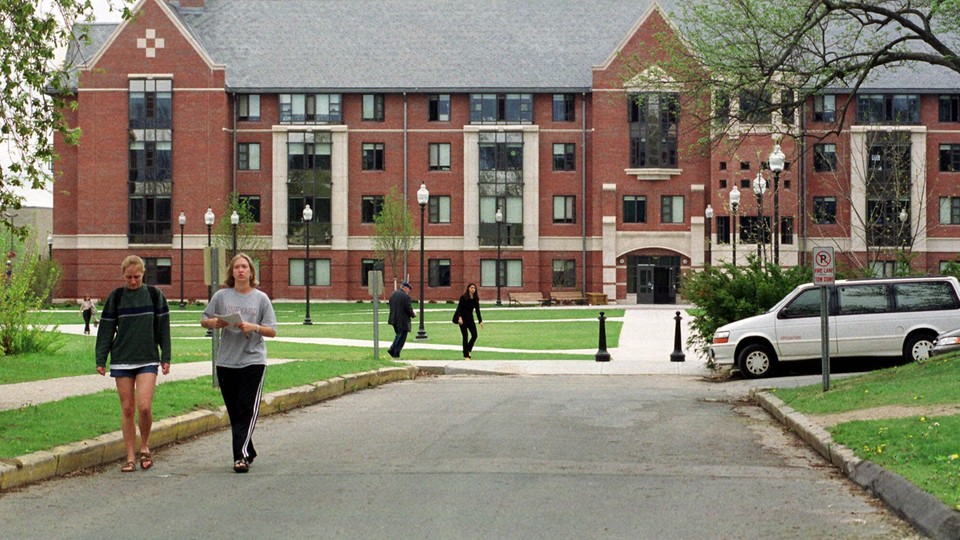 Colleges across the U.S. have been trying to do a better job of making students who have traditionally been underrepresented on campus feel welcome and included. But some of their attempts, however well-intentioned, garner as much ire as support. While many see the creation of safe spaces for black students, LGBT students, and other minorities as a positive step toward helping them navigate campus, others see it as resegregation and a step backward.
Moraine Valley Community College on the outskirts of Chicago recently said it would add several sections specifically for black students to a required introductory course before abruptly walking back that decision. Prior to the decision not to offer the targeted sections, Margaret Lehner, the vice president for institutional advancement, told Inside Higher Ed that the school had found the course, which is intended to help students learn to study and plot career goals, to be especially effective when students of similar backgrounds take it together. She said the school had offered courses in the past specifically for women, for veterans, and for Hispanics, and pointed out that African American students were welcome to sign up for sections that are open to everyone. "We find that these particular courses with these particular groups with our mentoring and peer support help them to be more successful than they would be if they did not have this particular experience," she told the site.
But the course is also intended to help students "develop an appreciation for diversity," according to the class description, and critics raised concerns that in separating students, such courses would promote racial silos instead of fostering interracial dialogue. Even several people interviewed for this story who were sympathetic to the idea questioned the legality and wisdom of implementing it. "I get it, I really do," said Tressie McMillan Cottom, an assistant professor of sociology at Virginia Commonwealth University who has written for The Atlantic. "But it isn't practical. I can't imagine it standing up to criticism. The classroom has to be the space where everybody comes and is uncomfortable. College is about being safely uncomfortable." That means no class nor section is perfect. There is going to be tension. But, she said, schools "can't chase perfect at the expense of a democratic classroom."
For McMillan Cottom, though, being safely uncomfortable in class is entirely different from being safely uncomfortable on campus. Which is why she pushes back at the notion that clubs, groups, and even housing geared toward a certain set of students, such as those of a certain race, amounts to resegregation.
Where most universities were designed around the needs and lives of white students, she said, and most white students can—and do—still avoid having uncomfortable conversations about race, black students "are never at a shortage" for uncomfortable racial conversations. In other words, white students can often elect not to engage in such conversations, where black students cannot escape them.
To carve out a safe space on campus where black students can get support from people who look like them and share similar backgrounds may ultimately help these students feel a sense of belonging and safety. These students are not cloistered away, McMillan Cottom pointed out. They still attend classes, eat in dining halls, and go to sporting events that are campus-wide. What white people often mean when they argue that creating such spaces is segregation, McMillan Cottom suggested, is that they also want the ability to self-segregate. The idea that black and white students come to campus with the same needs and concerns and deserve the exact same treatment is a "false equivalence," she said. Black students are far more likely to come from high schools that lack advanced courses, to be low-income, and to be first-generation students from families unfamiliar with the college process.
That's one reason another institution, the University of Connecticut, earlier this year announced a living community specifically for black men. Erik Hines, an assistant professor who was set to serve as a faculty advisor to residents, told The Atlantic at the time that the space was in part an attempt to address the fact that black men graduate from college at a lower rate than many of their peers. While graduation rates for white, Latino, and Asian students, as well as black women, are in the 70s and 80s at the school, graduation rates for black men are in the 50s. The school pointed out that young men of all backgrounds will be permitted to apply to the living community, and that the housing isn't meant to exclude anyone, but to provide a safe space for students who may feel detached from the university community more broadly. The community is an attempt, Hines said, to give black students who may be in majors with just one or two other black students a chance to connect with other people who may feel isolated and may also feel burdened with representing the black community as a whole.
As with the course sections at Moraine Valley, the announcement predictably drew some criticism. "If the University of Connecticut is correct that meaningful interaction among students of different races improves the quality of education for all, it should not be in the business of promoting racially separate learning communities," wrote Gail Heriot and Peter Kirsanow, two of the members of the United States Commission on Civil Rights, in a letter to the Department of Education.
It's easy enough to dismiss some of the criticism (calls for a Caucasian student center, for instance) as out-of-touch. White men have had the longest and broadest access to higher education in the United States no matter how you slice a demographic breakdown. They have not been subjected to the same systematic exclusion as black students (Princeton largely didn't admit black students until around World War II, for instance), and they are not asked to attend lectures in buildings named in honor of men who enslaved their ancestors. They're also far more likely to gain legacy admission and earn merit scholarships.
And having a safe space on campus to come together with people from similar backgrounds who may have experienced similar racism or microaggressions could provide the type of supportive environment these students need to graduate, particularly if they feel silenced or not validated elsewhere on campus. "It is not unrealistic, not alarmist" to suggest that some students are afraid of traditional college dorm living, and feeling physically and emotionally safe is an important part of academic success, McMillan Cottom said. A black student isn't going to be able to focus on calculus if he thinks his roommate is a racist. A gay student isn't going to feel safe if she thinks her roommate is a bigot. As Eddie Comeaux, an associate professor of higher education at the University of California-Riverside's Graduate School of Education said, "If students feel like they have a space for learning and peers around them they can open up to and exchange and engage in ideas with … certainly there's something positive to that."
Yet, there are more nuanced concerns, too. Michael A. Olivas, the acting president of University of Houston Downtown, expressed worries to Inside Higher Ed before the idea was scrapped that the separate course sections at Moraine Valley might create easy targets for disillusioned white students. And there are other underrepresented student groups, Native Americans, for instance, who wondered why there's no course or space targeted at them.
McMillan Cottom acknowledged that challenge and said she tries to keep her own classes as inclusive as possible. But she, Comeaux, and Patricia Matthew, an associate professor at Montclair State University in New Jersey, worry that instructors sometimes throw around a term like "people of color" in an attempt to be inclusive without actually acknowledging that not all minority students have the same or even similar experiences on campus. "Institutions have to think about how they describe and frame things," Matthew said.
That thought process is clearly a complicated one, and not something all schools are willing to undertake at all. Even McMillan Cottom and Matthew, who have both studied race and campus extensively, take somewhat different views about when a school is fostering safe space and when it may have overstepped.
Matthew is not surprised by the pushback to the Moraine Valley course sections geared toward black students and thinks schools need to consider the broader contexts and communities in which they operate. Yet she was open to the idea that the sections might have been limited enough in time and scope that there would have been other opportunities for broader dialogue and that the sections might have helped students, particularly at a community college like Moraine Valley, transition into a campus culture unlike anything they've experienced before. She also appreciates that the school apparently intially reached the decision to offer the course sections after consulting students and research on the subject. Her main concern was that the way the courses were presented and discussed could reduce students to one thing (their race, for instance) and promote the idea that all black students need exactly the same things, when, in reality, black students, like white or Asian or Latino students, have vastly different lives. Concordia University St. Paul, she noted, seemed to be caught off-guard by resistance to a letter that initially seemed to suggest all minority students were required to attend a special orientation. The school eventually said the letter was intended to inform students about a meeting where they could learn about minority student groups and tailored support services, but the fact that they framed the meeting as mandatory created disillusionment among some students.
To that end, schools who are serious about creating safe spaces and fostering conversations around diversity need to give faculty the appropriate training and tools, and "they need to recognize that it's labor," Matthew said, and not some side project a black professor on campus is expected to undertake. Comeaux agrees. "It can't just magically happen," he said. Instructors have to have effective teaching strategies to foster the right climate for productive conversations, even if a class is comprised entirely of African American students. And they need to work in an environment that prizes teaching and not just research that might lead to tenure.
As schools debate how to approach issues about race and diversity on campus, it's worth noting that these safe spaces—which became a popular buzzword amid the student protests that took place in the last year or so—are not new. McMillan Cottom pointed out that as schools became more diverse in the 1970s and '80s, informal black student groups and houses, fraternities and sororities, cropped up (sometimes off campus, sometimes on) and were seen by many as a way to "keep a lid on interracial tension on campus."
Now, she said, as more schools and students move toward what they see as a period of so-called "post-racial dialogue" (a concept she thinks is ridiculous), the idea that different student groups have different experiences is derided. In other words, where 30 years ago, such groups were seen as a response to racism, they are now often seen as racist.
And conversations about race, particularly when it comes to African Americans, seem to touch off a much more vitriolic debate than conversations about gender or class. Sororities and fraternities have long been divided by sex with little pushback, and people are generally in favor of creating supportive systems for poor or first-generation students. But add race and there's pushback and political fallout. That's become especially true as conversations about affirmative action and the Black Lives Matter movement have dominated national discourse in recent months. As Matthew said, "Everything is different post-Ferguson."
There's also the issue of making campuses more broadly welcoming and inclusive. If students feel silenced or marginalized, offering safe space may be an important step, but it doesn't necessarily fix the underlying issue. When schools hire more faculty of color or rework curriculum to feature a diverse array of voices, that's a good step and research suggests that when students interact meaningfully across racial lines, they reap educational benefits. But those cross-racial interactions don't happen inevitably, and positive cross-racial interaction only happens under the right conditions, Comeaux said. Too often, students of color gravitate toward ethnic-studies majors, he added, because they feel a sense of belonging there. How do schools create those experiences across campus? That's one reason he thinks some of these living spaces or courses might make sense as pilot courses from a research standpoint. Nothing is going to work perfectly from the outset, but it's worth trying different approaches to see what helps students feel engaged and like they are contributing to the knowledge pool. "It could be a great learning experience," he said. That is, after all, one of the main points of college.
Adrienne Green and Hayley Glatter contributed reporting.