Chicago's Inescapable Segregation
The racial separation that permeates nearly every aspect of life in the Windy City is inexcusable.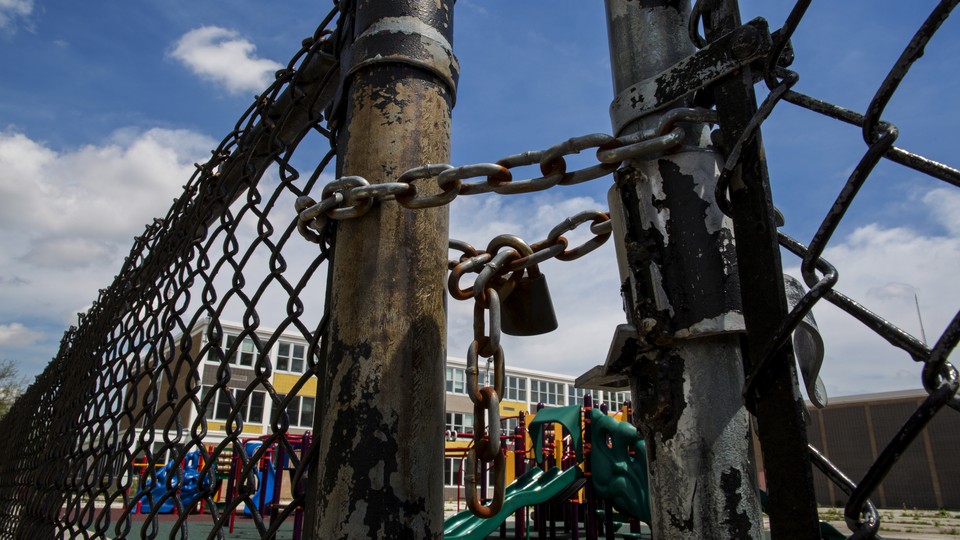 Chicago is a city with a rich black heritage. And the South Side, fondly dubbed the "heart of black America," is where much of the city's cherished history emanates. Comprising a mix of poverty-stricken, working-class, and upper-income black residents, the South Side can lay claim to the country's first black woman senator, the nation's first black president, and various black elites. Chicago also holds the inglorious distinction of being one of the country's most segregated cities. This is also the South Side's legacy—and it encompasses its public schools.

With the return of Chicago public-school students to school just two weeks away, nearly 1,000 teachers and support staff received layoff notices earlier this month. Among the schools hardest hit: the South Side's Bradwell School of Excellence and Harlan Community Academy, an elementary school and high school, respectively, with staff cuts in the double digits. The most recent layoffs continue an alarming pattern of racial inequality that was documented following Chicago's mass school closings in 2013. As reported by The American Prospect, "While black students were 40 percent of Chicago's school district population … they made up 88 percent of those affected by the [public-school] closures."

The stain of segregation bleeds into the most basic elements of black lives—from housing and health to food equality and educational opportunity—and no area exemplifies this like the neighborhoods that make up the South Side of Chicago. Natalie Y. Moore, a South Side native and public-radio journalist who covers the region, explores the systems and sentiments that keep Chicago segregation intact in The South Side: A Portrait of Chicago and American Segregation, a newly published combination of personal memoir and historical narrative. She recently shared some thoughts and reflections on her hometown. The interview that follows has been lightly edited for brevity and clarity.
---
Melinda D. Anderson: In Beverly, a South-Side neighborhood of Chicago, something remarkable was nurtured and grown: The community stands out for its ability to counter white flight in the 1970s and today remains a racially diverse area with some integrated schools—a glaring anomaly in the city of Chicago. Are there lessons to be gleaned from how this community has maintained its racial and ethnic diversity?

Natalie Y. Moore: Integration has to be deliberate and intentional. It doesn't always just happen or maintain itself. One of the culprits [in advancing] integration has historically been the real-estate industry, which encouraged blockbusting and panic peddling. In the 1970s, Beverly leaders fought back through lawsuits and organizing, such as banning for-sale lawn signs in front of houses. Beverly embraced diversity as inevitable and an asset. Diversity is a marketing tool, and the neighborhood tries to prevent having white sections or black sections. The suburb Oak Park [a village adjacent to the west side of Chicago] is another example. In a sea of segregation, there are best practices. Doesn't mean it's a racial utopia or without problems, but these communities are bucking the notion that segregation is inevitable.

We [also] see some integrated neighborhoods, but segregated schools. This is a quandary in Chicago. I see this in Beverly but also in Hyde Park, a diverse neighborhood that's home to the University of Chicago, where I now reside with my family. Both neighborhoods have a number of white families that don't send their children to the neighborhood public schools. Beverly has a number of integrated elementary schools, but the high school is virtually all black. There's local research about the tipping point for white families on residential diversity, e.g., there can't be too many blacks. I haven't seen any research on that tipping point related to schools. But anecdotally, it's evident.
Anderson: The evolution of the black middle class on the South Side is a theme that runs throughout the book. The "privilege and the peril" experienced by this group of black Chicagoans within the context of deeply segregated neighborhoods reveals a complicated and complex history. From your observation, how do race, class, segregation patterns, and educational choices overlap?

Moore: I see a lot of middle-class parents, regardless of race, jockeying for slots in elite public schools. Chicago has created more of them over the years, but the flip side is that neighborhood schools are left behind. This has created a tiered system in Chicago Public Schools. Many schools suffer from double segregation, by both race and income, often in low-income black neighborhoods. I've lived in two black South Side neighborhoods: Chatham, a middle-class community where I grew up, and Bronzeville, [an up-and-coming area], as an adult. In both neighborhoods, many middle-class families didn't or don't send their children to the public elementary and especially not the high schools.

Many times neighborhood public schools don't reflect the surrounding demographics. One of the "perils" of black middle-class neighborhoods is their proximity to poverty and lower-performing schools. We do see that black children—regardless of socioeconomic status—will travel outside of their neighborhoods for school. Chicago has the distinction of having some of the best and worst public schools in the state.

Anderson: The degree to which segregation pervades so many parts of black life is staggering. You profile Chicago's Englewood neighborhood, and the emergence of urban agriculture as a tool to uplift the community, including its schools. Clearly, studies show poor nutrition among schoolchildren is linked to poor school performance. Is tackling the issue of food access showing promising gains?

Moore: Englewood has actually seen a decline over the years in its food-desert status. The neighborhood is at the center of the food-justice movement, and in September, Whole Foods will open a smaller market at a major intersection. Englewood is a community overrun with junk-filled corner stores and fast food. Residents have asked for more hot prepared food, community space, and food education. Urban agriculture, discount grocers, farmers markets, and nutrition education have contributed to the change.
Anderson: A year ago this month, 12 South Side activists—black parents and community leaders—staged a hunger strike to save Dyett High School in the Bronzeville neighborhood. As you chronicle, in 1962 black parents and students staged a sit-in for integration at a South-Side elementary school. Black parents fighting for educational equity in Chicago spans many decades. What is your forecast for black and Latino children in Chicago Public Schools?

Moore: [Currently] the most pressing issue … for many CPS families is the budget and whether teachers will strike. I think [in the long-term] we're going to see a continued decline in overall CPS enrollment and an uptick in white enrollment. But the district will continue to be overwhelmingly black and brown.

Ever since the racial consent decree ended [in 2009, a federal judge lifted a 20-year school desegregation order], white students are overrepresented in the selective [high] schools that require testing. The [feeling] is that the city is pandering to white middle-class parents by continuing to build new schools in white neighborhoods.

Anderson: You note that Chicago officials have labeled segregated schools a problem "too big" to tackle. There is also a school of thought emerging in some education circles that the intractable nature of school segregation makes prioritizing integration akin to chasing the White Rabbit in Alice in Wonderland—unattainable and futile. Your writing underscores the inherent inequality of segregated schools. Talk about your findings, namely the flaws in equating black self-determination with all-black segregated schools.

Moore: Brushing off school integration as unattainable is such a cop out. In the Chicago region, we have been so saturated with segregation that we think it's normal. And to be clear, self-selection is different from segregation. There's also the argument that if the housing is segregated, so goes the schools and nothing can be done.

As the race scholar Gary Orfield [of the Civil Rights Project at UCLA] told me for my book, Chicago lacks imagination. The city is equally black, white, and Latino, so there are opportunities, [including] redrawing school boundaries, creating regional magnets, and staying ahead of changing housing patterns. My WBEZ [public radio] colleagues have diligently reported on how CPS school construction enables race and class segregation. So many missed opportunities and clearly no engagement on integration.