Where Clinton and Trump Stand on Education
The convention dust has settled, and it's back to the chalkboard.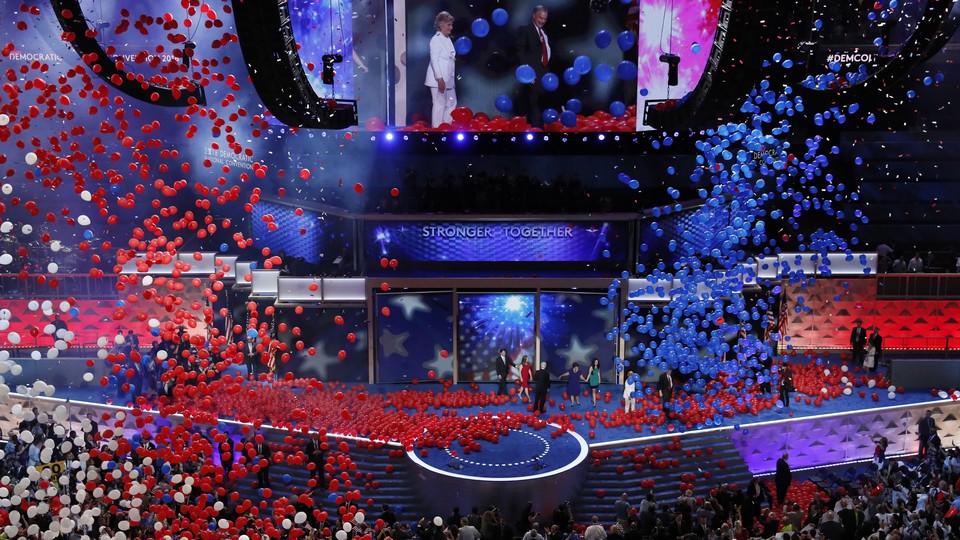 When compared to Donald Trump's single education policy-related sentence in his acceptance speech at the Republican convention, Hillary Clinton's remarks on the subject Thursday night were certainly more extensive, as she sought to emphasize a track record of making schools, teachers, families, and students her political—and personal—priorities.
In accepting the Democratic Party's nomination for president, Clinton touched repeatedly on education, from her work years ago supporting legislation on educating students with disabilities to her recently announced plans to make college "tuition-free" for low- and middle-income families at public universities. She also vowed to work toward a future where "you can get a good job and send your kids to a good school no matter what zip code you live in."
Trump said much less much about education in his Cleveland address, although he did manage to fit a handful of buzzwords into one sentence: "We will rescue kids from failing schools by helping their parents send them to a safe school of their choice," he said.
How the Republican presidential nominee will accomplish this, or what he would use as the barometer for a failing school, isn't clear. His campaign, so far, has been very short on policy details. (In the meantime, the Obama administration continues to work on regulations and guidance to flesh out the Every Student Succeeds Act, the legislative successor to No Child Left Behind.)
The Republican Party's platform is more detailed on education. Politico's Michael Stratford noted that it includes a direct rebuke of a recent White House directive urging states to uphold the civil rights of transgender students. (Republicans said they "salute the several states which have filed suit against it.")
As Dana Goldstein wrote earlier this month for Slate, Hillary Clinton is reshaping the Democratic Party's relationship with the so-called "school-reform" movement:
Following eight years of federally driven closures and turnarounds of schools with low test scores, which have put union jobs at risk, it was music to the [National Education Association's] ears when the presumptive Democratic nominee promised to end "the education wars" and stop focusing only on quote, "failing schools." Let's focus on all our great schools, too.
At the same time, a common thread in media coverage of the National Education Association's recent convention was the overall strong support for Clinton's platform—and the boos that followed her brief, supportive remarks about charter schools.
For an update on where the two presidential candidates stand on education issues, check out Education Week's cheat sheet. To be sure, Trump's education platform hasn't grown much since my Education Writers Association colleague Erik Robelen noted back in May that it could be summed up in 52 seconds.
There are gaps to be filled on the Democratic' side, as well:
Fascinated to know more about what the Education Department will look like under Hillary Clinton... Bill's speech so heavy on her edu record

— Caitlin Emma (@caitlinzemma) July 27, 2016
During her acceptance speech, Clinton reaffirmed her support for "debt-free college," albeit with some caveats. But there is plenty of skepticism as to whether removing the financial burden will actually lead to more students earning degrees, according to Meredith Kolodner of The Hechinger Report. For another perspective, take a listen the interview by NPR's Claudio Sanchez's with college-finance expert Sandy Baum on whether the student loan debt crisis is fact or fiction.
This was an important pivot for Clinton on higher-education policy, and widely viewed as an olive branch extended to Senator Bernie Sanders, who campaigned heavily on this issue—and counted many younger voters among his fiercest supporters in his White House bid. She had previously called Sanders' proposals too expensive to be viable.
Meanwhile, the Clinton campaign so far has been short on policy detail when it comes to K-12 education. (Some suggest this is likely because of the political tensions within the Democratic Party these days on key issues, such as accountability and charter schools.) Even so, during her speech last night, the former secretary of state, first lady, and U.S. senator, hearkened back to her own advocacy in this arena before holding any office.
"I went to work for the Children's Defense Fund, going door-to-door in New Bedford, Massachusetts, on behalf of children with disabilities who were denied the chance to go to school," she said. "It became clear to me that simply caring is not enough. To drive real progress, you have to change both hearts and laws."
It's worth noting that, for the first time, the Democratic Party has made the "school-to-prison pipeline" a platform issue, as the Huffington Post's Rebecca Klein reported. This has become a key issue in conversations about educational equity and concerns about the resegregation of public schools.
It's not just the presidential candidates that are under scrutiny for their education-policy leanings. Vice presidents—and their spouses—can play a role in shaping the White House education agenda.
Current Second Lady—and English professor—Jill Biden has been a vocal advocate of the nation's community colleges. Anne Holton, the wife of this year's Democratic nominee for vice president, Senator Tim Kaine, was Virginia's secretary of education. (She stepped down this month.) As Emma Brown writes for The Washington Post, Holton is a lifelong child-welfare advocate, and a strong influence on her husband. She also wrote an op-ed sharply criticizing the over-testing of students, something that's become a rallying cry for parents, educators and policymakers on both sides of the aisle.
This is not a year to make assumptions about a person's views on education based on their political affiliation. Education Week's Alyson Klein illustrated that fact with a clever quiz for readers: Try and identify the teacher delegate's political affiliation based on quotes from interviews conducted at the two conventions.
Here's one example. Gayle Manning, an Ohio state senator and 40-year teacher, said "we need to realize that kids are coming from broken homes, low-income families, they're not going to do as well on the test as someone else." Would you guess she's a Democrat? Guess again.
---
This article appears courtesy of the Education Writers Association.