When College Students Need Food Pantries More Than Textbooks
Universities are discovering that keeping low-income students in school takes more than financial aid.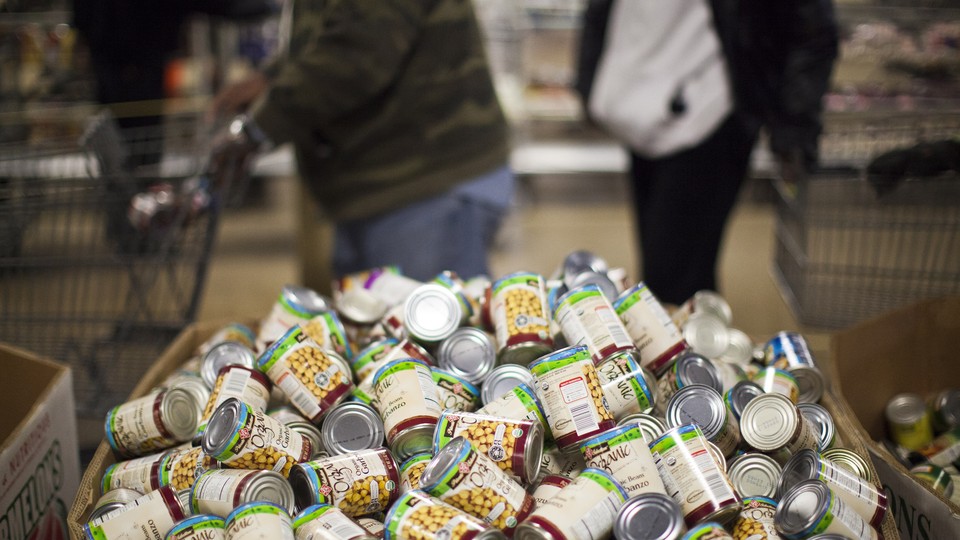 As a more racially and socioeconomically diverse body of students pursues college in the United States, schools find themselves responding to more requests to stock food pantries and hand out vouchers for supplies at campus bookstores.
Universities have different reasons for offering students emergency help when things go wrong unexpectedly. Some of them are humanitarian. But, as a new report from NASPA: Student Affairs Professionals in Higher Education points out, many colleges are creating emergency-aid programs in part to increase graduation rates, particularly among first-generation, low-income students, and students of color, who make up a growing number of college goers but often drop out at higher rates than their white and affluent peers.
NASPA looked at 523 schools across various sectors of the higher-education landscape—public and private, two-year and four-year colleges—surveying vice presidents for student affairs and financial-aid directors. While nearly 75 percent of respondents said their school had some sort of emergency-aid program, most also said that need outpaces resources, and few actually use data to figure out which students are most at risk of quitting, in part because they're already overwhelmed by requests.
The report found that many universities have been offering emergency aid to students at risk of dropping out for financial reasons for years, but often in an ad hoc fashion. Requests for help might be handled by one department on Monday, another department on Thursday. And students usually figure out where to go by asking other students or professors. NASPA attempted to take stock of where these programs exist, how they operate, and, perhaps more importantly, how they might streamline services for students.
Amelia Parnell, one of the authors of the report, said that although emergencies are not new, the cost of education is rising, and calls for certain types of aid, such as food pantries, seem to be increasing. "I don't think we had that type of situation 10 years ago," she said. Only about 60 percent of students who begin college have a degree six years later, but figures are even lower for black and Latino students, who are more likely to be low-income. While some of the attrition is tied to academic issues, a good portion is financial. Where students can apply for aid and scholarships to cover tuition and housing, in the absence of similar assistance to cover unforeseen family emergencies or medical issues, students who don't have savings can be forced to drop out.
In addition to food pantries and vouchers, schools are also turning to completion grants to help students who run out of money and other financial-aid options in their last semester or year of school. A separate study from the Association of Public and Land-Grant Universities (APLU) found that most of the schools it looked at turned to the grants after they noticed rising dropout rates among students close to graduating.
Georgia State University in Atlanta launched a completion-grant program in 2011 after discovering that many seniors needed just a few hundred dollars. Dillard University, a historically black college in New Orleans, created a fund two years ago after the school discovered it was losing more students to financial gaps than academic issues, Marc Barnes, the vice president for institutional advancement, said. Dillard put out a call to alumni and raised several hundred thousand dollars in the first few months, and $1.5 million in the last two years. The school has assisted about 250 students, a sizeable figure considering the entire student body is about 1,200. "It's made a significant difference," Barnes said, adding that retention rates are up several points.
Like Georgia State, Dillard attaches some strings to the aid. The school requires students to be in good academic standing and to take a financial-literacy course. They also have to participate in a university event. The school doesn't advertise the program, but, Barnes said, it's also not a well-kept secret.
Barnes expects need at Dillard to increase because of looming cuts to a Louisiana scholarship that helps thousands of low-income students pay for college. But need could also grow nationally, too. At Dillard, where more than 40 percent of students are first-generation college-goers and some 90 percent rely on financial aid, administrators have been helping students who have financial emergencies for years, offering food and clothes, and even helping homeless students secure housing. Other schools are just learning what it takes to help such students succeed, Barnes said, noting that his school accepts transfer students from colleges they say aren't as receptive to their non-academic needs. "It's a learning curve for both the students and the institutions," he said, adding that Dillard "gets a number of calls" from other colleges considering emergency-aid funds.
The NASPA report notes that several states, including Wisconsin and California, have recently considered allocating emergency-aid funding for colleges. And as more emphasis is placed on graduation rates and loan-repayment rates, more schools may look to such funds to increase retention.
The report offers a series of recommendations for how schools should proceed, including standardizing aid programs to create consistency in terms of who can access aid and how it's distributed, automating aid processing, and using data to evaluate how effective programs are. Barnes said one school she surveyed looked at how students paid tuition; if a student typically paid by check and suddenly switched to credit, the school would reach out to see if the student was struggling. But some schools are reluctant to move that direction. Schools are concerned that clarifying and advertising emergency aid will overwhelm their resources, and others worry about facing increased scrutiny over how they administer emergency aid if programs balloon.
Yet, the APLU noted, "A culture of success means institutions must be willing to find new ways of educating, empowering, and supporting students so they thrive and achieve their goals. In turn, to foster a culture of student success, an institution must also embrace a culture of innovation where it is acceptable to take calculated risks." As Cedric Howard of the University of Washington Tacoma said in the report, "You can't have intervention without promoting and celebrating risk … if you think you're going to be innovative and that you're going to be very risk averse, it's not going to work very well."