The Paradox of New Buildings on Campus
Even as long-neglected maintenance threatens to further escalate the price of higher education, universities continue to borrow and spend record amounts on new buildings.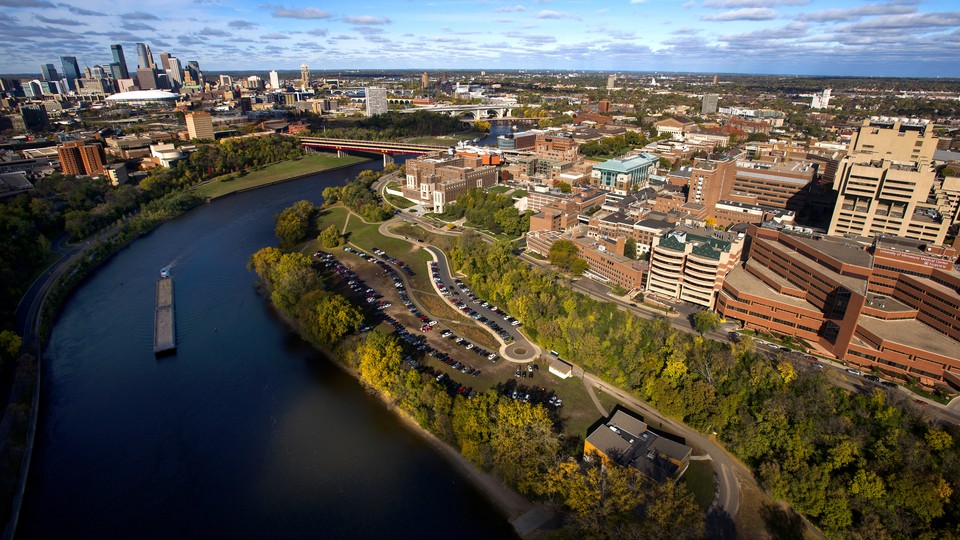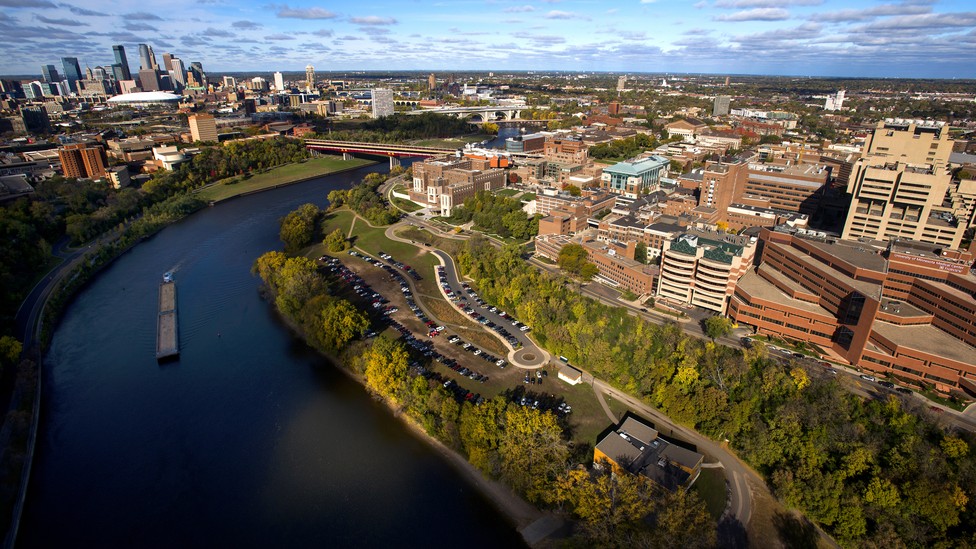 Akerman Hall is a gateway to the complex that houses the University of Minnesota's Department of Mechanical Engineering. But wandering through it is more like an experience in archeology.
First, there's the former airplane hangar, built in 1948 and renovated five years ago with alumni contributions into a state-of-the-art student lounge, faculty office, and lab. Then come drab cinderblock corridors and classrooms that also date from the 1940s and don't look anywhere near as glamorous. Behind them, however, are more than $5 million of unseen upgrades the university was forced to make to elevators, sprinklers, fire alarms, and ventilation systems so old the school was buying replacement parts on eBay.
These hallways lead to another handsomely appointed wing for which a dean scraped up some wealthy donors to make the kinds of improvements that are essential to compete for students in a hot field such as engineering.
But just upstairs from that are offices for English faculty with cracked and peeling window frames, sputtering air conditioners poking through walls, and plywood over some of the glass. This floor is still waiting for a badly needed overhaul—but there isn't any money in the budget.
"You're looking at the 'before,'" said Brian Swanson, the assistant vice president for university services, finance, and strategy.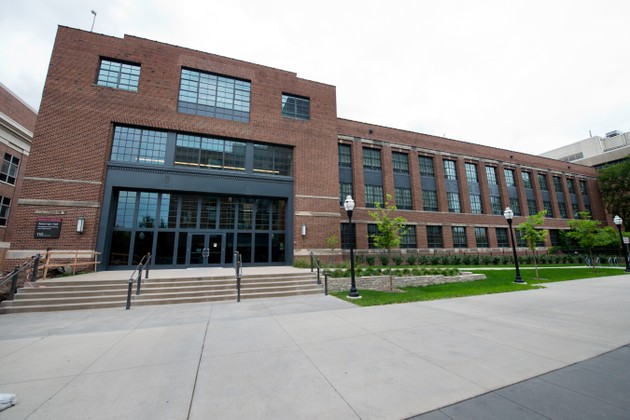 The university says it needs $3.7 billion system-wide over the next decade for further repairs and renovations to buildings like this one. It asked the state legislature this year for permission to issue $236 million worth of bonds, of which $100 million was for critical improvements. It got nothing.
After years of budget cuts and continuing austerity, universities and colleges collectively face a shortfall of a record $30 billion for what they variously call "deferred maintenance" or "deferred renewal" to deteriorating buildings and other infrastructure, according to an estimate by the national association representing facilities officers.
The problem is compounded by the fact that they nonetheless continue to build more—spending a record $11.5 billion last year—in the hope of attracting students at a time when enrollment is leveling off or falling. That's further straining maintenance resources and adding billions of dollars of debt for which someone has to pay the interest.
All of this complicates even the most innovative attempts to reduce the price of college. Along with pension liabilities and the bill for health-care they provide for their retired employees, it means colleges and universities face even higher, not lower, costs to do business.
"It's an endless game of chasing your tail," Swanson said. "Every year we lose ground and costs increase. And if we don't get the money from the legislature, the only other place we have to get it is tuition."
Some universities are already adding "capital renewal fees" to students' bills to help them pay for renovations and improvements.
The backlog of maintenance has only grown since the economic downturn. It's up 18 percent since 2007 at private, nonprofit campuses and 22 percent at public universities and colleges, according to Sightlines, a higher-education-facilities consulting firm. Nearly four out of five leaders of community colleges nationwide surveyed by the Education Policy Center at the University of Alabama called money for facilities "a major need."
"It's no surprise that since the Great Recession there is now pent-up demand," said Peter Strazdas, the associate vice president for facilities management at Western Michigan University and board president of APPA, formerly the Association of Physical Plant Administrators.
States are collectively spending 17 percent less on public higher education, when adjusted for inflation, than they did before the downturn, the Center on Budget and Policy Priorities reports. This comes at exactly the time when a huge proportion of campus buildings have reached the point when they need major repairs and renovation. Forty percent were constructed—many of them not particularly well—during an enrollment spike between 1960 and 1975, according to the Sightlines survey.
Still, in spite of their financial woes, universities and colleges spent $11.5 billion last year on construction, an all-time high, according to Dodge Data & Analytics, a private company that tracks this. Some of that was for renovations, but it also paid for 21 million square feet of more new space.
"It's easier to get somebody to build a brand-new building," Swanson said. "Nobody's going to say, 'I am going to donate to replace the roof. I am going to donate to replace the boiler.' Nobody funds that stuff."
While much attention has been focused on escalating student-loan debt, this building boom has helped to more than double public-university and community-college debt since before the recession to $151 billion, research by the Center for Studies in Higher Education at the University of California, Berkeley, found. Private colleges and universities have $95 billion worth of debt.
That's partly because borrowing is one of the dwindling ways they can pay for new facilities, said Charlie Eaton, the coauthor of the Berkeley study.
"It's not fair to say that this was just recklessness on the part of university administrators," Eaton said. "They didn't have many great options as state funding was withdrawn, so they tried this avenue. But in the long run, it's not the right way to go."
The Sightlines report agreed. It said small, less-selective colleges in particular borrowed to build or renovate facilities they hoped would lure more students, but the strategy hasn't worked, leaving those institutions with more debt and fewer students to pay for it.
The cost of paying interest on that debt, nationwide, has shot from $6 billion a year to $11 billion, the Berkeley research found. That's an expense equivalent to $750 per student at public universities, $1,289 per student at privates, and $390 per student at community colleges.
Faculty on some campuses complain that this is already eating into budgets. The University of Chicago, for example, which is in the midst of a $1.7 billion construction binge, plans to cut $30 million from its operating costs—partly by eliminating jobs. Faculty there blame interest payments that have grown from $84 million in 2011 to $131 million last year on $4.2 billion of debt. Asked about this, the university did not respond.

Other experts say the dual trends of putting up new buildings while putting off repairs to old ones can't help but further increase costs for students and their families.
"It is raising the cost of higher education, unfortunately," said Strazdas, whose university imposes a fee of $45 per academic year on students to help pay for its maintenance backlog.
Other institutions have tried different strategies.
Washington and Lee, a private university in Virginia established with a bequest from George Washington, raised $50 million in a capital campaign to help restore its historic original buildings for the first time since the 1930s, renaming rooms inside for major donors. It also has begun setting aside 15 percent of the cost of new buildings as an endowment to pay for maintenance, a tactic slowly coming into wider use.
"The trend is moving in this direction," said Randolph Hare, the director of maintenance and operations at Washington and Lee. "It sends a signal that we're good stewards of the facility and concerned about the life of that building and maintaining it."
Hare and his counterparts are also less reluctant than they once were to be frank about the state of disrepair into which some of their facilities have fallen.
When one wall of an old athletic center became so unstable that it needed to be braced with iron beams, for instance, he made no attempt to camouflage them; on the contrary, they became part of the argument for a replacement. Swanson, at the University of Minnesota, opened his request for money for repairs by showing legislators photos of a rusted, peeling iconic campus pedestrian bridge.
That university produces an elaborate "facility condition needs index"—a map of its campus, color-coded to depict the state of buildings, bridges, and even parking lots. Yellow, orange, pink, and red mean "fair," "below average," "poor," or "critical," respectively, and there is a surprising amount of those colors, even after $362 million worth of spending since 2010.
That's simply a way to show such things can no longer be put off, Swanson said.
"It's big dollars, but at some point you've just got to do it," he said. "It's like your house. You can go out and clean out the gutters every year but at some point you're going to have to replace the roof."
---
This post appears courtesy of The Hechinger Report.