New York City's Great Middle-School Divide
How a series of choices has deepened the segregation of Brooklyn's schools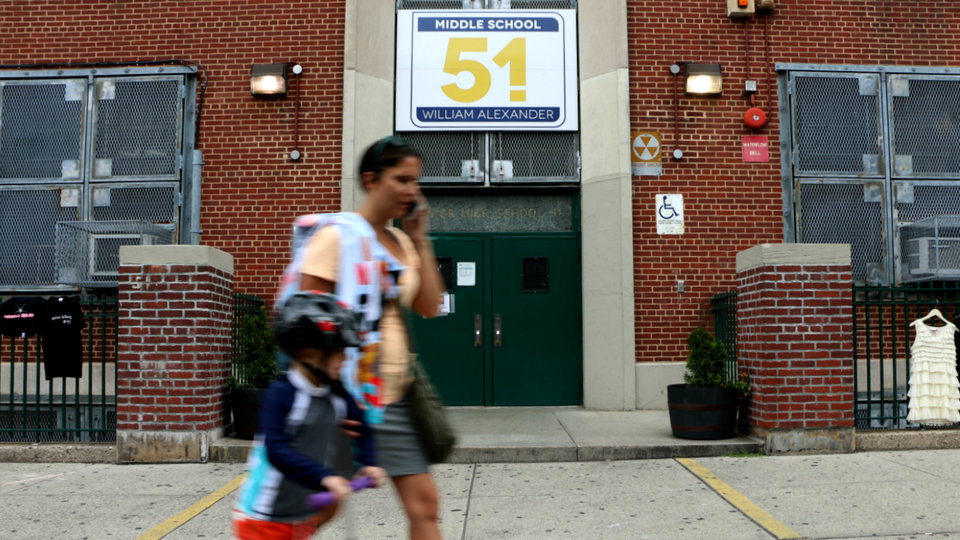 In leafy, liberal Park Slope and the Brooklyn neighborhoods nearby, many parents divide the local middle schools into two tiers: the "Big Three" and the rest.
First among the Big Three is M.S. 51 on Park Slope's bustling Fifth Avenue. One of a dozen middle schools that families can choose from if they live within a four-mile-long stretch of west Brooklyn known as District 15, M.S. 51 is where Mayor Bill de Blasio sent his children and where students find a well-traveled path to the city's most elite public high schools.
Next on the Big Three list are M.S. 447, a Boerum Hill school that specializes in math and science, and New Voices School of Academic and Creative Arts, a performing-arts school in Sunset Park.
In theory, any student who lives in District 15's borders—which include not only the well-heeled Park Slope and Carroll Gardens neighborhoods, but also working-class Red Hook and Sunset Park—can attend the Big Three. In practice, the schools are dominated by a subset of families: At the Big Three, over 50 percent of students are white, and less than 30 percent come from low-income families. At the other nine middle schools, just 10 percent of students are white, and more than 80 percent are poor.
That divide highlights a harsh truth about the sources of school segregation in New York City.
Many people, including Mayor de Blasio, point to segregated neighborhoods as the cause of separate schools. In fact, many of the city's school zones and districts encompass a mix of families. And by opening up every school to any family in a district, "school choice" systems like the one in District 15 offer a golden opportunity to override divided neighborhoods and make schools integrated.
Instead, district parents, schools, and officials have made choices that reinforce segregation.
* * *
In the whiter, wealthier northern half of District 15, competition is fierce for a seat at a Big Three school.
"You have to battle for your so-called 'choice,'" said Antonia Martinelli, a Gowanus parent and blogger who put M.S. 51 and 447 at the top of her son's application. Otherwise, "there's a fear that your child won't get into a good enough high school."
Some parents pay a private consultant $400 for a two-hour consultation about the district's admission process. Others rely on their social circles. Because parents believe that attending one of the school tours will increase their odds of admission, many wait at their computers for the exact moment when online registration begins. The spots are usually snatched up within hours.
"It's almost a full-time job," said Rhonda Keyser, whose child attends M.S. 51.
But ultimately, the competition is within a narrow group of parents.
Eight of the district's 25 elementary schools send half or more of their students to one of the Big Three, according to city data. Those elementary schools are on average 64 percent white and just 17 percent low-income. Districtwide, 31 percent of students are white and 65 percent are considered poor.
Monica Kipiniak's son attends the School for International Studies, one of several district and charter schools where families who did not make it into the Big Three are starting to venture. She said the fight for Big Three seats favors wealthier parents with the time and ability to navigate the process and to ensure their students are strong academically.
"There's no question," she said, "that for many reasons, kids who come from more affluent families end up going to the more desirable schools."
* * *
Just a few subway stops away, the southern end of District 15 can seem worlds apart from that frenzy.
In Sunset Park, an immigrant-filled neighborhood home to many Hispanic families and its own Chinatown, many parents are daunted by the application process and opt to only apply to local middle schools they know, said Julie Stein Brockway, co-director of the Center for Family Life in Sunset Park.
Still, she said many would consider applying to northern-end schools if they were encouraged to. But even though her social-service agency works with hundreds of local families, she said only charter schools have asked her for help recruiting Sunset Park students—never one of the Big Three.
"I've been at this agency for 34 years and nobody's reached out to me," she said. "It's not like we don't have access to families—we could certainly be helpful."
Even when schools in the northern end have been invited to meet with Sunset Park families, some have declined. Several people at P.S. 172, a high-performing Sunset Park school, said many district middle schools failed to send representatives to an information session for parents that the school hosted last fall.
"There was a lot of disappointment," said Alexa Aviles, P.S. 172's parent-teacher association co-president. "It just begs the question: What's the responsibility of middle schools to do outreach across the district?"
And then there are the "screens"—the criteria that selective schools use to rank applicants.
The Big Three release the factors they consider—class grades, test scores, attendance, behavior marks, interviews, or auditions, depending on the school—but not the cutoff levels for any of those categories. Whether M.S. 51, for instance, only seeks "A" students with sterling attendance records who aced the state exams, or a greater mix, is a secret. The principals of M.S. 51 and New Voices did not respond to interview requests. M.S. 447 Principal Arin Rusch simply said: "It's a ranking system."
Advocates say an even greater problem than their lack of transparency is how the system allows a handful of schools to cream the highest-performing students—which then floods the remaining schools with the neediest ones.
The data show that last year's average incoming student at the Big Three had performed at a level 3.4 out of 4 on the state math exams when they were in fourth grade. By contrast, the average student at the district's other schools entered at a level 2.3, considered below passing.
"We don't think there's any legitimate justification for sorting kids like that," said Reyhan Mehran, a member of a group called District 15 Parents for Middle School Equity. "Clustering children who are high-needs and low-needs into different schools doesn't help anybody."
* * *
In October, District 15 Parents for Middle School Equity distributed paper and online petitions calling for an admissions system "that does not promote sorting and segregating our District's 10-year olds."
The handful of parents at the core of the equity group have surveyed their peers about the current admissions system and given presentations on the segregation they say it leads to. Without endorsing a particular solution, they have said one option is "controlled choice"—a district-wide enrollment system that uses demographic information about families and their school preferences to assign students to schools. The system is typically used to spread poor and affluent students evenly among schools and avoid the type of tiered system like the one in District 15. But even people who are sympathetic to the group's message question whether controlled choice would stand a chance in the district.
Affluent parents buy homes in the high-priced neighborhoods around coveted elementary schools, like P.S. 321, expecting that this will give their child an edge in getting into a Big Three middle school and then a top high school. It's hard to imagine such parents backing a plan that would restrict their access to the Big Three.
"Are they willing to give up their seat in 51 for a child in the southern part of the district?" said Naila Rosario, president of the district's community education council and a parent at P.S. 172. "That has yet to be seen."
If parents strongly oppose a plan like controlled choice, that could doom it. Mayor de Blasio has said the city must respect parents' choice to live near desired schools, and Chancellor Carmen Fariña has said the city should not mandate integration—it must happen "organically." That has left advocates like the parents in District 15's equity group trying to rally enough support for an alternative system to convince the city to act.
City Councilman Brad Lander, who represents the district and whose own children attended M.S. 51, said he wants the district to work toward adopting a controlled-choice system for its middle schools. A plan to move immediately to an integrated system "would have no chance and it would fail," Lander said. "A better approach is something that recognizes the moral urgency of equity, but takes steps to make things better."
And some steps are being taken, including a plan to adopt a new admissions policy at at M.S. 447—one of the Big Three. But even proponents of the school-level changes say they don't go far enough to overcome the district's deep divisions. That, they say, would take a system-wide solution.
"There is nothing 'organic' about school segregation," said Park Slope Collegiate Principal Jill Bloomberg. "If we're serious about undoing it, then we have to make it a policy."
---
This post appears courtesy of Chalkbeat New York.