The E-Reader: The Most Daunting Anthology
What is lost when the vast expanse of the internet's literature is at a student's fingertips?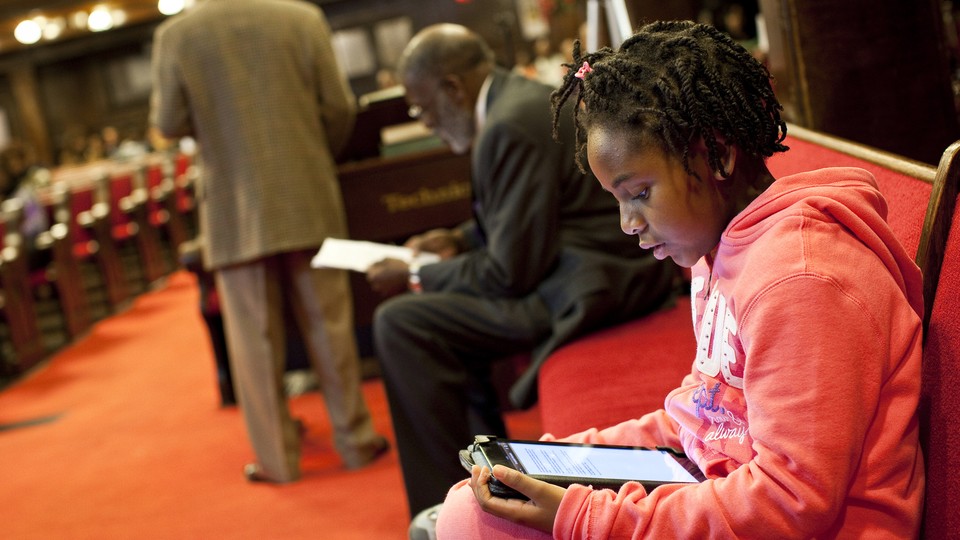 As screens occupy more and more of our mental space, a lot of ink—or screen space, as the case may be—has been spent on the issue of what, if anything, is lost in electing to read on devices rather than on paper. Educators are particularly ambivalent about the issue, rejoicing at the ease and low cost that digital reading presents, while at the same time fearing irreversible damage to the attention spans of developing minds.
Naomi Baron, who wrote a book and collected impressive data samples in favor of print reading, still fears her own lack of objectivity on the issue. "Did I fail to understand that technology marches on? Was I simply unable to adapt?" she writes. While her interviews with university students point to strength in print, the debate between analogue and the inevitable digital is certainly an emotional one in the world of readers. One way of untangling sentiment from measurement is to restage the argument completely in the antiquated realm of paper. I find that the size and shape of printed texts have a lot to tell us about e-readers: Though these devices are small and convenient to carry, they are loaded with weight of information that is hard to shoulder and important to acknowledge.
Recently, The New York Times published a piece on a new marketing approach with which the author James Patterson and publishers are approaching customers: the "Book Shot." These small, paperback, single-sitting books (i.e., novellas) are geared at consumers who normally feel too busy or intimidated by a longer work, but may be willing to make the investment for something short. The Times did a good job of making this move seem pretty sad and cynical, but neglected to acknowledge that little, single-serving books have been a trend in the world of high literature for years now. As much literature has gone digital, a few publishers like Melville House have made it their niche to actively market beautiful paper editions of novellas that have been traditionally printed in large "complete works" collections rather than as standalone volumes. Although they are certainly "book shots," they are perhaps more about book fetishism than book fear.
This brings me to high-school students, the demographic that is most varied in its extremes of book fear and book fetishism. Every year for the last few years, I read George Bernard Shaw's Pygmalion with a few classes of freshman students. The collection of class texts was split pretty evenly between two editions: One set includes Dover Thrift paperbacks (the original high-lit book shot) and the other, thick Signet edition, whose heft is owed to the questionable choice to print the original play and the script of My Fair Lady, a musical based on Pygmalion, in tandem.
Each year, after distributing these sets of books to different classes studying the same curriculum, I would await the inevitable chorus of reaction and analysis. No room of kids was ever neutral about the meaning and the value of these differences. There was a majority who whined when they found that they had been assigned the thicker book and those who put up immediate defense in fear that receiving the thin volume signified that they were members of the "slow class." Kids in both classes felt a mix of advantage and persecution, fluctuating with each other's influence no matter how much I reassured them that the texts were identical. But the kids who were initially proud to have the larger text changed their attitudes as soon as they found the redundancy. They were puzzled that we would not read the complete thing, and frustrated that their text would contain something I deemed unworthy. When the overachievers decided they too wanted the small book, it wasn't to avoid work or heft—the low profile was the equivalent of downloading a distraction-free browser extension.
Though I have no hard measure of which group felt more appreciation for the play, who read more in depth, and who remembered the best what they'd read, the one quantitative fact I know for sure is that over the course of the years, one set disappeared at a much more rapid rate than the other. Though its low profile may have helped it hide in folders and among photocopies bound for the recycling bin, students are usually much less conscientious about returning the books they really enjoyed. The Signet edition, complete with both original "squashed cabbage leaf" Liza Doolittle as well as plucky, singing Liza Doolittle, always made its way back to the bookroom shelf.
Ultimately, more pages come with more responsibility. If the enthusiastic readers in my class felt bogged down by the extra content, imagine them faced with an iPad loaded full of classics. It is good when reading in any format to narrow focus a bit. When at the end of a unit spent memorizing Shakespeare's sonnets I awarded a small volume of all 154 of them to a student who had done an outstanding job, she enthusiastically told me, "I didn't know these poems were a book." I had asked students to choose their poems from a general anthology in the classroom or from online searches, so they had found their sonnets unmoored in greater seas of text. It had not occurred to me that they were missing out on the chance to experience the poems sequestered in a single, cohesive collection. Paper indexes and the great anthology of the internet alike had meddled with the student understanding of context.
A few years ago, I bought from Melville House Publishing a pretty little edition of George Eliot's novella The Lifted Veil, in spite of having a copy of the text already in an anthology of her work. I read the whole entire thing before I realized that it had only been a year since I read the same text as a free download from Project Gutenberg. In repurchasing a third copy the book as a slim little volume, I was subconsciously trying to remove it far as I could from the internet's great, overwhelming library.
The fact of the matter is that now so much of what is written and archived will never again make it to world of physical print. So it is a necessary part of education to learn to read on paper and online, just as at one point in time scholars had to be able to read both codex and scroll. I am sure they had to adjust posture, grip, expectations to accommodate new reading media, and I would not be surprised if all that page turning messed with continuity. People may wax nostalgic about the texture, the weight, the smell of books, but I think the trend of the book shot shows that the manageability and separateness are most important. In the classroom, a lot of reading is about learning how to focus attention and overcome fear of the vastness of written language. That element of conquest never truly leaves the act of reading; it is not just for nostalgia's sake that e-readers come outfitted with bookshelves and page counts.