Where Calculus Class Isn't an Option
Students of color are less likely to have access to advanced courses.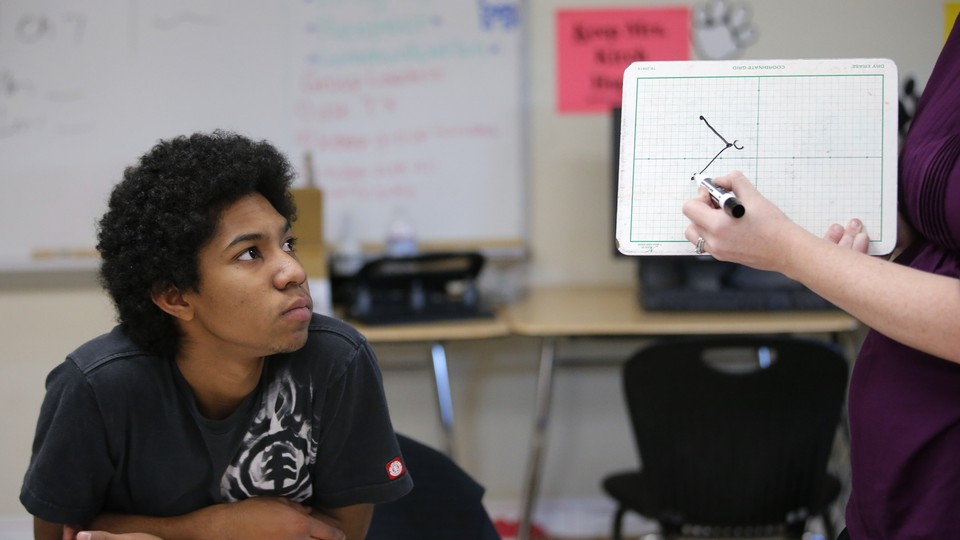 Fewer than half of all high schools in the United States offer calculus—and the kids who don't have access to the math course are disproportionately students of color.
That finding is among the many disparities between white students and their black and Latino peers revealed in a new report from the Education Department's Office for Civil Rights. Published every two years, the latest data provides a look, among other things, at school discipline, where students are repeatedly absent, and where public preschool programs exist. The data covers how more than 50 million students at over 95,500 schools around the country fared during the 2013-14 academic year.
Despite the fact that Latino kids made up a quarter of all public-school students and black children comprised more than 15 percent of students that year, just a third of high schools where at least three-fourths of students were black and Latino offered calculus. Yet 56 percent of high schools where black and Latino kids made up less than a quarter of the student body offered the course.
Children of color are "not getting the same opportunity to learn" as their white classmates, Education Secretary John King said during a call with reporters. When access to advanced classes is unequal, he continued, the country suffers economically because people with lower levels of education tend to earn less and are even more likely to end up in prison. Separate research also suggests that students who take advanced math and science classes are more likely to earn degrees in those fields than kids who do not. That's important because where there isn't a massive need for, say, English majors, engineering and healthcare companies are hiring. So the disparities evident in the high-school years continue to play out in higher education and the workforce more broadly.
Beyond calculus, the report found that high schools with high numbers of black and Latino students were less likely to offer physics, chemistry, and even algebra II. And even in schools where advanced math and science were taught, black and Latino students were concentrated in less rigorous courses. While black and Latino kids made up 36 percent of students in schools where calculus was offered, they only comprised 21 percent of the students in calculus classes. Students who don't speak English fluently made up 5 percent of students at schools who offered the course, but just 1 percent of those who took it.
The one ray of good news, as Catherine Lhamon, the assistant secretary for civil rights, said, is that girls made up 49 percent of the student body and also 49 percent of students enrolled in calculus. But Lhamon called the fact that half of all schools don't offer calculus at all "galling." Black and Latino students were also less likely to be enrolled in gifted-and-talented programs and to take advanced-placement courses that can translate into college credit.
States have some flexibility in what to measure as they consider how they plan to prove to Washington that they are educating all students equally under the country's new education law. While King stopped short of explicitly encouraging states to track access to advanced coursework, he reiterated that it would be an appropriate thing to measure.
Natasha Ushomirsky, the director of K-12 policy at Education Trust, a nonprofit focused on helping low-income students of color succeed, wants to see more districts and schools consider not only access to, but success in, such courses once kids are enrolled. Some states, such as Florida and Indiana, she pointed out, moved that direction years ago, and the new education law may encourage others to follow suit. But, Ushomirsky cautioned, schools will need to look beyond averages at how different subgroups of students are doing. Will it be enough to reduce educational inequities that have long been entrenched? "I think we're absolutely hopeful," she said.
The Education Department points in the report to several Obama-administration efforts to reduce these racial gaps, including a letter outlining how schools and other groups can use federal funds to support STEM education, and a $4 billion proposal by President Obama to expand computer-science education.
Some schools are doing good work at reducing gaps in access to advanced courses already and might serve as a roadmap for others. At Elmont Memorial High School in Elmont, New York, for instance, teachers and administrators disaggregate data by teacher and then have teachers whose students are doing well in particular subjects share "best practices" with other teachers, said Kevin Dougherty, the school's principal. The school also considers the opinions of parents, students, and counselors in deciding which kids are capable of succeeding in an advanced course instead of relying strictly on a list of prerequisites. "The parents and students have a voice," Dougherty said. The school axed a two-year-long geometry course that had been a "dumping ground" for low-achieving students before Dougherty became the head of the school, too. Afterward, the portion of students earning an "advanced" distinction on their diplomas went up.
Yet not all schools are taking such deliberate steps to reduce gaps. "These data should serve as a sobering reality check," King said. While the secretary acknowledged that some groups (Republicans and teachers' unions, for instance) think the department is trying to be too involved in how states interpret the law, he issued a stern warning. "We will not," he said, "compromise away the rights of all students to an excellent education."