When Student Activists Refuse to Talk to Campus Newspapers
With the rise of social media, young people have a mouthpiece of their own and little incentive to help reform an institution they've criticized.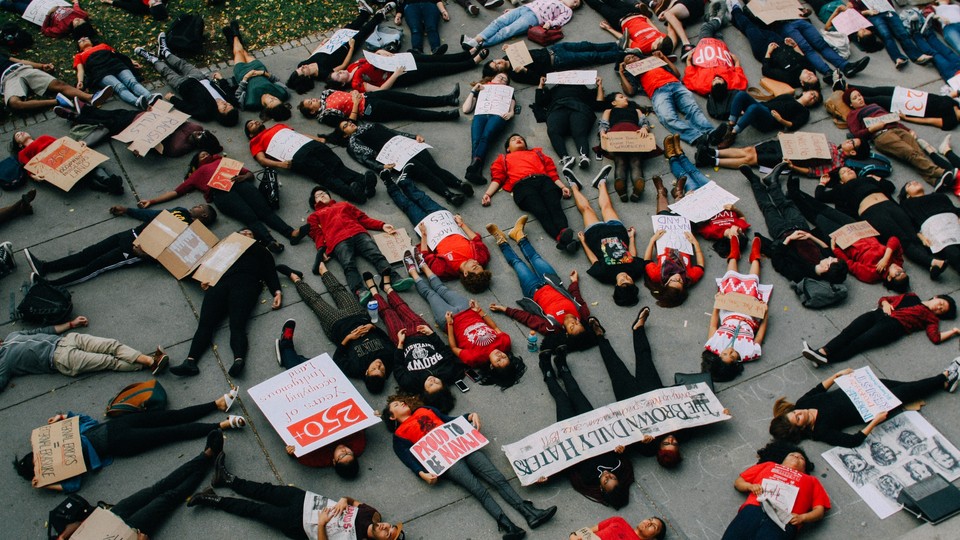 This February, at a conference attended by the editors of 10 college newspapers along the East Coast—myself among them—student journalists recognized a common obstacle plaguing their publications: Student activists would no longer talk with them.
As student activists call for the institutions around them to confront issues of diversity and inclusion, campus newspapers have been critiqued as well. But activists are not just calling for reform—editors of campus papers are struggling to improve their papers alongside student bodies that, in some cases, would like to see student newspapers as an institution disappear.
Students boycotted the Brown Daily Herald (BDH), where I am a news editor, after it published two racist opinion pieces for which it later apologized. Since then, students have used the publication's controversial past as reason to refuse comment and even to remove reporters from campus-wide events. These kinds of conflicts have erupted on campuses across the country. Melissa Click, a former assistant professor at the University of Missouri who was eventually fired, tried to stop a student reporter from covering a campus protest. Student activists at Smith College told student journalists they would be barred from a black-solidarity rally unless they vowed to "participate and articulate their solidarity with black students and students of color." Even a headline can ignite backlash: Yale Daily News (YDN) journalists have struggled to interact with social-justice advocates on campus since the paper ran an article about accusations that a fraternity discriminated against people of color with the headline "SAE denies charges of racism."
Sometimes the confrontations have resulted in long-term consequences. At Wesleyan University, student activists critiqued the student newspaper, the Argus, when they failed to cover a Black Lives Matter protest in the fall, although the paper had not yet begun its print cycle for the year. Later that year, the Argus published a controversial opinion piece that prompted the student government to cut its funding in half.  As the paper attempted to ramp up its coverage of events centering on students of color in response to student demands from early that fall, it was further stonewalled, according to Rebecca Brill, the newspaper's former editor-in-chief. "We were trying to fix this thing that was a valid critique of us," she said, "but the people who were critiquing us weren't letting us talk to them."
Across the country, students have called for meaningful changes within campus publications to support marginalized communities, or even the disbanding of their student newspapers, from colleges like the University of Arizona to Dartmouth. Several editors from publications attending the conference declined to comment for this article, fearing they would jeopardize progress made in working with communities of student activists.
And while certain activists acknowledge their student newspaper's attempts to correct any lapses in coverage, many have still put pressure on student reporters to adapt to their demands. "Until we see a willingness to engage journalism in a much more … social justice-oriented way, it's hard to trust [student newspapers] to protect or be mindful of the issues that we face," said Justice Gaines, a trans student activist at Brown whose activism focuses on issues of race, gender, and sexuality.
But that philosophy creates a catch-22 for editors. "I don't know if it's fair to demand representation ... but then deny the paper that permission by refusing to speak to them," Brill said. "We can't have better representation unless there's cooperation." This cooperation requires the trust of these student sources. Still, for some marginalized students, and particularly students of color, campus newspapers are emblematic of institutional media as a whole—an industry that in their experience has tended to delegitimize their narratives.
Language that student activists say misconstrues their narratives regularly appears in the coverage of campus activism, by both mass media and college newspapers. And according to a 1999 study by the University of Minnesota, such language can delegitimize the arguments of protesters challenging the status quo. Reporters often use terms like "coddled" and "complaining" when describing modern-day student activists who are pushing their universities to address issues of diversity and inclusion. Journalists may not see "that we actually have valid points and things we want to change," said Ivetty Estepan, a student activist at Yale who focuses on issues of racism and marginalization.
Some student activists also view their campus newspaper as symbolic of the university as an institution—whether their paper receives funding from the administration or student government, or is independent, like the BDH and the YDN. "There's this idea that the YDN has been a part of Yale as an institution for … hundreds of years, so how much does that influence it?" Estepan said.
And just like the college administrations that have been critiqued in recent years by student activists, student newspapers lack diversity in their newsrooms. This dearth of diversity is maintained by a vicious cycle; newsrooms bereft of underrepresented minorities may, through their coverage or image, engender backlash from racial-justice activists that in turn can discourage underrepresented students from joining the papers' ranks. A 2007 study of journalists from communities of color working at four large-circulation newspapers showed that a lack of newsroom diversity undermines reporters' ability to represent their communities in their journalism.
This tension is evident in a recent survey from Gallup and two journalism advocacy organizations—the Knight Foundation and the Newseum Institute—of student opinions on First Amendment rights and offensive speech. The study found that people from marginalized groups were more likely to favor limiting free speech on campus, and 44 percent of students believe it is acceptable to restrict the media's access to campus events because the activists want to tell the story themselves on social media. "You lose agency when you tell the media what is going on," Estepan said.
The media's unwillingness to take a stance when reporting on issues of oppression represents a kind of "institutional bias," said Warren Harding, a graduate student at Brown involved in the activism that led to the school's adoption of a $165 million diversity-and-inclusion plan. "Especially when it comes to anti-racism work or anti-oppression work, when a newspaper says they are trying to be objective, that means they are upholding standards that were set against people who have been oppressed," Gaines, the Brown student activist, echoed. Stories that describe the experiences of injustice and violence merit a journalist who will ethically stand in solidarity, Harding argued.
But that, too, raises questions: Which stories would a journalist then choose to slant, and which would they not? At that point, what separates that source from an opinion blog, or social media? Journalists do not claim to be unbiased. We believe that the process of seeking out a variety of perspectives and approaching an article without explicitly including biases leads to a more productive and balanced discussion of the news. "Coming close to objectivity can be enough," Brill, the former Argus editor, said.
Still, about half of the students in the Gallup survey also said that they would be comfortable limiting press access to an event if the reporter was "biased." That worries people like Gene Policinski, the chief operating officer of the Newseum Institute."Simply saying we won't talk to someone because we don't like their viewpoint ultimately constrains your voice," he said.
And that mindset fails to acknowledge that by working with a student journalist, activists' voices can reach much further than through social media alone—campus publications not only serve the student body, but also a wide network of administrators, faculty, and alumni, in addition to the surrounding community. What starts out as a story at a student newspaper is often picked up by national news sources who can feed momentum into activist efforts.
Furthermore, student activists who block journalists find themselves on shaky ground with the First Amendment. Technically, a journalist operating within a newspaper independent from a school has no right of access at a private institution, said Frank LoMonte, the executive director of the Student Press Law Center. But when that journalist is also a student, she has the right to access the same spaces as other students (such as classrooms used for community-wide events). Only the university itself would have the authority to bar a student journalist from an event. But most private universities promise protections in line with those of the First Amendment when it comes to speech in public, said Robert Shibley, the executive director of the Foundation for Individual Rights in Education, or FIRE, which defends free speech and academic freedom on campus. "If a student who's not part of the media could attend … I'd say the argument for keeping the media out is nonexistent," he said.
And whether it's by barring journalists from events or defunding their newspapers, activists are ultimately putting themselves at a disadvantage by attempting to dissolve their student newspapers. Learning how to reform the student press alongside the students working there proves a goal ultimately more beneficial to both parties. Campus newspapers, according to several student journalists, are in a prime position to respond to the demands of their college communities and experiment with the rules of traditional journalism. Operating without the extra weight of bureaucracy felt by larger publications, student newspapers have the opportunity—and even the responsibility—to respond to the concerns of their audiences, Gaines argued.
Often, changes come as a direct response to the actions of student activists, who use their position of power to negotiate terms with student newspapers that they expressly disagree with. In the fall of 2015, the BDH changed its style to accommodate gender-neutral pronouns like xe, xem, and xyr. The change came after Gaines, an oft-quoted source for the BDH, refused to comment again unless the newspaper agreed to change its style. "There's a tension between utilizing the BDH and challenging the BDH," Gaines said. "There's room to use the BDH as a mechanism to change the BDH."
In her time at the Argus, Brill attempted to incorporate input from Wesleyan's community and balance student demands for increased representation of marginalized perspectives with a commitment to ensuring all voices have a platform. This year, the paper created a column called "Voices" reserved for the opinion pieces of marginalized students. Still, though, the defunding of the Argus poses a significant threat to the paper. "They had an opportunity at Wesleyan to … try to make the newspaper better, and instead they tried to destroy it," the SPLC's LoMonte said. "Our belief is that while newspapers are always imperfect, and can always do a better job of serving minority communities, those communities are much better off with a well-funded newspaper than without."