The North Carolina High-Schoolers Fighting Deportation
The detainment of six Central-American youth who came to the U.S. as unaccompanied minors was a policy decision—one that local students, teachers, and activists argued was categorically unfair.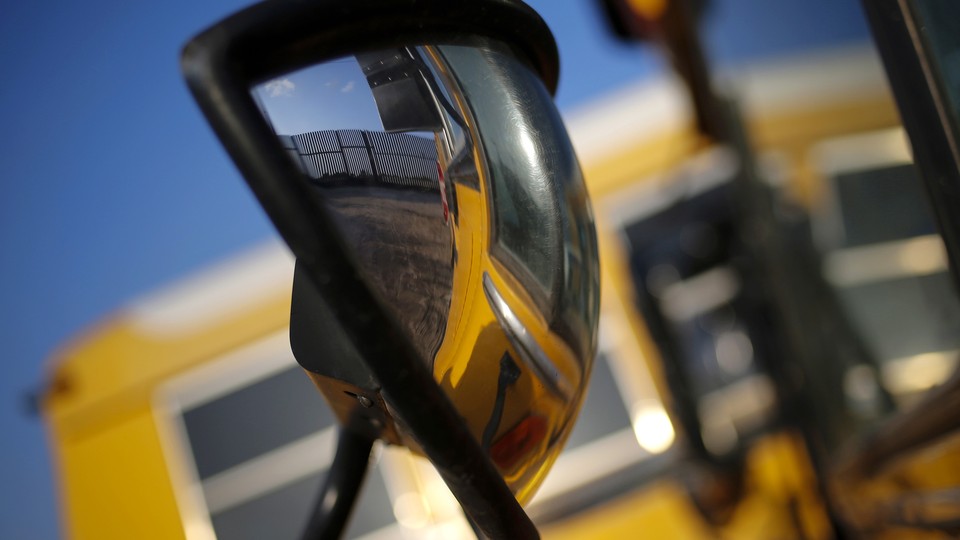 Earlier this week, on June 8, purple-gowned seniors at Riverside High School in Durham, North Carolina, lined up to accept their diplomas as their families looked on with pride. But 19-year-old Wildin David Guillen Acosta wasn't among them.
Acosta wasn't absent because he didn't care enough, or because he didn't make the cut. Acosta missed graduation because he has been locked up in a Georgia jail since January, when Immigration and Customs Enforcement (ICE) arrested him on his way to school. (In fact, Acosta cares about school so much that, even while in prison, he asked his teachers to send him his homework assignments. The detention center denied the request.) In an April letter to lawmakers, reproduced in part below, Acosta writes in Spanish:
I want to complete my dreams of graduating from school, so that my parents will feel proud of me, so that my parents can hear my name [be called] and the director of my school can give me my diploma and tell my parents, here is your son that I am proud of. … I am asking you from the bottom of my heart, please free me.
It's not a legal mistake or a crack in the system that has put Acosta and five other youths from North Carolina who came to America as unaccompanied minors into detention; it's a policy decision—one that activists and community members argue is categorically unfair.
Acosta is among 336 individuals ICE has rounded up since January in ongoing raids as a part of the Department of Homeland Security's Operation Border Guardian. In a March statement, DHS Secretary Jeh Johnson explained the targets for these operations:
The focus of this operation are those who came here illegally as unaccompanied children after January 1, 2014, and are now over 18, have been ordered removed by an immigration court, and have no pending appeal or claim of asylum or other relief. Others who are priorities for removal have been apprehended as part of this operation. When enforcing the immigration laws, our personnel will not, except in emergency circumstances, apprehend an individual at a place of worship, a school, a hospital or doctor's office or other sensitive location.
From the minute they entered the U.S., these Central American youth were pushed through a pipeline designed flush them back out of the country. "The whole system is set up to ensure that these youths fail and inevitably get a deportation order," Julie Mao, an enforcement fellow at the National Immigration Project of the National Lawyers Guild, told CityLab.
First, they were priorities for deportation. (They wouldn't have been had they entered before 2014 under the government's Priority Enforcement Program, unless they'd committed a serious crime.) Then, their asylum cases were processed in states like Georgia, Texas, and North Carolina, where the odds are stacked heavily against those seeking immigration relief. "It's so blatant, particularly in these regions of the country where the courts are hostile to asylum seekers," Mao says.
Take Acosta's journey, for example. He crossed over to the the U.S. as an unaccompanied minor in 2014, hoping to escape gang violence in his home country. He was apprehended at the Texas border. And while his immigration case unfolded in court, he lived with his parents in Durham. In 2015, after Acosta skipped some court appointments on the advice of his attorney, he was ordered deported. Given that almost 80 percent of immigration cases in North Carolina ended in deportation orders in 2015, it's unlikely Acosta would have been allowed to stay even he were present in court. As I've written previously, lack of legal representation is a major reason asylum seekers get deported. Of those from Central America seeking expedited asylum status since 2014 who ended up receiving deportation orders, 86 percent didn't have lawyers. (In Acosta's case, having a lawyer didn't seem to make a difference.)
Starting in January 2016, ICE started rounding up some of the people that immigration judges said should be sent back to their home countries. Acosta was in his driveway, about to leave for school, when ICE agents found him. Of the five other North Carolina teens: Yefri Sorto-Hernandez was at his bus stop in Charlotte; Alexander Josue Soriano-Cortez was woken from sleep and arrested in his home in Thomasville; Pedro Arturo Salmeron was on his way from work; Ingrid Portillo-Hernandez was walking to school with her two younger siblings; and Bilmer Pujoy-Juarez was in his family's car.
They're now all at the same detention center in Georgia. Some, like Acosta, have appeals pending before the Board of Immigration Appeals. But keeping the teenager locked up at a detention center associated with neglect and less-than-humane conditions is further punishment, his advocates say, for pushing back against a rigged legal system.
"It can take months, if not years, for those [legal] processes to be resolved," Julie Mao, told CityLab. "And so it creates this indefinite sentence that these youths are being punished [for]. They're in a state of uncertain, indefinite detention. That is, in my mind, just outrageous."
CityLab reached out to ICE and was told that the release of the detained youth was not currently on the horizon. "As a matter of policy, ICE reviews all cases for potential prosecutorial discretion so these individuals have already had their cases reviewed, and the decision made that holding in custody is the appropriate decision at this time," Bryan Cox, ICE's southern-region communications director told CityLab via email. "Cases are reviewed based upon the totality of the circumstances on a case-by-case basis."
* * *
Eighteen-year-old Salma Villarreal sat quietly at the front of a crowded room in the Rayburn House Office building on Capitol Hill on May 25. She and other students from North Carolina were there for a briefing about the six youth in ICE custody. Villarreal came in from Charlotte, where she went to school with Pedro Arturo Salmeron, one of the detained youths.
"For as long as I can remember, ICE has had a heavy presence in my community," Villarreal said at the briefing, her soft, measured voice picking up emotion. She has seen ICE agents step out of ordinary-looking cars, lurk in grocery stores, and stand at traffic checkpoints in her Latino neighborhood, she says. From time to time, she gets a text informing her that another person has been taken away by these agents. "But this time it's different," she said. "This time, it's really personal."
The raids have done away with any semblance of normalcy in their communities, she and the other students say. After Acosta was picked up, for example, Riverside High in Durham saw a 20 percent drop in attendance. And the anxiety is not just restricted to the immigrants kids at school. "Students, just like me, who have no direct relation with immigration policy, are distracted when their classmates and friends stop showing up to class," Morgan Whithaus, who went to school with Acosta, said at the briefing. "They are distracted as they wonder who will not show up next."
These students, teachers, and activists from North Carolina have been rallying for the release of the "NC6," as they're called on social media. They've seen some victories along the way: The Durham school board and city council have both denounced the raids. ("That created a small sense of safety," says Acosta's teacher Ellen Holmes Brandis.) Their protests also caught the attention of lawmakers in Washington, D.C. In March, Congressman G.K Butterfield of North Carolina pushed ICE to stay Acosta's deportation until his lawyers could file an appeal, and eventually succeeded. (Butterfield recently visited Acosta in detention.) Despite these strides, however, getting these youth released remains an incredible, uphill battle. "The whole universe of accountability has to be moved," Mao, who has been working with the lawyers of the detained youth and with community activists, told CityLab. "The whole system has to be criticized and dismantled in order to get one youth out."
While they fight for his release, Acosta remains in jail with little to do but wait for a decision. One that will determine whether he gets to stay in the U.S. and pursue his dream of becoming an engineer, or go back to the violence in Honduras he tried to escape.
---
This article appears courtesy of CityLab.