The Missing Piece in the Debate Over College Costs
It doesn't matter what the price tag is when the value is good.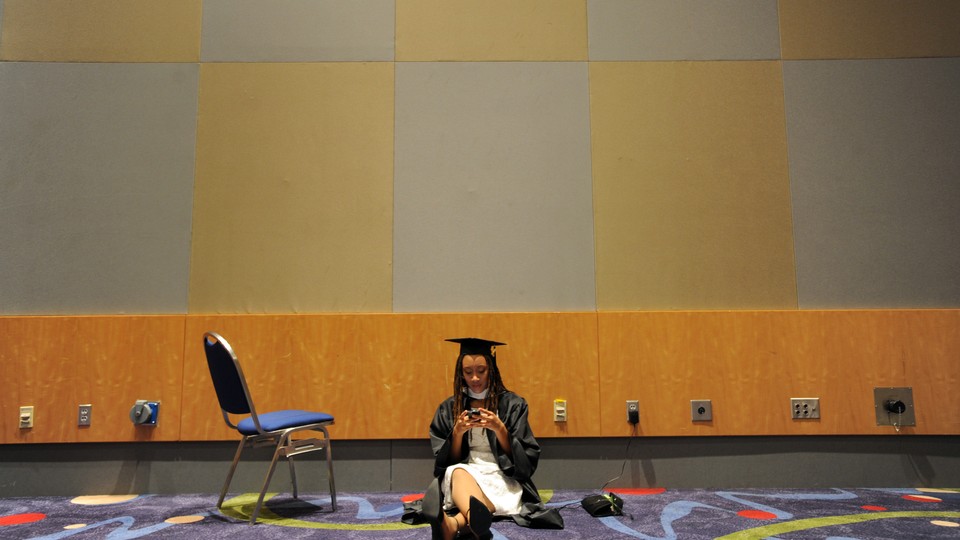 Hundreds of colleges are offering programs that simply aren't worth the expense. And while it's difficult for families to figure out which schools are a good deal, a new report from Third Way suggests the reality is: depressingly few.
"Cost really only matters if students know what they're buying," said Tamara Hiler, an education-policy advisor at the bipartisan think tank and the lead author of the report. While much of the debate surrounding higher education has focused on rising tuition costs and student-debt loads, less attention has been devoted to what students get for the money they—and taxpayers—shell out to attend. And although criticism has been heaped on for-profit schools such as the now-shuttered Corinthian Colleges for preying on vulnerable students, many traditional non-profit schools appear to be doing the same.
To get at the value piece, Hiler and her colleagues studied how full-time students with federal loans at the nation's 1,000-plus four-year, private, nonprofit colleges are faring using data from the U.S. Education Department's College Scorecard, a database that allows students to compare the return on investment of various schools. They calculated that at the average institution, almost half of students who enroll and have to take out loans won't earn a degree within six years. At the average school, just 63 percent of students who earned a degree but had to take out federal loans to get it earned more than $25,000—roughly what someone with a high-school diploma is likely to earn—six years after graduation. Students who drop out often earn much less.
While some college presidents would contend that there are other ways to measure value, it's hard to argue that much good comes from sending millions of public dollars to schools that spit out students who aren't earning a living wage and who can't pay back their loans. As the report notes, the U.S. gave out more than 1 million Pell grants during the 2013-14 school year, many of them to students who are the first in their families to pursue college and who are young people of color. The expenditure cost taxpayers some $4.5 billion.
The grants are intended to help low-income students work their way toward the middle-class through higher education. Yet many of the schools who have very good outcomes for students take relatively few Pell-grant recipients. Just over a quarter of the hundreds of schools where more than 38 percent of students are Pell recipients (the average percentage of Pell students at these schools) graduate at least half their students within six years. "[I]n a measurement we developed called the mobility metric...we found levels of achievement so abysmal as to call into question the very promise of higher education at many of these schools," Hiler and her co-authors write.
Hiler is careful to point out that there are good exceptions. The historically black Spelman College in Georgia, for instance, graduates more than 70 percent of its students, half of whom receive Pell grants. But a deep dive on what these schools are doing right and to look for commonalities is beyond the scope of Hiler's report (Spelman didn't immediately respond to an interview request), and it's hard to incentivize good behavior, particularly where colleges are worried that admitting more Pell recipients will lower graduation rates.
The difficulty with incentivizing schools to focus on outcomes is largely because there are few consequences for bad behavior. Hiler pointed out that three-quarters of the schools her team studied would be considered "dropout factories" if they were in the K-12 system. At that level, the country's education laws call for interventions and even closures if schools don't get better. But at the collegiate level, there are few repercussions for schools who fail to graduate students prepared to enter the workforce.
The report outlines a series of recommendations, among them a call for colleges to do a better job of supporting struggling students and to pay back a portion of their students' loans where students don't graduate and find good jobs. Yet when the Obama administration called for a college-ratings plan that involved tying federal aid to such markers, colleges immediately pushed back and the concept gained little traction in Congress. The report also calls for additional assistance for schools that enroll a high number of poor students, similar to Title I funding in the K-12 realm, and a "Pell floor," where high-performing schools would be required to take some percentage of Pell recipients.
Hiler acknowledges the challenges of incentivizing better behavior from colleges, but says she hopes the conversations will happen as lawmakers consider reauthorizing the nation's main higher-education law next year. In the meantime, she said, more high schools seem to be taking interest in what happens to their students after senior year, with some schools refusing to let their kids go on school-sponsored trips to colleges with low graduation rates.
"There has to be a groundswell of support," Hiler said. "We deserve more information about these schools." While the College Scorecard is a good start, it still offers a very limited amount of data, which limits the scope of reports like Hiler's. For instance, the data only covers first-time, full-time students with federal loans, which is only about 40 percent of students at private, nonprofit schools. So outcomes for students who didn't take out loans, who transferred schools, or who dropped out and then returned, aren't captured.
Hiler said her team started with private nonprofits because they tend to cost more, so students are being asked to "put more on the line" when they enroll, and because the schools have more leeway in who they accept, the implication being that there's no excuse for such poor outcomes when a school can be selective about who it admits. The think tank plans to do a follow-up report on public schools next, Hiler said.
"This is maybe the most important and expensive purchase that these families are ever going to make," she said. But it's worth pointing out that while the report finds that many schools are not good for their students, college overall is still a smart choice when it's made with value in mind. College graduates are more likely to have jobs than those with only a high-school diploma, and some estimates suggest that graduates earn a million dollars more over their lifetimes than non-graduates. Very expensive schools like Harvard and the Massachusetts Institute of Technology, for instance, have very good outcomes for students. There are good, and bad, options at every price point. As Hiler said, "The question, really, is looking at what that college is giving you."