The Complicated Task of Identifying Homeless Students
Few states know where those children are, making it difficult to connect them with resources.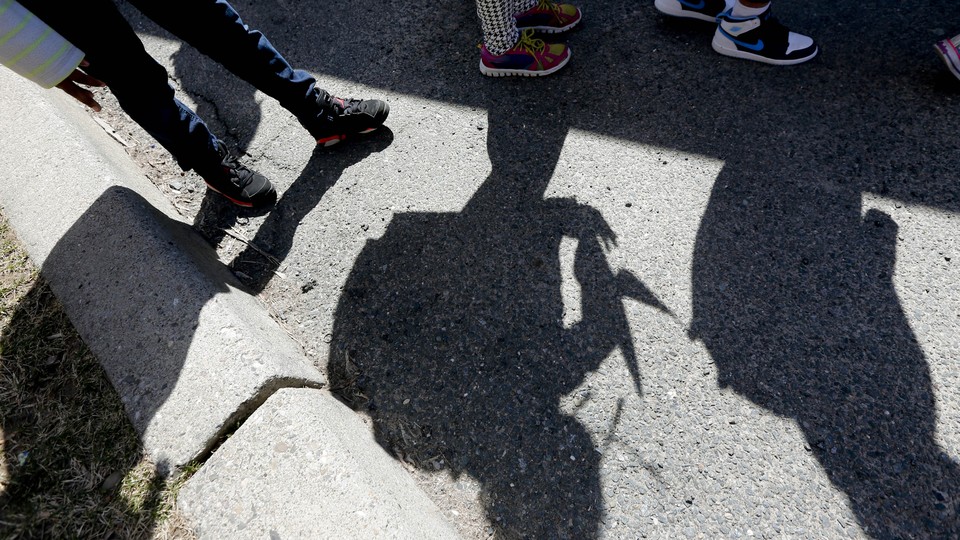 The number of homeless students in the United States has doubled in the past decade. During the 2013-14 school year, more than 1.3 million students were homeless, a 7 percent increase over the previous school year, according to a new report by the advocacy group Civic Enterprises and the polling firm Hart Research Associates. A disproportionate number are students of color or identify as LGBT.
As alarming as those numbers are, the fact that figures on homeless students exist at all is a step in the right direction. That's because, until recently, only five states have voluntarily collected that data: Colorado, Kansas, Virginia, Washington, and Wyoming. In those states, graduation rates for this population lagged behind the rest of the students, even those who are low-income. Now, provisions in the newly passed Every Student Succeeds Act (ESSA), the nation's federal education law, are strengthening the visibility of homeless students and other disadvantaged groups. Beginning in the 2016-17 school year, states and local school districts will be required to disaggregate the graduation rates of homeless students for the first time in history, which educators say will help states and districts direct resources to the kids who need help the most.
---
Increasing Rates of Student Homelessness, 2006-07 to 2013-14

---
Homelessness in schools has often gone unrecognized, John Bridgeland, the co-author of the report and the CEO of Civic Enterprises, said during a presentation of the report's findings at the U.S. Capitol this week. Students who don't have a stable place to go after school and at night are more likely to do poorly in class and more likely to drop out of school altogether, which means they are less likely to go to college, to find good employment, and to lead productive adult lives. Yet, the report notes, "Until this year, states and schools were not even accountable for tracking and making progress on their rates of graduation for homeless students."
---
2014 Graduation Rates, by Economic and Housing Status
---
One hurdle to collecting data is the difficulty of identifying homeless students in the first place. Unlike data that is collected on other groups of students (by income, race, ethnicity, disability, and language), homelessness is a challenge that is often invisible to the teachers and administrators tasked with supporting a student population whose educational performance is increasingly hampered by personal hardships such as poverty.
Several college students at the briefing who had experienced homelessness as children said they often felt as if they were giving off cues that went overlooked by teachers and counselors. Many were reluctant as kids to identify themselves as homeless out of fear that they would be taken from their parents by Child Protective Services. Ultimately, many were not identified—and, more importantly, connected with resources designed to help homeless kids—for years. "As high as these numbers seem, they are almost certainly undercounts," the report acknowledges.
"It is critical that they be identified and connected to the right support systems as soon as possible. This is made difficult, however, by the fact that many students do not want to share the fact that they are homeless with friends, classmates, teachers, counselors, or liaisons due to embarrassment, fear of stigma or bullying, or worry over what will happen if they self-report," the study reads. Of the more than 150 formerly homeless students surveyed, about two-thirds said they were "uncomfortable" talking with others at school about their housing and related challenges. The study cites some parents' fear of losing custody, youth's fear of being reported to Child Protective Services, and general confusion around what constitutes homelessness (a child who bounces from couch to couch, for instance, would technically qualify as homeless but might not self-identify that way) as sources of this discomfort.
Even dedicated school professionals who are looking to identify homeless students often struggle to do so. Forty five percent of students surveyed said that they had been homeless on more than one occasion, while an equally high number (47 percent) said that they had been homeless both on their own and with a parent or family member. Moreover, students with fluctuating housing situations run the gamut from staying with friends or other family members, to living in shelters or sleeping in a car, park, or abandoned building. The students themselves might not even categorize themselves as homeless despite living in untraditional housing arrangements.
The report also highlights inconsistencies in the way different staff members in schools are trained to look for signs of homelessness. "Something that we heard with a lot of the liaisons and the coordinators that we spoke with was that something that would be very helpful for them would be if there was improved training," Erin Ingram, the lead author of the report, said during a phone interview. "So currently the people who seem to receive training the most are administrators and school counselors, and it's great that those people receive that training, but then there are teachers in the classroom that receive it at lower rates, and cafeteria workers, or bus drivers, or all those other adults who might more quickly be able to identify those students."
According to the data from the National Center for Education Statistics, low income students are now a majority of the schoolchildren attending U.S. public schools. Increasingly, school staff are being asked to help students navigate their personal, community, and educational challenges, from efforts to provide more and healthier meals to combat food insecurity to counseling services for those affected by community violence to liaison staffers responsible for connecting homeless students and their families with resources. Nearly 30 years ago, a federal law called the McKinney-Vento Act was implemented to facilitate those connections by making those liaison staffers in charge of complying with that law. But with increasing cuts to school budgets, more than 90 percent of the 500 liaison staffers surveyed work in another official capacity separate from their liaison duties, and 89 percent spend half of their time or less on homeless-liaison responsibilities. Several of the students at the Capitol said they did not know who their school liaison was or that their job entailed working with homeless students. So even when the students wanted to open up to an adult on campus, they weren't sure where to turn.
---
Differing Perceptions of Homeless Students and Liaison Officers
---
Forced to juggle jobs, grapple with tight funding, and deal with insufficient training in how to identify and help homeless students, how are school staffers going to go about increasing accountability for locating and tracking the graduation rates of these students? And even if they do, what measures are in place to determine that the information is tracked consistently throughout the U.S. so that resources are reliably allocated? The answers aren't clear. And while the study makes many suggestions for improving assistance for homeless students, it notes disparities in how students and liaisons view the work being done on the student's behalf. Liaisons consistently thought that their schools were doing a better job at providing concrete support (food, books, schools supplies) and emotional support. Several students at the briefing echoed this finding. One young man said his school pulled him out of class and gave him new shoes, but then sent him back to the lesson with shiny sneakers that he had to explain to his curious classmates. Another thought she had revealed a sibling's drug use in confidence and was horrified to see Child Protective Services show up shortly afterward.
Even with all the difficulties in identifying these students, advocates are pleased that the new ESSA measures provide schools with some financial flexibility. The law provides a 20 percent increase in funding used to enforce McKinney-Vento and more money dedicated to training staffers to recognize homeless minors, among several other measures. These changes follow the Obama administration's plans in the 2017 fiscal year to fund "housing vouchers and rapid rehousing over the next ten years to reach and maintain the goal of ending homelessness among all of America's families in 2020."
It's well known that these top-down policies take a while to get tangible results. In the meantime, this study can affirm that homelessness is an extremely disruptive force in schools that merits more than money. The authors recommend refining and standardizing systems for identifying homeless students, making them aware of their rights, and being flexible with academic requirements to help them stay in school.