A More Perfect Graduation
What Michelle Obama's commencement speech at the Santa Fe Indian School says about the importance of self-determination in education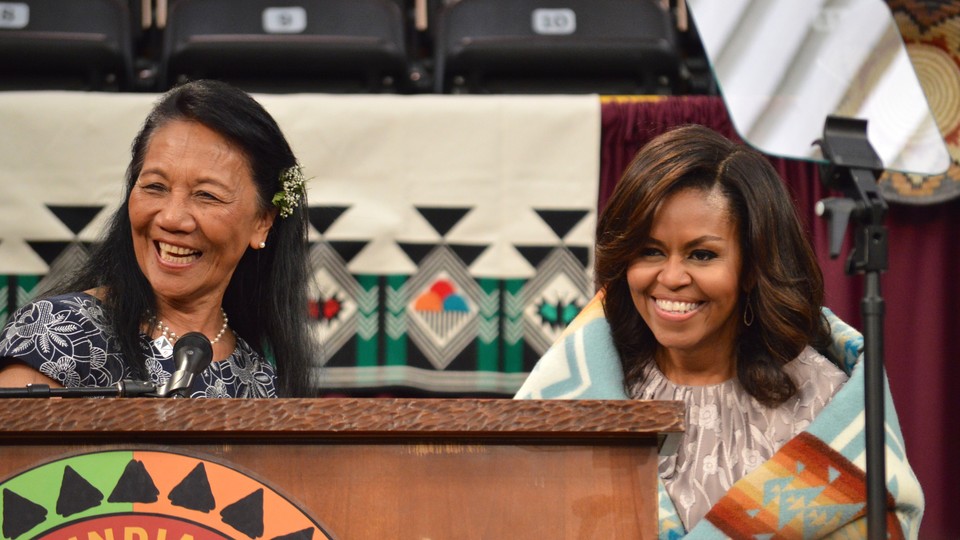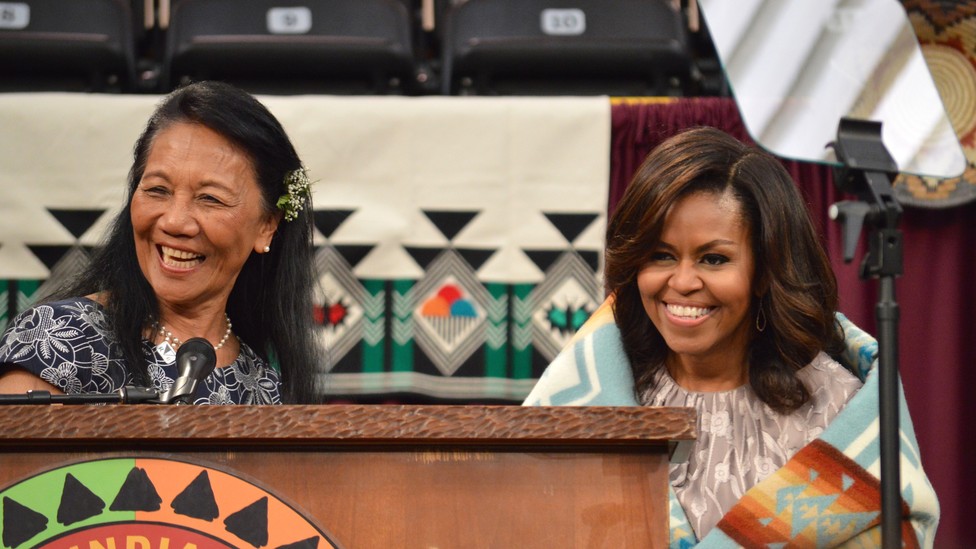 SANTA FE, N.M.— In a room redolent with ancestral and political histories, Michelle Obama recited four generations of her ancestors' names as she delivered her second-to-last commencement speech as First Lady to an all Native American high school.
Obama stood on a stage bedecked with drums, rugs, beadwork, embroidery, baskets, and pots as she addressed the graduates of Santa Fe Indian School last Thursday. A Santo Domingo Pueblo girl presented her a gift: a Pendleton blanket that she arranged over the First Lady's shoulders. Tewa dancers from Ohkay Owingeh performed as the graduates entered from two directions and walked in pairs. Many wore ceremonial dress of their pueblos, nations, and tribes.
The students represent a multinational demographic incorporating the 22 tribal nations of New Mexico, including the 19 Pueblos, Navajo Nation, and Jicarilla and Mescalero Apache tribes. The Indigenous Language Institute, which works on language preservation and revitalization, shares the campus.
Michelle Obama's remarks at the Santa Fe Indian School came eight years after President Barack Obama's "A More Perfect Union" speech on the 2008 campaign trail and two years after the First Couple's visit to Standing Rock Sioux Tribal Nation in North Dakota. Before that July 2014 trip, Indian country had waited 15 years for a presidential visit.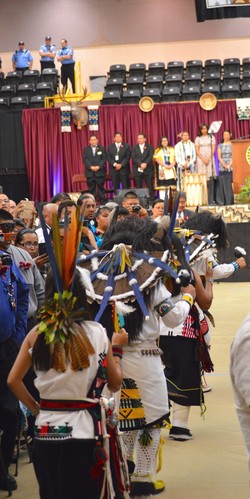 Improving college-and-career readiness among Native youth is the end goal of the Obama's Administration's policies on and funding of Native education. Asserting in 2014 that the status quo of schools in Indian country represented a "state of emergency," Interior Secretary Sally Jewell directed the Bureau of Indian Education to transition the elementary and secondary schools that it runs to full tribal management. The Bureau of Indian Education has failed over the decades to make improvements—to remediate crumbling infrastructure, invest in teacher training, implement broadband access, or deliver the behavioral- and mental-health wraparound services that are essential to addressing obstacles to school success. What is notable in the Obama Administration's Native-education initiative in these final years of his presidency is that this administration—and the First Lady—conceive of full cultural self-determination as a winning model.
President Obama described "chok[ing] up" on hearing in private the stories of six Native youths, which concluded with a boy offering him a song of encouragement in recognition of his "difficult job." The Administration subsequently announced the Generation Indigenous (Gen-I) initiative and hosted, last July, the first Tribal Youth gathering at the White House.
"Gen I" challenges Native American youth to form tribal youth councils and to partner on coming up with creative solutions to social and economic ills in Indian country, where suicide is the second leading cause of death for youth aged 15 through 24. The Department of Education in March announced a tripling of youth challenge grants to $17.3 million.
Compared to 13 percent undergraduate-degree attaining rates in Indian country, 95 percent of the 2016 Santa Fe Indian School graduates will attend college. Eight are Gates Millennium scholars—putting the school in the top five in the nation.
The Santa Fe Indian School has been run by New Mexico's 19 Pueblos since 2001.
Expressing close alignment to her surroundings, Michelle Obama introduced herself by outlining her genealogy. She began with Jim Robinson, her great-great-grandfather who was born and buried in slavery in South Carolina. She compared the legacy of her ancestors in America to the legacy of Native Americans who had planted and harvested resilient seeds before the United States "was even an idea." "My great-great grandfather was another man's property, my great-grandfather was another man's servant, my grandparents and parents felt the sting of segregation and discrimination," she said. "But because … they held fast to their impossible dreams for themselves and their children, today my two daughters wake up each morning in the White House."
If "A More Perfect Union" bracketed the Obama presidency at the front with biography-as-object-lesson, Mrs. Obama has now instituted an end bracket of her own.
She sat beside Emanuel Vigil, the valedictorian, who founded the first Gay-Straight Alliance in the school's history. Vigil, who belongs to the Jicarilla Apache tribe, wore long braids, a buckskin tunic, and beaded apron—and thanked Lady Gaga for inspiring him.
Chyanne Quintana, the salutatorian from Ohkay Owingeh and Santa Clara Pueblo, commented forcibly that the First Lady's appearance at the ceremony permitted her to see a side of Indian Country rarely promoted by media. "We are graduating Native Americans. We are successful Native Americans," she said in her remarks.
At this school, which was established by the U.S. government in 1890 to enforce a ruthless assimilation policy, Michelle Obama's oratory was strikingly direct. "The traditions that this school was designed to destroy are now expressed in every square foot of this place," she said. "Look at you now," she continued, singling out cultural celebrations that include dances celebrating Popé, the leader of the 1680 pueblo revolt.
If the waning days of the Obama presidency have begun to permit deeper and even more radical speeches by both the President and the First Lady, her talk led me to reflect on the purposes and limitations of biography. One purpose, as manifested in Michelle Obama's speech, is to enthuse graduates with a transcendent tale that illuminates the justice of history's "true path." I felt myself well up at her words, and watched many of the dignitaries onstage also wiping their eyes. Yet my reaction segued almost instantly into reflection. My father—an immigrant—rang the high notes of his own virtuous biography to the proverbial rooftops. He would definitely have disagreed with Michelle Obama on key points of her talk. To him, struggles were sources of shame and weakness. Attainments of achievement and wealth were meant to erase the path from old country to new.
My father and grandparents hid their biographies, and had a secret to conceal. In 1928, my father, Boris Berkovitch, immigrated to New York from Russia with his parents. My grandmother once handed me a small cache of sepia photographs from a drawer. She had snipped her own silhouette out of her surroundings in each one. She handed the likenesses over to me as if they were paper dolls.
The action symbolized severance.
By the time I became old enough to pair my family's 1928 departure from Moscow with the realities of world history, I began to ask questions. Why had they left? How had they left? A memory of their voices fades into the sound of furious Russian tinged with urgency.
My father's private redactions held a consistently revising script of self-agency and teleological independence. He carried around a copy of Look Homeward, Angel through George Washington High School in New York City. He delivered smoked fish for Vita Foods. He graduated from night school at New York University and became a U.S. Marine Captain. As a lawyer in private practice, he represented Congressman Adam Clayton Powell. As the New York state deputy superintendent of banks in the 1960s he worked with Mayor John Lindsay. He retired in 1986 as the vice chairman of J.P. Morgan & Co.
My father's been dead for three years now, In the last several years of his life, he periodically pulled up the curtain over his blacked-out early autobiography by a few centimeters. I muse on what tacit or overt agreements they made on the train trip.To refrain from ever speaking Russian in public? To decline to pass on to future offspring their native tongue? On my father's part, to fail to invite his parents to his speaking events at the pinnacle of his career? "Otero Street," he said as I drove him to my first apartment in Santa Fe. "That was the judge's name who swore me in as a citizen."
On a day many years later, I conducted my own version of Genealogy Roadshow on my computer screen. On February 17, 1933, my grandparents and my father—a week shy of 12 years old—swore citizenship in El Paso, Texas. Earlier that day, my grandfather had delivered a speech on "conditions in Russia" to the El Paso College of Mines, and the El Paso Herald-Post identified him as "a former Soviet spy." I reflect on what game of cloak-and-dagger animated that trip, that week, that day, the three of them taking the train from New York south and west. As I binge-watch The Americans, I worry about Martha staring solemnly out a small plane window as she's forced to expatriate. I think about my grandmother on a chaise lounge in a place with no name.
I think about deracination, hearing Michelle Obama narrate an arc from slavery to the White House before an audience of 3,000 mostly Native Americans.
I have lived in New Mexico for 23 years. This place—for which I feel a zealous passion—feels like a form of chosen diaspora, where I've taken shallow root. To claim diaspora as a person who believes herself to be white is risky business. It's a personal myth as limited—as self-serving—as my father's.
Can Michelle Obama's speech offer, as an amendment to her husband's 2008 speech, an alternative to the idea of a "union," the "one" from "many"? Can Americans become, in spite of the vainglorious actors on today's political stage, "many" and "one"? Can they celebrate that the continent's first peoples await both success and challenges of lives consigned to liminality? That that very liminality makes for stories rarely told—and even more rarely listened to.
When Barack Obama was running for President in 2008, my husband and I canvassed rural neighborhoods within several miles of our unincorporated Santa Fe county address. The task was to ask people to vote early and to set them up with a ballot by mail. On one particular afternoon I knocked on a trailer door and discovered the people inside spoke only Spanish. They told me they had just become citizens. I explained they were eligible to vote. I called my father that afternoon and told him about it.
"Where'd they come from?" he said. "How'd they get here?"