How Companies Profit Off Education at Nonprofit Schools
Online program managers earn millions by designing and marketing virtual learning options at big-time colleges.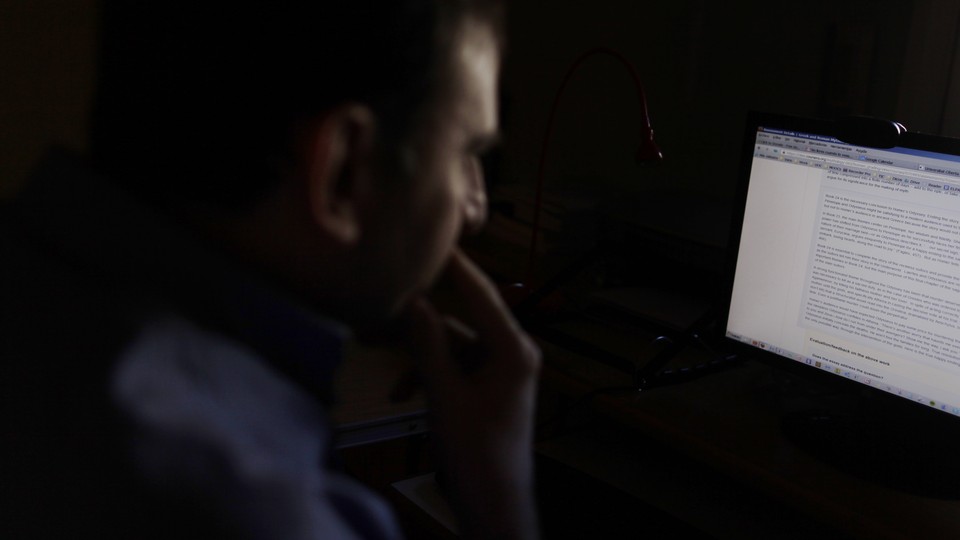 Selling the dream of a college education is big, profitable business. In 2014, four companies that own and run for-profit colleges collected in excess of $1 billion each. To boost their enrollments and profits, many for-profit schools pioneered modern marketing tactics such as websites that collect information to generate marketing leads, text message follow-ups to inquiries, and phone banks with ambitious "career counselors" ready to help students complete financial-aid requirements and enroll. As a 2011 Senate report found, "[for-profit college] recruiting managers at some companies created a boiler-room atmosphere, in which hitting an enrollment quota was the recruiters' highest priority … [and] recruiters' salaries at many for-profit colleges were tightly tied to enrolling a certain number of new students."
"We all have the impression that commission-paid sales people will say anything to make a sale, and that has certainly been true in higher ed," Robert Shireman, a senior fellow at The Century Foundation, told me. Shireman is a former Department of Education deputy undersecretary in the Obama administration and is known for organizing the federal response to emerging signs of predatory for-profit education and career training in 2009.
Even though Shireman and the department moved to block paying salaries or bonuses based on how many students are signed up, they could do little to stop for-profit companies from making money based on how many students they enroll. More students equals more profit, and as long as there are for-profit schools, the link between getting more students and earning more money will incentivize creative and assertive marketing and recruitment. That's part of what you get with for-profit schools; it's expected.
But the practice of aggressive recruiting of college students isn't limited to for-profit colleges: Students who study online at many public and private non-profit schools are being recruited in similar ways and are handing over large percentages of their tuition—hundreds of millions of dollars total a year—to companies that profit based on the number of students who enroll. The result is a very lucrative but nearly invisible education market in which students pay, companies profit, costs escalate, and the prospect of scandal lingers.
In this marketplace, various reports suggest that students studying online at public and non-profit colleges give an average of about half of their tuition to for-profit companies known as online program managers (OPMs)—companies that design, run, and market the virtual programs for colleges. Because an online bachelor's degree can easily cost $60,000, those for-profit companies, by taking 50 percent of student tuition, can make as much as $30,000 per student per awarded degree. And it's often more. According to John Katzman, who founded one of the most successful OPMs, a 50 percent cut of online tuition money is just the average. "There are companies literally taking 80 percent or more of tuition," contended Katzman, who disagrees with the practice of tuition-sharing.
Eighty-five percent of students who study at least partly online, according to the Online Report Card, are enrolled at public schools. And, like college students generally, those who study online take loans and grants to finance their education. According to a report issued by Learning House, another OPM, 45 percent of online students took out federal loans and 40 percent used government grants to pay their tuition. The report also found that one in five of those who completed their online college programs said they left with more than $30,000 in debt—a big portion of which likely went to private OPM and recruiting companies.
The practice of sharing online tuition revenue between a company and a college is a holdover from the dark ages of the internet when education institutions first decided they should teach online. About 20 years ago, colleges were ill-equipped and unprepared to forge into the wilds of the inter-webs, so many of them contracted with eager technology providers to adapt courses into online resources, design student learning platforms and, importantly, market the programs and recruit students. At the time, it made sense for these OPM companies to strike a bargain with the schools. In exchange for making the large upfront investments in building an online college program, the companies would do the work and be paid, over a number of years, with a percentage of the tuition the new programs generated.
Today, tuition-splitting at non-profit private and public schools not only persists, it's commonplace. According to an industry report by the independent research firm Eduventures, more than 35 separate companies now provide online education services worth more than $1.1 billion annually. The OPM market is so big that according to a separate Eduventures report, up to 80 percent of the more than 2,600 colleges delivering online education—including schools such as Yale and the University of Southern California—outsource the management of the programs. Most of those schools pay for those services by sharing tuition.
Five companies reportedly control about half of the $1.1 billion OPM market: 2U, Academic Partnerships, Bisk, Pearson Embanet, and Wiley Education Solutions. 2U, the company Katzman founded but is no longer affiliated with, is worth more than $1.3 billion total, according to its NASDAQ listing. Pearson, which has OPM endeavors on top of its many other activities in both higher ed and K-12 schools, is all in all a $9.5 billion publicly traded education company. And a 2014 profile in Forbes reported that Academic Partnerships scored $100 million in annual sales by taking 50 percent of tuition revenue from the 82,000 students it had placed in online programs across 40 virtual campuses at public schools such as the University of Texas at Arlington and Florida International University. In describing the Academic Partnership business model, the magazine profile wrote that it entails, "a lot of telemarketing. Of the more than 400 workers employed by Academic Partnerships, 50% work the phones–and the e-mails–in a sprawling call center … The three Rs here being recruitment, retention and revenue."
The OPM market is also growing. That's because online education as a whole is growing. Perhaps owing in part to the intense marketing by the companies that profit by driving online enrollments, the number of students studying online at public and non-profit schools grew by nearly 6 percent between 2012 and 2013 while full-time college enrollments overall saw a dip—down about 6 percent between 2010 and 2014, according to the Department of Education. In 2012, according to the DOE, more than 2.6 million college students were learning without setting foot in a literal classroom and another 2.8 million were taking at least some of their classes digitally.
"OPM partnerships with traditional colleges are growing quickly, and yes, there are hazards and will likely be some scandals," Shireman, the former Education Department official, said. One potential problem area in tuition-sharing at nonprofit and public schools, Shireman said, was "the role of a private contractor in recruiting or in setting admissions standards, and the extent to which that invites predatory behavior." And, he added, "Online [education] is more of a danger than ground campuses because the lack of any physical space means there is unlimited potential for rapid, irresponsible growth."
The OPM impact on admissions and unlimited growth is problematic in part because recruiting college students is expensive. According to a 2015 report issued by BMO Capital Markets, a private investment firm, nonprofit schools (including public schools) spend an average of $38.53 for a lead—just for the name and information of someone who may be interested in attending their school. It costs more than $380 to turn that lead into an application and more than $2,200 for every student who actually enrolls. The only way to recover that expense, especially for an OPM that's fronted those costs, is to find more students to admit who can write checks, get grants, or take loans. And by sharing in tuition revenue, once recruiting expenses have been recovered, absent classroom limitations, there's a profit motive to keep recruiting.
In context, it may be difficult to condemn college leaders for approving programs that cost the schools almost nothing to start and could bring in millions of new dollars, especially while their budgets have been languishing. And schools should be education providers, not tech companies. From the school's perspective, the new revenue from online efforts—even 50 percent or 30 percent of it—is found money. In a promotional video from Academic Partnerships, one of the big five OPM companies, Jim Spaniolo, the former president of the University of Texas at Arlington, says exactly that about the tuition money his school shared: "These are new dollars. These are new students … Because we were able to reach so many more students, there are financial benefits and advantages of that."
That sentiment was echoed by Todd Hitchcock, the senior VP for online learning services at Pearson, another one of the big five OPM companies. "Schools are looking to online to drive revenue for other parts of the school," he said. Hitchcock said Pearson currently has partnerships with 42 different schools and hundreds of online programs for which it provides a range of services including their "core services of marketing, enrollment, and retention."
"The shared success model"—the term Hitchcock uses to describe tuition-sharing—"is a good model for schools, students, and companies like Pearson," he said. It's the tuition-sharing OPM approach, according to Hitchcock, that allows schools to combine the best academics with the best technology and provide students with a "high touch, white-glove service" for online students. A spokeswoman of Pearson also emphasized the distinction between the OPM model at nonprofit schools and those at for-profit ones. (A representative of 2U declined to comment, while Academic Partnerships, Bisk, and Wiley Education Solutions didn't respond to interview requests.)
The University of Texas at Arlington declined to comment on its arrangement with Academic Partnerships or how much tuition money the school sent them. Florida International University and Arizona State, which have tution-sharing agreements with Academic Partnerships and Pearson, respectively, didn't respond to requests for comment. But another public school, Lamar University, in Texas, did. Brian K. Sattler, a school spokesman, told me that his school's contact with Academic Partnerships allows the company to keep between 30 percent and 50 percent of student tuition and that in the 2015 fiscal year, Lamar paid Academic Partnerships $12,024,565 for marketing, student recruitment, and retention programs.
Absent broader context, $12 million for Academic Partnerships and somewhere around $16 million in new money for Lamar University could feel like a winning proposition for both the school and the company. But, in addition to questions about profiting from public education and student debt and the use of commission-based recruitment, another problem in the tuition-sharing model is that it actually works against a major premise of online education—making a college education more accessible and more affordable.
According to Katzman, who considers himself "education's ghost of unintended consequences," as the founder of the big OPM 2U, the existing system puts pressure on schools to actually raise online tuition, not lower it. They raise online tuition not just to make up the percentage of tuition they're losing in the OPM contracts but also because because OPMs represent multiple schools offering similar degrees and programs. 2U, for example, has contracts to support at least four different MBA programs at non-profit and public schools including Syracuse, American University, and the University of North Carolina. Because OPMs make money based on a percentage of the tuition paid, they face pressure to push students to less selective and more expensive programs. From their perspective, there's no point in getting 30 percent of a $20,000 program that might reject a student when they can get the same student into a program that nets 70 percent of $50,000 and will take just about anyone. "If a school depends on an OPM to market its online program, that program had better cost more, admit more, and pay the OPM more. Otherwise, OPMs have better, more profitable options and I know for a fact that happens at some OPMs," Katzman told me.
The hidden pressures to ease entry requirements and create and market more expensive online offerings may be part of the reason that online college programs aren't meeting their promises of return on investment. Even after decades of investment and innovation and a growing marketplace, the report by BMO Capital Markets found that online programs are, on average, more expensive than their traditional counterparts. In 2013, the average per credit, in-state cost for an online bachelor's program is $277, compared with $243 per credit at brick-and-mortar schools.
Still, even though they are on average more expensive, OPM companies are advised to promote their programs as affordable and stress how easy an online education is to finance. According to the report from the OPM Learning House, which also provides advice on marketing online programs, "Cost is extremely important to potential college students. The more an institution can do to describe its current tuition as both affordable and competitive, the greater its appeal to prospective students. Advertising must emphasize financial factors, and specify why financing an online education will not be a burden."
The selling of expensive programs and commission-like enrollment incentives would be less successful if prospective online students shopped around and compared programs. Since the programs are online, they could literally enroll anywhere, but many students don't shop. According to the Learning House report, the plurality, a third, of online college students looked into only one program—the one in which they enrolled. Roughly half considered the one they enrolled in and only one other option.
Even though the tuition-sharing model of OPMs evolved to its current size and form, its survival is not an oversight. To the contrary, it's an intentional design of policy born out of a desire to put public and nonprofit schools on equal footing with for-profit ones.
When the Obama administration began looking for ways to rein in for-profit marketing and compensation, some OPM companies asked specifically if tuition-sharing deals would be allowed. According to Shireman, the Department of Education agreed to the idea of tuition-sharing in public and nonprofit schools because they saw it as unfair to let for-profit colleges function as "one big bounty-paid recruiter" but bar public and non-profits from the similar practice. As a result, according to Shireman, nonprofit and public colleges effectively employ the same tactics for their online programs as the for-profits do—the aggressive, profit-driven marketing; the incentives to sell higher-cost and lower-quality programs; and promises about ease of financing a college education—because they are expressly allowed to.
Hitchcock, of Pearson, cited the merits of the tuition-sharing model in predicting that it isn't going anywhere. Others are not so sure. Democrats have filed bills in U.S. Senate to limit the use of federal funds for marketing and recruitment at all higher-education institutions—a policy change that would almost certainly apply to the marketing and recruiting tactics of nonprofit and public schools. And the OPM and online college markets may face pushes for reform from other places as well.
On the inside, Katzman sees a new OPM model taking hold. His new company, Noodle Partners, is an OPM that uses flat fees-for-service instead of tuition-sharing. "For a fee, we help schools assemble the tools, services, and tech to run great programs without taking money from students—it's more flexible and transparent and wildly less expensive," Katzman argued. "The only real question is, how quickly will the old revenue-sharing model die?"
From the outside, Shireman thinks public pressure and school leaders will bring changes to the tuition-sharing practice. "The people who ultimately control nonprofit and public institutions—trustees—are not getting rich off of the predatory practices," he said, "so they will not be thrilled to discover that poor people are being taken advantage of—once they learn about it."