Ken Starr Stepping Down as Baylor University's Chancellor
The move comes just days after the school demoted Starr, its president, and fired Art Briles, the football coach, over how sexual-assault complaints were handled.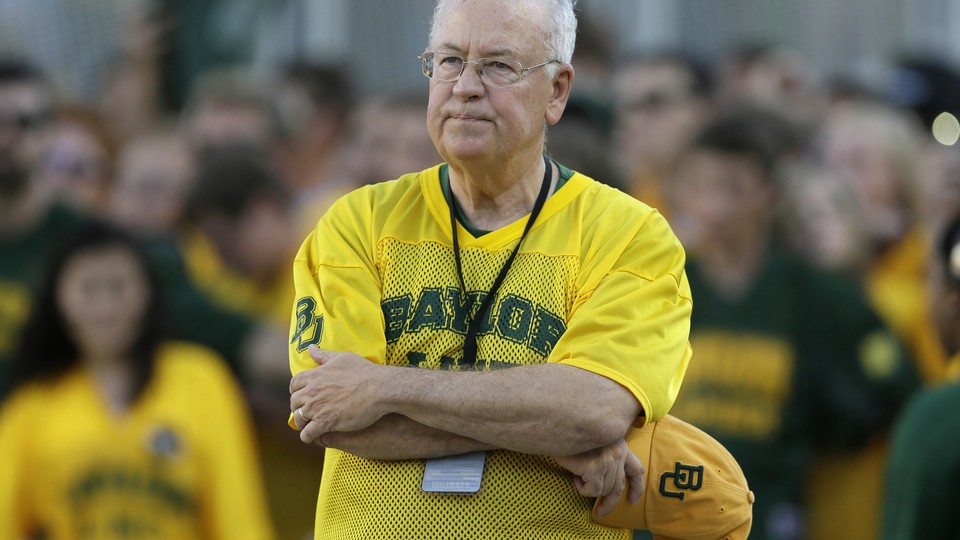 Ken Starr is stepping down as chancellor of Baylor University, he told ESPN, just days after the school in Waco, Texas, demoted him from its presidency and fired Art Briles, the head football coach, over the handling of accusations of sexual assault on campus.
He said he was resigning as chancellor effective immediately "as a matter of conscience," but added he will continue to teach in the law school.
Starr served as president of Baylor until the university announced in a statement May 26 it was demoting him and firing Briles. The statement said Starr would serve as Baylor's chancellor and remain a professor at the university's law school. Additionally, the statement said, Ian McCaw, the athletic director, has been sanctioned and placed on probation. Baylor named David Garland interim president.
At issue were complaints of sexual assaults that victims said the university had not taken seriously. An independent investigation of the allegations, conducted by Pepper Hamilton, the law firm, reported on May 26:
Based on a high-level audit of all reports of sexual harassment or violence for three academic years from 2012-2013 through 2014-2015, Pepper found that the University's student conduct processes were wholly inadequate to consistently provide a prompt and equitable response under Title IX, that Baylor failed to consistently support complainants through the provision of interim measures, and that in some cases, the University failed to take action to identify and eliminate a potential hostile environment, prevent its recurrence, or address its effects for individual complainants or the broader campus community.
The allegations came to light after Sam Ukwuachu, a former football player at Baylor, was convicted in 2015 of raping a student. During his trial, it emerged Ukwuachu had been investigated, but not punished, by the university. Several similar reports have since emerged, including at least five women who said they were raped by Tevin Elliot, another former Baylor football player, who was sentenced in 2014 to 20 years in prison for rape.
The investigation by Pepper Hamilton found that two Baylor administrators, who were unnamed in the report, discouraged complainants from reporting or participating in student-conduct processes, "or that contributed to or accommodated a hostile environment."
"In one instance," the investigation found, "those actions constituted retaliation against a complainant for reporting sexual assault."
The report singled out Baylor's football program, saying the findings "reflect significant concerns about the tone and culture within" the program.
"Leadership challenges and communications issues hindered enforcement of rules and policies, and created a cultural perception that football was above the rules," the report said.
Baylor failed to take appropriate action to respond to reports of sexual assault and dating violence reportedly committed by football players. The choices made by football staff and athletics leadership, in some instances, posed a risk to campus safety and the integrity of the University. In certain instances, including reports of a sexual assault by multiple football players, athletics and football personnel affirmatively chose not to report sexual violence and dating violence to an appropriate administrator outside of athletics. In those instances, football coaches or staff met directly with a complainant and/or a parent of a complainant and did not report the misconduct
"We were horrified by the extent of these acts of sexual violence on our campus. This investigation revealed the university's mishandling of reports in what should have been a supportive, responsive and caring environment for students," Richard Willis, chair of the Baylor Board of Regents, said in Thursday's statement from the university. "The depth to which these acts occurred shocked and outraged us."
Ron Murff, chair-elect of the Baylor Board of Regents, added: "We, as the governing board of this university, offer our apologies to the many who sought help from the university.  We are deeply sorry for the harm that survivors have endured."
Speaking to ESPN on Wednesday, Starr called for more transparency at Baylor.
"We need to put this horrible experience behind us," he said. "We need to be honest."