Are There Good Alternatives to Affirmative Action?
The U.S. Supreme Court upheld the use of race in some admissions decisions, but it doesn't mean all colleges are free to employ the practice.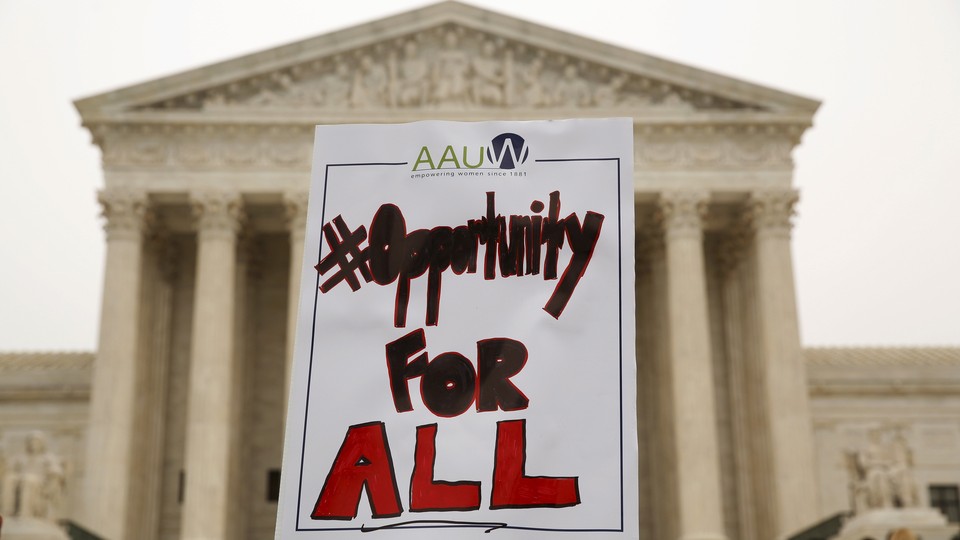 The U.S. Supreme Court's decision Thursday to uphold affirmative action surprised legal experts, college presidents, and civil-rights activists. And although the ruling will let some colleges use race as a factor in admissions, that right is by no means guaranteed long term or across the board.
As Justice Anthony Kennedy wrote in the majority opinion, schools can only factor in race when they show it's absolutely necessary, meaning that other attempts to achieve diversity have failed. In this particular case, which centered around the University of Texas's admissions policies, the court ultimately decided that the school needed to use race to achieve its goals of ending stereotypes, promoting cross-racial understanding, and preparing students for an ever-more diverse society.
The decision gives deference to schools in "defining those intangible characteristics, like student body diversity, that are central to its identity and educational mission." That would seem to give schools broad cover to use race in admissions—after all, as Justice Samuel Alito questioned in a vehement dissent, how does the court begin to measure something as nebulous as "ending stereotypes?" But Kennedy took pains to point out that schools will still need to justify the use of race. With such a divisive topic, that justification is sure to be tested in court.
With that in mind, the Jack Kent Cooke Foundation today will call on schools to admit more low-income students and outline a series of steps schools could take to reduce educational opportunity gaps, arguing that focusing on income could result in as much and even more racial diversity than straight affirmative action because Latinos and blacks are disproportionately likely to be poor.
"This is a very narrowly drawn decision," Harold Levy, the executive director of the foundation, told The Atlantic, "and while I'm very pleased at the outcome, I don't think anyone can take great comfort that race-conscious affirmative action is here to stay."
Levy pointed out that income is an arena where admissions officers still have discretion, and crucially, it will not be questioned in court. While Levy certainly isn't against affirmative action, his foundation works specifically to support low-income students, and he thinks considering finances and not race is more palatable to both conservatives and liberals, and thus more defensible in the long-run. He pointed to the fact, outlined in a report the foundation released earlier this year, that just 3 percent of students at elite colleges in the country come from the poorest 25 percent of families, while 72 percent come from the richest 25 percent. "It's not what America is about," Levy said of the discrepancy.
In the new recommendations, the foundation urges schools to make the application process easier to navigate and to clarify, particularly to low-income families, that financial aid may make the real cost of attending far lower than the listed price. It also calls on colleges to reach out to local schools and nonprofits to identify low-income prospective students and to invite them to campus to experience college life. Once young people have applied, the foundation wants colleges to avoid making admissions decisions based on which students can afford to pay full price, and to give aid based on need and not on merit, which tends to help wealthier students who have had access to more opportunities that show up in higher test scores and extracurriculars.
Finally, the foundation asks schools to reconsider admissions factors that disadvantage poor students and to recognize which barriers students have overcome. For instance, a poor kid who is every bit as capable as succeeding in college as a rich kid might have lower SAT scores because he couldn't afford a prep class and could only take the test once. Schools might rethink how they factor SAT scores into the admissions process. Schools could also get rid of athletic scholarships and legacy admissions, the latter of which studies suggest doesn't actually increase alumni donations.
But would focusing on income really result in as much racial diversity as focusing on race? It's a complicated question and different researchers have arrived at very different answers. The short answer seems to be: it depends.
Richard Kahlenberg of the left-leaning Century Foundation has argued that using socioeconomic indicators might in fact result in more diversity of all kinds on college campuses. In a 2012 study of 10 universities in states where racial preferences are banned, he and several colleagues found that seven actually met or passed the black and Latino enrollment levels they had experienced when they had been using race. Kahlenberg pointed out, rightly, that many schools have increased the number of students of color by enrolling middle-class and wealthy blacks and Latinos, not their low-income peers. But, he said during a phone interview, strictly looking at income would not be enough to achieve racial diversity. Schools would also need to consider "highly racialized" factors, such as family wealth and whether a prospective student grows up in concentrated poverty.
Mark Long, a professor at the University of Washington who has studied affirmative action extensively, said that while he agrees that it is possible to achieve racial diversity by looking at such a range of socioeconomic factors, a school would have to give those factors so much weight that it might "substantially distort the composition of the class by putting so much emphasis on factors that are merely correlated with race." In other words, schools would have to enroll a disproportionately high number of low-income students, which might lower graduation rates. (Poor students are every bit as capable of succeeding at elite schools, but many are the first in their families to attend college and need significant support and mentoring; clustering many low-income students together might overwhelm a college's resources.) "It's more efficient to use race directly," Long said.
That last bit about efficiency is the crux of Sean Reardon's research at Stanford University. If schools want racial diversity, his work suggests it's best to consider race. If schools want socioeconomic diversity, they should consider socioeconomic factors. To be both racially and socioeconomically diverse, he thinks schools need to take both into account. (Reardon said during a phone interview that he questions the idea, supported by Kahlenberg, that schools might use socioeconomic factors to increase racial diversity in the absence of actually using race. He's skeptical of the feasibility of schools having easy access to enough information about wealth and other socioeconomic information, which Kahlenberg insists is available through the Census and FAFSA application, to really drive true racial diversity. He also thinks it's unreasonable to assume schools will have the inclination and resources to hand out the hefty financial-aid packages to large proportions of their students that would be required under a poverty preference.)
With the Supreme Court's decision to continue to allow race in at least some college-admissions decisions, people in Kahlenberg's camp are concerned that schools might move away from fostering socioeconomic diversity. Shortly after the ruling, he released a statement that reads in part, "Affluent students currently outnumber economically disadvantaged students by 24:1 at selective colleges and more action is needed to address this gap. Moving forward, universities should pursue racial and economic diversity side by side. Unfortunately, I fear the Supreme Court's decision makes that less likely." That's a valid concern.
But others, including Lee Bollinger, the president of Columbia University, are pleased with the decision. During a higher-education forum hosted by The New York Times earlier this week ahead of the court's decision, Bollinger called race-based affirmative action "the most effective, direct, responsible way to deal with the terrible legacies of discrimination and the continuing discrimination that exists." Income, he said, "really is not an effective alternative." Michael Sorrell, the president of Quinn College, echoed Bollinger's thoughts at the Times forum, saying that there's a long-standing "desire [in the United States] to invalidate racial experiences in our society." Like the Jack Kent Cooke Foundation, he would like to see schools reach out to underprivileged elementary- and secondary-school students, counseling them on the college-application process. But he acknowledged that the "runway is long" in terms of such policies, where colleges could be convinced to adopt them, actually resulting in greater diversity on campus.
While there's clearly debate about the benefits and drawbacks of focusing on income in lieu of race, there's general agreement among researchers that when students arrive on campuses because of affirmative action, whatever the kind, they are entirely capable of succeeding. Georgetown University's Center on Education and the Workforce found that white students who score in the bottom half on tests have a graduation rate of 75 percent at the country's most selective schools, while those in the top half have a graduation rate of 88 percent. For students of color, the graduation rate are 73 and 85 percent, respectively. The center also found that when average students attend the country's best colleges, their rate of graduation goes up by 26 percent.
"That's the painful part of this," Levy said. "I'm not asking for standards to be reduced." Rather, there are "so many low-income kids who could do spectacularly well and they ought to be given the chance."