The Tricky Pursuit of Diversity at the U.S. Air Force Academy
The school faces the complicated task of increasing the number of minority students while preserving order and tradition.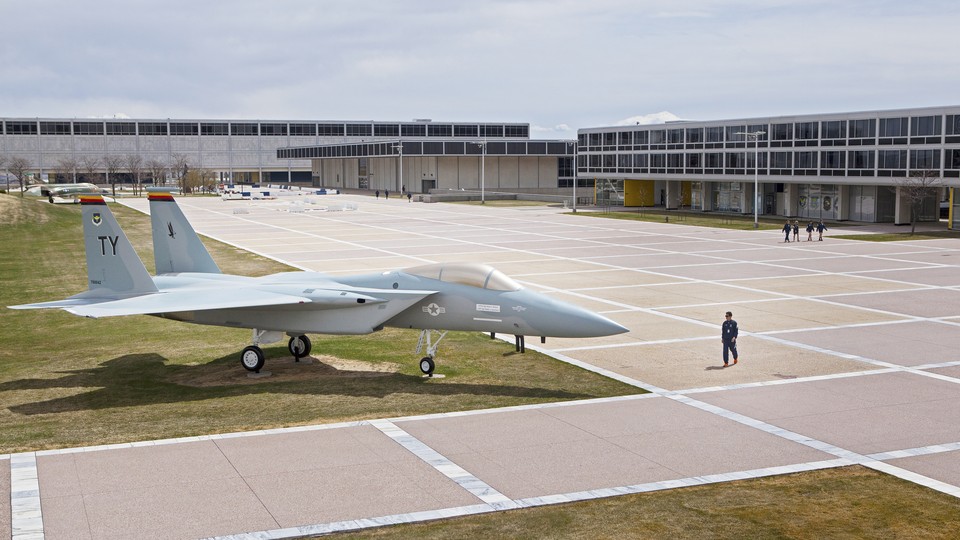 COLORADO SPRINGS, Colo.—Lieutenant General Michelle Johnson stood at the window of her office and surveyed one of the most orderly college campuses in America. Despite the mild spring weather, there were no students lounging on the grass or blasting music outside the dorms at the U.S. Air Force Academy just north of this mountain town. In fact, it was quiet, save for the low whir of tow planes pulling gliders across the blue April sky.
"We're like an aluminum fortress," she said, gesturing toward the pointed spires of the academy's iconic chapel and the low-slung buildings that anchor this 19,000-acre school. "We've got to be open and secure."
Johnson, who became the first woman to serve as superintendent of the academy in 2013, was speaking literally. (The Air Force has conducted airstrikes against ISIS and the campus has become a target of the group.) But she might as well have been referring to her strategy for running the operation responsible for educating the next generation of Air Force officers who will be tasked with defending the United States against foreign threats.

Although she's only been at the helm for three years, they are years that span a tumultuous time for both higher education and the military broadly. Educators and military officials are grappling with shifting demographics, where the people in leadership roles look less and less like the people they are charged with serving. At colleges across the country, the overwhelming whiteness of those in power has prompted Black Lives Matter activists to call for more diversity. At the Pentagon, the Defense Department is looking for creative ways to fight an enemy that is less predictable and more amorphous. Both tasks require a delicate balance of preservation and evolution, of security and openness. As the leader of both an elite institution of higher learning and a key piece of the military pipeline, Johnson sits at the nexus. "We're trying to deliver this traditional mission in a relevant way to this generation and to the profession of arms," she said.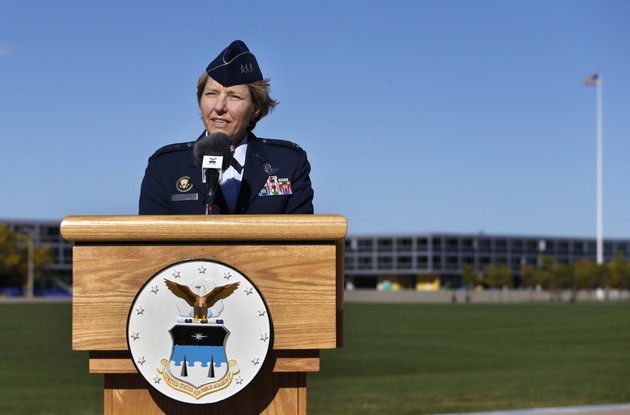 At the academy, that has meant bringing sometimes-uncomfortable conversations about race into the open. The dialogue is structured in a way that both adheres to the military's strict guidelines around acceptable conduct and recognizes that the 4,000 cadets that call the academy home each year are not cogs in a machine, but young American adults with opinions and values and connections to the world around them. The student protests that erupted at schools like the University of Missouri after the black teenager Michael Brown was shot and killed by Darren Wilson, a white police officer in Ferguson, didn't materialize at the academy. Such activities could, after all, be considered a violation of the Defense Department's rules against making political statements in uniform. But Johnson acknowledged that the absence of overt unrest does not mean the absence of discontent. "Same concerns. Same gene pool. Same generation, so we try to tend to those," she said.
After West Point, the Army's service academy, said it would not punish 16 black female cadets who were photographed in early May with their arms raised in what many saw as a political statement, the Air Force Academy suggested it would behave similarly if confronted with such a demonstration.
"The Air Force's Academy is a training institution, teaching cadets how to appropriately raise concerns, understand perceptions and balance personal freedom with effective leadership," Lieutenant Colonel Brus Vidal, the academy's director of public affairs, wrote in an email. "Cadets will continue to navigate through situations and circumstances where judgment is an important aspect of leadership on active duty. This is the ideal environment to explore those leadership issues with open and transparent conversations."
In a way, it's been easier for Johnson and her colleagues than for university presidents to "tend to" students' concerns because they've been building the scaffolding to do so for years. Where the University of Missouri only hired a chief diversity officer this year in response to protests, the academy created that position in 2010, and Johnson made sure it reports directly to the superintendent so that concerns can't be filtered before they reach her. Where some schools have tried to contain conversations about policing and race (just 40 percent of university presidents in a recent survey said that dialogue has increased across their campuses in the wake of Black Lives Matter events), Johnson's staff put together a forum on Ferguson for cadets with guidance from the Knapsack Institute, which helps schools and businesses navigate tricky conversations. "People have concerns but our faculty engaged," she said. "We try to broach it on a real human level and draw out what their concerns are … We're not immune, being in uniform."

The focus on diversity is "embedded in many of the courses we teach," said Brigadier General Andrew Armacost, the dean of faculty at the academy. New hires go through an orientation the summer before they start teaching to learn how to lead classes in a way that makes people feel like they belong. During the year, faculty gather occasionally during lunch to talk about books on belonging. Up recently were Beverly Daniel Tatum's Why Are All the Black Kids Sitting Together in the Cafeteria: And Other Conversations About Race and Claude Steele's Whistling Vivaldi: How Stereotypes Affect Us and What We Can Do.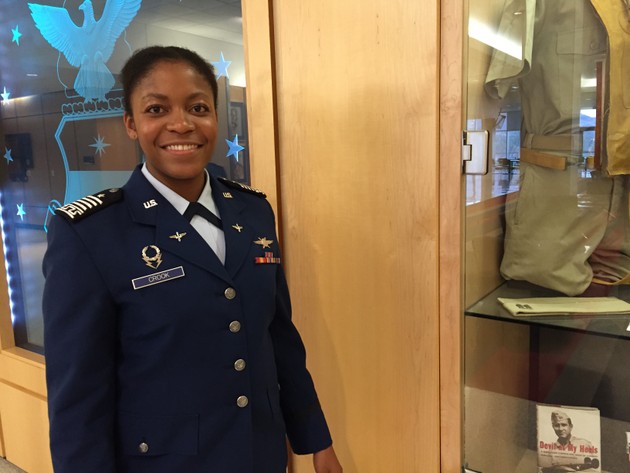 Cadet Colonel Tarina Crook, an African American student, attended the Ferguson forum. "We just had the most respectful conversation I thought imaginable," she said. Cadet Colonel Kristov George, another cadet, echoed Crook. "We see all these opportunities as academic discussions," he said. "We don't protest." Raised in a small town outside of Dallas by a mother from Trinidad and Tobago, the black 6'1'' mechanical-engineering major was recruited to play football and this year serves as the cadet wing commander, the school's highest-ranked student. "You're not going to see black cadets marching around this campus saying, 'black lives matter,' or saying, 'down with the white system putting us down,'" he said. "We're not going to do that. What we're going to do is we're going to talk about it … We try to remove emotions from these conversations here because we know that it only leads to trouble, so we try to use logic in most of these circumstances."
Putting aside the question of whether suppressing emotions is the healthiest way to engage in such conversations, the fact that the conversations are happening at an institution many have regarded for decades as less-than-accepting of differences is noteworthy. So is the fact that they've been going on for years, well before many liberal-arts universities found themselves scrambling last year to react to student demands. "Rightly so, in military service we're expected to hold higher standards," Johnson said. "It's what our nation expects of us, so the scrutiny is strong and we need to be at the leading edge of things."
"We are trying to develop them into leaders," Brigadier General Stephen Williams, the commandant of cadets (the dean of students, in civilian terms) added. "They're going to lead a diverse group. You can't lead a diverse group unless you learn how to work and integrate within a diverse group. So, really, everything we're trying to teach them is how to manipulate their world in that environment so they can lead."
That is the crux of why a school so regimented that failing to cut your hair or marching out of sync are still cause for disciplinary action is wading into such a gray zone: The military's future depends on it. Why care about diversity, I asked Johnson. In a candid interview that spanned more than an hour, she offered a number of nuanced, thoughtful reasons. But the short answer, as she said, is this: "Cold hard facts? So that we can conduct our mission better. We really need each other."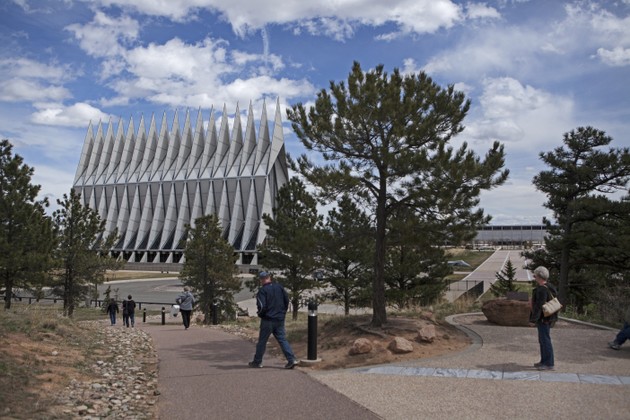 While forums on Ferguson and faculty book clubs are important, the academy is digging in long-term on increasing the racial and gender diversity of its cadets, faculty, and staff, which it hopes will ultimately increase the diversity of the force's officer corps. It's a long, challenging slog. Women make up just 18 percent of military faculty, and minorities just 8 percent. The rates are higher for civilian faculty, 40 percent and 9 percent respectively, but not reflective of the broader population. The academy is behind on the Air Force's goal to raise the number of women in the cadet applicant pool to a relatively modest 30 percent, too. Fewer than 27 percent of the young people who applied to be in the class of 2020 are racial minorities, despite the fact that children of color now make up more than half of all K-12 students nationwide.
Raising those figures is complicated by the fact that the academy is stuck adhering to federal regulations that say it cannot specifically recruit young women or people of color. In other words, it wants them, but it has to go about asking for them in a roundabout way. So about four years ago, the academy stepped up its outreach to what it calls "underrepresented congressional districts." It's worth pausing briefly here to explain how a student goes about applying in the first place and why those congressional districts matter so much.
A kid who wants to go to the academy doesn't just go online and submit an application directly to the school. She has to apply for a nomination, generally from her Congressional representative, senators, or from the vice president. Each member of Congress is allowed to have five cadets enrolled at the academy at one time. When a spot opens up, a member can nominate up to 10 people for admission, known at the academy as "appointment." Not everyone who gets a nomination gets in, but securing a nomination is a critical first step. So how does one get a coveted nomination? The answer varies widely because each congressional office has its own process, and they don't have to disclose who they select or why. (Calls to several congressional offices requesting information about how nominees are selected were not returned.)
A 2014 USA Today examination of the process found that lawmakers sometimes nominate the children of friends and political donors with little oversight. "While congressional nominations help ensure geographic diversity," the authors wrote, "they're less effective in providing for other kinds of diversity. For decades, many Southern lawmakers refused to nominate black candidates." And sometimes students of color don't reach out and apply for a nomination. A spokeswoman for Representative Hakeem Jeffries, a Democrat who represents a largely African American section of Brooklyn and Queens, told the paper he hadn't received any applicants the prior year.
It's in that framework that the academy must operate. So Colonel Carolyn Benyshek, the director of admissions, has her staff look at which districts have four or fewer cadets, reaches out to congressional staffers in those districts, and works with them to find qualified students. While that doesn't necessarily foster racial diversity in theory, it actually has in some places because underrepresented districts are often comprised of constituents who are underrepresented minorities. That's partially because people of color are often less familiar with or open to the idea of attending the academy, and partially because of pushback from some of the lawmakers themselves. Benyshek recalled a conversation with one congresswoman who hadn't been nominating students. The woman, an older person of color who Benyshek declined to identify, allegedly told her, "I don't believe in this. I don't believe in the military because these are the things that happened to my race during this time period and I don't want my children to have to deal with that."
After outlining the opportunities cadets have and the financial benefits (tuition is covered by taxpayers in return for five years of service and cadets earn a stipend while they are enrolled), Benyshek said her office hasn't "had a problem" with the congresswoman's nominations. But fewer members of Congress are military veterans than in previous years. Less than 20 percent of today's representatives and senators have served in the military. In the early 1970s, that figure was above 70 percent. So Benyshek and her staff also find themselves working with a group of lawmakers who have less personal understanding of the armed forces than earlier generations.
There's also the fact that only about 25 percent of Americans are eligible for military service, and, for a variety of reasons, cadet eligibility requirements seem to favor upper-middle-class white men. There is a special nominating process for cadets from military families, which offers a leg up similar to the one legacy applicants get at Ivy League schools. Cadets have to be physically fit and criminal records can be disqualifying. They can't be married or have children. They have to have excellent academic records and leadership qualities.
Convincing qualified kids to apply can also require convincing wary families that the Air Force Academy is the right way to go. Benyshek's staffers, many of them recent graduates of the academy selected in part because they are bilingual or share a background with potential applicants, "blitz" a city like Chicago or Houston by talking to local schools, nonprofits, and even church leaders to find underrepresented qualified students, instead of using the "touch and go" approach they used to employ. Some communities, Benyshek said, saw the old approach as insincere. "With the African American population... we've had to work with some church elders to actually get access to their high-end students who are trying to seek higher education," she said.
The academy's community approach is a far cry from the tactic many universities employ of sending representatives to sit at a few college fairs hoping the perfect students will come to them, or tapping into alumni networks to interview people only after they've already applied. But the academy also has a resource advantage in that Benyshek has 1,300 admission liaison officers working for her around the world. She can compel some recent graduates, who owe the military at least five years of service in return for their education, to stay on and help her search out the next generation of cadets. Cadets at the academy aren't furiously applying for consulting gigs or Wall Street jobs the way students are at other elite schools. General Johnson became one of the first female cadets (and eventually the first female cadet wing commander) in the late 1970s because a liaison officer spoke at her high school in the farming town of Spencer, Iowa, and painted her a picture of the way out. "We can't just wait for them to line up," she said.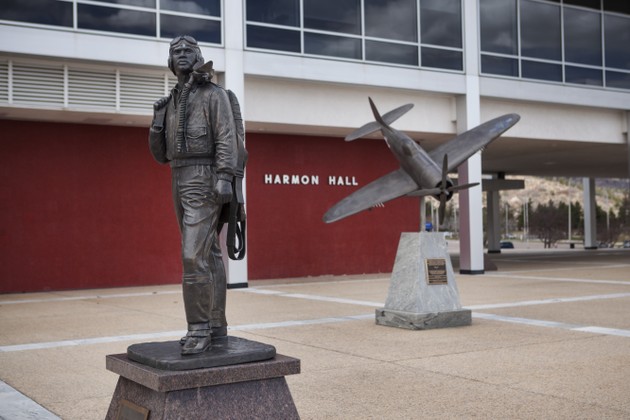 Moses Stewart, who has been acting as the chief officer of culture, climate, and diversity at the academy since July of 2014, operates with that mantra in mind, and with the understanding that when a prospective cadet outside the standard mold does show up, the differences can be an asset. That might sound obvious, but it's not something all congressional offices have adopted. To nudge them in the right direction, he created a guidebook to help congressional staffers, who, it's worth noting, are not admissions officers, choose kids to nominate. When a potential nominee shows up in a pair of jeans, he reminds them, it can be indicative of a lack of resources rather than a display of disrespect.
Degree tracks at the academy are relatively rigid and tightly packed. Admitted students start basic training in June, so there's no time to offer the remedial courses that many college students find themselves in. But the academy doesn't want to eliminate young people it thinks could ultimately succeed in the Air Force with a little more preparation, who are disproportionately students of color, from contention, so seven year-long prep schools, including one on the academy's grounds, offer some students an extra boost before they enroll in the academy. Benyshek is herself the product of a prep school. Raised with a father who was in the military, she moved so much as a kid that her education was disjointed. She missed every class unit on the Civil War. "What the prep school did for me was to really tie all the pieces together and help me to learn how to study," she said. "It was a very, very good opportunity to then earn an appointment to come here." Johnson added, "That's an avenue where we can say, 'You're close, you have that other thing we think you can bring to us—grit, experience, maybe a prior-enlisted person—and so go to prep school.'"
Once the cadets arrive at the academy, there is more of a safety net to help those who are struggling than at many other universities, particularly big state schools where courses can run 400 students and professors often prioritize research opportunities over teaching. Cadets belong to squadrons of about 100 students of varying age and rank, so they are automatically members of a smaller community. Whether they feel like members of that community is a valid question and the answer is not always yes, but the fact that they are explicitly named as members of a smaller community within the school is a step. Recent research has indicated that students who are the first in their families to go to college often drop out because they don't feel a sense of belonging. At the academy, the groundwork is already laid.
Studying is mandatory at certain hours in the first couple of years and cutting class has real consequences, so no one gets away with slacking for so long that they fall through the cracks. Cadets have their instructors' phone numbers and are encouraged to call with both academic and personal questions. Each student has the option to be paired with a local sponsor family who can take her to church or to dinner and help ease the transition from civilian to military life. Sometimes, the academy will reduce a new cadet's course load and add a study-skills class (the missed course is made up over the summer), or send a cadet to a tutoring center on campus that is led not by graduate teaching assistants but by salaried faculty members. At many schools, the onus is on students to recognize when they're struggling and figure out how to handle it; at the academy, that's not the case.
For better or worse, basic training also serves as something of a unifier for the cadets who survive it. There's nothing like running a successful evacuation drill in a deliberately stressful simulation to make a new cadet feel like part of a team. "They subordinate their desires to the unit and the unit has set those standards," Williams, the dean of students, said. The implication is that demanding such cohesion creates less space for racism or sexism to creep in. But it also demands a certain restriction of personal agency, which can look to some people like the continuation of policies that for years allowed those in power to keep others quiet.
Interviews with half a dozen cadets suggest that while discussions about race in the context of Black Lives Matter do come up, race doesn't seem to play a role in who becomes a leader at the school. "As far as race goes here, I come from a town where I was one of maybe five [black students] tops," George, the highest-ranked cadet, said. "And here, I'm seeing more people who look like me in general. But then again, it doesn't matter, I think people here are high-quality people. They're intelligent people, so the ignorance that you see in a places like where I came from just doesn't exist. Bottom line, people here look for performance."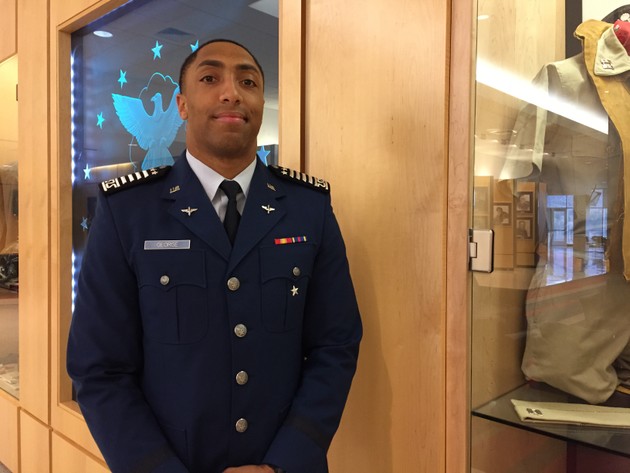 If anything, conversations with several female cadets seemed to indicate more of an issue with gender discrimination than with overt racism. Crook said male cadets respect her as an equal "for the most part," but she's fielded negative comments about the fact that the athletic standards for women are different than for men. Even George, in a comment intended to praise the strength of the academy's female cadets, said they don't "let their gender take them down." He meant well, and none of the female cadets sitting next to him reacted negatively, but it takes a certain mental stamina to exist in an environment where even the people who support you being there see your gender as a drawback and not an asset. Crook said she has sought out mentors who encourage her to educate fellow students instead of getting angry.
Cadet First Sergeant Sarah Fishbein, another female cadet, agrees. She's learned, she said, "just to ask more questions" of critics to try to understand where they're coming from. Both women expressed an "it happens" mentality, but Fishbein acknowledged that "it is intimidating knowing that you're going to come in and be a minority here as a female because that's just really strange, especially in higher education." While she ultimately decided that the benefits of attending the academy outweighed any cost, not everyone does, and the potential solution is a classic catch-22. More women would join if they saw more women, but there's no way to show them more women if more women don't join. The same is true for people of color. "Part of it is seeing somebody like you and saying, 'Oh, I could do that,'" Johnson said. For her part, she's forced a conversation about sexual assault on the campus (reports of assault in the academy are up, which likely means more people feel comfortable coming forward), particularly in the athletic department, in a way that previous leaders had not.
On campus, Stewart, the acting diversity officer, spends his days dealing with all of these issues, stressing to different departments the importance of not just paying lip service to diversity in its various forms, but of fostering actual inclusion. That task will likely become easier as the faculty itself diversifies, but Armacost says that process is made more challenging by the fact that positions don't open often on the civilian side, and on the military side, by the fact that the Air Force is occasionally reluctant to send some of its top women and people of color to teach at the academy. "'Yes, we understand your needs for diversity but the Air Force has needs for diversity as well.' That's the response sometimes," Armacost said.
In the meantime, the academy has taken a few stabs at modernity—efforts that would seem laughable to most college students, but are welcome news for cadets and in part an attempt to draw in young people unfamiliar with military standards. Dorms are now co-ed. Dating is allowed, with the exception of a ban on first-years dating upperclassmen that's intended to prevent an imbalance of power. "In this day and age, we can't cloister 'em like 1802 in Westpoint. And that didn't work out that well anyway," Johnson said, chuckling. "I'm a military commander, but it's college." Seniors in good standing can leave campus in the evenings as long as they're back by 6:45 a.m. the following morning, where they were required to be back by the end of the night just several years ago. Cadets are permitted to spend time with ROTC units on regular campuses around the country to get a taste of college life. There's talk of giving students more choice over which classes they take and even moving to a block schedule that would give students time during the day to informally grab coffee with their peers. (Don't laugh; this is a novel idea at the academy.)
There has also been an attempt in recent years to embrace religious and, to some extent, sexual diversity. Attendance at chapel is no longer required (it was until the 1970s), and there are spaces for cadets of all faiths to worship. The academy faced allegations before Johnson's tenure that non-Christian cadets were subject to unwanted proselytizing. Freedom of religion and religious tolerance came up frequently during my visit, with academy leaders going out of their way to show that the academy welcomes cadets of all faiths, including through an hour-long private tour of the chapel and other worship spaces. The academy, which has about 30 Muslim cadets, including four women, has one of three Muslim chaplains in the entire Air Force, and its only female rabbi. The school, like the Air Force more broadly, says it accommodates religious requests, such as the ability to wear a headscarf (a request a conservative military college in South Carolina recently denied a cadet), on a case-by-case basis, "unless a request would have an adverse effect on military readiness, mission accomplishment, unit cohesion, and good order and discipline."
In the aftermath of the repeal of the Don't Ask, Don't Tell policy, lesbian, gay, and bisexual cadets are free to be open about their identities, and the academy has held forums for cadets to talk about sexual identity. But at the same time the military still does not permit transgender people to serve openly, and academy leaders referred simply to "LGB" issues in conversation, leaving the standard T noticeably hanging. Young people, especially, may see that as frustratingly slow progress toward inclusion. And while the academy is trying to balance modernity and tradition, there is clearly still room to grow when it comes to preventing some cadets from leaving.
The attrition rate for the class of 2016 is 23 percent, meaning nearly one in four of the cadets who started out won't graduate and be commissioned. It's 25 percent for women and 39 percent for African Americans. A recent informal cadet survey found that some 60 percent of cadets don't feel like they belong. There's no quick fix, but Johnson and her colleagues say they are committed to engaging in the effort, and helping cadets navigate an increasingly heterogeneous Air Force after graduation. "What they understand from very early on is that we have a product at the back end and that's going to be an officer of character leading our Air Force and our nation," Benyshek said. "They understand that, 'I'm going to go out and I'm going to have to lead people who don't look like me or who didn't grow up like I did.'"
Ultimately, cadets are beginning their military careers when they enroll at the academy, not when they graduate. Their professors and classmates are also their future bosses and colleagues. So the way they behave and the concerns they share are certainly filtered at times through that understanding. But the academy is taking steps to draw out their thinking in ways that could someday benefit the Air Force as a whole as it faces an enemy no longer marching in a straight line. "We're a better force because of that diversity of thought," Williams said. The effort is "not perfect," nor complete, Johnson acknowledged, but, she said, "We think we're going in the right direction." The key is "not having a tin ear, being willing to listen," and willing to ask: "What are we missing, what can we do better so that everyone has a sense of belonging?" she said. Part of the approach is upholding clear standards for everyone, from athletes to faculty members. And part of it is figuring out how to make previously restricted spaces accessible for young people who sometimes lack a roadmap for how to reach them. "You know how the philosophers say, 'Don't blame the apples if the barrel is bad?'" Johnson asked as our conversation wound down. "I want to have a great barrel."