Why a Mississippi City Is Just Now Being Forced to Desegregate Its Schools
A federal judge says Cleveland, Mississippi, must finally comply with a historic ruling the U.S. Supreme Court made more than 60 years ago.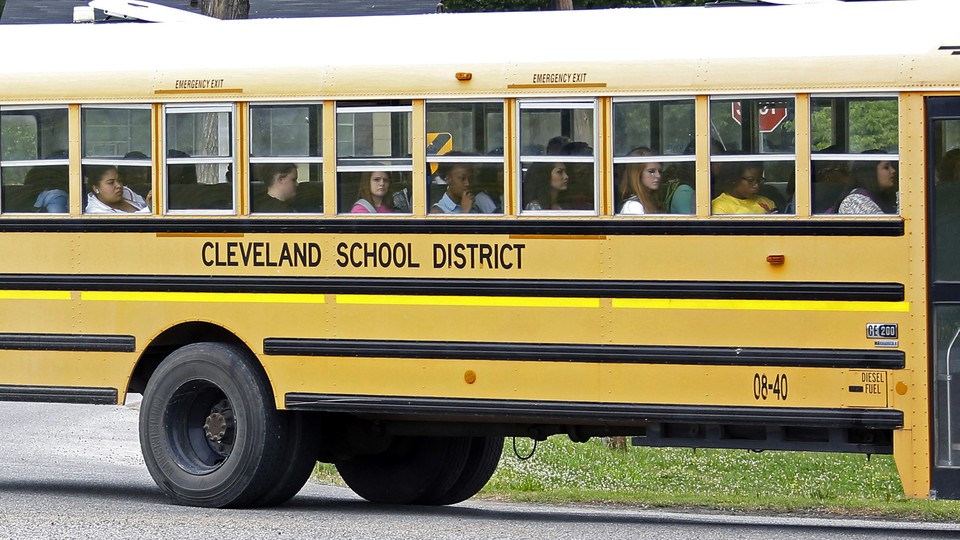 May 17 marks the 62nd anniversary of the U.S. Supreme Court's Brown v. Board of Education decision, which outlawed deliberately placing black and white students in separate schools. The ruling was designed so that school districts could come up with plans for desegregating their own educational facilities, but six decades later, school segregation remains a problem. A new U.S. Government Accountability Office report found that the number of schools with at least 75 percent black, Latino, or poor students grew from 9 percent to 16 percent over the last 15 years across the country.
One city that just never succeeded at school integration is Cleveland, Mississippi, where the school district was sued by a group of parents way back in 1965 for its failure to comply with Brown. Black families were concentrated (both then and today) in neighborhoods to the east of a railroad track that split Cleveland in half, both physically and racially. Black children were forbidden from attending schools located to the west of the tracks, where white families lived almost exclusively, due to Jim Crow policies.
This sequestering of black students persisted for decades after that lawsuit was filed, despite numerous consent decrees and court orders for the Cleveland school district to desegregate. The district was never able to come up with a plan that could convince white parents to send their kids to schools on the black side of town. Now, the federal government wants Cleveland to squash its schools' race-based reputations by folding the east-of-the-tracks black middle and high schools into the historically white schools to create single, blended schools for each age group.
On May 13, a federal judge agreed to this plan despite considerable opposition from school and city officials, who insist on keeping the schools bifurcated. This, more than 60 years after the U.S. Supreme Court ruled that "separate-but-equal" schools were unconstitutional.
Wrote U.S. District Court Judge Debra M. Brown in her ruling:
… In the decades since this pronouncement, the District has failed to meet this obligation as it concerns the high schools and middle schools in Cleveland, Mississippi. This failure, whether born of good faith, bad faith, or some combination of the two, has placed Cleveland in the unenviable position of operating under a desegregation order long after schools in bastions of segregation like Boston, Jackson, and Mobile have been declared unitary. Moreimportant, and of far greater harm, the delay in desegregation has deprived generations of students of the constitutionally-guaranteed right of an integrated education. Although no court order can right these wrongs, it is the duty of the District to ensure that not one more student suffers under this burden.
The order applies to two middle schools, including D. M. Smith, which is located east of the tracks and has maintained a 99 percent black student population since at least 2012. It also applies to the city's two high schools—including East Side High School, named for its location, and which has also maintained a 99 percent black student population over the past few years.
The other two west-side schools, Margaret Green Middle School and Cleveland High School, were originally predominantly white schools, but today maintain a somewhat even racial split (though white student enrollment has been declining in both). Those schools have been able to achieve better integration results by adding a mix of magnet and college-prep programs, all features of prior court-ordered desegregation plans and consent decrees.
It's not that those programs didn't work, it's that they worked in just one direction. Meaning, they enabled black students to integrate into the white west-side schools, but were ineffective in integrating white students into the predominantly black schools. Meanwhile, those east-side "black" schools earned reputations for inferior accommodations. Sharon Lerner offered some details on these facilities in an article that ran in The Atlantic last year, for which she interviewed Mauve Sanders, a then-East Side High student whose family is a plaintiff in the court case Judge Brown just decided. Wrote Lerner:
East Side students didn't even get science textbooks to bring home at night; there aren't enough to go around. They don't have lockers, either. Sanders and his classmates carry their books around in their backpacks all day. Though he is a strong and athletic, "it gets heavy," says Sanders.

A mile away, students at the racially mixed Cleveland High have these basics, even though the school receives more than $3,000 less per student each year than East Side does, according to the school district. And Cleveland has some amenities East Side does not, including a softball field and a weight room "that makes ours look like a baby weight room," as Sanders puts it. An investigator hired by the Justice Department in 2009 found that the quality of Cleveland's all-black—or mostly black—schools was "not comparable to [the quality at] those with majority white enrollments," noting lighting that failed to meet minimum standards and buildings that were of "substantially poorer quality."
Cleveland's two high schools do literally sit a mile from each other, on either side of the railroad track. Collectively, they hold about a thousand students, which isn't enough to overburden the high school system if combined into one, argued the Justice Department in its case against Cleveland. However, city leaders testified that "people in Cleveland are nervous, fearful, and resentful," about the consolidation plan.
Boston University professor Christine Rossell, an expert on desegregation, testified on Cleveland's behalf that if the schools consolidated, it would trigger "white flight." It's a perspective that closely resembles the position of many Cleveland parents, mainly white, who've resisted for decades any proposal that would have them place their children in predominantly black schools. But the 1987 United States v. Pittman ruling declared that white flight threats cannot be considered when creating desegregation plans, and Judge Brown ruled accordingly:
The Court suspects that white enrollment loss related to consolidation, like most things, will fall somewhere between the two extremes. The District is likely to suffer some white enrollment loss as a result of consolidation. While this is a concern, it is insufficient, in the absence of an alternative constitutional plan, to reject consolidation. Rather, potential white enrollment loss is a problem that must be met with creativity. To this end, the U.S. Plan calls for a rebranding effort, a diverse offering of academic programs, and the formation of a multi-racial advisory panel to ease the transition—all methods this Court finds reasonable and appropriate.
Vanderbilt University professor Clare Smrekar, also an expert on desegregation, testified on the Justice Department's behalf that the white flight concerns are overblown. Said Smrekar in her testimony:
[A]fter careful analysis, after reviewing all the documents, after spending almost a year thinking about this and spending time in this community, it is my conclusion that a one-high-school model is the most effective, will achieve desegregation realistically and immediately. I believe it will draw students and maintain diversity in this community because it offers what the families demanded.
The Cleveland School District, for its part, argued that it could achieve full integration by installing more magnet programs in the predominantly black schools to lure more white families. But they've been doing that for almost half a century—in ways that seem to have, at best, only benefitted the white schools on the west side of town. Which is why the judge ruled continuing those strategies unconstitutional.
Judge Brown recognized in her order the city's previous, failed desegregation plans, acknowledging that they were made with good intentions. However, as Brown wrote in her ruling, "good intentions cannot render the proposed unconstitutional plans constitutional."After all of those decades of failure, the best way to move forward is to try something never before attempted: In order to integrate, Cleveland will need to disintegrate the place-based and race-based features that have pushed black students into separate, substandard learning facilities. No more schools associated with being on the right or wrong side of the railroad tracks—just one, unified school, with students and teachers of every race, all on the same side. The erasure of the dividing line of the city has already begun, with the railroad track now turned into a bike trail.
As Reverend Edward Duvall, a parent of Cleveland students, testified, "We can break down this wall of racism that divides us and keeps us separated, and we could create a new culture in our school system that's going to unite us and unite our whole city."
---
This article appears courtesy of CityLab.