When All Kids Eat for Free
Congress is considering a rule change to the school-nutrition law that would bar thousands of schools from offering complimentary lunch to all students.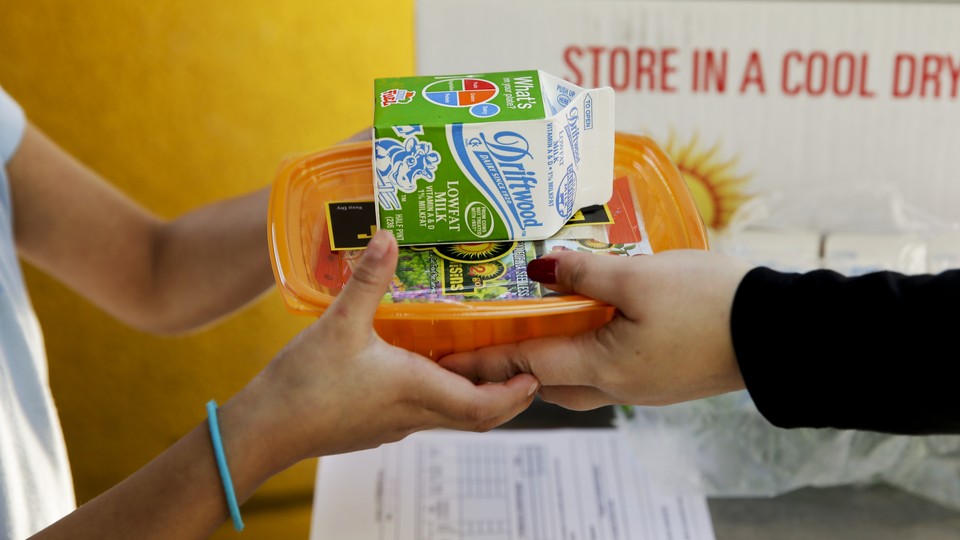 Much has been made recently of Detroit's resurgence and growth. In January, President Obama made a swing through the Motor City, touting "something special happening in Detroit." Yet the comeback has not been evenly felt across the city. The Michigan League for Public Policy's 2016 Kids Count Data Profile revealed a major fault line earlier this year. From 2006 to 2014, child poverty in Detroit increased by 29 percent, to about 94,000 children or well more than half (57 percent) of the city's population under the age of 18.* The unavoidable conclusion: Many of Detroit's youngest residents remain mired in hardship and hunger.
During the school day, the job of filling children's empty stomachs rests with Betti J. Wiggins, the executive director of Detroit Public Schools office of school nutrition. The district enrolls about 46,000 students, and advertises free breakfast and lunch for every child—not just those who qualify and apply for the benefit. Wiggins credits a little-known provision in the federal child-nutrition bill for boosting participation and feeding more of Detroit's students at school. But those nutritional benefits are now at risk, as Congress moves to reauthorize the 2010 Healthy, Hunger-Free Kids Act. A proposed rule change to the Community Eligibility Provision (CEP)—widely praised by budget experts and school officials—would effectively leave thousands of impoverished Detroit students, who now eat breakfast and lunch at school, unfed.
The rationale for the program is fairly straightforward. CEP, now in its second year of nationwide availability, allows high-poverty schools to offer free breakfast and lunch to all students at no cost, instead of collecting individual applications for free or reduced-price meals for students who qualify based on family income. Whether a school is eligible for the provision is based on data illustrating how many children are food insecure, whether they live in households that receive food stamps, live in foster care, are homeless, or other criteria that identify them as part of a food-vulnerable group. Under the program, a school district, group of schools, or single school with 40 percent or more "identified students"—those who automatically qualify for free school meals because they fall within the prior special classification—is eligible to adopt community eligibility. The House bill would raise the eligibility threshold to 60 percent, forcing thousands of high-poverty schools nationally to rollback school meals.
Wiggins said the program allows districts like hers to feed more hungry kids. "In income-insecure households, the first item to be reduced is food, in both quantity and quality," she said. Since CEP, Detroit has experienced an average daily participation increase of 22 percent across the district. She anticipates that with the higher eligibility limit almost 8,000 fewer breakfasts and about 9,300 fewer lunches would be served to students each day. This represents a projected 40 percent drop in eligible high-school students who will abandon school meals, Wiggins said, because of the "consequential identification" of being a free-lunch student. Additionally, CEP reduces administrative costs associated with processing school meals applications. Wiggins said the cost of printing, distributing, and processing school-meals forms—both materials and staff time—ran close to $200,000 annually before schoolwide free meals.
An analysis of the House bill by the Center on Budget and Policy Priorities echoes Wiggins' dire predictions. In urban school districts like Detroit, Baltimore, and Chicago—along with rural districts across the country with large numbers of low-income families—there are upwards of 7,000 schools that have adopted community eligibility but would fail to meet the proposed 60 percent criteria. Another 11,000 schools that qualify for the program, but have not yet adopted community eligibility, would also lose the option because they fall below the 60 percent mark. According to the CBPP report, the change would deal a serious blow to districts from Arizona—with six schools on the Navajo Nation serving about 1,500 students—to Alabama—with dozens of schools in Mobile and Montgomery and tens of thousands of students affected.
Zoë Neuberger, a senior policy analyst for CBPP who studies nutrition-assistance programs, said that a good amount of confusion and misinformation surrounds the CEP. "Changing the threshold for community eligibility from 40 percent to 60 percent will make it harder for schools serving very low-income communities to offer school meals," Neuberger said. She emphasized that USDA's evaluation, which compared participation in schools that had adopted community eligibility to similar schools that hadn't, found that lunch participation was 5.2 percent higher in community eligibility schools and breakfast participation was 9.4 percent higher. And she stressed that community-eligibility schools are reimbursed based on a formula so that the higher the poverty level, the higher the reimbursement. "Congress should stay out of the way of these schools, which already face plenty of challenges, so they can focus on providing high quality meals and educating their students," she said.
A spokesman for the House Committee on Education and the Workforce countered that the new legislation does not change who is eligible to receive nutrition assistance in schools, and noted that the broader consequences of the Healthy, Hunger-Free Kids Act include "higher costs for schools and fewer students being served." To help substantiate this claim, he cited a National Schools Boards Association poll of school leaders. But the survey queried school officials on the national nutrition standards for school meals, not specifically on the community-eligibility provision.
Some of the most vocal opponents of the proposed bill are educators who live in Indiana, the home state of the bill's author. The Republican Congressman Todd Rokita, who chairs the subcommittee that introduced the bill, represents an area in Indiana where nearly 34,000 children were rated "food insecure"—living in a household with limited or uncertain access to adequate food—according to the latest data from Feeding America.
The disconnect between politics and policy seems most glaring in the one aspect of school meals that is hardest to measure: the widespread stigma that students and families often attach to free meals at school. Morris C. Leis, the superintendent of Coffee County Schools in south central Georgia, said that community eligibility allows the district to serve free breakfast and lunch to over 6,400 kids—84 percent of the entire student population—but with the proposed change, six schools would be unable to participate, affecting some 3,800 children. A racially and ethnically diverse district, 28 percent of his community lives at or below the federal poverty level. "Coffee County has many [families] living paycheck to paycheck," he said. "For some students, the meals they eat at school may be the only meals they get during the day or even on the weekend."
Jill Pruitt, the eighth-grade counselor at Coffee Middle School, said students want so desperately to fit in that they are even willing to skip lunch instead of being called poor. "Peer pressure is very powerful, and students have often felt ashamed of being on the 'free lunch' list," she said. Thanks to the CEP, this year all students at the school are allowed to eat free lunch. "Students are free to eat without being categorized and stigmatized, and this has created a wonderful climate of equality and cooperation," said Pruitt. She describes students with the confidence to now eat lunch with friends of higher socioeconomic status without feeling self-conscious, and a middle-schooler who "cleans his plate happily every day without worrying about others' comments, even though he knows he will probably not eat again until tomorrow."
While Leis commends CEP for eliminating paperwork and administrative costs, mostly he also applauds the program for removing the overt identification of those students of lesser means, and shifting the culture in his schools regarding equity. "This prevents embarrassment for some students and puts all [children] on an even playing field when it comes to getting their meals."
Back in Detroit, Wiggins said her biggest concern in raising the community-eligibility threshold are the students whose middle-class parents are barely making ends meet and are struggling to stall or ward off a slide into poverty. Because it is her professional duty to feed them all—the haves, the "presumptuous haves," and the have-nots.
"Many students whose household incomes say they are full-pay may in reality be the household where our students are the most food insecure," she said, attributing community eligibility with tackling "the hunger at the end of the cul-de-sac."
---
* This article previously misstated the percent by which child poverty increased in Detroit. We regret the error.