Undocumented and Black
A recent college graduate shatters the perception that immigration reform is only a Latino issue.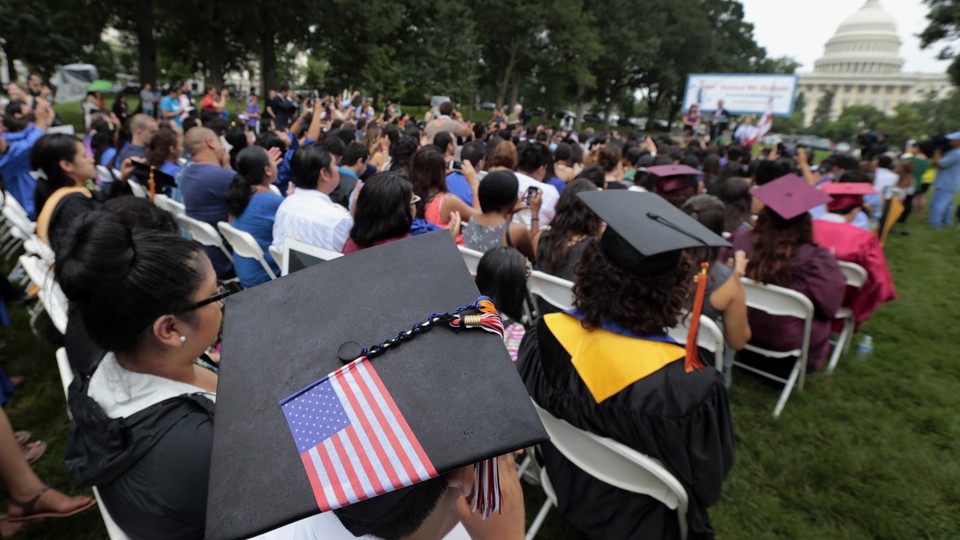 Through organizing and activism—and the uproar surrounding the issue of immigration—the plight of undocumented youth has been forced onto the national political stage. From rallies and civil disobedience to protest marches and trips to Capitol Hill, a pattern begins to emerge of smart, hard-working, undocumented Latino students tackling enormous barriers to gain citizenship and college opportunities.
Yet when you pull back for a panoramic view, an interesting aspect comes into focus. The undocumented experience is more diverse racially and ethnically than commonly thought, and the backgrounds and life experiences of many young immigrants are more unique. A Pew Research Center report from 2015 found that 3.8 million black immigrants are living in the U.S., quadruple the number in 1980. While black immigrants come from around the world, the Caribbean, Africa, Central America, and South America are the largest sources of foreign-born blacks. Additionally, a detailed analysis published in April by the Migration Policy Institute, a Washington, D.C., think tank, reveals some 600,000 black immigrants in the U.S. are undocumented.
Counted among this group is Ainslya Charlton, 22, who graduated this month from Trinity College in Connecticut with a bachelor's degree in political science and human rights. Her story as a black undocumented student further shatters the perception that immigration reform is only a Latino issue. She recently shared her perspective with The Atlantic on battling different forms of discrimination—facing anti-black racism as well as anti-immigrant fervor—and finding her rightful place. The interview that follows has been edited lightly for brevity and clarity.
---
Melinda D. Anderson: Listening to you speak at the Education Writers Association national seminar earlier this month, I was both intrigued and moved by the obstacles you've faced and the challenges you've overcome. Can you share your story—how you learned of your undocumented status, and your journey as a black undocumented student?
Ainslya Charlton: I was born in Westmoreland, Jamaica, and came here when I was 4 years old so that my parents could help take care of my father's family. An automobile accident left my grandfather comatose while my grandmother was in the final stages of cancer. My father initially came alone and then my mother and I began visiting him—until our travel to meet the tourist-visa requirements became too expensive. I knew we were undocumented when our visas expired, but understanding what that meant was a continuous learning process.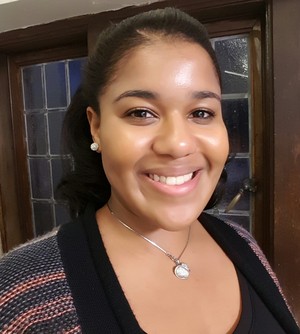 By my junior year of high school, scholarship offers came in from sources that looked at merit-based factors without knowledge of my immigration status. However, most of those scholarships were not for people who are undocumented. The scholarships that were for undocumented people were mostly directed towards Latinos. I found no scholarships explicitly available to black undocumented immigrants. This is a problem that black undocumented immigrants still tell me about in their pursuit of bachelor's degrees; for postgraduate degrees, the pool [of scholarship money] gets even narrower. The most memorable lesson of what being undocumented meant for someone like me was when I could only access the scholarship that I applied for by chance. My college advisor nominated me for the Posse Foundation scholarship [a full-tuition, merit-based leadership grant offered to public high school students] while I was still afraid to tell anyone about my immigration status. I went through the three Posse selection rounds with the belief that the Foundation or Trinity College would disqualify me once they realized my status, but they ended up granting me a full scholarship. The failure of the DREAM Act was still fresh, but the political conditions allowed colleges to admit undocumented youth that mostly matched the "no fault of their own" narrative.
President Obama announced Deferred Action for Childhood Arrivals (DACA) in the summer before my freshman year of college, and I was one of those approved during the fall. Still, after receiving DACA, I am the only government-authorized worker in my household, but not the only one mandated to pay taxes. My family is not unique in this since undocumented immigrants pay billions of dollars in local, state, and federal taxes annually. In fact, the DACA fees my family pays to the Department of Homeland Security could very well contribute to resources that could place them in jeopardy of deportation. After paying taxes for years, both my parents lost their jobs in November of my freshman year in college and were not eligible for government assistance. They received stipends deemed sufficient to feed my sister—a citizen by birth—and to pay her portion of the rent, light bill, and other utilities. My extended family and our church had to find ways to pay the other portions. I cannot imagine what it is like for undocumented immigrants without those support systems. LGBTQ undocumented immigrants come to mind.
Anderson: In many accounts of the young undocumented immigrant, the protagonist is often a Latino youth from Mexico or Central America, whose family came to the U.S. to escape extreme poverty and violence in their home countries. Talk about how this dominant narrative can render the black and non-Latino immigrant experience invisible—absent from discussion and attention.
Charlton: One concrete example is that the Black Alliance for Just Immigration (BAJI) found that black immigrants are being detained and deported at five times the rate of our proportion in the undocumented community. Many people do not realize that the immigration system is just as subject to anti-blackness as other government [systems] that are associated with enforcing structural racism. Resources that are donated with the intent to help undocumented immigrants are often targeted towards organizations that focus their efforts on Latino communities. This creates conditions where some of the only resources that are available for undocumented immigrants also have ethnicity restrictions that leave many that do not fit that mold behind.
Still yet, many of the anti-deportation protests are centered on Latinos that do not identify with an African descent. And microaggressions often happen within the immigrant-rights movement. Afro-Latinos and others are often dismissed when we make requests for translations into languages other than Spanish—such as Garifuna, French, and Portuguese. I once saw a flyer posted on Facebook for an action that was called "A Day Without Latinos" that was organized in response to an anti-immigrant bill. When I pointed out that there were people from other ethnicities that were also undocumented in that state [Wisconsin] and would also be impacted by that bill, people commented on my post by saying that if I had an issue with the way that the action was advertised, I should go out and protest instead of sitting at home. Since the face of the immigrant-rights movement does not include people like me, the assumption was that I wasn't doing any work within the movement as an individual who identifies as an undocumented black woman … We have to advocate for ourselves and the issues that disproportionately impact us [in activist and political circles] where immigration is openly understood as a Latino issue.
Anderson: Immigration policy remains a contentious, polarizing issue—with the presumptive Republican presidential nominee Donald Trump calling to deport the 11 million undocumented immigrants living in the U.S. and the Obama administration initiating a new round of deportation raids targeting mothers and children from Central America. What are your thoughts on the current political debate and decisions?
Charlton: I came into the movement as a staunch supporter of the Democratic Party, but it is important that our community advocates for ourselves and not a party. We need to make certain that our energies are spent directly addressing our issues rather than begging the Democratic Party to act as our trustees. As BAJI has been pushing us to realize, the 1996 immigration laws were passed under Bill Clinton, and we must ensure accountability for the violence they brought to our communities. As you pointed out, it is a Democratic president that has been deporting our people for the past seven years. We have to ensure that we are not accepting rhetoric and precariousness in exchange for our political support. [Further,] we must work towards building a conversation in which the questions being asked shed light on the U.S. foreign policies that create the conditions that many undocumented immigrants are trying to escape; the fact that undocumented immigrants present a net gain for the U.S. rather than being the economic parasites we are portrayed as; and the realization that the undocumented immigrants that are coming in today are not being met with the same social programs that were available to the immigrants coming in from Europe before us. In the process of not allowing ourselves to be [inaccurately portrayed,] we will break down the xenophobia and nativist policies perpetuated by people that are not natives themselves.
Anderson: At the seminar, you spoke about your involvement in immigrant justice and racial-justice movements, while feeling like you were on the margins of both DREAMers and Black Lives Matter spaces. How would an intersectional approach be more inclusive and equitable for black undocumented youth?
Charlton: For black undocumented immigrants, the violence we are subject to is not because of an isolated identity. The deportation rate is not because we are just black or because we are just undocumented immigrants. The deportation rate for undocumented black immigrants is because we are both black and undocumented simultaneously. Asking questions of blackness in isolation often cuts out issues that do not impact African Americans that are documented. Asking questions about immigration status in isolation often centers the conversation on non-Afro-Latinos from Central America and Mexico. This creates the silent conditions that allow the continued disproportionate deportation of our people and inaccessibility of resources for our community. Therefore, those who intend to bring justice to the undocumented community as a whole and black people as a whole must ask questions that reflect our identities as they are experienced, simultaneously.
Anderson: Taking stock of your organizing and activist work with the Connecticut Students for a Dream (C4D) and the UndocuBlack Network, it seems that you've translated the personal into policy. How has your activism influenced both your opportunities and your undocumented peers?
Charlton: The way that the media covered the movement while I was in high school and college did not make it seem like a movement that was mine. I thought working hard academically would be the best way to change the trajectory of my mixed-status family. However, Trinity College brought me in close contact with conservatives that were very openly and strongly anti-immigrant. They didn't know they were speaking to an undocumented immigrant. Some of them described "illegal immigrants" that were lazy and taking up welfare money as their families were struggling to pay their college tuition. Some of them talked about "illegal immigrants" that had two and three jobs while other people were struggling to get one. Some of them subscribed to both simplified understandings of undocumented immigrants, depending on the point they wanted to make, without questioning the contradiction.
I was mostly quiet about my status during the first two years of college, but I began asking whether my voice could make a positive contribution in disrupting the narrative that my classmates unknowingly had of people like me. I came out as an undocumented immigrant on my campus in April 2014 and began organizing on campus concerning the issues impacting undocumented immigrants. While some people felt that my being undocumented made me more biased … many people on campus began reconceptualizing what they understood to be an undocumented immigrant. Afterward, I got involved in organizing and engaging in some actions in the name of Black Lives Matter. We caucused with one another about what blackness meant in our generation. Although I attended immigrant-rights protests before, these conversations gave me the confidence to begin directly drawing attention to the realities of undocumented immigrants that countered the normalized conception.
I attended a rally that was organized by Connecticut Students for a Dream in spring 2015 and told my story from the perspective of an undocumented black woman who did not believe that I should divide up my identities according to the movement that I was participating in … I surprisingly found a group of people that agreed with me on the need to diversify the faces of the immigrants' rights movement. [Since then] my work with C4D has widely been policy efforts to expand access to higher education regardless of immigration status in Connecticut. Our campaign will continue into the next legislative session with the national backing of the UndocuBlack Network and increased input from black undocumented voices, including Afro-Latinos. [This alliance] has increased our understanding of the issues that disproportionately impact black undocumented immigrants [and] built our political consciousness and confidence to create spaces where no one is left behind.
Anderson: You just celebrated your college graduation—a significant milestone—and yet much uncertainty lies ahead as your undocumented status presents a new set of complications, such as qualifying for graduate school and obtaining future employment. How are you charting a path to negotiate these unknowns?
Charlton: I recently accepted a job as a "DACAmented Teacher" with Teach for America (TFA). It's a program that is specifically geared toward recipients of DACA, and [places] hundreds of teachers that are largely of color from lower-income backgrounds in lower-income neighborhoods where some of our young students may also be undocumented. Recognizing the positive impacts that teachers of color that also came from low-income backgrounds made on my life, and the continued evolution of TFA as an organization, I am excited to join the movement towards educational equity.
[However,] I don't like the term DACAmented because people often mistake this temporary status for a long-term solution, and this invites complacency within our community. It is a concession in place of a long-term solution. DACA was politically advocated for off the backs of our parents and others through rhetoric of "children that came here through no fault of their own." It must be recognized that our parents are not at fault for bringing us here, and they must see the fruits of their contributions in this country. This should also not just be a movement about stopping the separation of families, but also about bringing justice for single people who have spent years adulting as undocumented immigrants and making contributions to a country that continuously refuses to return their investment.