How Common Is a Gap Year?
Malia Obama will attend Harvard, but she's waiting until her dad's out of office.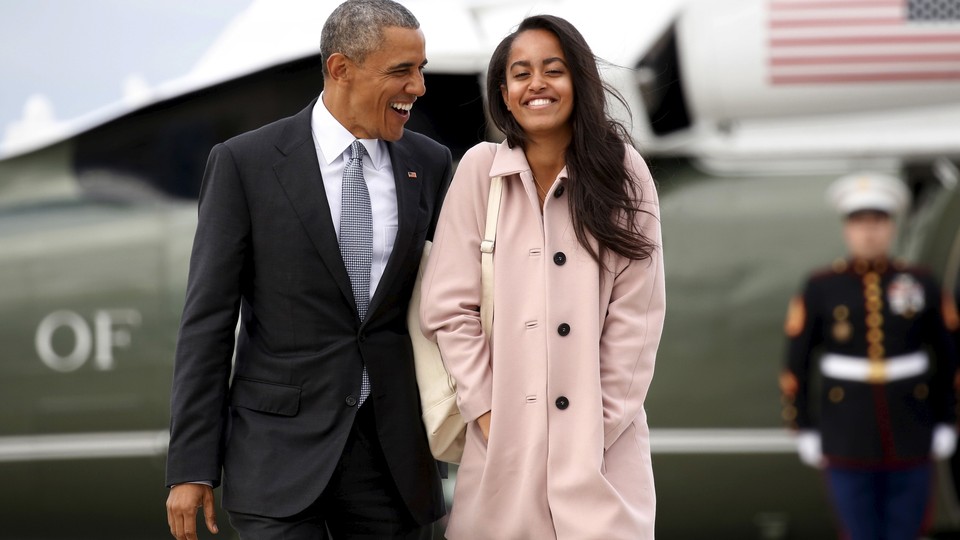 When the Obamas announced Sunday that their eldest daughter, Malia, will attend Harvard University, they also revealed that she will take part in what is becoming an increasingly popular tradition in the United States: the gap year.
"The President and Mrs. Obama announced today that their daughter Malia will attend Harvard University in the fall of 2017 as a member of the Class of 2021. Malia will take a gap year before beginning school," the White House said in a statement.
After graduating from the prestigious Sidwell Friends School in June, Malia will take advantage of the year-long deferral where many students choose to travel, pursue special projects, or gain work experience. Harvard in particular encourages this practice, and as a result, between 80 and 110 of their students choose to do so each year. While it is unclear exactly what Malia will do during her gap year, the decision to wait until her father leaves office to begin her college education will also likely afford her a less-scrutinized freshman year.
Gap years have been common in Europe for many years, but they are growing more popular throughout the U.S. While there are no official statistics that track participation in gap year programs, the Associated Press reports that 30,000 to 40,000 students take advantage of the break each year, and the year 2015 showed a 22 percent increase in students taking gap years over the previous year, according to surveys taken by the American Gap Association. It's important to note that gap years can look very different for different students; some engage in structured programs while others work toward more personal goals.
In an article on the university's website, William Fitzsimmons and Marlyn E. McGrath of Harvard's admissions department, and Charles Ducey, a lecturer in psychology, assert that a gap year could be an answer to the burnout faced by ultra-ambitious students as they compete to gain entrance into the "right" college followed by the "right" graduate schools, and the "right" sequence of jobs, in order to live in the "right" kinds of communities.
In the 1995-96 school year, among those who enrolled in postsecondary education, a third had waited a year or more after graduating from high school to attend. Jonathan Guzman wrote recently about his own gap-year experience in The Atlantic, noting how he's seen acceptance of the gap year proliferate at American universities. He notes that roughly three-quarters of each incoming class at Harvard University's law school applied after taking at least a year off; Northwestern University medical school hopefuls favored a gap year; even schools like Princeton and Tufts have started their own programs for students to take a "transformational year of full-time service, domestically or abroad, before beginning their academic studies."
In the U.S., taking time off for travel, experience, or simply rest, was long considered an indulgence, where in the U.K. for example, it has been slightly more of an expectation. These two education systems are not completely comparable—a bachelor's degree in the U.S. typically takes four years to achieve, where it only takes three in the U.K., possibly lending to a more natural gap year—but anecdotally, they may represent the value that different kinds of universities are putting on experiential learning. The increasing popularity of gap years in the U.S. could signal increased efforts to combat the workaholic culture that has proliferated at elite American higher-education institutions.
The increasing willingness of high-performing students to take time off stands in contrast with the recent push to get "at risk" high-school students straight into college after graduation—a pressure borne out of the fear that the longer these students, who typically come from underserved backgrounds, wait, the less likely they are to enroll in college as time passes. While Malia Obama's decision to take a gap year appears to be a personal choice and there is no reason to think she won't earn a degree, other students put off college for financial and other reasons that can lessen the likelihood that they enroll at all. During his presidency, Obama has made considerable efforts to increase the chances that students from low-income communities and communities of color can access affordable postsecondary educations.
Students who choose to delay are at considerable risk of not completing a postsecondary credential when compared with their peers who enroll immediately after high school graduation, says a National Center for Education Statistics study. The study's authors acknowledge that students that delay entry are not homogeneous (they could be taking a single gap year or going to school more than a decade later to pursue mid-life career changes), but they do note delayed entrants who are racial minorities, come from lower-socioeconomic backgrounds, and have parents who are not college-educated, are at a sizable disadvantage compared to peers who enter college right away. "The likelihood of being enrolled in a bachelor's degree program declined with each successive delay group from 30 percent among those who delayed a year to 8 percent of those who delayed 10 or more years," the study reads. "Aspirations for advanced degrees, however, declined with the length of time between high school graduation and postsecondary enrollment."
But Joe O'Shea, the director of Florida State University's Center for Undergraduate Research and Academic Engagement and author of Gap Year: How Delaying College Changes People in Ways the World Needs asserts that lower-income or at-risk students actually benefit even more from gap-year programs. "The greater the resilience, grit, and tenacity of a student, the more likely they are to complete a degree," he said during a phone interview. "So taking the time to undertake the gap year that is structured and challenging can help reform a student's identity and develop those characteristics that we want and need in higher education…. It makes it more likely that they're going to go to college and graduate so it's the opposite of that criticism."

According to the Associated Press, generally 1 percent or less of an admitted class defer their enrollment, and those that do are often students from higher-income families. The 2015 American Gap Association National Alumni Survey notes that there is a positive relationship between estimated parental income at the time a student takes a gap year, and parental contribution to funding that gap year. Essentially, the more money a student's parents make, the more likely that they will fund whatever the students fill their time with during the gap year. For example, 18 percent of respondents to the 2015 survey said that they were taking a gap year and that their parents made more than $200,000 a year. Of that 18 percent, 71 percent of parents contributed financially to the gap year. While this may not be nationally representative, it does allude to the fact that certain types of experiential gap years are afforded to students from higher-income families. Some schools however—like Florida State and the University of North Carolina—are offering financial aid to lower-income students to have the same kinds of cultural experiences before attending college.