Colleges Pledge to Send More Students Abroad
Right now, only about 10 percent of Americans study in a foreign country during school.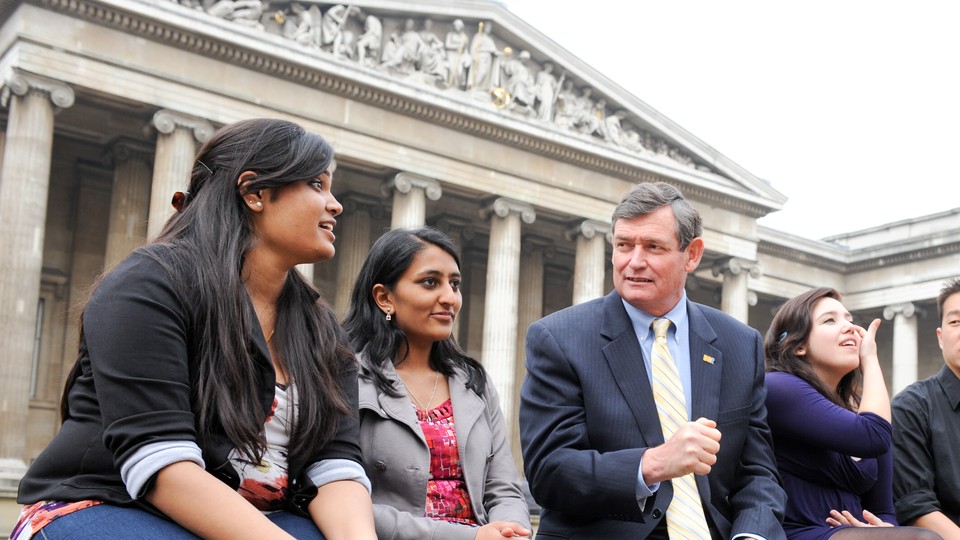 The young Americans who spend time abroad during college look little like the students at universities across the United States. But there is a growing effort from schools, nonprofits, businesses, and even the federal government to make sure the students who go abroad are an accurate reflection of the nation's college campuses.
A couple of years ago, the nonprofit Institute of International Education launched a campaign called Generation Study Abroad to double the number of U.S. students who spend time in foreign countries each year to 600,000 over five years. Right now, only around 10 percent of American college students study abroad. While people of color make up about 40 percent of each graduating class, they comprise just a quarter of those who go abroad. The numbers are especially low for black and Latino students. So hundreds of schools across the country that have pledged millions of dollars and promised Generation Study Abroad, which is also dispersing grants and scholarships, that they will send more students abroad are focusing on reaching out specifically to students of color.
The State University of New York at Oswego has turned to its most abundant resource, namely students, to increase its numbers. After university staffers heard about the I, Too, Am Harvard movement to highlight black student voices at a diversity conference in 2014, they decided to try something similar for study abroad at Oswego. Instead of holding generic study-abroad panels, the school asked students to talk specifically about things like racial identity overseas and what it's like to be an LGBT person abroad. One young woman wanted to talk about her experience as an African American in particular, so the school helped her set up an event with the black student union that turned out to be one of its most popular panels. The result, said Caitlin Pollard, an education-abroad specialist at the school, has been a "considerable growth" in the number of racial minorities and low-income students who travel to foreign countries. Returning students field questions from prospective students about where they can get their hair done, whether people will understand their religious beliefs, and if they can find certain foods. One returnee told classmates thinking about applying that studying in London was the first time she'd been viewed as an American first, not black first, which had a profound impact on her sense of self.
Where study abroad has traditionally been viewed as a year-long immersive experience, universities are expanding short-term opportunities for students who don't have the money or time to go away for longer. These days, more than 60 percent of students who go abroad do either a summer program or a trip during the school year that is less than eight weeks. Around a third spend a semester abroad, and just 3 percent go for an entire school year. Carlos Poblano, a 20-year-old nursing student at Texas A&M International in Laredo, where more than 90 percent of students are Latino, spent three weeks in Ireland last winter taking a leadership course taught by instructors from his home campus. Poblano, who is the oldest of four children and whose family lives just an hour's drive from Laredo, said his parents were worried about him going so far away, but the short timespan made things more bearable. "For Hispanics, there's a family orientation," he said. "A lot of families don't like to let their kids go out. They don't want them to go out and get in danger." Poblano earned a scholarship from Generation Study Abroad to go to Ireland, but not all of his friends knew financial help was available. "They don't know for our school, if you talk to the person in charge of study abroad, she tells you all these ways to get scholarships," he said.
Wagaye Johannes, the project director of Generation Study Abroad, said students see cost as the biggest barrier, even though some study abroad programs are less expensive than staying at their home universities. The program, which aims to highlight "best practices" for sending more students abroad and increase funding, has found that small scholarships of a few thousand dollars can mean the difference between getting on the plane and staying home for students. Often tuition and other expenses are the same as if they stayed home, but students need help with travel costs.
Culture is another, sometimes tricker, topic. "So often students don't think study abroad is for them," Johannes said. "We want to redefine what it means to study abroad." Sometimes the pushback comes from families who are fearful of their children going someplace unfamiliar. So the institute has put together information for parents in both English and Spanish to allay concerns about their children studying in a foreign country. Johannes's team also encourages study-abroad offices to reach across campus to diversity offices and work together to assure students from all backgrounds that studying abroad is a possibility.
Alexis Attinoto, a Latina student who graduated recently from Case Western Reserve University (CWRU) in Cleveland, Ohio, completed her senior capstone project in Galway, Ireland. "You definitely stand out [as a person of color]," she said, but "it's life-changing and broadens the scope of your world." Attinoto joined her school's theater and improv groups, and spent weekends in London, Barcelona, and Berlin. Jack Boatman, a Caucasian music-education major from Milwaukee, Wisconsin, at CWRU who spent a semester at Trinity College in Dublin, said he wouldn't have gone abroad if his mom hadn't suggested it. The school encouraged it, he said, but "first and foremost, it was my mom's idea." The academics were "a little more forgettable for me than I would like," he said, but he relished the chance to play his violin in Irish pubs, and to become more self-sufficient. "A lot of people get too attached to home," he said. "Most people I know go to school close to home and these people don't want to take chances."
Katherine Krawiec, a biomedical engineering student who studied at the National University of Ireland at Galway, said some of her classmates wanted to go abroad but didn't feel like they could because specific engineering classes were required in certain semesters. Krawiec got around that by completing some of her general requirements in Ireland. The University of Nebraska at Lincoln and other schools have started encouraging lower classmen to do just that and to go abroad early on in their degrees instead of trying to transfer credit for advanced courses, which can have more restrictive requirements. "If they see someone do it, they can figure out how to do it," Krawiec said. Since she's been home, Krawiec has talked to freshmen and members of her sorority about the benefits of gaining international perspective. "I'm never just going to deal with people from Pennsylvania or Cleveland," she said. "I have to learn to deal with people from all over the world."
That's a huge reason behind the United States's push to send more of its college and even high-school students abroad. Companies are becoming more global. U.S. businesses are hiring people from more-diverse backgrounds. The State Department wants a diplomatic corps that is more reflective of the country it serves and more in tune with politically and economically important places like Asia, Latin America, and Africa. To that end, the department sponsors something called the Gilman Scholarship for low-income students, most of them people of color, who are willing to study outside of Western Europe and learn languages like Arabic and Chinese. The Obama administration has also proposed directing more funding to academic exchanges with students in Sub-Saharan Africa and Southeast Asia. But convincing students to go outside of their comfort zones has proven challenging. While there has been a double-digit uptick in the number of American students going to Mexico, Chile, and Peru, places like The United Kingdom and France continue to be among the most popular. The students I spoke with selected Ireland for various reasons. Some said it was because they could take classes in English and others said course credit from classes in Ireland was easily transferrable to their home schools, where credit from courses in other countries was not.
The Generation Study Abroad team is less concerned with where students go than whether they go. While the number of students studying abroad has slowly risen in recent years, at the current rate, only slightly more than 452,000 U.S. students are likely to go abroad each year by the end of the five-year initiative, well below the 600,000 goal. Part of the challenge is convincing people there are real benefits. Daniel Obst, the deputy vice president of international academic partnerships at the Institute of International Education, said it's been difficult to convince some hiring managers that studying abroad is a great way of developing the so-called soft skills, such as flexibility, initiative, and collaboration, that they are looking for in employees.
Yet studies back Obst over and over again. There is evidence that studying abroad has measurable benefits. A study prepared for the European Commission found that students who went abroad had lower unemployment rates after graduation. A report by the University System of Georgia found that graduation rates were higher for students who had been abroad, especially for low-income and minority students. Other studies have indicated that students come back more culturally aware.
While Generation Study Abroad says it hasn't yet seen a marked shift in the demographics of the students going abroad since it launched in 2014, more schools are offering scholarships for low-income and students of color and making a conscious effort to diversify the students they send to foreign countries each year. If their efforts do cause a shift in the makeup of American students going abroad, not only do individual scholars stand to benefit, but so does the nation's ability to interact with other countries in an increasingly global economy.