Bringing College to Students Who Can't Leave Home
More people are earning degrees from far-away schools through regional campuses.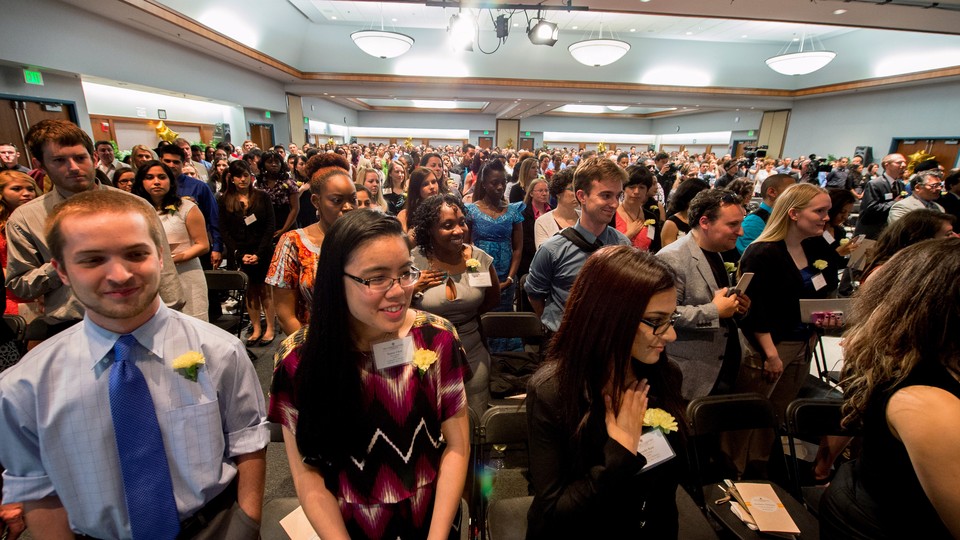 As more students stay close to home for college, universities face the challenge of rethinking not only the education they offer, but how they deliver it to an increasingly diverse student body.
In a paper published earlier this year, researchers from the University of Wisconsin at Madison noted that most new students now attend college nearby. For reasons both financial and cultural, this is especially true for poor students and those of color, who make up a growing segment of college-goers. Where there are good options, staying local works just fine. But where there aren't quality choices, students—and local economies—lose out.
A few decades ago, Montgomery County, Maryland, found itself hurting for quality four-year college options. Business, particularly the science and tech sectors, was booming and companies were hiring. And they were increasingly looking for people with bachelor's degrees. Montgomery County had a good community college, but no public university where locals could get a four-year degree. So kids from families who could swing it went away. But the county's demographics were also shifting. Schools were filling with more poor children from families unfamiliar with college, who were less likely to pack up and head elsewhere for school.
"You look at what's happening in the school system and you look at what the needs in the workforce are, and you see an immediate disconnect," said Stewart Edelstein, the executive director of what would ultimately become something of a solution: The Universities at Shady Grove (USG). Created in 2000, USG essentially lets Montgomery County residents earn bachelor's and even master's degrees from nine of the 12 schools that make up the state's university system all at one stand-alone campus 20 miles northwest of Washington, D.C., in Montgomery County. Most students go to local community colleges and then apply to a school (Towson University or the University of Maryland Eastern Shore, for instance) for the final half of a bachelor's degree or for a graduate degree, specifying that they want to enroll at the USG campus. The individual universities hire their own faculty, and students' diplomas don't bear any mark of USG. Graduates are, for all intents and purposes, earning a degree from Towson or a degree from the University of Maryland Eastern Shore. But they don't have to move to do it. And local businesses, from Marriott to Lockheed Martin, know they've got college graduates nearby who are already committed to staying in the area.
"We have local talent and what we're trying to do is build a local workforce that supports the growth of the local economy," Edelstein said during an interview at his office on campus as students took final exams in the classrooms nearby. Right now, people of color and Maryland natives are less likely than their white peers and residents who were born in other states to have a college degree. More jobs than ever require a degree, but the state frequently imports educated workers instead of educating the ones it has. "It's not a talent gap, it's an opportunity gap," Edelstein said. "There is talent that is not being nurtured and we're trying to identify that talent as early as we can and find the things we can do to intervene." On average, USG's undergraduate students are in their late 20s, and they are more racially diverse (36 percent are white, 20 percent are black, 14 percent are Asian, and 17 percent are Hispanic) than most colleges. Half are the first in their families to go to college, and most come from families with incomes much lower than the county's $99,000 median household income.
The idea works, he said, because everyone involved—from local high schools to community colleges to USG administrators to corporate hiring managers—talks to each other to make sure the transitions are smooth for the most at-risk students who, without counseling and guidance, often drop out. The four-year universities each generally offer a few majors at USG that are directly tied to the needs of local employers, so students don't have as many degree options as if they enrolled at a main campus. But the students also benefit from smaller class sizes and an administration that is acutely aware that many of them arrive with challenges—financial obligations, parental responsibilities—that can make earning a diploma difficult. That awareness has spawned a network of offerings aimed at these students: night classes for people who work, paid internship opportunities that let students simultaneously earn money and gain experience in their chosen field, summer bridge programs, and mentors.
Seventy-five percent of students complete their degrees within four years of arriving at USG, meaning three-quarters earn a bachelor's degree in six years total since they arrive at the campus having already earned an associate's degree. The comparable graduation rate for transfer students in the state's system overall is more than 20 points lower at 53 percent, suggesting that the tailored services USG offers its students help propel them toward graduation, and that having a four-year option nearby helps students who might have dropped out of college if they'd gone away persevere. A third go back for graduate school.
But that's not to say that there aren't challenges. As Edelstein acknowledged, "There's a brand identity issue here. We've got nine institutions with their own brands coming together in one place and that's not easy for them to do." In an era when the competition to be the most selective or the highest ranked is still very much alive, even within a single state system, collaboration can be tricky. The schools also have to be willing to award their degrees to a student body that is by nature of USG's design culled from a relatively small local applicant pool. Why would a school like the University of Maryland's flagship College Park campus, which receives applications from across the United States and even world, want to participate in something that could arguably diminish its caliber? While Edelstein couldn't say whether each of the participating universities admits less-qualified students to their USG outposts than might otherwise be granted access, he argues that universities are aware that student demographics are changing and that they need to adapt to stay relevant. "If the country wants to grow, if the region wants to grow, it's going to need to educate those students and be successful with those students," he said, "and every university recognizes that issue."
It's difficult to track just how graduates are faring since they are technically each students of the nine different schools operating at USG. While USG says that 90 percent of its graduates are working in the region, many also worked while they were students, and it's unclear how many stayed on in those positions compared to how many actually secured new jobs because of their education. Finally, there's still the fact that 25 percent don't graduate in six years, and are derailed by financial and family obligations that can prove insurmountable.
Still, the model makes good sense to Nick Hillman, the lead author of that University of Wisconsin paper. "I think the purpose and the possibility of replication seem to be really clear," he said during a recent phone interview. After his paper went live, Hillman fielded questions about how to get rid of so-called education deserts. "This is an example of what you could do," he said.
The idea behind USG isn't entirely novel. Ohio has had regional campuses for decades, and they've been developed in Oregon, New York, and Massachusetts. But Edelstein says the collaboration between different stakeholders, and the robust centralized student services and academic support at USG, are not often found in other models. The idea especially appeals to Hillman because it's not reinventing the wheel. States from California to Ohio have contemplated allowing their community colleges to offer bachelor's degrees, which would require the (costly) creation of entirely new programs. But Maryland's approach makes sense to Hillman because it takes pathways to a degree that already exist and connects them, which could ultimately help states curb costs. USG says it saves the state nearly $14,000 per student.
It also saves students money. The cost of going to Montgomery College, the local community college, and then transferring to USG for the final two years of a degree is about $29,000. Students can earn scholarships both from their individual universities and from USG, and they can also rely on Pell grants and financial aid (loan amounts for USG students are well-below national averages). Students who attend Montgomery College and then transfer to a four-year university elsewhere in the state and live on campus for the final two years of a degree pay about $48,100, while students who go straight into a four-year school pay about $78,400, making USG much more feasible for low-income students.
Erick Funte, a 20-year-old nursing student who spent part of his childhood in a nursing home in Bethesda where his mom worked as a live-in nurse, heard about the campus from his brother's friend and liked the idea of staying nearby. The campus is "not daunting; it's welcoming," he said. While he's fielded negative comments about the fact that he began his college career at a two-year school, Funte isn't bothered. "A lot of people take this kind of opportunity for granted," he said. "This makes financial sense." And he thinks he gets more support at USG as a transfer student because the entire campus is designed to help students like him succeed. His girlfriend, also a nursing student, recently transferred to an Ivy-League university from a community college. Funte says the transition has been hard, especially socially, for her, while he's had an easy time meeting friends and study partners.
Dakota Bucci, a junior at the campus studying special education through Towson, grew up a half-hour drive away in Damascus and wanted to go to college nearby to be near her autistic brother. She heard about USG from her older sister and liked the idea of small class sizes and the opportunity to intern at schools where she might ultimately end up working. Bucci, who lives at home, realizes she might be missing out on some of the social aspects of dorm life, but insists the home-cooked meals and friendships she's made because of USG's small class sizes are worth more.
"We're in the community and of the community and I think the students see this as a place that's safe for them and also accessible and gives them the access they need for jobs," Edelstein said. While USG currently serves about 4,000 students, there are plans to build a new biomedical sciences and engineering building. Right now, there are more of those jobs in Maryland than qualified people to fill them. "This model is a really important model for the future," he said. "Being local, being connected to the community-college system as we are, being connected to the school system as we are, being connected to business locally, it's the way to go."