Being Black at America's Elite Public High Schools
The complacency and inaction of school administrators following incidents of racism isn't confined to college campuses.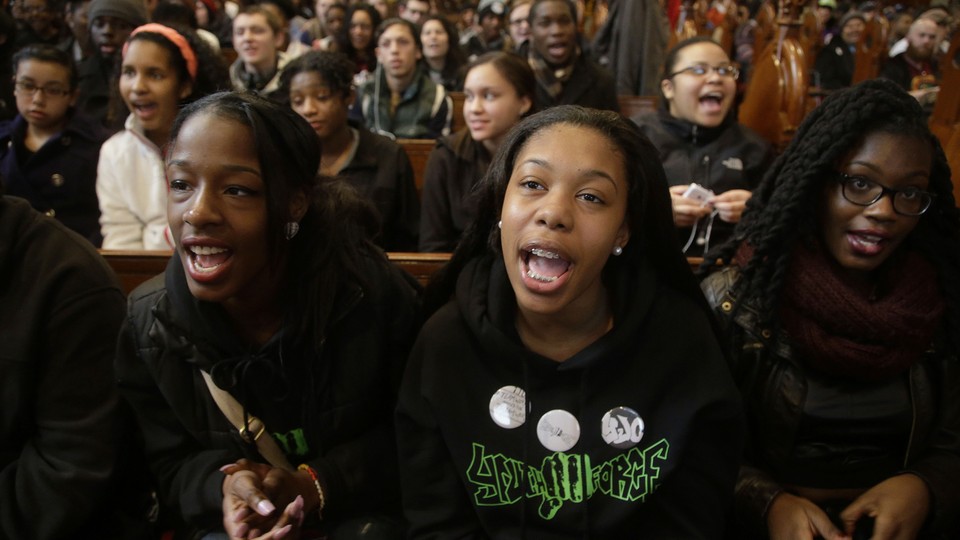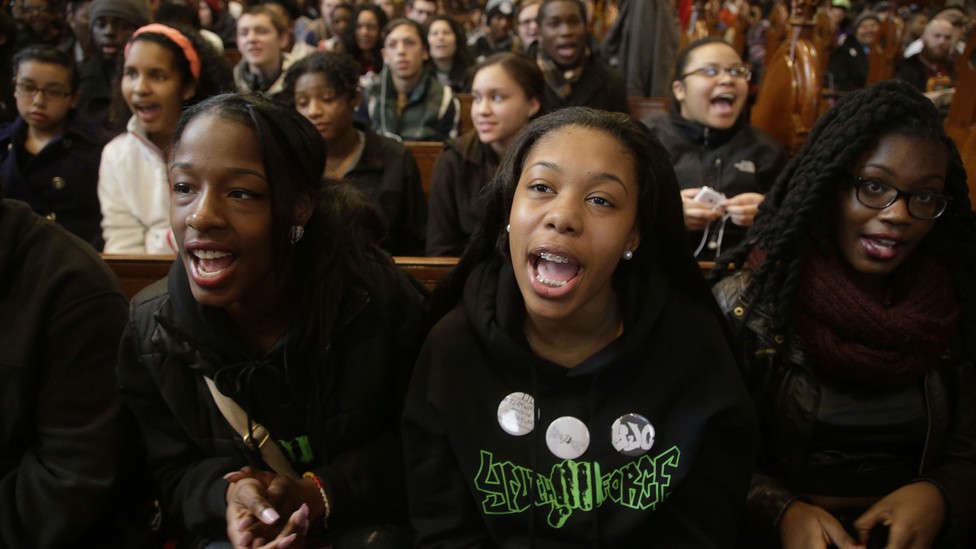 On Martin Luther King Day in January—a day set aside to honor a man who fought against racial injustice—two black students at Boston Latin School (BLS) launched a social-media campaign to expose the racially hostile school climate they say exists at America's first and oldest existing public school. #BlackatBLS soon cast a spotlight on a string of shocking alleged incidents: from verbal slights that disparaged black students' intelligence and identity, to classmates posting racial slurs on Twitter and Facebook and "saying nigger without fear of being reprimanded," according to a YouTube video posted by two members of Boston Latin School's Black Leaders Aspiring for Change and Knowledge.

The resulting social-media storm touched off a range of responses. Mayor Marty Walsh promised to investigate the allegations. Boston schools superintendent Tommy Chang called for systemwide professional development to train school officials to respond to and handle complaints of racism. "In recent months, BLS has taken steps to improve cultural proficiency at the school," said a spokesperson for Boston Public Schools in an email. "This has included providing educational opportunities for students, faculty, and families to engage in dialogues around issues of race, diversity, and social justice in safe spaces; improving procedures to report bias-based incidents; and mandatory professional development on cultural proficiency among other efforts." And the U.S. attorney's office in Boston announced an independent probe into possible civil-rights violations at Boston Latin School. Meanwhile as the events in Boston unleashed a series of difficult conversations on racism and campus climate, the national dialogue on black and Latino students in highly selective high schools remains centered on access and admissions.

In March, New York City's Department of Education released the demographic breakdown for next year's freshman class at its eight "elite" public high schools, where admission is based exclusively on test scores, and the numbers continued a dismal trend. Black and Latino students comprised a tiny fraction—according to Politico New York, just over 3 and 5 percent respectively—of the students admitted, in a school system where black and Latino children are 70 percent of all enrolled students. An unscientific analysis by Slate found similar patterns in other districts, such as New Orleans and Fairfax County, Virginia. Black and Latino youngsters were vastly underrepresented in selective high schools as compared to their numbers districtwide, and Asian students were significantly overrepresented—underscoring the complexities among student-of-color groups. Yet as educational-rights activists and elected leaders focus on diversifying enrollment in highly competitive schools, scant attention is being paid to the racial and cultural atmosphere in these institutions, and how welcome black and Latino students are made to feel once admitted to some of the country's most elite public schools.
Omekongo Dibinga graduated from Boston Latin in 1995, and said up until the 10th grade he felt invisible. "I barely had any black teachers. The only time I seemed to get attention was if I was getting in trouble." He moved from year to year "unnoticed and unacknowledged" until his sophomore year when he got more involved in student leadership. By senior year, Dibinga was the president of the student council and recounts his last few years at BLS as "unapologetically black."

However, when he ran for senior class president, things took an alarming turn. As he wrote in a January blog post, on election day some of his white classmates allegedly put white sheets on their heads—distinctive attire worn by the white-supremacist Ku Klux Klan—to protest his candidacy. "A typical day at Boston Latin for me does indeed dovetail with what I read from current students," he said, including the complacency and inaction of school administrators following incidents of racism like he experienced.

Earlier this year, similar accusations were leveled by black students at New York's Brooklyn Technical High School—a highly ranked selective public high school—who charged the principal and faculty with minimizing acts of racism at their school. In the aftermath of #BlackatBLS, headmaster Lynne Mooney Teta apologized for her "lack of urgency in addressing racial tensions" and reaffirmed her commitment to providing a safe and discrimination-free school environment.
Another Boston Latin black alum, Rashaun Martin, said though his years at the prestigious school don't mirror Dibinga's, he's confident "there were [racial] incidents with some of my schoolmates." Martin, an administrator with the Haverhill Public Schools in northeastern Massachusetts and a former Boston Latin teacher, said the problem rests with the school's dwindling number of black students and the loss of affirmative action because of a court ruling in the late '90s. Since then, the percentage of black enrollment has plummeted: of the nearly 2,400 students enrolled at Boston Latin, 9 percent are black and 12 percent are Latino; blacks and Latinos represent 76 percent of students in Boston public schools overall. "The more of us there are, the more impact we have," said Martin, a 1997 BLS grad. "There will always be enough white kids. Most of them will never experience what it's like being the only one."

Balancing the underrepresentation of his culture inside school with cultural pride outside school is something that Matthew Mata, a Latino senior at Chicago's Walter Payton College Preparatory High School, navigates daily. Throughout his high-school years he says he's witnessed the equivalent of what was reported at Boston Latin. "The fact that only a few Latinos get the opportunity to receive a fully resourced education [which means] extracting me from my culture … and people who I can easily identify with" only accelerates racial tensions, said Mata, who travels from an "artistic Mexican neighborhood" to attend one of the most selective schools in the city.

To better meet the needs of its students of color, Payton hired a director of student engagement and formed a club—Payton People of Color—as a place to talk through racial and social issues affecting students. Mata sees it as an attempt to be more inclusive, but believes a club can only reap limited benefits: "There shouldn't need to be a club so students feel safe [but instead] classroom environments where they feel safe." He added that what elite schools like his need are opportunities for school staff to grow in their racial and cultural consciousness, through student testimonials and mandatory teach-ins on racism. "I believe that in order to confront an oppressive system, you must at times confront [administrators and teachers] with uncomfortable conversations to hopefully get your message across."

On the heels of the controversy at Boston Latin, faculty at Boston University's School of Education initiated a series of dialogues to jumpstart exactly what Mata advocates. Sherell McArthur, an assistant professor at BU, said the timing was auspicious. As she and her colleagues contemplated how to engage the BU community in critical conversations on racial justice, the group learned of the racial tensions at Boston Latin.

"Schools of education must do a better job of ensuring that issues of equity, diversity, inclusion, and social justice are values of their teacher education programs," said McArthur, noting that they otherwise run the risk of producing teachers who ignore, or don't know how to tackle, racial discrimination and bias. "We have the language to discuss bullying, except for when race is involved," she said. When white students use the n-word in the classroom, hallway, or cafeteria, and it is heard by educators or brought to their attention and disregarded, McArthur said it "makes those educators complicit in the verbal, psychological, and emotional assault on [black] students."  

One of McArthur's partners in the project was Christopher Martell, a clinical assistant professor, who said BU's education school has refocused its courses and student teaching to specifically prepare teachers for urban and multicultural contexts. As a white teacher educator, Martell sees it as part of his mission to prepare beginning teachers to be allies for students of color. "It means helping teachers learn to listen to their students and their parents … and think of ways they should address issues of inequity. It is making this a main theme in our teacher preparation courses, instead of an add-on."

Dibinga, the Boston Latin graduate, now works as a diversity and inclusion consultant, leveraging his years as a black student in an elite public school into helping schools like his alma mater become more culturally competent. "As a student, I gave it all I had, but as an alumnus, I hope to provide guidance, leadership, and perspective to anyone I am able to reach. Principals and teachers need to realize that it's not about creating safe spaces, but rather free spaces for their students."