A Brief History of Skimpy Clothes
It's 2016, and kids are being thrown out of prom for inappropriate clothes. Where do dress codes come from?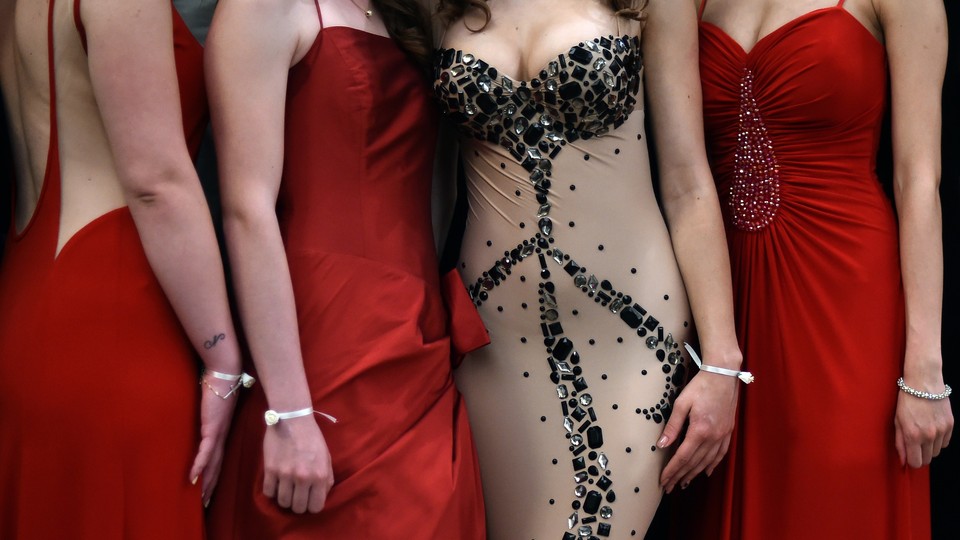 Aniya Wolf wanted to look like her best self at her prom, but herself nonetheless. And for her, that meant wearing a dark suit and bow tie.
Wolf wore pants every day in the halls of Bishop McDevitt High School in Harrisburg, Pennsylvania. Why should prom be any different? But shortly before the big night, her family told a local news station, the school sent an email reminding families of the dress code for prom. It was literally a dress code: Girls could not wear pants to the event.
Wolf wore a suit anyway, and, she told the station, was sent home. (In a statement posted on Facebook, the school said the dress code was established months ago.)
With that, Wolf joins the annual cavalcade of teens who find themselves ejected from their proms for objectionable garb. Cosmopolitan's round-up includes girls who said they were barred this year for showing too much back, too much leg, too much chest, and anything below the mystery sin-zone known as "the top of the armpit." In a post that was shared thousands of times on Facebook—and has since been deleted—a girl in Maryville, Tennessee, said her friend was told to wear the vice principal's jacket over her dress. "Us big girls gotta cover up," a teacher reportedly told her. (A representative of Maryville City Schools has said there was no specific prom dress code.)
Of course, dress codes aren't limited to prom. Year-round there is much wringing over the garments of public-school kids. When we asked our readers about their strangest school dress codes, many wrote that the rules seemed to unfairly target girls—specifically, everything on the female body that lies roughly north of the trachea.
One reader said necklines had to be "no lower than two inches below your collarbones." Many others described the commandments around tank-top straps:
Dana Owens At a public school in the south -- for girls: no sleeveless tops

Laura Anne Galway In the 6th grade I was told I wasn't allowed to wear sleeveless shirts, because my "shoulders would entice the boys."

Jyoti Deo No spaghetti straps in, of all places, Florida! Guess shoulders pose a danger somehow. *smh*        
Some schools settled on two inches, but others banned sleeveless shirts altogether. Definitely outlawed, in many places, was the wicked "spaghetti" strap. (In my high school, this rule gave rise to an enterprising style choice: A contraband tank-top worn over a white t-shirt. Man, consider yourself stuck to!)
The prom dust-ups made me wonder, was it always thus? Should teens today rage against the cleavage-measuring machine, or should they thank their lucky Snapchats they don't get busted for wearing "draped fabrics," like some of their foremothers did?
The answer is a little of both, and it depends on how you view teens' role in society. Are they mini-adults who should be spared the oft-embarrassing choices made by their underdeveloped prefrontal cortices? Or are they fully autonomous beings, whose clothing decisions are as valid as anyone else's?
There were always dress codes, especially in schools. But they weren't always written down—and they weren't always set by school administrators directly. When they were enforced, however, they have always seemed to affect women disproportionately.
Until the early 20th century, not everyone went to high school. When that began to change, around the 1920s, high-school girls' clubs would create "dress standards" for the students. But their biggest concern wasn't naked shoulders or cleavage—it was "dressing in an undemocratic way," said Linda Przybyszewski, a professor of history at the University of Notre Dame. Students were worried about peers "wearing fancy clothes to school to show off your money."
As Przybyszewski writes in her book, The Lost Art of Dress, in the early 20th century a prominent group of female fashion writers essentially taught women of all ages how to dress for any occasion.
These women, whom Przybyszewski calls "The Dress Doctors," wrote hundreds of pamphlets and books that women read in their home-ec classes and 4-H clubs. The Doctors schooled women on what was suitable to wear at different ages, how to be thrifty while still being stylish, and that "fad" stands for "For A Day." One of their rules was that there are six distinct occasions for dressing: school, business, housework, sport, afternoons, and evenings. Each required specific cuts and fabrics—hence all the "dressing for dinner" we see on Downton Abbey.
Proms were college affairs until about the 1930s, and their dress codes entailed unspoken social norms. Dress standards started to be written down only in the 1950s, when people began to have just one thing they wore all day—and wanted that thing to be comfortable. The early 1950s saw the emergence of op-ed writers complaining that women don't own formal coats anymore and go outside with bare legs, according to Deirdre Clemente, a historian at the University of Nevada, Las Vegas, who focuses on American fashion in the 20th century.
Around that time, "young people stopped caring as much about stuff like, 'my mom will get mad at me,'" Clemente said.
Mostly, dress regulations were enforced on women, people of color, and those from lower socioeconomic strata, Clemente said. State colleges were thought to have more boundary-pushing rebels—and thus, more codified rules—but at elite women's colleges, students were left to police themselves.
For teens, dress codes were more restrictive because, in an era before legal abortion or cures for many sexually transmitted diseases, schools worried about girls getting "attention they couldn't handle," Przybyszewski says. But that didn't extend only to revealing clothes. Administrators also worried about anything that seemed too mature. One rule talked about "draped styles," the kind with lots of swooping fabric that gathers to accentuate curves. It "looks like you made a dress out of a bedsheet because you were caught somewhere naked," Przybyszewski said.
Some teens embraced, or even perpetuated, strict dress norms. In the early 1950s, a nationwide group of Catholic schoolgirls calling themselves the SDS—Supply the Demand for the Supply—successfully petitioned department stores to stock dresses that fit their modesty standards. Saying they sought to "dress in a manner in which Mary would if she were a young girl of today," they prompted stores to advertise their wares as "SDS-approved." "You don't have to be strapless to be in fashion," one ad read.
People largely adhered to these sartorial rules, in Przybyszewski's telling, until the counterculture revolution of the 1960s. School dress codes took aim at many of the hip trends of the day, like sheer blouses, skirts with slits, and skirts shorter than the middle of the knee. Oh, and no pants for women (too sloppy). For men, there was a prohibition on "contour-fitting trousers"  and "outlandish-colored trousers."
The battle between cool kids and administrators raged, and it hasn't subsided since. Przybyszewski takes the view that's because "kids today have no practice dressing up." They don't go to teas, they don't have SDS-approved department stores, and they don't have the Dress Doctors guiding them every step of the way.
"I'm kind of shocked when I see things that a sex worker would wear on a 13-year-old," Przybyszewski said.
To Clemente, the ongoing uproar over teenage style choices signals something very different. "It shows that adults are still trying to control American youth," she said. "We're still fearful of young people using clothing to express individuality."