A More Inclusive Harvard
The university's new sanctions against single-gender social groups are deeply flawed—but promising in their intentions.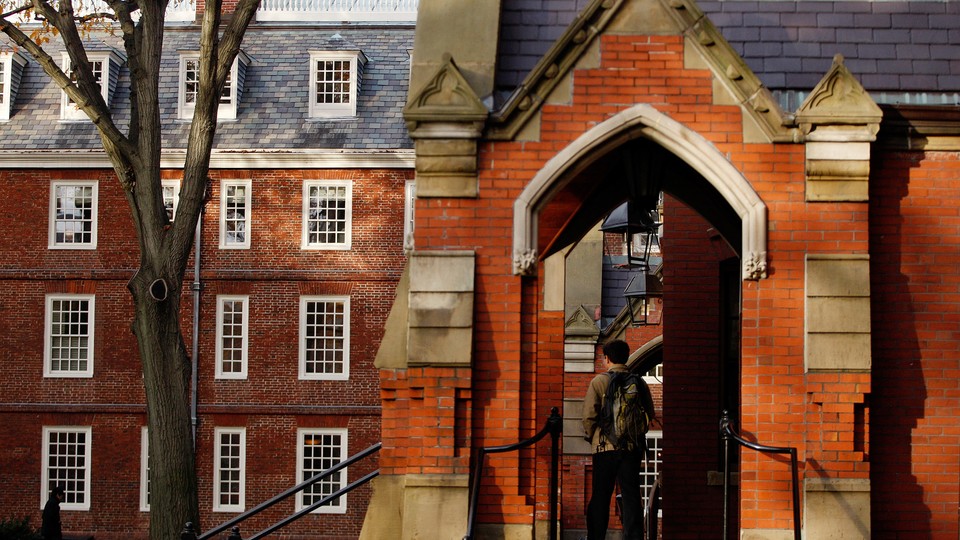 Harvard University's announcement on Friday—that it would place sanctions on all single-gender social groups—is the latest step in an ongoing effort by the university to address the inequality perpetuated by and inherent to many of these organizations. The new policy, which applies to final clubs, fraternities, and sororities, prevents anyone who is a member of these groups from becoming the leader of a recognized student organization, captain of an athletics team, or college-endorsed candidate for fellowships including the Rhodes and Marshall scholarships. The policies will apply to any student who joins the groups starting with the class of 2021 and does not affect anyone who's currently a member.
While the sanctions may seem severe (and have been criticized for infringing on students' freedom of association), they are likely this extreme in order to tackle deeply-rooted issues, predominantly at all-male final clubs. The clubs, which closely resemble Greek organizations, have increasingly become more democratic, but have a long history of invitation-only male elitism, and were called out in a university report this past March for contributing disproportionately to instances of sexual assault. As reported by The Harvard Crimson, a study commissioned by the University's Task Force on Sexual Assault Prevention discovered that 47 percent of female seniors who "participated in final clubs" said they had experienced nonconsensual sexual contact since entering college, compared to 31 percent of female seniors overall.
In a statement explaining the sanctions, Harvard College Dean Rakesh Khurana highlighted the "power imbalance" caused by single-gender social organizations as a major reason for the decision. "The most entrenched of these spaces send an unambiguous message that they are the exclusive preserves of men," he said.
Although the sanctions appear to be aimed at pressuring all social groups to go co-ed and become more inclusive, students have raised questions about why the organizations are collectively being treated the same way—especially when the greatest "power imbalances" have repeatedly been linked specifically to the all-male clubs. A huge aspect of this power asymmetry stems from the fact that, compared to female final clubs (or fraternities and sororities), all-male ones own significant units of property near campus (many worth upwards of millions of dollars) and consequently have control over several large informal social spaces, who can gain access to them, and what goes on there. Today, as Khurana noted, these spaces are solely the provinces of their male members. As such, the gender inequities these groups embody go far beyond simply being single-gender organizations—they're baked into the very physical structures they own. (More recently, many of the female clubs and Greek organizations have acquired their own properties—but none with such scale.)
But because of the differences among the social groups, questions remain about whether across-the-board sanctions are the most effective strategy for tackling these disparities.
Over the last year, President Drew Faust and Khurana have steadily called on male final clubs to open their doors to men and women, outlining stringent recommendations on how best to promote gender equity and student safety. These talks follow decades of conflict and conversation between the university and these clubs, which opted to become unrecognized student groups in 1984 to evade the regulations, including a request to go co-ed.
More than 30 years later, last fall, two of what were once eight all-male final clubs welcomed their first classes of women under pressure from the administration. However, the discussion continued to encounter significant resistance from the groups' respective alumni graduate boards (as one club's leadership explicitly noted, "Harvard forced our hand"). Negotiations between the university and the remaining organizations have broadly stalled.
Students and alumni have since questioned whether further discussion could have been a more productive approach to these problems—rather than this show of power from the university. Several of the male and female organizations had also previously complained about a lack of transparency from the administration; Khurana had mentioned the potential for sanctions in an earlier meeting. The ultimate announcement seems to have resulted because the university felt like it had little choice when it came to addressing issues that have prevailed for years.
These efforts, among the most decisive the administration has ever taken with regard to final clubs, should be applauded for their intention. But their sweeping nature obscures some of the exact problems they aim to address. There has been an overwhelming uproar from female final clubs and sororities over this wholesale policy, which treats them the same way as it does all-male final clubs even though they don't face the same types of critiques and problems. Previously, organization leaders from these groups have even protested the university's failure to include them in pivotal conversations on the subject. Greek groups, overall, were given little warning before the sanctions were issued.
As a member of a sorority on campus while I was a student at Harvard, I've seen and felt a tremendous outpouring of concern about what such regulations will mean for the groups that women have created to feel safe and supported. In a society and campus community where women continue to be marginalized, many students have sought out these organizations as places to bond with other women, gain a support system, and build their identities. (Promoting women's groups and not men's ones is admittedly a double standard, but one that may still be necessary given the current systems of power in place.)
By issuing a decree that treats all single-gender social groups as comparable, the university also glosses over the fact that problems such as sexual assault need their own specific solutions—and not just a blanket one. Similarly, this approach doesn't offer a targeted response to the entitlement and misogyny that's historically been associated primarily with certain organizations.
An underlying thread of this debate, too, is the lack of accessible social space on campus. While Harvard's 12 residential houses have incredible support networks and their own respective venues, the student demand for such single-gender social groups suggests that they provide both a kind of support, and in some cases, space, that's not currently available elsewhere. To achieve its aims of fostering a positive and constructive college environment, the administration must take care to offer new options and further build its community up, rather than simply tearing aspects of it down.
As flawed as the policy is, however, it does begin to address a key issue that all-male and all-female social groups (as well as several co-ed ones) at Harvard have in common (along with, ironically, the institution itself): They are founded on the premise of exclusivity. "[In their recruitment practices and through their extensive resources and access to networks of power, these organizations propagate exclusionary values that undermine those of the larger Harvard College community," said Khurana.
Such "exclusionary values," are something that students have written about at the college across several different contexts including race, gender, sexuality, income, and social status. All facets of the university struggle with this problem, but Harvard's single-gender social groups play a significant role in exacerbating these differences—by explicitly placing yet another label on them. In pressuring these organizations to change, the administration could severely weaken part of the social infrastructure that calcifies these divides.
While these sanctions are harsh, imperfect, and for many, quite painful, what they do offer is a glimpse of what a more inclusive Harvard could look like—and a stronger one as a result.