When School Districts Get Deliberate About Desegregation
Dallas and other cities have instituted policies aimed at increasing classroom diversity.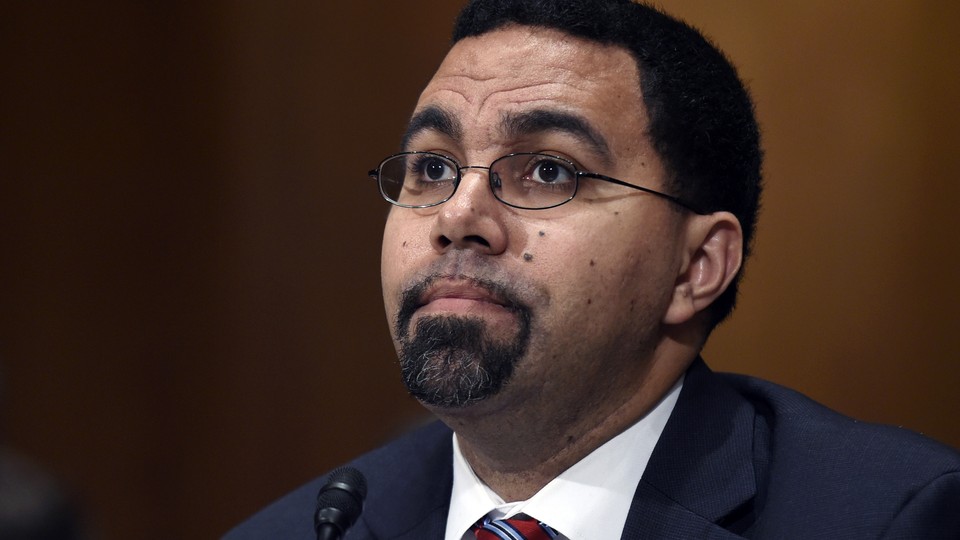 The U.S. Education Secretary John King is frustrated by what he describes as the "ahistorical nature" of conversations today about how to integrate schools. Speaking at a Century Foundation panel on Tuesday to highlight two recent reports by the left-leaning think tank, King said that the need for "urgency" when it comes to making classrooms more socioeconomically and racially diverse is sometimes thwarted by communities who see the current lack of real integration as a fact over which they have no control. That, he argued, is simply not true.
Take school-zoning laws in Brooklyn. While pockets of the borough have become more integrated in recent years, some schools, King said, remain "decisively" more segregated in part because of the way the lines for school attendance are drawn. That's in part because the community chose to allow a zoning line that "moves like a snake," he argued. King is pushing cities and districts to make deliberate choices that yield better outcomes. Districts looking to integrate could, he posited, instead take two segregated elementary schools (say, one serving affluent white families and another serving low-income families of color) and instead create two integrated campuses, one for kindergarten through second grade, and another for the third through fifth grades.
King's desire to "incentivize and accelerate" such deliberate attempts at integration might be laudable, but they've often been met with fierce opposition in places like Brooklyn and Charlotte, North Carolina. Pushback comes both from families at high-performing schools who are happy with the status quo, and from families at struggling neighborhood schools who want them improved instead of turned into a citywide series of magnet programs that might result in their kids trekking across town each morning. "We have not made as much progress on this front as we could have and should have in this country," he said. And King is aware that housing policy will need to better align with education policy to make significant headway. Amy Stuart Wells, a co-author of one of the reports, said the shift will also require redefining "what good public schools are," including entertaining the notion that the schools best suited to prepare students for life aren't necessarily the ones with the best tests scores.
Richard Kahlenberg, a senior fellow at the Century Foundation and a champion of school integration, suggested Tuesday that one reason for the lack of momentum is a discrepancy between what science suggests and how politicians act. The consensus of social scientists, he noted, is that socioeconomic and racial integration is one of the best things communities can do for young people to help them succeed in school and in the workforce. But politicians are "scared to death of the issue." However, Kahlenberg said, he thinks there are signs that change is beginning to happen.
As a recent Century Foundation report notes, at least 91 school districts now use socioeconomic status as a factor in assigning students, up from just a couple in 1996, and around 40 in 2007.* President Obama has proposed a $120 million grant program that would reward districts that voluntarily take steps to increase socioeconomic diversity, and the Education Department recently posted a request for ideas about how school-improvement grants (awarded to some of the nation's lowest-performing schools) might be used to increase the number of magnet schools that draw children of all backgrounds from across communities.
Cities like Houston are revamping career-and-technical schools that pull a variety of students. Dallas is in the process of launching a series of schools that rely on what Mohammed Choudhury, the director of the district's Office of Transformation and Innovation, said Tuesday would be attendance zones that intentionally include both affluent and disadvantaged communities. A single-sex school set to open this fall, he said, has successfully filled half of its seats with students who are eligible for free or reduced-price lunch, and half with students from wealthier families. There is a waitlist. Once the school year is underway, teachers will be looking for ways to make sure individual classes and activities include children from diverse backgrounds. Choudhury and his colleagues are aware that the district may ultimately face lawsuits, but say they are committed to moving forward.
The follow-up monitoring throughout the year will be crucial to ensuring the commitment to diversity is more than just a token idea. Choudhury is aware that things that can seem benign, such as hosting a PTA meeting in a free room at a local police station where parents have to present ID to enter instead of at a public library, might deter undocumented parents from attending. Instead, PTAs should take steps to include parents who haven't traditionally been represented, but have valuable perspectives to offer. As one attendee at the Century Foundation event on Tuesday said, "If you haven't lived those experiences, you don't know those experiences." Districts will need to make sure their gifted and honors programs are equitable, and that discipline practices are not discriminatory. They may need to make curriculum more representative and inclusive.
But, as Donna Harris-Aikens, the director of education policy and practice for the National Education Association, cautioned, "equity and opportunity are not conversations about charity." King agrees. Drawing on anecdotes from a recent visit to a Las Vegas magnet school, his own upbringing, and his experience as a father of children in Maryland public schools, he pointed out that all children benefit from diverse schools. Across the board, academic outcomes are higher, students learn empathy, and they are better prepared to succeed at college and in the workforce. In other words, demanding diverse schools doesn't just sound nice, it has real benefits for everyone involved.
---
* This article originally misrepresented the number of academic institutions using socioeconomic status as a factor in assigning students; at least 91 school districts currently do. We regret the error.