When Lead Affects Learning
Newark is the latest city under scrutiny for its contaminated water supply.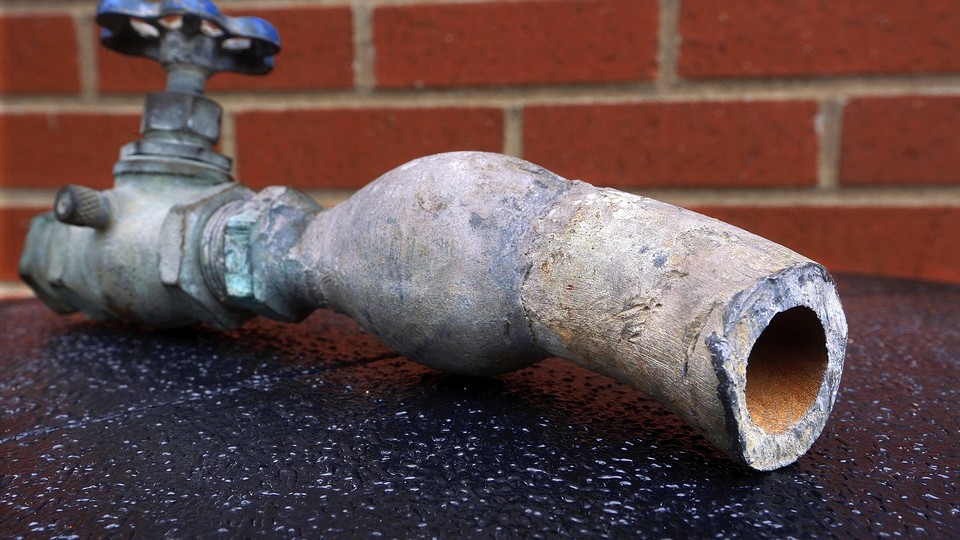 Parents in Newark are wondering whether their children have been exposed to dangerous amounts of lead. Since early March, more than half of the 67 district schools have tested positive for high lead levels in the drinking water, and documents shows that the school administration knew about the problem for more than a year.
Last month, Ivelisse Mincey received an automated phone call announcing that lead had been found in the drinking water at Abington Avenue School in Newark, where her 12-year-old son Adam attends. "I put down the phone in an absolute panic," Mincey said. "My son drinks water from the fountain all day long and now I have no idea whether he is going to have health problems." Like other Newark parents, Mincey wants to know why the problem wasn't fixed sooner. "I feel betrayed that the school district didn't come to me to let me know about this," she said. "They should have protected my son."
The lead problem is part of a pattern of school district administrators ignoring the safety of students, according to some residents. For years, parents and community leaders have struggled to ensure the school administration addresses a range of health issues including violence and contamination by asbestos and mold. The district's students are predominantly African American and Hispanic and some residents say that a lack of political power may have contributed to the failure to address the lead situation and other problems. "The fact of the matter is that people of color don't have enough political representation to make sure things like lead poisoning don't happen," said environmental activist Kim Gaddy, whose 11-year-old son Julian attends Harriet Tubman Elementary School. "We need to make sure that minority students count just as much as white students."
Newark's lead problems come as the city of Flint, Michigan is coping with a widespread lead crisis, and schools around the country are testing their water for the substance. The CDC says that no amount of lead in the bloodstream is safe and exposure has been linked to decreased IQ scores and a range of other problems. Newark's lead contamination likely comes from old lead-lined pipes. Many school districts nationwide struggle to pay to modernize aging infrastructure that can result in lead problems. However, the state of New Jersey is obligated to fund infrastructure improvements in Newark to remediate the lead problems, said David Sciarra, the executive director of the Education Law Center, a nonprofit legal advocacy group in Newark. Court decisions have ruled that the state must pay to create a safe environment for Newark students, he said.
In decisions stemming from a case which started in 1985, known as Abbot v. Burke, courts have issued a series of rulings that direct 31 urban school districts, including Newark, to provide a "thorough and efficient" education. The Abbott rulings spelled out a set of education improvements, including K-12 foundational funding and universal preschool for 3- and 4-year olds. Sciarra cited the rulings as proof that the state has an obligation to fix the lead problem in Newark schools. He said his group would consider legal action if the lead issue wasn't quickly addressed by the state.
Mayor Ras Baraka, who was a principal in a Newark high school before taking office in 2014, has said that he was not aware of the lead problem when he worked in the school system. But a memo dated August 2014 from Keith Barton, the director of operations for the district, instructed all Newark district schools to flush water fountains by running them for two minutes every day before students arrived to "reduce the risk of possible lead contamination." Cafeteria workers were also told to run cold water faucets before preparing food. School officials apparently knew for years that some schools had high lead levels because filters to remove lead were installed in some schools.
But the Newark Teachers Union last month released photographs showing that the lead filters had not been changed in years and may have been ineffective because of their age. "If school officials didn't know, they didn't want to know,"said Jeff Tittel, director of the New Jersey Sierra Club. "There was enough evidence out there for at least the last four years that more action should have been taken to deal with the situation."
Steven Morlino, who served as the district's executive director of facilities between 1999 and 2013, said that the district was aware of the lead problem for more than a decade. The federal Environmental Protection Agency warned the school district in 2003 that due to lead contamination various remedial actions would have to be taken including installing water filters. However, Morlino said that the school district did not order new water filters after he left the district in 2013. Morlino provided a December, 2011 email to The Atlantic from then district superintendent Cami Anderson to school principals advising them of procedures to reduce possible lead contamination. "Principals are reminded to instruct students and staff to run each fountain or faucet for at least thirty seconds before drinking," the email reads. Anderson was replaced last year as superintendent. Gaddy said school officials were "negligent" by not acting sooner. "It's clear that the school administration wasn't concerned about the health of the children," she said.
Current school superintendent Christopher Cerf said that he moved to shut off any contaminated water and inform parents as soon as he learned about the situation in March. Referring to previous school superintendents, Cerf said they "are all responsible people who care about the wellbeing of children. I don't doubt their intentions and their policy made sense at the time. We have had a collective consciousness raising since Flint."
In early March, annual district testing found elevated levels of lead in the schools' drinking water and officials announced the results. Water fountains and kitchen faucets were ordered be turned off in schools where at least one in 10 samples showed lead levels above the federal standard. Schools that are affected are using bottled water and students are being offered blood tests for lead. New Jersey's Department of Environmental Protection said that lead had not been found in the Newark Water Department's source water. Lead in water usually leaches from "either lead pipes, household fixtures containing lead or lead solder," the agency said.
Lead is not the only issue facing Newark schools. Donna Jackson, president of the United Parent Network, a New Jersey-based parent support and advocacy group, said that violence is a common occurrence in and near the city's schools and that the school administration is not doing enough to provide security. She is among residents who have asked for more security guards and said that the administration has been unresponsive, citing budget issues. "The administration is doing a terrible job handling issues with violence," Jackson said. "Parents have to worry about their children's safety every day." Superintendent Cerf said that the level of violence in Newark school is "better than most" other school districts and that other school districts have dealt with asbestos problems. "Singling out Newark as being an outlier in any regard is completely not consistent with the facts and reality," Cerf said.
Activists also have had to fight to ensure that Newark's schools are free of mold. Many of the district's older buildings are leaky, creating a moist environment for mold to grow, Abeigon said. After Hurricane Irene flooded part of the Wilson Avenue School in 2011, the school was infested with mold. Morlino said he had to "fight with the school district to come up with the money to make the necessary repairs." Wilson Avenue students were ultimately bused to another school outside the city for nearly a year while repairs were made.
Newark schools are also continuing to deal with asbestos contamination problems that stretch back more than a decade. In 2005, the EPA reached a settlement under which the district would spend $2.25 million to finish identifying and fixing asbestos-related problems in school buildings. The district is required to inspect the buildings three times a year, Morlino said, adding that under his tenure "it was a constant struggle to get the money" to do the inspections.
The city's school district is mostly made up of people of color. The student body was 55 percent African American and 43 percent Hispanic in 2013, the last year for which the district made figures available. By contrast, New Jersey's population statewide is 13 percent African American and 17 percent Hispanic. Sciarra said the city's schools "suffer from intense racial isolation." He believes the minority population does not have the "political clout" to ensure that issues like lead cleanup are carried out.
Like other lead contamination problems in schools around the country such as in Camden, N.J. and Boston, Newark's issues stem from its older infrastructure. Many school buildings date from the 19th century and have aging pipes lined with lead, said Joseph Della Fave, executive director of the Ironbound Community Corporation, a local social services nonprofit. "The lead problem is just a symptom of a crumbling, neglected school system that desperately needs more attention," Della Fave said.
Among the schools that tested positive for lead is South Street Elementary, a hulking, brick structure erected in 1883. South Street is in Newark's Ironbound district, a working class, multi-ethnic neighborhood named after its former role as a center of the iron working trade. One recent morning, students filed through narrow corridors past water fountains that had been shut off due to high lead levels. Signs taped above the fountains read "Do Not Drink." Cases of bottled drinking water were stacked nearby. A recent survey by the Education Law Center found that South Street's facilities are in "very poor" condition and that the school is overcrowded. The school's roof frequently leaks and administrators struggle to find extra sources of funding for classroom necessities, said Newark Teachers Union President John Abeigon.
The lead crisis is the latest in a long series of challenges for Newark's school district. After decades of struggles with poor academic performance and crumbling infrastructure, the state seized control of city schools in 1995, citing corruption among the system's problems. Ironically, the state control that was intended to help Newark schools may have contributed to the lead problem. Abeigon said that state control led to an administration that is out of touch with the needs of the schools and failed to fix infrastructure, including old pipes with lead. "Local control would give more oversight," Abeigon said. "The people running the schools now are people operating out of Trenton who put the traditional needs of the students way on the back burner," he said.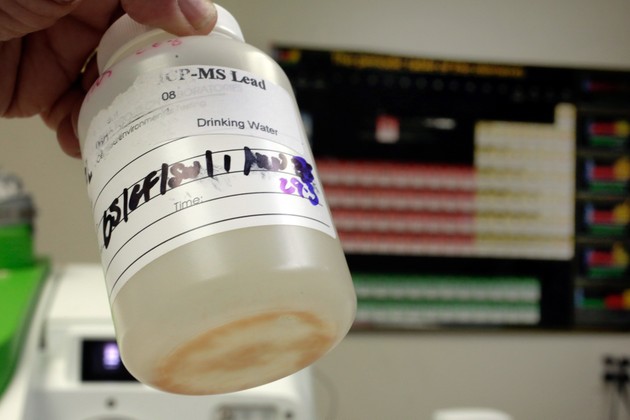 Cerf rejected the idea that state control played a part in the way the district dealt with lead contamination. He referred to Marion Bolden, a previous Newark school superintendent who dealt with the lead issue and who was a state employee. "To say that Marion Bolden's response had anything to do with the fact that she was a state employee is deeply insulting to her and it's just not accurate," Cerf said.
Steven Marcus, a medical doctor at the lead poisoning program at University Hospital in Newark, has seen thousands of cases of lead exposure in the city his during his decades-long career. He called the lead situation in Newark an "urgent problem" that needs "immediate remediation." Treatment for patients suffering from lead exposure can do little, Marcus said, adding that the best remedy is to make sure people are not exposed to lead in the first place. State money intended for lead remediation isn't being spent for its intended purpose. New Jersey puts aside money from the tax on the sale of paint that is intended to remediate lead exposure. This fund generates about $10 million a year but the money isn't getting to the right places. The New Jersey government has diverted more than $50 million away from the lead health fund so routine state bills and salaries could be paid, according to report last year by a local newspaper, the Asbury Park Press.

While Newark school officials try to come up with a plan to fix the lead contamination, state leaders are scrambling to figure out the extent of the lead problem across New Jersey. A bill proposed in March would require all schools in the state to immediately test their drinking water for lead. But Marcus said that testing drinking water is just the start and that the state needs to move quickly to make sure more children aren't exposed to high levels of lead.