The Slow Growth of College-Graduation Rates
According to a new report, more Americans earned a higher-education degree in 2014 than in 2008.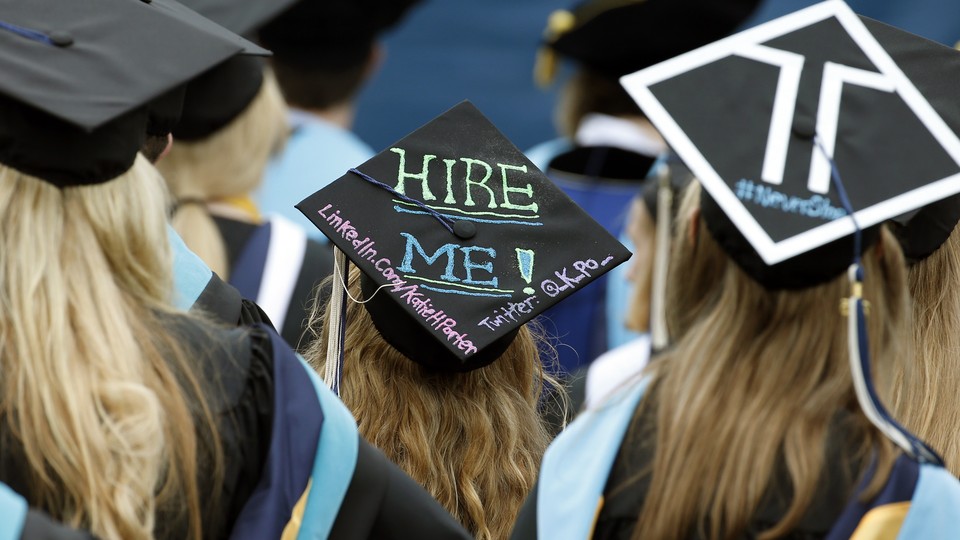 Since 2008 millions of adults have earned college degrees, but still less than half of the nation's labor force has completed a postsecondary education.
Between 2008 and 2014, the share of people aged 25 to 64 who possess either an associate's or bachelor's degree rose from 37.9 percent to 40.4 percent, according to new data released by the Lumina Foundation. (The Lumina Foundation is a financial supporter of the Education Writers Association, which produced this story in partnership with The Atlantic.) The influential nonprofit has also for the first time calculated the number of Americans who have earned a certificate in a postsecondary setting, finding that 4.9 percent of adult workers have completed a program in short-term studies such as auto mechanics, computer services, and cosmetology.
Despite the boost from the new certificates data, the pace of degree completion in the United States isn't fast enough to reach the organization's goal of seeing 60 percent of Americans holding either a certificate, or an associate's or bachelor's degree by 2025, according to Lumina's president Jamie Merisotis. "In fact, based on our projections roughly 10.9 million additional credentials—degrees, certificates, or other high-quality credentials—are needed to meet the goal. And those need to come from those people who represent our future, particularly low-income Americans, underemployed adults, first-generation students, and students of color," Merisotis said during a call with reporters.
If the current pace of degree attainment holds, 53.9 percent of the nation's workforce will hold a degree or certificate in 2025—roughly six percentage points short of Lumina's goal.
"Global competition has soared. Some 2 million jobs are unfilled in this country, lacking qualified applicants. Three-fourths of American CEOs cite major problems in finding qualified people to fill these jobs. And two-thirds of all jobs being created today require some form of post-high-school education or training, wrote Merisotis in the report.
Several countries have leapfrogged the United States in the share of the workforce with a degree, particularly among workers under age 35. Still, other analysts, such as the scholars behind this World Bank study, remain skeptical of the link between the nation's long-term economic growth and its ability to produce more adults who are college-educated. President Obama challenged the United States to lead the globe in the percentage of workers with degrees by 2020.
Whatever the link between degrees and the economy, more jobs are demanding candidates have at least some college education. In 2010, a Georgetown study estimated that in the past four decades the share of jobs requiring college experience rose from 28 percent to 59 percent and forecasted that this trend is likely to continue. It is worth noting, however, that data from the labor-research firm Burning Glass suggests employers are adding college experience as a job requirement when many current employees in those fields don't have those credentials.
The U.S. college-completion figures in the Lumina report varied significantly by demographic and geographic factors. Some states are inching closer to the 60-percent goal set forth by Lumina, including: Massachusetts, 55.4 percent; Colorado, 54.2 percent; Minnesota, 52.9 percent; and Washington, 51.6 percent. The states with the lowest percentage of degree attainment are: West Virginia, 32.6 percent; Nevada, 35.3 percent; Mississippi, 36.4 percent; Alabama, 36.7 percent; and Idaho, 37.7 percent. Nationally among 25-64 year-olds in 2014, 60.6 percent of Asian-Americans have earned a degree or certificate. The same is true for 28.7 percent of blacks, 20.9 percent of Hispanics, 23.7 percent of Native Americans, and 45.1 percent of whites.
Despite large gains over the past two decades in the number of people enrolled in colleges and universities, completion rates have been slower to catch up. One reason could be the set of challenges low-income students and those who are first in their family to pursue a degree face once they reach college. The Organization for Economic Cooperation and Development calculated in 2014 that 5 percent of U.S. children with parents who have not graduated from high school will graduate from college, the Lumina report notes. That figure joins other calculations that paint a picture of limited social mobility in the United States. Another widely cited figure shows that only 9 percent of children from low-income households complete a bachelor's degree, while the same is true of 77 percent of children who grew up in well-off homes.
"When you look at the fast-growing populations in the United States, particularly the Hispanic population, which in many states is growing much rapidly than the overall population," said Dewayne Matthews, Lumina's vice president of strategy development, "the fact that the attainment rate for that population today is only one in five adults having a two-year or four-year degrees, we think there's significant reason to be concerned about that and for the nation to really commit itself to the effort to close those gaps in attainment"
Still, demographic groups that are less likely to possess a degree in the United States have more faith that higher-education attainment leads to better quality of life. In a 2015 Gallup poll commissioned by Lumina and released as part of this report, 36 percent of whites, 50 percent of blacks, and 62 percent of Hispanics agree that a college degree improves the quality of life.
The Lumina report also tallied the metro areas with the highest and lowest concentrations of degree holders.
---
---
---
This article appears courtesy of the Education Writers Association.