On the Fast Track to Adulthood With Limited Options
Low-income students don't have the luxury of meandering through college.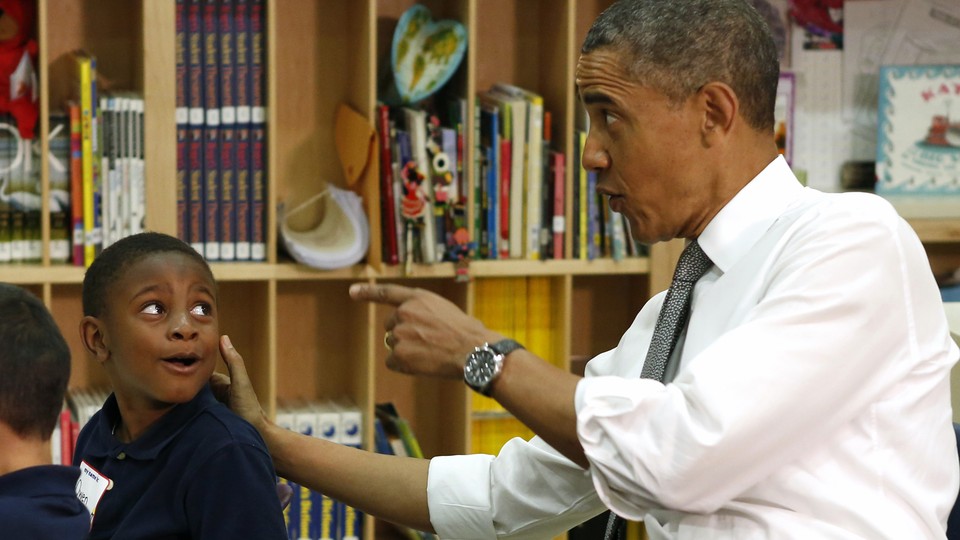 The urgency to become an "adult" combined with a limited menu of higher-education options can seriously derail young people from poor neighborhoods who are looking for opportunities to succeed.
In a report published this month, The Century Foundation takes a look at the cycle of poverty that Baltimore's young people often find themselves in and offers recommendations for how cities and lawmakers might begin to break some of the challenges they face. While the report, by Stefanie A. DeLuca and Susan Clampet-Lundquist, touches on everything from housing vouchers to mentorship, the role that some postsecondary schools seem to play in exacerbating inequalities is particularly interesting. The researchers found that many of the low-income Baltimore-area young people they have been following for nearly a decade gravitated toward for-profit colleges or trade schools when they decided to continue their education after high school. These schools tended to have lower graduation rates and higher student-loan default rates than local four-year universities.
So why did these kids apply? The authors identified several reasons, including the idea that the path to a four-year degree is too long, expensive, and uncertain. Students tended to make decisions based on whether a particular study track was linked to a concrete occupation. For-profit schools and trade schools (which generally offer training for specific jobs) have done a good job of marketing their programs with this in mind, while four-year universities have spent more time emphasizing a well-rounded education, something these students don't always see as a wise investment of their time and resources. "They don't have the luxury of trying to explore their interests in college like their middle-class counterparts," DeLuca said.
This was evident in comments from the young people she tracked. "So why wait for, like, years to become something, when you can become something in like the course of a year [at a trade school]?" a young woman named Crystal told the researchers. Yet, as DeLuca and Clampet-Lundquist point out, "This strategy ends up costing them in the long-run, when quick decisions to launch mean they have to commit to a trade before they have had a chance to explore what occupational paths really fit their abilities and interests … Often, they end up in debt with no degree to show for their investment."
While there has been some movement to revamp career-and-technical programs in high schools in places like Houston, these programs are not widespread, and the quality varies widely. The other challenge is that, like all young people, these children made their higher-education decisions based in part by looking at where their families and friends studied and worked, which tended to be in lower-wage positions as nursing assistants, phlebotomists, and security guards. DeLuca recalled squeamish students who went into phlebotomy without realizing it involved drawing blood. "This is a real information issue," she said.
The report suggests that students "need better information about what their options are after graduation so they can compare how various post-secondary options stack up against one another." They could benefit from knowing the real cost of programs, the average time it takes to earn a degree or credential, job-placement rates, and average wages. Right now, the students don't have easy access to this information, the researchers say, and some schools like Corinthian College, the for-profit chain that shuttered recently after it was found to be inflating job-placement statistics, are taking advantage of that information gap .
This is true nationally, as well. The Obama administration's attempt to rate colleges based on some of these measures, and even tie federal aid to how well they performed, were rebuffed by universities and largely fell flat. But the report highlights the College Coach Program, a Chicago initiative where high schoolers met with counselors one-on-one to talk about plans for after graduation, and to outline how to apply for college. Kids that participated were 13 percent more likely to go to college, and 24 percent more likely to select a four-year college than a two-year college, the report notes.
While two-year schools can and do produce graduates who go on to be highly successful, something DeLuca was quick to note, studies suggest there are often higher returns on four-year degrees. Where young people do go to community college, the report suggests, drawing on the work of sociologist James Rosenbaum and his colleagues, the schools should do a better job of packaging courses so that students know exactly what they need to take, and offer help with resume-writing and interviewing. The report also suggests formal apprenticeships like those popular in Germany. Several programs exist in places such as Philadelphia, Los Angeles, and Nevada.
While some of the suggestions may be costly, for DeLuca, the risk of not investing in the nation's poorest students is too great, and inhibits their ability to move out of poverty and into stable adult lives that ultimately contribute to the greater economy. "It does cost all of us when we don't support low-income young people through this transition," she said.