How Internet Filtering Hurts Kids
Zealously blocking their access to certain websites can end up undermining learning.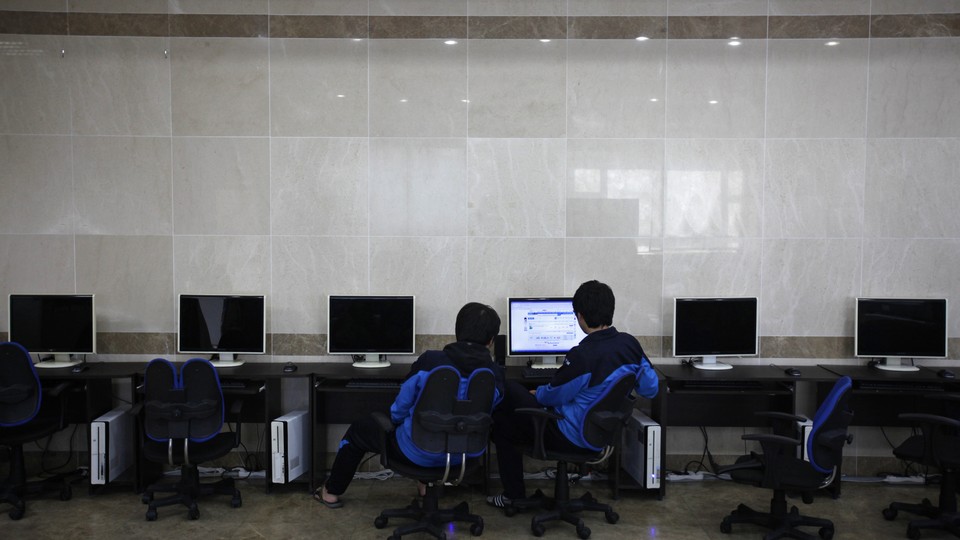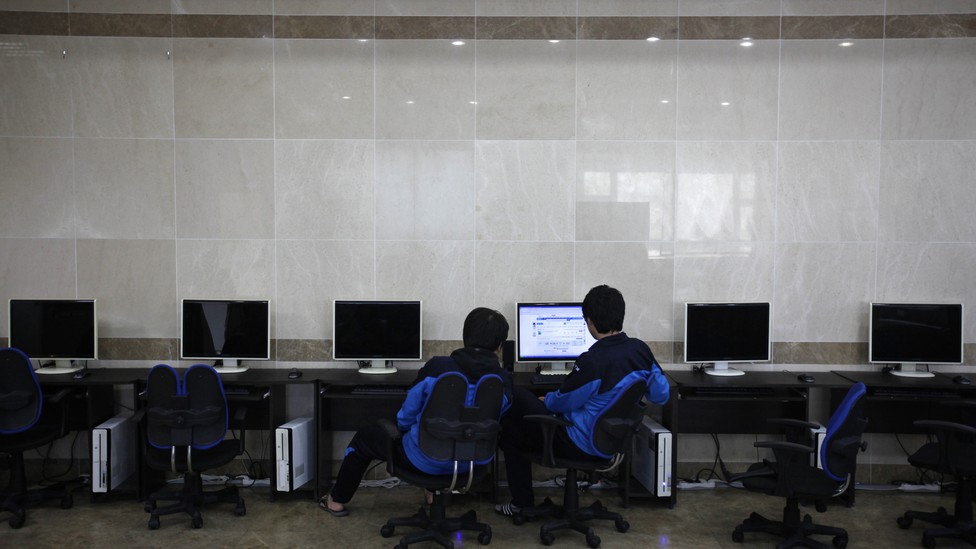 Giving all children access to the Internet and computing became a rallying cry for educators and elected leaders in the 1990s. In March 1996, President Clinton and Vice President Gore led 20,000 volunteers in a one-day effort to connect thousands of California public schools to the "brave new world of mouse clicking and web surfing." Yet that brave new world remains unconquered for many students and schools, especially in rural and high-poverty communities. Some have coined the term "digital redlining" to describe how advanced technology has been deliberately denied from certain areas based on geography as well as the race, ethnicity, and income of residents.
In the intervening years, the spotlight has pivoted to the so-called "connectivity gap"—which hurts schools without high-speed Internet connections—and the homework gap—which hurts students unable to access wireless and broadband connections from home. And like his predecessor, the president is using his bully pulpit to push for change. In 2013, the Obama administration launched the ConnectED initiative with the goal to connect 99 percent of schools to broadband Internet in five years; it also unveiled ConnectHome last year as a pilot project to bring high-speed broadband to over 275,000 low-income households in 27 communities, including Baltimore, Philadelphia, New Orleans, and Oklahoma's Choctaw Tribal Nation.
Still, even as supporters work to promote equitable access through connectivity, deep-rooted disparities linger. And a more nuanced digital divide seems to have surfaced, thanks to the pernicious practice by school districts of overzealous Internet censorship on in-school computer networks and on school-issued laptops and tablets that are carried home with students. In turn, educators, academics, and advocacy groups have renewed calls to revisit school Internet policies, which, despite some progress, continue to deprive children from becoming knowledgeable digital consumers—with the hardest hit apparently being the most disadvantaged students.
At the core of the ongoing debate is a law passed by Congress in 2000 that mandates all public libraries and schools that receive federal funds for Internet access install blocking software. The Children's Internet Protection Act (CIPA) specifically requires schools and libraries to block or filter Internet access to pictures and material that are "obscene, child pornography, or harmful to minors" on computers that are used by students under 17 years of age. The fundamental question has been how schools are interpreting the law—and whether districts are acting in the best interests of children or simply functioning as online overlords.
"If you were to take one word that has driven the use of technology in education over the last two decades, [it's] safety," said Keith Krueger, the CEO of the Consortium for School Networking, a professional group for school-district technology directors. According to Krueger, safety is typically policymakers' and administrators' primary concern when it comes to technology in education.
The ACLU elevated another concern in 2011 when the national organization and its regional chapters in several states issued letters demanding public high schools remove web-filtering software that blocked items related to LGBT issues and support groups for LGBT youth. The ACLU discovered from students that web filters were routinely blocking access to groups such as GLSEN and the Gay-Straight Alliance Network, along with LGBT anti-bullying resources like It Gets Better and the National Day of Silence. Joshua Block, the senior staff attorney for ACLU's LGBT Project, credits the organization's campaign, "Don't Filter Me," with changing minds and policies.
A separate LGBT category was eliminated in the filtering software that major companies sell to schools, Block said, and websites with resources for LGBT people are no longer sorted out. He notes that some problems with censorship persist, but not to the same degree. Krueger, representing school technology officers, said the key is balancing safety and access. "Without question, students need to become digitally literate (having the knowledge and ability to use information and technology for varied purposes) because ultimately they live in an unfiltered world. School systems need to ensure that we create a safe environment [but] if we believe any technical solution like filtering will keep us totally safe, that is misplaced."
This common-sense viewpoint, however, has yet to trickle down to many schools, where over-filtering—filtering beyond the requirements of CIPA—is common. One of the most ardent and active opponents of over-filtering to date has been the American Library Association, which for many years has championed the need to protect students' access to "legal, constitutionally protected information that is necessary for their school studies [and] personal well-being," said Deborah Caldwell-Stone, the deputy director for ALA's office for intellectual freedom. Stone said in some cases, the problem is as simple as school staff failing to adjust the pre-set maximum settings on filtering software, though much of the difficulty resides with school personnel who misunderstand the federal law and the requirements necessary to be in compliance. As an example, she said both the Federal Communications Commission and representatives from the Department of Education have issued guidance stating that Facebook, YouTube, and other platforms do not need to be filtered, but school districts often block these websites "on the grounds that students might access content barred by CIPA."
Maria Salmeron, a junior at Bethesda-Chevy Chase High School just outside Washington, D.C., uses Facebook in student organizing as a leader in the Minority Scholars Program, a youth-led group working to increase the academic success of students of color in Maryland's Montgomery County Public Schools. Up until this school year, the district blocked Facebook, effectively cutting Salmeron off from a critical mobilization tool. "Facebook is one of the sites that connects you with everyone the most … it's kept me in contact with people and groups from all over the world," she said.
Likewise, Caldwell-Stone points to contradictions: students in AP biology classes blocked from accessing information needed to prepare for the AP exam; debate-team members unable to research controversial topics on school computers; and filters that routinely block websites for the National Organization for Women, the Quakers, and other "perfectly innocuous, legal, and informative content." The ALA report "Fencing Out Knowledge"—an analysis of CIPA 10 years after its enactment—found that schools' overreach with filtering software was putting children's education at risk, particularly children in poverty who depend on school-provided Internet access the most. "Other children are likely to have unfiltered internet access at home or through their own mobile devices," ALA wrote.
This finding is confirmed by anecdotal and empirical evidence. In Maine, Portland Public Schools in April 2012 installed filters on high-school students' school-issued laptops that banned access to social networks, games, and video-streaming sites. At the time, Portland was among the first districts in the state to authorize such stringent filtering on take-home school devices. As the Press Herald reported, Portland High School students had very different responses to the new policy, based on their access to another computer at home: "…those from middle-class families expressed various degrees of annoyance when told of the new filtering measures. A group of immigrant students reacted with anger."
New research released this past February echoes these students' sentiments. A team from Sesame Workshop's Joan Ganz Cooney Center, a nonprofit research lab, and Rutgers University conducted interviews on digital equity with 170 Mexican-heritage parents and children in three states—California, Colorado, and Arizona. All of the youngsters were enrolled in high-poverty school districts. Vikki Katz, an associate professor of communication at Rutgers and the study's co-author, said school-supplied laptops were usually not the only digital device in these families' homes, but emphasized that "the poorest families are least likely to have other devices. Districts filtering content means that those children and families don't get the same Internet as their more privileged counterparts."
What's more, in-depth conversations with the families revealed that districts blocked YouTube at school, as well as on school-supplied devices, because some content was deemed inappropriate. And the consequences were steep. "Parents and children depended on YouTube to support homework time, including tutorials to solve math problems and to learn more about historical characters. The problem is that these platforms are multi-use, and those uses change too quickly for district [filtering] policies to easily keep up."
This opinion is shared by Mary Beth Hertz, the art/tech teacher and technology coordinator at Science Leadership Academy at Beeber, a public high school in West Philadelphia. In her role as a technology teacher leader, Hertz has watched the district's filtering process evolve since 2006, with teachers now able to request that sites be unblocked and requests "reviewed by actual human beings instead of an algorithm." Hertz said what many districts get wrong is listening too closely to lawyers. CIPA leaves a lot of room for interpretation, she said, and some districts opt to choose a strict interpretation to protect themselves rather than engage families, parents, teachers, and students in these digital-access decisions. "We should be blocking what the law requires, but unfortunately the phrase 'harmful to minors' to some districts means everything and anything that could offend or embarrass kids and their families," Hertz said, adding that blocking content doesn't teach kids how to "effectively, respectfully, and responsibly use the Internet."
At the start of each school year Hertz asks her freshmen "Is the Internet a basic right?"—eliciting responses from a dismissive "no" to an enthusiastic "yes" and prompting comparisons to China, where access to the Internet is restricted. A room of 14-year-olds is able to grasp what some school leaders seem to overlook.
"They understand that this connection is not a life-or-death situation, but that it affords opportunity. They also have a basic understanding of oppression and the idea that limiting access to the Internet limits people from opportunity," said Hertz. "We sometimes think too much about the content that we block, and we forget [that] when we cut kids off [from social media] we limit their opportunities to succeed, explore their passions, and discover their strengths and talents."