How Mentorship Is Helping More Latino Men Earn College Degrees
There's no one right approach, but they all start with reaching boys early.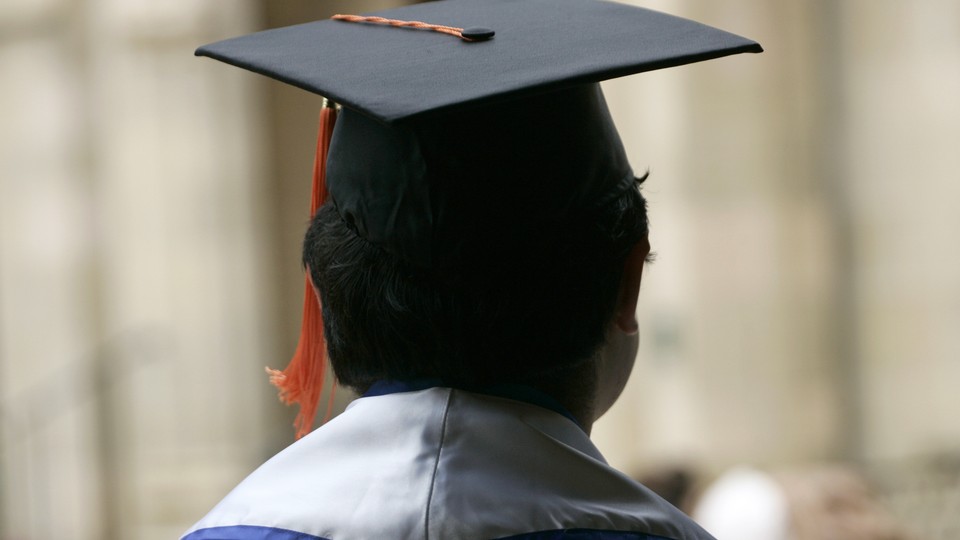 The number of Latino men enrolling in college increased 75 percent between 2005 and 2014, from 718,500 to 1.26 million. Yet compared to Latino women, these young men make up a disproportionately small percentage of college students. In 2014, Latino men made up just 43 percent of Latinos enrolled in college to Latinas' 57 percent. The disparity at the graduate level is even more pronounced.
As Hispanic students make up a growing portion of the nation's students, colleges and advocacy organizations are looking for ways to reduce that disparity, and in the process, grappling with how to serve a student body with needs that look nothing like those of a generation ago. It's a crucial task, as the Latino-focused nonprofit Excelencia in Education pointed out during a recent webinar, because their ability to succeed in college will be crucial for the United States' future economic success.
Before schools can develop programs to reduce the gap, they need to understand the unique challenges Latino men face. Victor Saenz, an associate professor at the University of Texas at Austin and the executive director of Project MALES, a mentoring program and research initiative aimed at identifying and implementing ways to help Latino men succeed, has spent years focusing on the issue. While there is a surprising dearth of scholarship on the education of Latino men "given the demographic imperative that is all around us," he said, it is clear that they are disproportionately likely to attend under-resourced schools with inexperienced teachers, high leadership turnover, and other systemic inequalities. They are overrepresented in special-education classes, especially when it comes to behavioral and emotional issues, and they are disproportionately likely to be suspended or expelled.
Some of these disparities are likely tied, Saenz noted, to the fact that there are very few Latino men teaching, and that the need for cultural understanding and the fact that not all children learn in the same ways are often overlooked. While a kid does not need to be taught by a teacher who shares a similar background, studies indicate it can foster connections that keep children engaged and even improve test scores. Young men who do enroll in college often face pressure to work to support their families, and they tend to be reluctant, Saenz said, to reach out for help. It's also worth noting that the growing gaps between young Latino men and women in terms of college attainment are not necessarily a sign that men have stalled, but rather that women are making strides at a faster pace.
Based within his school's Division of Diversity and Community Engagement (a division that many universities lack entirely), Project MALES aims to address these challenges by researching how Latino boys and men experience education, by connecting college students with Latino boys in the Austin area, and through a consortium that brings educators from around the state together to help male children of color succeed.
Brenda Carrillo, a UT Austin student who is in her fourth year mentoring students, thinks sharing her own story as a first-generation college student with immigrant parents and talking about the process of applying for and enrolling in school helps the children stay focused on graduating from high school and pursuing higher education, she said during a phone interview. Raised in Eagle Pass, a Texas border town that is almost entirely Hispanic, Carrillo was initially shaken by the racial diversity of Austin and the challenge of connecting with professors who sometimes had no understanding of her background. "It was challenging at first establishing that support network and getting a group of friends," she said. Mentorship, she thinks, can help students who might otherwise feel overwhelmed and drop out, persevere.
While Carrillo is female, many of her fellow mentors are Latino men who also benefit from the fact that the university pairs undergraduate mentors with graduate-student mentors of their own, and hosts meetings with local Latino professionals who share their own stories of success and sometimes offer the internships and networking opportunities that students from affluent families often have help securing.
Nearly 600 miles northwest of Austin, William Serrata, the president of El Paso Community College, is championing programs that let students take college classes in high school, and, in some cases, earn an associate's degree by the time they graduate. The idea is to give disadvantaged students a head start at experiencing college courses while they still have the support of high-school teachers, and to provide a clear pathway toward a successful career for children who don't have the financial ability to take a long, meandering path to a degree. The work is paying off. Latino males in such programs are more likely than their peers to go onto earn college degrees. Several years ago, the team realized Latino males were underrepresented in these programs and began taking deliberate steps to enroll more boys. "Intentionality matters," he said.
While these approaches clearly vary, they share a commitment to conducting and relying on research and data to develop "best practices," and an emphasis on reaching Latino boys early, well before they enroll in college. The longer a young man is out of school and in the workforce, the less likely he is to return to school and pursue a degree. They're also based on the idea that helping young Latino men succeed in college and beyond takes conscious effort. Serrata pointed out that when he speaks with K-12 educators, people almost always say "my kids," expressing a sense of ownership of the task of helping those kids succeed. "We need to learn from that," he said, "at the higher-education level."