How Forgiving Student Loans Helps Farmers
Some lawmakers want to encourage small-scale food producers to stay on the land by forgiving their debt.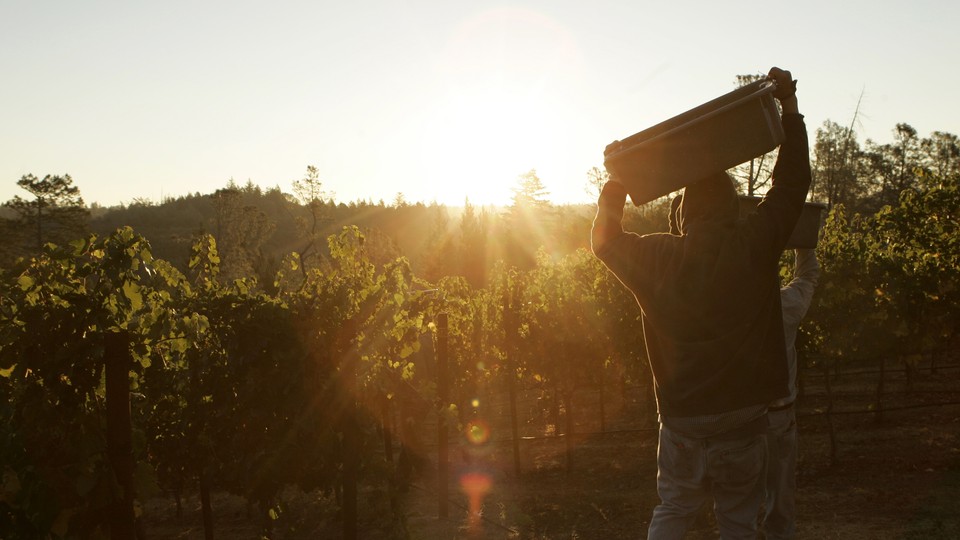 This is the first spring Davon Goodwin will spend running his own farm. The young farmer is planting grapes and elderberries and raising pastured pork and lamb on Off The Land (OTL) Farms. He's leasing 150 acres in Raeford, North Carolina, from the farm that he currently manages, Fussy Gourmet, owned by an eye surgeon in town.
Starting a farm is hard for anyone, but Goodwin has an extra burden to bear: $9,000 in student-loan debt. And although he works for both farms, Goodwin's financial prospects are bleak. The average U.S. farm brought in only $43,750 in net income in 2012 (according to the U.S. Department of Agriculture's Census of Agriculture), an amount usually divided between operators.
When it comes to his own farm's income, Goodwin is often torn between buying what he needs to expand his operation or spending that money to pay back his student loans.
Stories like Goodwin's have become a rallying cry for the National Young Farmers Coalition (NYFC), an advocacy group representing farmers in the first 10 years of their professional careers.
Young farmers are facing tough odds—yet they have very little support. The average age of the American farmer is 58 years old, while only 6 percent are under the age of 35 years old. In the U.S., 63 percent of farmland is on the cusp of being passed on and many of these older stewards will need to find new tenants or sell their land in the next five years. But in many cases, that transition just isn't happening—and banks, equity firms, and large corporate farms are buying up the land instead. Between 2007 and 2012, the number of farm operators in the U.S. dropped by 90,000, while the number of young farmers increased by only 1,200.
The NYFC has pinpointed a number of barriers of entry for new farmers, including sky-high land prices, lack of access to water, and lack of training. Along with these hurdles, NYFC has zeroed in on an issue affecting about 40 million Americans and around 70 percent of college graduates: student-loan debt.
Like Goodwin, people with student-loan debt are less likely to buy houses or cars, and they save less for retirement. This applies to would-be farmers: In a survey of 700 members with student loan debt, NYFC said that nearly 30 percent are waiting to pursue farming, or chose not to pursue it at all, because they don't think a farming salary would help them pay off their loans.
"It gets frustrating because we hear that we need more farmers, but I don't see the government—local, state, or federal—trying to increase the number of us," Goodwin said.
Now, NYFC is campaigning to elevate the role of the farmer to that of a public servant, much like a doctor, teacher, or police officer. It's an issue that NYFC has lobbied strongly for in recent months, releasing a report on the matter in June and recruiting celebrities like chef Curtis Stone to advocate for the cause.
"Farmers are stewarding our environment, producing food we eat, and they are the anchor of rural communities," says Eric Hansen, a policy analyst at NYFC. "A really important public benefit is being provided by these farmers."
With the help of the NYFC, Representatives Chris Gibson, a republican from New York and Joe Courtney, a democrat from Connecticut, introduced the Young Farmer Success Act in Congress last June. The bill would add farming to a list of careers that receive student-loan relief through the Public Service Loan Forgiveness Program. Under the program, participants would have the balance of their student loans forgiven after working full-time on a farm for 10 years while making income-driven payments towards their loans. There would be no age limit to take advantage of the program, but eligible farmers would need to work on a farm or ranch that brings in annual gross revenue of $35,000 (adjusted annually for inflation) or more.
Some have criticized the bill for not putting an age or income cap on the program, but Hansen says that the bill's wording ensures that those with the most need will be given the most aid. Because loan payments are based on a farmer's yearly income, they will rise when his or her salary does. "If the farmer makes enough money, they will pay off the loans before the loan forgiveness kicks in," Hansen wrote in an email.
Going forward, the plan is to attach the bill to the much larger Higher Education Act (HEA) reauthorization as an amendment to the Public Service Loan Forgiveness Program. While the current Congress is notorious for stalling on and even blocking a high percentage of legislation, Hansen says the passing of the Every Student Succeeds Act (HEA's K-12 equivalent) in December has cleared the decks for the HEA reauthorization to move forward. This, and the energy surrounding the HEA reauthorization on the Hill, has given the NYFC and Gibson hope that it will gain momentum this year.
In addition to attracting new farmers to the profession, Representative Gibson also sees the bill as a way to fight the growing influence that large, consolidated farms have had on U.S. agriculture.
"The USDA says that we need to inspire 100,000 new farmers over the next decade or we are going to get more consolidation and more imports from overseas," says Gibson. "If you want to be a thriving country, you have to grow and produce locally. We're not nearly keeping up."
But some have also questioned what that new generation of farmers will look like, noting that forgiving student-loan debt has the tendency to favor white and more affluent young farmers. About 40 percent of white Americans age 25 to 29 years old had a bachelor's degree or more in 2013, compared to only 20 percent of African Americans and 15 percent of Hispanics in the same demographic.
However, NYFC's Hansen pointed out that while there are more white young people carrying student loan debt in America, that's only half of the story. "There has been a lot of interesting research recently on the effect of student-loan debt on minority communities. While these communities carry less debt overall, they are disproportionately impacted by that debt." For these reasons, he adds, "we know we have to look for additional ways to lower barriers for people of color who want to be farmers."
For Goodwin, the bill poises a very real opportunity, one that could help bridge the gap between part-time and full-time farm owner—and the gap between an aging farm population and a new generation of American farmers.
---
This article appears courtesy of Civil Eats.