Does ICE Pressure Schools for Student Info?
While the agency says no, families and education officials take steps to safeguard the undocumented.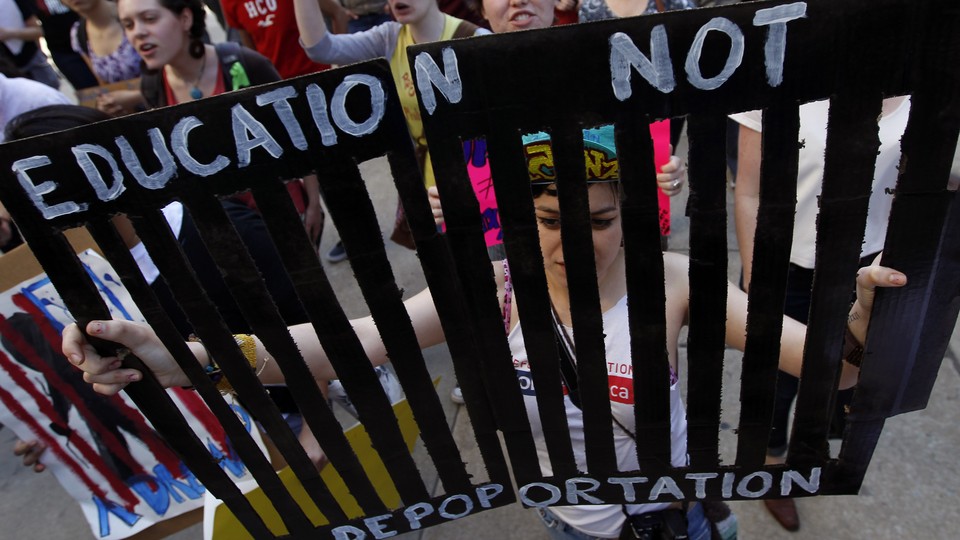 Undocumented and mixed-status families (where some have citizen or resident status and others don't) are increasingly hesitant to send their kids to school. In some areas, families with undocumented members are wary of using their real home address on school forms for fear that their information could be shared with Immigration and Customs Enforcement (ICE).
"There is a fear about schools no longer [being] a safe haven for undocumented students," Jose Hernandez Paris, the executive director of the Latin American Coalition in Charlotte, said. It makes some sense that in places like North Carolina with a history of making life difficult for undocumented immigrants, families might not trust school officials, even equate them with law enforcement. Raids in January led to the arrest of 121 undocumented migrants in Georgia, North Carolina, and Texas. Recent immigrants, many of whom were unaccompanied minors and families among those who entered in 2014 during the so-called border crisis, are now first in line for deportation next to gang members, terrorists, and felons. In practice, this means that undocumented youths who attend public schools become targets when they turn 18. While minors are protected from detainment, those over 18 are not. This is why many young people intercepted at the border were released into the general population.
Legally, federal law prevents schools from sharing student information, including their citizenship status, and ICE states that it does not interface with schools at all.  In fact, several existing laws make it extremely unlikely that schools are purposefully collaborating with ICE in any way. FERPA, the most widely-cited student privacy law, protects against the sharing of student information except in a few narrow instances that likely would not apply to undocumented students who have not committed a crime. In addition, schools are required to provide education to all students regardless of immigration status, and are prohibited from insisting on certain forms of residency proof due to a 1980s Supreme Court case. The protective language employed by some school districts, for example explicitly instructing staff on what to do if ICE should contact them, suggests that the possibility of ICE interference does exist, and makes the total lack of such language in other districts much more striking. And although it is difficult to track events of inappropriate immigration status collection unless reported by witnesses, high-profile cases in Alabama in 2011 and in New Orleans in 2014 demonstrate that informal collection of immigration status data may occasionally occur. In the New Orleans case, fifty-five schools were found to be illegally requiring social security numbers from registrants.
"ICE has not approved any enforcement actions at any school under the 'exceptions to the general rule' section in recent history," said Bryan Cox, a spokesperson for ICE.  He further clarified that while he lacks data on ICE's history of enforcement actions in this regard, "no such approval has been given anywhere in the country during at least the past year." In a 2011 "sensitive locations" memo, ICE commits to not arresting, interviewing, searching, or surveying targets of its investigations while they are in schools, churches, or hospitals. The policy permits a large degree of discretion, since it can be overridden by obtaining prior approval from several officials, or by invoking any of the numerous exceptions noted in the memo.
Julie Mao of the National Immigration Project of the National Lawyers Guild said the memo has not prevented the apprehension of at least one student at a bus stop, in full view of the child's classmates. This interpretation of the sensitive-locations ban also enabled ICE agents in Detroit to surround an elementary school in 2011, trapping several families inside. Another incident led to the arrests of parents during morning drop-off in 2012. Meanwhile, the Southern Poverty Law Center (SPLC) collected several first-hand accounts that indicate the use of unconstitutional tactics in recent Atlanta raids. In several cases, ICE failed to produce a warrant and ignored requests to that effect. According to SPLC, agents also reportedly used deception to gain access to some homes in January, "saying they were police officers searching for a criminal (even showing a photo of an African American man in some instances)."
It is in this context that Los Angeles Unified, Durham Public Schools, and San Francisco Unified School Districts made announcements condemning the raids. In LAUSD's case, officials promised they would not allow ICE agents on their campuses to investigate students, even while ICE maintains that it will not attempt to. The concerned school districts were joined in their opposition to the raids by officials from communities throughout the country, including the mayors of New Haven and Philadelphia, and city council members in Chicago.
Early adopters of protective policies for undocumented students include the San Francisco Unified School District. In a 2007 resolution states, "If parents and or students have questions about their immigration status, school personnel will not refer them to the Immigration and Customs Enforcement Office ('ICE')," and "District personnel will not make unreasonable inquiries from a student or his/her parents for the purpose of exposing the immigration status of the child or his/her family." However, SFUSD public-relations manager Heidi Anderson said, "Overall, it has been our experience that San Francisco ICE officials stay away from our schools."
The gap in preparedness between schools, then, has more to do with the possibility of district officials unintentionally breaking the law by sharing information, than with the unlikelihood of widespread conspiracy to deport students. Los Angeles Unified School District's chief attorney Dave Holmquist addressed the issue directly in comments to the LA School Report. On creating a procedure for answering ICE information requests, he told the Report, "I'm concerned that principals in our schools will have to make judgment calls without input from [Counsel's] office, and that is not the best thing to do … we want principals to comply with the law." Shannon Haber,  communications director for LAUSD said that at this point, Holmquist's concerns are purely theoretical.
The existence of federal law and even a city's sanctuary policy may not translate to individual awareness and compliance. In 2009, SFUSD passed another resolution, containing a key admission that the Board "recently learned that employees and agents of the City and County of San Francisco have been reporting undocumented students of the District to Immigrations and Customs Enforcement Officials without providing youth with due process." This was apparently related to the city's 2008 ordinance requiring police to report all undocumented youths to ICE when arrested, even if they did not receive a conviction. This mirrored secure communities practices, and is one of many episodes in the city's ongoing conflict over sanctuary city policies.
SFUSD now says it actively educates officials and teachers on their responsibilities regarding undocumented students. This practice appears unusual after a survey of school district websites in affected areas. While a search for the term "Immigration and Customs Enforcement" on SFUSD's site brought up relevant Board resolutions, the same search agent produced only employment-related forms for Atlanta Public Schools, and zero relevant results for Dallas Public School District, Chicago Public Schools and DC Public Schools. A search of Durham Public Schools' site revealed a statement opposing the raids, but no relevant policies. A lack of online availability does not rule out the existence of these policies. (At the time of this writing, some districts in Georgia and North Carolina had not responded to interview requests.)
School districts that did respond have different policies.  Fort Worth Independent School District and Arlington Public School District each wrote in emails that they have no training programs addressing either non-discrimination towards undocumented students, or on whether and how employees should interact with ICE. Prince George County Public School District in Maryland, for its part, wrote that they annually refresh officials on the rights of undocumented students.
One possible explanation for regional differences could be that Southern states do not have the same experience with undocumented immigrants as states on either coast. Mao said she was not surprised by the patchwork quality of policies in this area— while California became familiar with the issue much earlier, states like Georgia, Louisiana, and the Carolinas began receiving a greater number of undocumented migrants only in the last few years. (Cox did not acknowledge a question about ICE's view on LAUSD and SFUSD's policies.)

It is difficult to determine whether any ICE agents have ever been given information improperly, or if phone calls have ever been made to any principal's office. But efforts by affected school districts to assert the safety of their campuses despite ICE's reassurances may indicate an overabundance of caution as far as their students are concerned.