What Workplaces Gain When They Send Their Employees Back to School
New evidence the corporate college perk works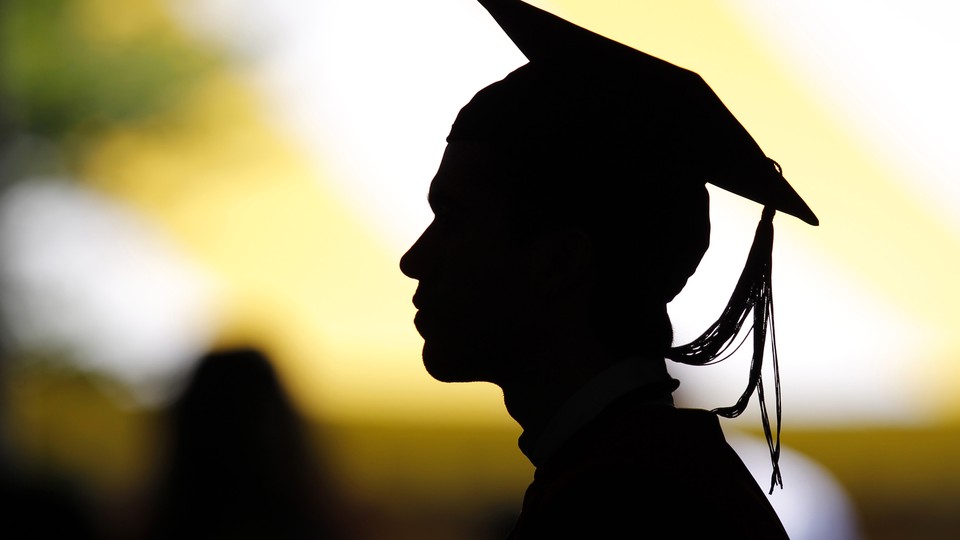 Can a corporation do right by its workers and boost its bottom line?
A welter of companies have in the past few years made big media splashes about their programs to underwrite the college educations of their workers. While Starbucks, JetBlue, and Fiat-Chrysler are some of the largest to announce their postsecondary plans for employees, the benefit exists at roughly 60 percent of all U.S. companies.
Far less common is an employer evaluating whether its creel of college perks actually benefits the company. A new analysis did just that, and the results suggest that bosses can get serious mileage out of their workers even after spending up to $12,000 annually per employee on their college educations. Though the report focuses on one company, its findings may tamp down suspicions that the recent spate of company offerings are in effect feel-good PR strategies with limited benefits.
Cigna, the health-care giant that posted $38 billion in revenues for 2015, generated a return on investment of 129 percent for its more than 2,200 workers who took advantage of the company's education-reimbursement program from 2012 to 2014. Employees pursuing a bachelor's or less received an allowance of $5,250 per year, while those seeking a master's degree received $8,000. The number crunching, conducted by the Lumina Foundation and the business-consulting firm Accenture, shows that for each dollar spent on their employees, Cigna gained back that dollar and saved another $1.29 in talent-management costs.
Workers gained big, too. The analysis found that entry-level and mid-management employees saw their wages grow by 43 percent over the three-year period compared to colleagues who didn't take part in Cigna's education-reimbursement program. The wages of participating entry-level workers alone grew by 57 percent, based on an examination of roughly 200 similar workers who did and didn't take part in the tuition program. Overall, the number of promotions rose by 10 percent and that of internal transfers by 7.5 percent for all employees irrespective of skill and rank, compared to the non-participating employees. Crucially, turnover declined by 8 percent, which on its own may lead to major savings. Workforce churn can cost up to 200 percent of the annual salary of the outgoing worker, a 2008 study estimated. In addition to expanding their educations at a discount, Cigna also reimbursed workers for fees associated with applications, course registration, exams, and graduation.
Some wrinkles are evident, though. While turnover among workers with fewer than six years of experience at the company fell sharply, more experienced employees were likelier to leave Cigna after enrolling in the tuition-reimbursement program.
---
---
In response to the findings for the period between 2012 and 2014, Cigna made changes to its education benefits. The company raised its financial support for undergraduate degrees to $10,000 and graduate degrees to $12,000, but only in the roughly 15 strategic fields that are aligned with Cigna's business interests and goals, such as cybersecurity, data analytics, and health law and policy. Degree programs that fall outside those strategic fields now come with $4,000 in reimbursements for undergraduates and $6,500 for graduates..
Company tuition programs take different forms. Fiat-Chrysler, for example, partners with the for-profit college Strayer University to make available upfront its roughly 100,000 dealership-network employees and their family members the full cost of college, from tuition to textbooks, as I've previously reported for The Atlantic. Other companies either partner with a single institution or give their workers latitude and promise to reimburse those employees after they've completed a term or more. The tuition benefit often maxes out at what the IRS permits as a tax write-off—$5,250. This month airline company JetBlue announced a partnership with Thomas Edison State University, covering the associate's degrees upfront for its workers while a bachelor's would cost the employee $3,500.
But one common trait across Cigna's education benefits and other company programs is the low participation rate. The industry average for employees taking advantage of such perks  is 5 percent—Cigna's was slightly lower than 6 percent.
At Cigna, employees may choose from a suite of nonprofit and for-profit institutions through which to earn degrees. Karen Kocher, Cigna's chief learning officer, said that the company worked out arrangements with several of the institutions to lower tuition and accept payment when the employees receive their tuition benefits from Cigna—a major perk as many other programs are designed in a way that forces employees to pay first and receive reimbursement later. "Your average individual in the United States has barely enough savings to pay for a major automotive problem," Kocher said. "The fact they're going to come up with thousands of dollars to pay for their tuition upfront for every single semester is not realistic." Capella University, Colorado State University, and University of Hartford are some of the nearly two dozen schools accepting deferred payment.
Since the release of the ROI study, the Cigna program has begun to assign college-and-career advisors to workers enrolled in college on the company's dime. These coaches serve as mentors who support students as they attempt to balance their academics, careers, and life obligations. They also function as matchmakers between project managers and workers studying disciplines that could benefit unfolding projects in an effort to enhance the relevance of the workers' college educations. "That kind of thing happens quite a bit," said Kocher. Managers of enrolled employees are also kept abreast of what they're learning in class to instill a "learn-by-doing" ethos that many scholars say is integral to maximizing college-workforce partnerships.
"What we got out of this study was an opportunity for us to understand what we could do to make the program even more successful in the minds of the employees," Kocher said.
Lumina is slated to release several more studies through partnerships with other companies in the coming weeks, part of its effort to determine just how effective corporate education benefits are and which approaches make the most sense for workers and employers. The methodology used in this report was vetted by more than 25 human-resource managers at companies belonging to the Business Champions, a group of large U.S. employers that produce strategies to bring more workers up to speed on what employers spect of them.
Half of Cigna's workers participating in the tuition-reimbursement program are first-time college students, suggesting that such plans may help to drive up the total number of U.S. workers with college degrees or certificates. (Currently, an estimated 1 million Americans are enrolled in postsecondary institutions through their employers.) Still, the foundation and others have contended that financial aid from state and federal funds will need to be better target the low-income students who are the least likely to attain a degree. Lumina's stake in this is clear: The foundation wants 60 percent of workers in the United States in possession of a degree or certificate by 2025; the percentage today is around 45 percent. At the pace the country is going, the United States will hit 54 percent by 2025—a deficit of nearly 3 million workers who will lack college credentialing.