How Effective Are 'Career Academies'?
The schools-within-schools blend traditional and technical courses to try to smooth the transition from high school to working life—but they may inadvertently propagate inequality.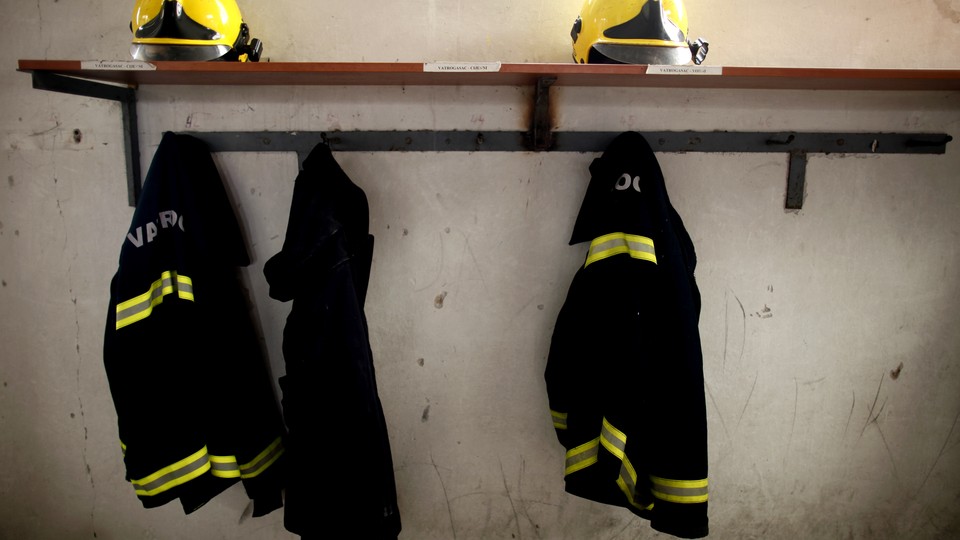 Ask a group of preschoolers, "What do you want to be when you grow up?" and firefighter usually makes the list of dream jobs—as do ballerina and superhero. Firefighting is a profession glorified in media and children's books, but most childhood aspirations don't become a reality. Experienced firefighters are in high demand across the country—in small towns, medium-size cities, and major urban areas. So school officials and county leaders in Pensacola, Florida, came up with a novel solution to address its firefighter shortage: Grow your own. Starting in the 2016 school year, a new career academy at Pine Forest High School will recruit and enroll students interested in a firefighting job. "Not only is it good for students, but employers … see these high-school career academies as a feeder for [recruiting and hiring] employees," Michelle Taylor, the workforce-education director for the Escambia County School District, said in the Pensacola News Journal.
The firefighter academy at Pine Forest is the latest addition to the district's roster of career academies, which includes Escambia County's longest-running program at West Florida High School that partners with Gulf Power, the region's utility company. For 15 years, Gulf Power Academy has prepared hundreds of high-school students for entry-level employment and careers in engineering and electronics. What sets these two career academies apart, though, is more than just their specialized classes—it's the population of students each school serves.
Most of the kids at Pine Forest High School are students of color (61 percent), with black students accounting for the single largest racial or ethnic group (44 percent); well over half of the students (58 percent) qualify for free and reduced-price meals, a frequently used measure of socioeconomic status. In contrast, West Florida High School is majority white (53 percent), blacks are less than one-third of the student body (31 percent), and less than four out of 10 students (38 percent) are economically disadvantaged. For some, it's noteworthy that a very different career path is offered at the school with a higher concentration of disadvantaged students of color, raising questions about equity and opportunity.
Taking a broader outlook on this school model, career academies are a hybrid of the vocational education of the 1970s—with its emphasis on skilled trades and occupations—and more recent efforts to raise college-and-career-readiness in high school. Often defined as a school-within-a-school, career academies generally feature small learning communities, integrate business and industry partnerships, and provide students with a curriculum blending traditional and technical courses—all designed to smooth the school-to-work transition or ease the pathway into postsecondary schooling. The combination has proven to be widely popular, and career academies are increasingly touted for boosting student engagement, improving academic performance, and enhancing future job and earning prospects. According to the National Career Academy Coalition, an advocacy group, there are some 7,000 career academies across the country, enrolling about 1 million students.
In April 2014, the approach received a prominent endorsement and major funding when the Obama White House announced the Youth CareerConnect grant program, a collaboration between the labor and education departments to reward school districts that teamed up with colleges and workforce groups to combine "rigorous educational standards with work experiences and skills [to] enhance instruction and deliver real-world learning opportunities for students." Nationally, $107 million in grants was disbursed to 24 organizations and school systems—including Los Angeles, New York City, and Denver—to create and expand career-academy offerings.
While the concept is over 40 years old, the proliferation of career academies rose sharply following a landmark paper in 2008. Researchers at MDRC, a nonpartisan education and social-policy think tank, in 1993 began studying students who were randomly assigned to career academies and their non-career academy peers. The students were followed through high school and for several years after graduation. The study's author, James Kemple, found for students at highest risk of dropping out, participation in career academies improved attendance and the likelihood of graduating on time. Young men in career academies also went on to land higher-paying jobs, though the effects for young women were smaller. As the study concluded, "Investments in career-related experiences during high school can produce substantial and sustained improvements in the labor market prospects and transitions to adulthood of youth."
Kemple, now the executive director at the Research Alliance for New York City Schools, said his study suggests that career academies can be an "equalizing force," noting that most of his data was drawn from schools and districts with high concentrations of black and Latino students, and students from low-income families and communities. For the desired effects, he said, three important elements must work in tandem: strong personalized-learning environments, a commitment to helping students complete high school, and opportunities to participate in meaningful work-related learning experiences. The biggest threat is inflating any one component at the expense of another. "An over-emphasis on job-specific skills training could lead to tracking," Kemple said, referring to the educational practice of dividing students based on perceived abilities. "From this perspective, [firefighting] should provide the same opportunities for integrated learning, career-development skills, and advancement to college as business and finance."
A model that seems to reflect Kemple's research is found in Cincinnati at the newly renovated Deer Park Career Academy, where students in grades seven through 12 choose from a variety of career pathways, from digital design to civil engineering. With an eye on emerging STEM fields, Deer Park plans to expand its curriculum next year to cater to the diverse interests of its students—a group that is overwhelmingly white (82 percent) and fewer than half (42 percent) receive free meals at school. However, in Delray Beach, Florida, it's just the opposite. The demographics at Atlantic High School's career academy—a partnership between the police department and Palm Beach County School District to guide students into law enforcement—ring familiar: 75 percent students of color, 53 percent black enrollment, and slightly more than half enrolled in the free-lunch program.
Louie F. Rodriguez, an associate professor in the college of education at California State University San Bernardino, said he has seen this trend before when you take a traditional school environment and examine the program offerings by race, language, and class. Rodriguez, who co-authored Small Schools and Urban Youth, said there is "a lot of research to suggest that tracking students by race … perpetuates inequality at the school level." While considering some of the examples cited, Rodriguez said it is vital to scrutinize the degree to which all career academies offer all students the same opportunity to learn. "If some academies offer more academically rigorous and more selective courses, and there are clear disparities in enrollment patterns by race, language, and class, then there is obviously a need to be concerned," he said.
Rodriguez adds that a major oversight in these kinds of college-and-career-readiness reforms is inattention to school culture, and the failure of "visionary educators [to] embrace career academies with a critical lens." He stresses that many efforts are overly-concerned with setting up the structure of the academies, overlooking conditions that can replicate and perpetuate age-old inequalities for youth of color. "What kind of experiences do we want students to have? We need to intentionally create environments that contribute to the social, cultural, and intellectual development of our students. A structure alone won't do that."
The importance of involving students and parents in school-reform efforts was underscored in a new study from The Leadership Conference Education Fund that found a majority of black and Latino parents have little faith in public schools. Among the findings: 66 percent of black parents say their children receive an inferior education as compared to white children, 84 percent of Latino parents want schools to challenge their children more, and one-third of black parents believe schools aren't "really trying" to educate black children.
Taking steps to address this lack of confidence is necessary in traditional education and in career academies, said Rodriguez, and he recommends creating teams of youth, teachers, school leaders, and community members to dialogue about what a 21st–century education means in their particular communities.
"To me, that is a different way of approaching school reform in 2016. In theory, career academies are a good thing [but] we should be paying attention to…ensure that all students have equitable opportunities to learn. Career academies offer opportunities, but they are not alone a guarantee for educational equity."