Will the New SAT Better Serve Poor Students?
The exam has been decried as out of touch and unfair. Now, the College Board is fighting back.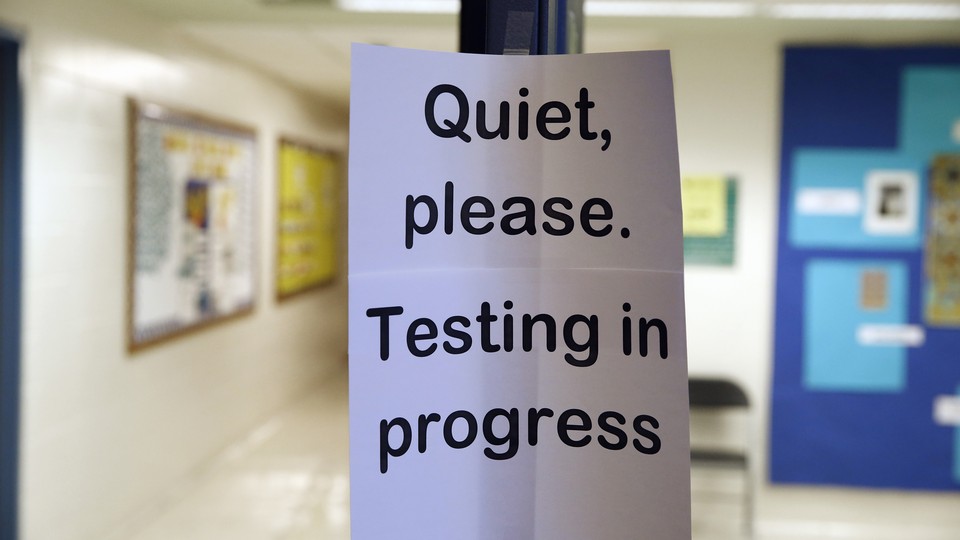 The SAT has been called out of touch, instructionally irrelevant, and a contributor to the diversity gaps on college campuses because the test arguably benefits wealthier students who can afford heaps of test preparation.
But now the SAT is fighting back. The College Board, the test's owner, is hoping that a major makeover of the assessment that's set to debut this weekend will persuade critics that students, teachers, and colleges still need an exam that has been a centerpiece of the admissions landscape for 90 years.
"The SAT had gotten disconnected from the work of the American high school," said David Coleman, president of the College Board, at recent seminar for education journalists, while citing a 2008 report. "And frankly we agree, so in our attempt to redesign the exam, we've tried to make it so that it looks a lot more like the work kids do in high school. It's quite a simple idea."
Many of the defining features of the SAT have been revamped. Obscure vocabulary, colloquially known as "SAT words," has been cut from the new test. The guessing penalty of yore that took off a fraction of a point for producing the wrong answer also has been banished. The test has fewer questions, asks students to at times explain their answers, reduces the number of multiple-choice options from five to four, and will provide more time for fewer sections. And the essay, which became mandatory in 2005, is optional now, though many colleges still will require it.
"It's not okay to tell someone to study something because it's on a test. It's only okay if they'll use it again and again," said Coleman. "Nothing you should do, we say to students today, should be to prepare just for the SAT."
As the SAT strives to appeal to a wider student audience, the College Board has been more active in presenting it as an affordable and more relevant exam. Students who receive fee waivers to take the test are now automatically eligible for fee waivers to apply to four participating colleges of their choice—an average perk worth more than $150. A texting program run by the College Board nudges students to fill out important financial-aid forms. The College Board also mails students colorful guides to take advantage of public assistance for higher education.
And the College Board is arguing that the new SAT more accurately reflects what students learn in school, rebuffing criticism that acing the SAT requires mastering a separate curriculum through expensive test-prep services. Elite preparation centers can charge $1,000 an hour to coach students to score high on the exam. Entry-level prices for SAT practice through popular test-prep centers can start at $750—nearly a week's pay for the median household income.
"If you're wondering who should be worried about this new exam, I'll be rather frank," Coleman said. "Certainly not students. The changes we've made to this exam are welcoming to them. But it may be test-prep executives that are beginning to see a changing game."
The College Board recently partnered with the online education nonprofit Khan Academy to train students on testing fundamentals and provide practice questions with detailed answers. Students can also download a free new SAT app to their smartphones and snap photos of their answers on paper-and-pencil practice tests that are then scored within a minute. Coleman says the answers can be sent to Khan Academy, which will provide feedback to help the student improve. The partnership has also generated a free training portal specifically for the redesigned SAT.
Some testing experts have pointed out that the new SAT is modeled around the Common Core standards adopted by more than 40 states. Before joining College Board, Coleman was seen as one of the architects of the common standards. But the link between the SAT and high-school learning standards extends beyond his connection to both.
The SAT in recent years has also become the main assessment used in some states to measure how much high-school students have learned. SAT's chief competitor, the ACT, is also in the high-stakes test market. The ACT recently overtook the SAT as the most popular college-entrance test in the country, which some analysts believe animated the College Board to secure more state-testing contracts.
Where the College Board or ACT may see a natural alignment of testing and school curriculum, others see a grab for dollars. "Follow the money," said Bob Schaeffer, the public-education director of FairTest, the National Center for Fair & Open Testing. "This is a marketing war between two companies who have figured out correctly that it's a lot more cost-efficient to sell tests to state education officials and use taxpayer money to pay for testing every kid in this state rather than signing up parents and kids one-on-one and having to process 1.8 million credit cards each year."
Kenton Pauls, the director of higher-education partnerships at ACT, pushed back on the notion that his organization's test doesn't reflect what students learn in high school. He cited the ACT's National Curriculum Survey that takes the pulse of where students are academically. Pauls said that the survey prompted the testing giant to change the structure of its essay on the ACT in 2015. "There are many ways in which there is alignment between the curriculum survey and the Common Core. There are some ways in which they are not" aligned, he said.
Schaeffer is also critical of the role testing plays in education and champions the push to remove college-entrance exams like the SAT and ACT from the college-application process. Backers of this effort argue that college-entrance tests favor the affluent and that to improve the economic and racial diversity at colleges, the tests should go. FairTest has calculated that more than 800 postsecondary institutions and 200 schools well-regarded by the rankings of U.S. News & World Report no longer require test scores as part of their application process, including top-50 colleges and universities like Brandeis University, Bowdoin College, Wake Forest, and Wesleyan.
While the test-optional movement is growing, there is some evidence that admissions officers still see value in the SAT and ACT exams. According to a 2011 survey of college admissions officers, scores on the SAT or ACT are almost as important a factor in determining whether students gain acceptance to a college as their grades.
But Schaeffer pointed to a 2008 report also by the National Association for College Admission Counseling that argued the SAT and ACT poorly reflect the concepts high-school students are being taught. He then touted a large study published in 2014 that reviewed college transcripts of 123,000 students from 33 colleges and concluded high-school GPAs were as strong a predictor of college success as SAT or ACT scores. The study warned that the SAT and ACT may prompt colleges to weed out low-scoring students with high grades while rewarding applicants with higher test scores.
The College Board's chief data scientist on testing said at the seminar that neither grades nor test scores fully predict a student's potential, but using both indicators gives colleges a much clearer snapshot of a student's potential. "The message here is that using two is better than one," said Kevin Sweeney, the vice president for psychometrics research at the College Board. "If you don't, you're throwing information away."
Supporters of the use of standardized tests say that their value also lies in accounting for varying grading policies across the country's thousands of school districts. "Where is the vigilance on grading?" asked Coleman. "Do you know that grades for all classes of students have surged in the last few years while test scores remain flat?"
There's also dispute over whether test-optional admissions policies yield more low-income, black, Latino, and Native American students. Coleman says there's no data to suggest test-optional schools are admitting a more diverse student body. Schaeffer countered that he spoke to admissions officials at Wake Forest University, Pitzer College, and Trinity College who said their student bodies are more diverse since going test-optional.
Whether tests will continue to influence the college-entrance shuffle is high on the minds of the nation's leading colleges. Early in 2016, a coalition of more than 80 institutions of higher learning embraced a Harvard University report that called for a sea change in how students are admitted. Chief among the proposals? Make the SAT and ACT tests optional, or at least make the scores count a lot less.
---
This article appears courtesy of the Education Writers Association.