Why Remedial College Classes Need Better Teachers
The students who come in academically unprepared and need the most help are often faced with the least-qualified instructors.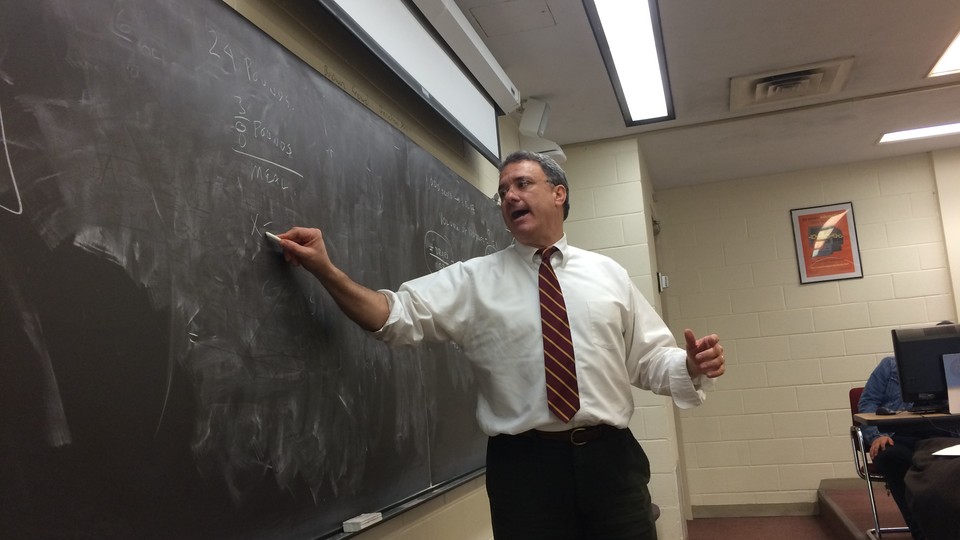 At Rutgers University-Newark, 20 college students were working through a word problem on a rainy February morning when several got stuck.
"I got 1/10 as the answer, but the computer says it's 0.1," called out one young woman.
"That's the decimal equivalent of 1/10, right?" asked the professor, Robert Puhak.
"I guess so," replied the young woman.
Puhak paused as he was erasing the problem from the board. "Do you understand why those two things are the same?"
"Not really," she admitted.
She wasn't the only one, so Puhak stopped. "Okay, sorry, maybe I'm making too much of an assumption. Let's go back." He used long division to walk the students through converting 1/10 to 0.1. "Ohhh, right, I get it," said the student, as others nodded.
"I'm glad you asked that question," Puhak said. "It's important."
The class then moved on to the next sticking point: how to divide 5/6 by 4.
Colleges nationwide are grappling with the problem of how to educate students who come to campus significantly underprepared for college-level work, but instructors like Puhak—experienced, effective, full-time teachers with no research responsibilities—are the exception rather than the rule.
At the same time, the whole notion of "remedial" classes is being hotly debated. Most colleges still use separate classes that underprepared students must pass before enrolling in college-level courses, while recent research indicates that integrating remedial learning with regular college coursework brings better results.
Regardless of reform efforts, a key factor that is usually overlooked is the teaching itself.
In most cases, instructors hired to teach pre-college-level math and English have little experience and no training in how to teach. At the K-12 level, how to improve teacher quality has been a decade-long, often nasty, debate. But at the college level, the effort to improve disastrously low success and graduation rates for students assigned to remedial classes—only 20 percent of students who enroll in a remedial math class make it to a college-level math class and only 37 percent of remedial English students move on—has centered on restructuring courses, adding counseling services, and increasing financial aid. The role of the instructors has been little discussed.
Three-quarters of the instructors who teach remedial classes are part-time employees. They may work at more than one college, they are less likely to have office hours (or offices), and they are not required to have any teaching experience at all; all they need is a bachelor's degree. For underprepared students taught by a full-time professor, the situation may not be much better—those professors' career prospects depend heavily on research and publishing, not on their teaching ability. In fact, very few full university professors have any training in teaching. Some may have served as teaching assistants in graduate school, but they are not required, or even expected, to learn the skills of ensuring that students understand or learn the material presented in class.
"It seems there is no standard practice across academia to get the most dedicated, trained teachers in front of the students who need it the most," said Puhak, who is the director of college algebra and basic math at Rutgers's Newark campus.
* * *
Donna Davis was put in Puhak's algebra class in January after scoring too low on a placement exam to move directly into college-level math. She had already passed two remedial math classes at Essex County College, and got her associate's degree in 2012, but she said even then she knew she didn't really understand the material.
"With other professors it was like, whoever gets it gets it, and whoever doesn't doesn't," said Davis, 33. "[Puhak is] the only one so far who's made me like math. Where I was before, everything was just overwhelming. He goes step by step. He'll tell you, 'You can do this.'"
Davis returned to college this winter after losing her job as a corrections officer. She wants to get a bachelor's degree to improve her salary and get a job as a counselor. She has been working nights in a homeless shelter, from 11 p.m. to 7 a.m., for $11 an hour, while taking a full course load, majoring in social work. Davis took the night job so she could take her 12- and 13-year-old sons to school in the morning and spend time during the day with her 4-year-old daughter.
Many faculty members say they want better training so that they can help students like Davis. They are acutely aware that their least-prepared students—those who are both most in need of the degrees and most at risk of not graduating—are juggling the most hectic schedules. The instructors stand in front of their classrooms, watch students' eyes glaze over, and don't know how to turn the tide.
"My first day of actually teaching was traumatizing," said Jason Plummer, a part-time lecturer at California State University, Los Angeles. "They looked at me, and I could tell they had no idea what I was saying … Someone asked a question that had nothing to do with what I was talking about, and I was like, 'I have no idea why you're asking that question.' It was horrible."
Plummer had worked in the nonprofit sector and had successfully conducted educational workshops, but it was different teaching these students, many of whom were the first in their families to go to college. He credits the Center for Effective Teaching and Learning's professional-development sessions—which he attends despite receiving zero compensation for his participation—with making him a better educator. (Many colleges have teaching and learning centers, but the quality of the support they provide varies widely from campus to campus, and participation is entirely voluntary.)
Catherine Haras, who runs Cal State's teaching-and-learning center, emphasized that tenured professors can struggle with teaching, too, especially when it comes to students who are underprepared. "The assumption is that because I'm an expert in something, I know how to teach it," said Haras, stressing that passion for and knowledge about a topic don't guarantee that a person will be a quality instructor. How to better train and develop faculty, she continued, "is the big question in academia right now."
It is a big enough question to convince Matthew Goldstein, the former long-standing chancellor of the City University of New York, to become chairman of the Association of College and University Educators's board of advisors. A new commercial venture, the association is partnering with colleges to provide professional development for faculty members who hope to work with underprepared students. On Tuesday it announced that it's partnering with the American Council on Education to expand the number of instructors who have access to the new training.
"The fact is that now with all of these cutbacks in public higher education … more and more of the teaching force now are adjunct personnel," said Goldstein. "And while we [don't] spend an awful lot of time reviewing teaching for tenure-track faculty, we spend virtually no time in evaluating contract and part-time faculty with respect to teaching."
Still, some experts worry about focusing on teaching to the exclusion of other improvements. They argue that the central problem with remedial education is that too many students are segregated into remedial classes, even though evidence shows that many would succeed if they were placed in college-level classes and given appropriate support there. "If we don't make structural changes, we're doomed, even if the teaching is really good," said Katie Hern, the director of the California Acceleration Project, or CAP, which has managed to successfully restructure remedial classes at many of California's public-college campuses by redesigning placement policies and curricula. "It is a mistake to think if you only focus on teaching you can solve the problem." (CAP's restructuring is coupled with intensive professional development for the instructors.)
An independent study of the CAP program on 16 campuses found that underprepared students' chances of completing a college-level English class more than doubled using its model; students had a 4.5 times greater chance of completing a college-level math class. And the achievement gaps for African Americans were eliminated in the math courses.
Back at Rutgers in Newark, Davis, the social-work student, was frustrated with her score on the math quiz she had just taken on a computer. "Oh no," she said, pushing back her chair and clapping her hands to her head.
"What happened?" asked Puhak, walking over. He looked at her answers on the quiz and pointed at a mistake. "That's just a rounding error," he said.
"I can't believe I did that; I'm so disappointed," said Davis, as she sat staring at her score of 75.
"I know you are, but that was just a silly error," said Puhak. "You know that; you can do that."
Davis nodded and smiled as she gathered her belongings to head home to her daughter, and hopefully a nap. She said she knows she'll pass the course, but wants to do more than that. She is grateful to have landed in Puhak's class and has no plans to give up.
"I want to be a social worker and get a good job," she said. "I really want this. I really need this."
---
This post appears courtesy of The Hechinger Report.