When the Whole Family Goes to Pre-K
San Antonio is bringing everyone to the classroom.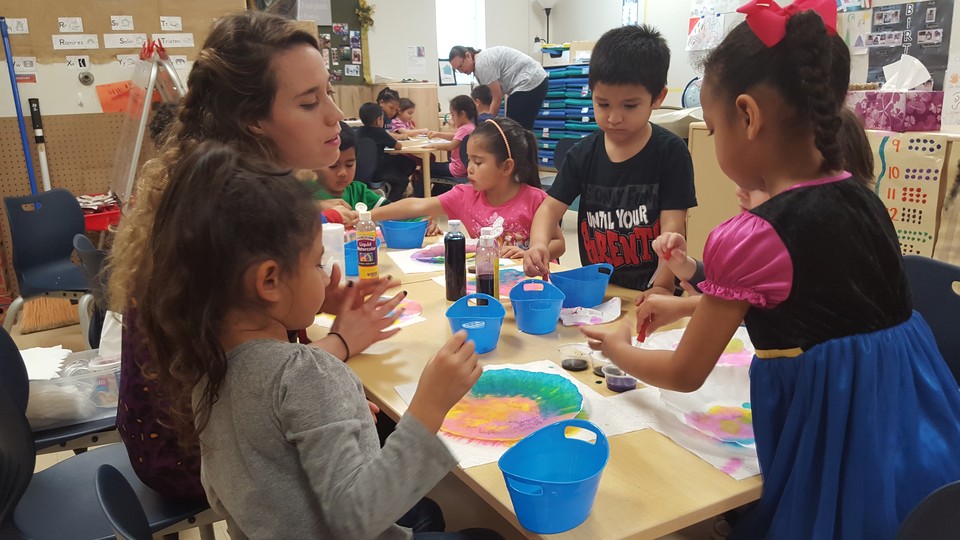 SAN ANTONIO—A meaningful pre-kindergarten experience is increasingly seen as a critical part of a child's education, and parents are expected to play a much more significant role. In this city, like many around the country, poorer families must first overcome powerful hurdles to be more present in their children's education. That's why Pre-K for San Antonio was designed to support and engage parents and extended families in ways that bolster their pre-schoolers' chances to excel.
While students are taught by master teachers with advanced degrees in classrooms filled with the latest educational tools and technology, parents also receive specialized attention from trained professionals. Parent Specialists plan activities, provide support and guidance in parenting, encourage parents' professional development, and generally foster in them the idea of active citizenship. A central part of their role is to identify areas in which Pre-K 4 SA can help families cross over from poverty and physical isolation in San Antonio, where urban sprawl and multiplying highways effectively section off the haves from the have-nots.
"We service a community that has historically been marginalized. We try to make this a welcome table of education," Luti Vela-Gude said. "This creates a place of belonging for people. It used to be that people were connected with their families or churches, but the school is now playing that role. The parents feel like they belong here." A licensed-professional counselor and former teacher, Vela-Gude is one of two family specialists at Pre-K 4 SA's South Center.
One person who sees the families' needs up close is Yvette Tercero, the school nurse at the center. It's mid-afternoon on a Monday, and speaking to her makes it clear that her days are unpredictable and full. "I'm here at 7:15 a.m. because I have parents who want to drop off medication, tell me that their child had a fever but she's good to go, and I have to tell them the child can't stay in school," she said. Somewhere between administering 22 daily medications every 30 minutes to children with ongoing conditions, seeing students for "small boo boos and scratches," providing documentation for teachers, and occasionally calling EMS for more severe injuries, she has become the de facto community doctor for families at the center. "I juggle to keep everything balanced, and no two days are alike. There are days when it's a total blur," she said.
But there is method to the madness that sometimes engulfs this dedicated and caring nurse's routine: Pre-K 4 SA has built and billed itself as a child-centered but family-focused early-childhood development and education effort, with an outsized emphasis on parents, the extended family and other caretakers. Now in its third year, Pre-K 4 SA is a pilot program started by former mayor and current United States Secretary of Housing and Urban Development Julian Castro to provide full-time pre-k instruction for thousands of children in underserved neighborhoods. Considered a bold move by supporters and an overreach by detractors, the program was built on the recognition that less-advantaged families in the city would benefit from having their children attend full-day pre-k while also having access to services that could help them create a path out of poverty.
Ingraining a sense of belonging in children and parents, especially among this largely-Hispanic city, will likely have profound effects on San Antonio and Texas as both become increasingly diverse. By 2020, Latinos will be the majority among 25- to 44-year-old in Texas, the majority of 45- to 64-year-olds by 2030, and the majority of adults age 65 and older by 2050, according to joint report from the San Antonio Hispanic Chamber of Commerce and the Intercultural Development Research Association at the University of Texas at San Antonio. Today, Latino children make up the majority of Texas children ages 0-17, and in Bexar County, which includes San Antonio, of 350,000 students, 64 percent are "economically disadvantaged," 73 percent are "Hispanic/Latino," and 70 percent of those do not meet the third-grade state reading standards.
The Hechinger Institute on Education and the Media has written that "Programs with a strong focus on literacy, full-day preschool, and summer programs are showing promise among Hispanic students." Overall, and notwithstanding their tremendous population growth, Hispanic children are not faring well in education. Hechinger described them as "the least likely of all children to be enrolled in a preschool program," concluding that "Hispanic children enrolled in state-funded pre-k programs still lag behind every other ethnic group."
Each of the four Pre-K 4 SA centers has a parent café staffed with two specialists who plan hundreds of activities for parents each year, such as workshops, volunteer opportunities, outings in the city, creative parent-child events, and activities that welcome other family members. "We include the younger siblings. In turn, that buys them into the program. When those little siblings turn four, they'll want their child to come here," Lisa Harper, a parent specialist, said. This strategy seems to be working.
Stephanie Rivera said her son Jude, 4, has benefitted greatly from attending. "We love it here. He loves his teacher, and there are so many activities for them to do, and outside of school there's a lot of stuff to do. It's great," Rivera said. She's also already applying what Jude learns in school to her youngest child. "His brother's only a year old. So we try to implement that at home: 'Okay, what's the problem and what's the resolution?'" Rivera, who is a stay-at-home mom, also volunteers at the center, "which is good for me because I know what's going on in the school, I feel like I'm helping, and I get to know the staff and the teachers a lot better." Harper said that parent volunteers "own this place"—helping make flyers, decorating rooms for activities, setting up for book fairs and big events, doing whatever is asked.
Harper, a licensed social worker with 16 years of experience, enjoys her primary role of sparking parent-child engagement but said that she sometimes struggles to convince parents to prioritize their children's education. "One of the barriers is family conflict, putting the child first, making them see how important it is to let their child attend school, letting them know that their child is attending an elite school," she said. She recalled conversations over the phone and in person in which she simply asked a parent, "Did anyone ever call your house to find out why you missed school?" Most of the time the answer is no, so she uses that personal experience to draw a line of difference between the parents' lives and their child's. "Has anyone before come out to your house and asked why your child isn't coming to school? Nine out of 10 times the answer is no," she said. The conversation usually takes a positive turn, with Harper emphasizing how committed she and everyone at the center are, and the parent committing to not withdrawing the child or bringing him back after a prolonged absence. "Just knowing that we care, that their children come first" is enough for parents who themselves came of age lacking basic support structures, she said. To that end, all four Parent Cafes are equipped with computers, a color printer, comfortable furnishings and other materials that parents can use for job searches, college applications, and securing other services through the city and non-profits.
Tercero, now in her second year on the job, recognizes that a lot of the families are at the lower end of the socioeconomic scale. She recognizes that they often don't have medical insurance, cannot take the time off for fear of losing their jobs, or simply lack knowledge about the severity of some ailments. In some instances, she intervenes more assertively, coordinating with one of the parent specialists to arrange for a home visit so the specialist can assess the situation at home and make recommendations or arrangements as needed. "Sometimes we may find ourselves in a situation in which we need clothing now, we need food now," Vela-Gude said.
"A lot of times I'm the only health care provider they see that they have easy access to," Tercero said. Parents will often bring a child in to see her for an assessment of mild to intermediate conditions; she may end up suggesting visiting a doctor or simply resting. Parents ask her about other children and family members while they're there, too, even though she does not provide official referrals except for hearing follow-ups if students can't pass the state-mandated annual screening done at the center. (During the school year, the Greater San Antonio Hispanic Dental Association offers a free dental screening for children.)
The families that participate in Pre-K 4 SA fall under the low-income category, with 90 percent of children eligible because they meet state qualifications based on income, their parents' military status, being wards of state, their language proficiency, or other qualifiers. About 20 percent of children receive a scholarship, which means they are eligible but live in a district that does not participate in the program, and they pay on a sliding scale, with the lowest end paying about $3 per month and the higher end paying about $1,000, according to CEO Kathleen Bruck. The fee includes transportation from a community center or library, staying for the extended day, and lunch and a snack. To remain eligible for tuition assistance, administrators twice a year check that parents are still working full-time or are enrolled in school at least three days a week.

"You belong here" is the heartfelt message teachers, administrators, and support staff echo in their daily interactions with children and families who attend Pre-K for San Antonio. Teachers also organize two class outings per year and parents are encouraged to participate. Most of them feature cultural offerings in San Antonio outside of their neighborhoods, which is often the first time some families have encountered the richness of this historic city. In its second year, 93 percent of children had at least one family member participate in an activity, according to the 2015 annual report. "These outings make the parents and the teachers much closer," Bruck said.
"We go on little field trips. We get to know each other, we get to know other parents.  We actually create a bond. All the events they have are awesome," said Melissa Wash, whose daughter Gabrielle attends the center. "It's family oriented, definitely. The kids need that growing up, especially in this community."