When Social and Emotional Learning Is Key to College Success
While test scores can predict academic success, self-management and relationship skills may better prepare students to thrive and graduate.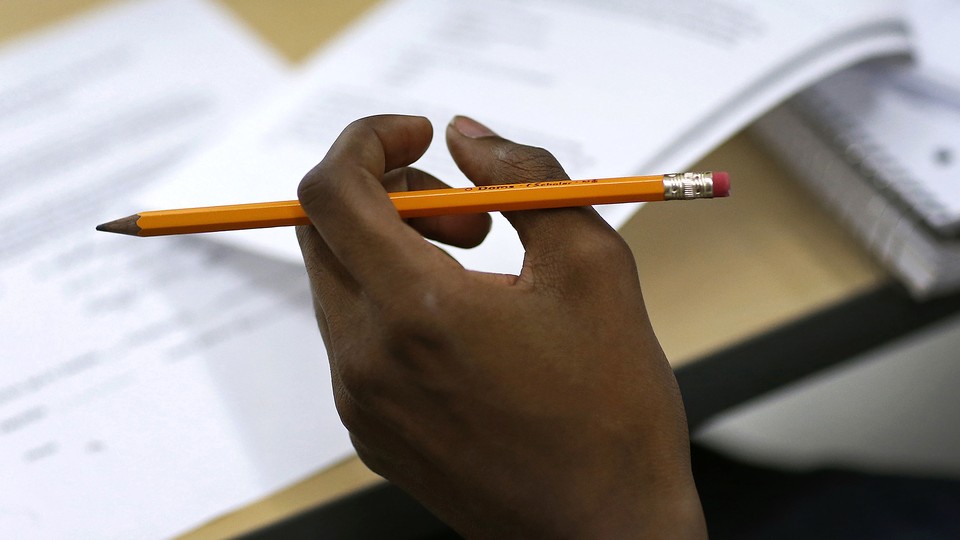 CHICAGO—For the eighth grader Kimberly Wilborn, a lesson about Nelson Mandela made it all click.
"Ms. Plante was talking about Nelson Mandela and how he forgave his jailers," remembers Wilborn, who is being raised by her aunt on Chicago's South Side. "And I thought if he can forgive them, I can forgive my birth mom and my dad for not being there for me. I actually cried. It felt like a weight was lifted off my shoulders."
Megan Plante isn't Wilborn's history teacher. She was using Mandela's story to teach what is known around Perspectives Charter Schools as ADL—A Disciplined Life. The class—part advisory, part ethics class—is meant to impart 26 principles, including generosity, peaceful conflict resolution, and compassion.
A Disciplined Life isn't an elective; it's the reason Perspectives Charter was founded in the first place. Every student is required to take the class daily. In 1993, Diana Shulla-Cose and Kim Day, two Chicago public-school teachers, came up with the list of principles and started a "school within a school" at a middle school in Washington Park. Four years later they opened Perspectives, which now consists of five schools serving grades six through 12. The pair was convinced—years before buzzwords like "grit" and "growth mindset" became the rage in education-reform circles—that instilling a set of social and emotional skills and attitudes in their students would be the key to getting them to and through college.
Perspectives Charter has largely ignored preparing its students for standardized tests—and it shows. Only 8 percent of Perspectives's students passed multi-state college-readiness tests last year, which were designed to test the new, tougher Common Core standards. But to Shulla-Cose, another set of statistics is much more important: 99 percent of Perspectives students are accepted to college, 93 percent attend college and 44 percent graduate from college in six years, according to the schools' internal data. And although Perspectives loses about a quarter of its students between freshman and senior year, about 24 percent of students who enroll freshman year graduate from college within six years of leaving high school, a figure that's 10 percentage points above the citywide average.
Ronald Brown, a senior at Trinity College in Hartford, Connecticut, says Perspectives's focus on social-emotional skills set him up to tackle the demands of the selective, mostly white and affluent liberal-arts college.
"Perspectives prepared me," said Brown. "Be open-minded, try new things, challenge each other and yourself intellectually, time management, all of that came easy. And when I hit academic barriers, I persisted and kept moving forward. I took advantage of tutoring, the counseling center, the math center, the writing center, anything that could help."
This persistence is the difference between being college-eligible and college-ready, says Laura Jimenez, the director of an American Institutes for Research center focused on college-and-career readiness and success.
"We know a ton about what it takes for kids to be college eligible, [like] the level of knowledge you need to do well in a college course," said Jimenez. "What [that knowledge] can't tell you is if your class is at eight in the morning, are you going to be able to get up and get to class? Are you going to seek help when you need it? That's where the social-and-emotional-learning conversation is starting to take off—there are plenty of kids who are eligible but not ready."
Other educators and academics across the country have come to agree that content knowledge isn't enough to prepare students for life after high school. Several of the nation's most highly regarded charter-school networks, like KIPP and YES Prep, came to this conclusion after taking a hard look at their data. These schools excelled under a No Child Left Behind school-accountability system that rewarded them for getting high numbers of mostly poor black and Latino students to pass state math and reading tests. But too often, their students were unable to translate those test results into college success.
Now, in addition to teaching students fractions and conjunctions, many educators are increasingly grappling with how to address social and emotional skills like collaboration and students' sense of belonging—trends that are even making their way into nationwide criteria by which schools are evaluated. New federal education legislation passed last December, the Every Student Succeeds Act (ESSA), which replaces No Child Left Behind, gives state policymakers authority to redesign accountability systems. Under ESSA, states are now required to incorporate non-academic measures—like social and emotional skills—rather than just scores on standardized math or reading tests.
Yet while many advocates think it's promising that lawmakers are beginning to recognize the importance of social and emotional learning, they admit that it is a broad term. The Collaborative for Academic, Social, and Emotional Learning (CASEL), considered by many as the definitive resource for schools that have embraced the trend, identifies five essential aptitudes: self-management, self-awareness, responsible decision-making, relationship skills, and social awareness. But none of these skills are straightforward to measure—and how educators stress and relay them to kids looks very different from school to school.
Social and emotional learning is also often grouped with, and sometimes included within, other movements like "growth mindsets"—the belief that intelligence can be developed through hard work, popularized by the Stanford professor Carol Dweck whose TED talk has been viewed over 4 million times online—and trauma-informed teaching. All of these approaches are about helping students, particularly poor students, become more active participants in their learning and to better position them to catch up with their more affluent peers.
Steve Mancini, the director of public affairs at KIPP, says that its network of nearly 200 charter schools underwent a transformation after David Levin, one of the cofounders, met with some of the leading social-and-emotional-learning researchers, including the psychologists Martin Seligman and Angela Duckworth, in 2008.
"That was a pivotal moment for KIPP. Before that we would do things like make kids wear pinnies in class, like you wear in sports, to show that they were on the bench," said Mancini. "It was an attempt to motivate, but that was going against all the research. We wanted to create schools where students can take risk and learn from successes and failures. We had to loosen the reins, so kids knew how to stumble and get back up."
Mancini said KIPP has seen a payoff from the character-education program, developed after looking at their college-completion data, which stresses traits like optimism and self-control. The six-year college completion rate for KIPP graduates has climbed from 25 percent to 44 percent.
While growth mindsets have been shown to increase college achievement, there isn't much research directly linking some of the other elements of social and emotional learning with college completion. Still, David Osher, the vice president of the American Institutes for Research, says an increasing number of studies have shown that social and emotional learning can improve the factors known to help students through college.
"Schools are the first formal institution students spend a lot of time in," he said. "They either help students develop as healthy human beings with a sense of self and excitement and an ability to handle challenges, or … undermine that."
While educators across the country are increasingly interested in how to convey these skills to students, how they do so varies widely. The staff at Martin Petitjean Elementary School in Rayne, Louisiana, is trying to instill these concepts by handing over control to students. The idea is to make every child a leader by assigning each a role in running the school.
"They call the buses, they do the announcements, they water the plants," said Kimberley Cummins, the school's principal. "They truly think I just come in and unlock the doors."
Martin Petitjean is one of over 2,500 schools around the world using a program called "Leader in Me," which employs the teachings of Stephen Covey 's 1989 bestseller self-help book, The 7 Habits of Highly Effective People, to transform schools. The seven habits are everywhere at the school. The halls bear names like Synergy Street, Win-Win Walkway, and Plan Ahead Alley.
The Leader in Me program touches on several social-and-emotional-learning principles. For example, the program's win-win and synergize "habits" emphasize students' balancing their own needs with others and thinking about what others get out of a relationship. The ideas align with CASEL's call for teaching students to "establish and maintain healthy and rewarding relationships." To reinforce these values, the staff at Martin Petitjean has realigned the discipline code, rewarding students when they demonstrate a habit and redirecting them when they don't.
"In the past, we used to only celebrate the straight-A students," said Cummins. "But now, every student sees themselves making progress and adding to the school."
At Martin Petitjean, 84 percent of the students are economically disadvantaged. That's typical of schools that have embraced social-emotional learning most strongly, says Camille Farrington, a senior research associate at the University of Chicago and a leader in the social and emotional field.
"Take schools like Fenger [Academy] High School in Chicago, in troubled communities with little-to-no investment in a long time," said Farrington. "The kids those teachers are trying to serve have so many needs that teachers have to spend time and resources on social and emotional learning in and of itself, while in more typical settings that can be less of a focus."
For almost two decades, scores on math and reading tests have dominated how success was defined in American schools; low test scores led to the restructuring—and in some cases closure—of schools across the country under No Child Left Behind. But, moving forward, observers expect states to find broader measures for defining which schools are doing a good job and which aren't.
Ten urban districts in California—including the Los Angeles Unified School District, the nation's second largest—collectively called CORE (California Office to Reform Education) districts, have designed a system to make schools answerable for improving students' social and emotional skills by using data from student, parent, and teacher surveys, among other factors, to assess whether students are improving in these areas.
But two of the leading proponents for incorporating these concepts alongside traditional academics have expressed concern about holding schools accountable for emotional and social learning.
"Given the intense visibility and enthusiasm around growth mindset, grit, and other personal skills, it is important for school leaders and policymakers to realize that while there is great benefit to studying and assessing these attributes, the measures should not, currently, be used for broader accountability purposes," wrote Angela Duckworth, a professor at the University of Pennsylvania, who coauthored a report warning against the use of these "non-cognitive" skills for evaluating teachers and schools.
Two Rivers Public Charter School, an elementary school in Washington, D.C., has been looking at quantitative measures of those non-cognitive skills for years. The school has been administering annual Comprehensive School Climate Inventory (CSCI) surveys to parents, students and staff since 2009 to assess how they feel about the school environment and to gauge whether they are doing a good job on the social and emotional front.
"We still haven't worked it out completely," Jeff Heyck-Williams, the school's director of curriculum and instruction, readily admits. "We look for growth in students' sustaining attention on tasks. We give the CSCI to kids in third grade and up, to parents, and to all of our staff. This all gives us quantifiable data about how well our school is running. And while these are important pieces of information, they can only say so much."
Heyck-Williams is ambivalent about using this kind of data to evaluate schools.
"I think it's super valuable to include some of the social-learning goals in an accountability system so that parents can see how schools are doing on this stuff," said Heyck-Williams. "But I'm just not sure that these measures are fine-tuned enough to make high-stakes accountability decisions with."
Stacey Childress, the CEO of the New Schools Venture Fund, a nonprofit philanthropy firm investing in school innovation, sees policymakers' new interest in social and emotional skills as both a blessing and a curse.
"I'm ambivalent about CORE. I'm excited about their willingness to get going and I'm sure they are going to use the best instruments to date," said Childress, whose organization is moving away from supporting no-excuses charters and is investing heavily in schools that are grappling with how to teach social and emotional skills. "But I worry that it's going to take some time for us to sort all of this out."
Childress hopes that policymakers will wait for the science to catch up to the enthusiasm before they set new social and emotional accountability systems in stone.
"I understand the seductiveness of getting a policy win, but this could squash all the grassroots excitement we are seeing right now."
---
This story was produced in collaboration with The Hechinger Report.