The European School Helping Migrant Kids Feel at Home
How a small Swedish school is trying to preserve Assyrian kids' language and cultural heritage while integrating them into Swedish society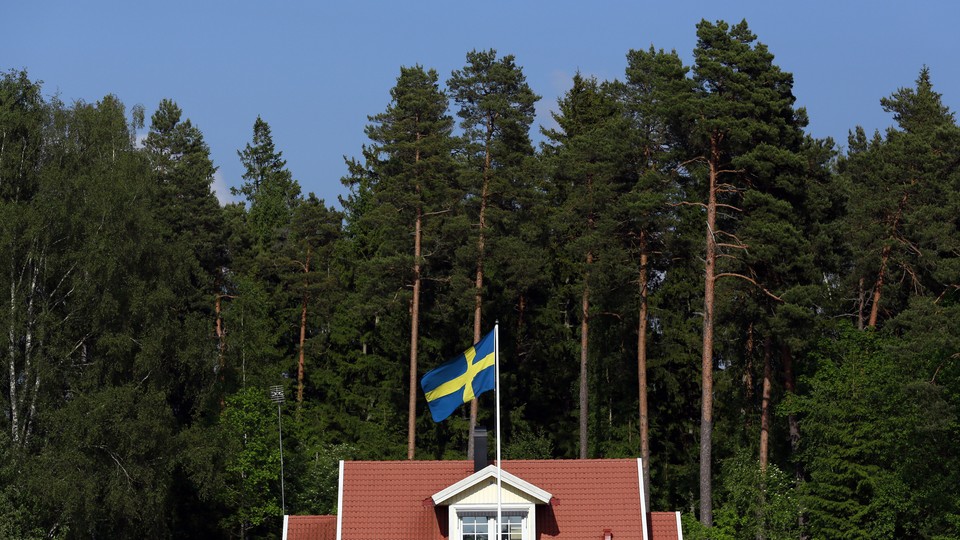 Shabo Rhawi is clearly vexed during our first meeting. Sitting in the office of Elafskolan, the only school in Europe with a curriculum specifically designed for Assyrian children, the headmaster nurses a black coffee, prepared to answer questions on the school's bilingual program.
Instead, the conversation soon turns from the Syriac alphabet to crisis. The day before, in late November, the Swedish government announced it would no longer be able to continue its open-door policy for refugees. The deputy prime minister, Åsa Romson, cried as she made the announcement at a press conference. The headmaster wonders if more could be done.
"I think it's sad. A country shouldn't take people in if it can't take care of them, and maybe we've reached that level. But I think we can do better," says Rhawi, a popular math teacher ("I get ten hugs a day") recently promoted to his leadership role. He has worked at the school since it opened in 2014 in Södertälje, a suburban city on Stockholm's commuter belt often nicknamed "Sweden's Aleppo" due to its dense population of Assyrians and other Middle Eastern Christian sects. The Assyrian community, which first began emigrating to Södertälje in the 1970s as part of a recruitment drive for the truck manufacturer Scania AB, has recently grown rapidly due to waves of refugees from the Iraq war and current Syrian conflict. They now make up 25 percent of Södertälje's population, the largest Assyrian population per capita outside of the Middle East.
Afram Yakoub, the chairman of the Assyrian Federation of Sweden, is equally downcast about the Swedish government's announcement, although he doubts that it would close its borders unnecessarily. "A member of the municipality called me to ask if we have any room for refugees at the federation as they're sleeping outside in the cold. They've simply run out of space."
The decision will have a sharp impact on Södertälje, where migrant families maintain strong links to Syria, Iraq, and Turkey. Aware that the border closure will make it increasingly difficult for refugees to reach Sweden, Rhawi suggests a budgetary measure to compensate: The Swedish government could stop providing free lunch to all of its students, and instead allocate those funds toward immigrants. "Some Swedish parents can afford to pay for the kid's lunches—it doesn't have to be for free," he says. "Kids are dying trying to cross the Mediterranean. The money can be used for the thousands of children who need food instead."
Rhawi's proposition is emblematic of the current conversation throughout Europe. Should Swedish children, hypothetically, give up a free school lunch to help children under threat? Probably. Should Sweden dismantle parts of its welfare system to cope with the up to 10,000 refugees who, last November, arrived at its borders in one week? It gets complicated.
Meanwhile, Rhawi's concerns raise another pressing question that hums through the corridors of Elafskolan, whose 101 pupils are almost exclusively of Assyrian descent, whether born in Sweden to migrant families or recent arrivals: Should refugee children in Sweden, and elsewhere, join the current education system or do they require their own programs? Does a targeted curriculum encourage integration or segregation?
Elafskolan is an attempt to solve these questions. Located in a 19th-century summer house, the school's arched windows, high ceilings, and relatively small student body create a family-like atmosphere. Similar to a charter school, Elafskolan follows the standard Swedish curriculum to receive state funding yet has customized its syllabus to include classes on Assyrian history, music, and culture. There's an extra emphasis on language lessons, too. In Sweden's traditional public-school system, lessons in a "mother tongue" are an optional add-on, but at Elafskolan it's compulsory for students to learn Assyrian.
Kara Hermez, a 24-year-old master's student at Stockholm University, says that although her own education as an Assyrian at a Swedish secondary school in Södertälje encouraged her to take part in Swedish cultural events, the Assyrian-education resources for non-Swedish students were limited. "We had one lesson a week in Assyrian, which wasn't sufficient at all," she says. "And the Assyrian students were all at different skill levels, which could be problematic."
In contrast, Elafskolan, offers several hours of Assyrian every week, including weekend courses, as well as extra classes in Swedish. The faculty members believe the more comfortable children are in speaking Assyrian, the more comfortable they will be in Swedish—and that this consolidated identity will encourage them to not only integrate into society, but also to contribute to it. It's also an attempt to protect a language that, due to assimilation and obsolescence, is in danger of being lost. A Neo-Aramaic script with its own offshoot dialects, it's classified as a "threatened language" with an estimated 500,000 speakers.
According to Sisilya Rhawi, the president of the Swedish nonprofit Assyrian Without Borders, some Assyrian schools remain in Syria and Iraq, but the war has meant that many children are internally displaced people or otherwise unable to attend school.
The past 100 years have been brutal for the Assyrians. A former Mesopotamian kingdom that once ruled from Persia to Libya, the population has faced decades of persecution as an unrecognized Christian minority in the Middle East. Last year was the centennial anniversary of the Assyrian Genocide in Turkey; this year, Iraq's oldest Christian monastery, believed to have been built by Assyrian monks in the 6th century, was destroyed by ISIS.
As the future of the Assyrian language and its homelands remains uncertain—with the majority of its remaining villages occupied by Kurds, ISIS, or the Syrian opposition—the chillier climes of Södertälje have become a lifeline for its people as well as Armenian Christians, Egyptian Copts, Mandeans, and other Christian groups. "It's a very special city because of the large number of Christian immigrants from the Middle East," says the Finnish theology academic Svante Lundgren, who works at the Assyrian Federation's main office. "The Assyrian community really appreciates the freedom they found here."
* * *
Despite the freedom, Yakoub points out "one of the worst schools in Södertälje" during a drive past the neat set of colorful tower blocks known as the area's "ghetto." The urban planning of Swedish cities often promotes segregation, he says. A main city center surrounded by disconnected residential neighborhoods was an ideal used to add more green spaces to Sweden's urban districts, but now, all too often, has become a way of lumping refugees together. Schools and other facilities are often overcrowded.
After the first major wave of Assyrians migrated to Södertälje in the '70s, many were unable to return to their homes in Syria, Iraq, and Turkey and quickly planted roots in the city. Churches were built, soccer teams were formed. "Going back was not an issue,"' explains David Gaunt, a social historian at Södertörn University. "Researchers in ethnology and social anthropology have found them to be among the most successfully integrated immigrant communities." Gaunt pointed to Assyrian government ministers, legislators, newspaper editors, prize-winning journalists, and soccer players.
Elafskolan is the first Assyrian school to be opened in the area. Whether a refugee overcoming trauma or a child of a successfully integrated first-generation family, many young students are suffering from an identity crisis—are they Assyrian or are they Swedish? It's for this reason that Rhawi describes the "need" for such a school in the area. "For me it's the most beautiful thing if you go to another country and keep your identity," he says. "There are Swedish schools in England and other places, where it's important to keep the Swedish identity. And it's the same for those coming to Sweden—they should keep their identity as well. We should work together, hand in hand, and be proud to cooperate and build this country, any country."
Born in Södertälje, Rhawi says he aims to pass down these values to younger generations and shares the story of his own family. "As a Christian minority in Turkey, we were forced to change our name and for 60 years we used a Turkish name instead." He was 10 years old when his family, after migrating to Sweden and Germany, was able to change its name back to the original. "Now I'm older, I can see how hard it must have been."
A young boy who recently enrolled at Elafskolan is struggling with the same transformation. Raised in Iraq, his father gave him the name Mohammed to avoid persecution, however since moving to Södertälje the father has requested that the school and its pupils use "Julian" instead. As the boy adapts to a new country, culture, and a new name, it's easy to see how quickly identity issues may arise. And it's the many stories like these that give an extra poignancy to Elafskolan's bilingual program.
Elafskolan uses new technology in its classrooms to encourage its pupils to take on the complexities of the Assyrian language, which was previously taught via the church, at home, or not at all. Learning tools include an app version of the classic Assyrian folktale, The Grandma & The Fox, YouTube videos, and the Assyrian Federation of Sweden's own publishing house, whose recent titles include an Assyrian translation of Pippi Longstocking.
It's hard to escape a feeling at Elafskolan, despite the hardships, that these children are the lucky ones. Others don't have access to the same care or curriculum.
Since November, Sweden has continued to tighten its borders. And Assyrian refugees who do find a new home here are often painfully aware that it's unlikely they will return to the Middle East. Elafskolan's curriculum—and its message of integration—is a symptom of the freedom that the Assyrian community has found in Södertälje over the past 40 years, and seeks to continue.
The school is still in a nascent stage, but if Elafskolan proves to be successful in its aims it will provide a working model for future Assyrian schools to follow suit. Last month, the Assyrian Federation submitted an application to open three new schools in Sweden—in Gothenburg, Norrköping, and Botkyrka, where there are also sizable Assyrian communities. Other European countries currently experimenting in bilingual programs, such as Germany and the Netherlands, may see Elafskolan as a way forward to prolong the future of threatened languages and cultures while providing a sense of belonging for its students—where integration, not segregation, will prevail.
As he sits at his desk at Elafskolan, the headmaster Rhawi says he's unsure of the future for Assyrians in Syria and Iraq, but for those in Södertälje, the path is clear: "The most important thing is that the kids grow up to become fully active members of society—because this is where they will be."