The Rise of Liberal Arts in Hong Kong
While liberal-arts curricula are on the decline in the U.S., many Asian countries believe they give university graduates the skills to succeed in a global knowledge economy.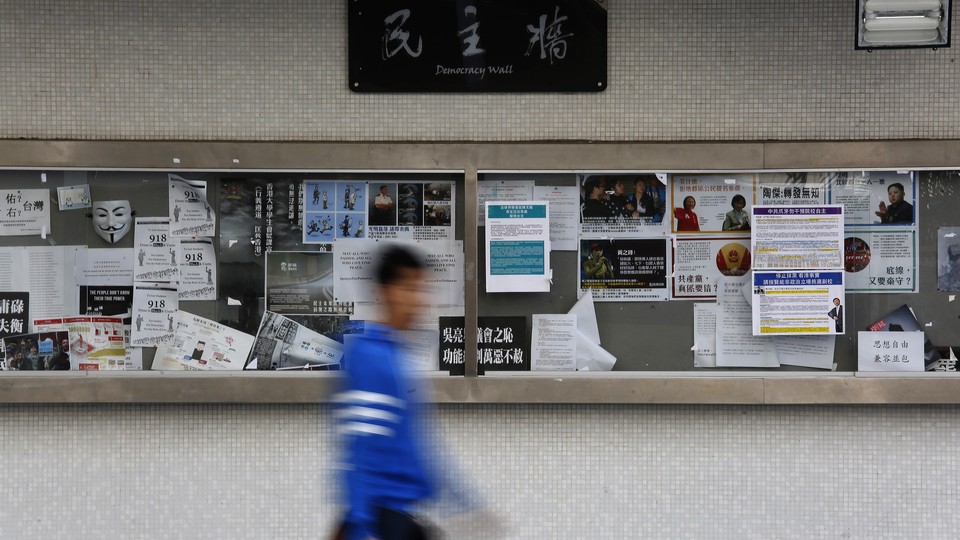 HONG KONG—The businessman Po Chung might seem an unlikely advocate for the virtues of a U.S.-style liberal education. As the cofounder of the Asia Pacific branch of the shipping giant DHL, Chung is an entrepreneur who grew up poor and whose success is emblematic of the former colony's hard-driving capitalist culture.
But he's also one of the leading advocates for adding a big dose of humanities and social sciences to the curriculum of Hong Kong's universities.
Chung and other backers of an unprecedented three-year-old curriculum-reform effort are determined to steer the city's eight universities away from the rote learning, test obsession, and narrow career focus that still characterize much of the Asian education system. They think it's past time for colleges to introduce a broader range of subjects, to promote greater intellectual curiosity, and to foster creative thinking. And they're convinced that these changes will, in turn, build a workforce of rigorous, creative thinkers—just what they think is needed to meet the fast-changing needs of a transforming global economy.
To one degree or another, this kind of liberal-arts approach has long been a distinctive feature of American colleges and universities. In fact, U.S. undergraduate education is the explicit model for Hong Kong's liberal-education campaign. A cadre of U.S. Fulbright scholars was even imported to implement the plan.
Hong Kong and some other Asian countries are embracing everything from art history to sociology as necessary components of undergraduate coursework. However, the United States seems to be moving in the opposite direction.
With the rising cost of tuition, mounting student debt, and students and parents worried about the prospect of post-graduation unemployment or underemployment, many Americans are thinking of higher education in increasingly utilitarian terms. The proportion of all bachelor's degrees awarded in humanities disciplines has dropped to 6 percent from its peak of 17 percent in 1968.
Hong Kongers certainly care about the practical considerations, too. But for Chung, who spent part of his undergraduate career at Whittier College, a liberal-arts school in Southern California, producing the responsible, economically productive citizens Hong Kong needs goes hand in hand with the habits of minds inculcated by the liberal arts. General education, one of the terms Hong Kong uses for its new offerings, produces graduates "who are critical and creative thinkers, problem solvers, gifted communicators, team managers, and ethical leaders," Chung wrote in a South China Morning Post op-ed. Add those qualities to the "creative communities of innovation" built by the liberal arts, he argued, and the result is pragmatic: skills "for which employers are willing to pay the highest salaries."
The interest in a new model, though driven in part by political and social factors, can be explained in large measure by Hong Kong's dramatic shift in just a few decades from a manufacturing to a service-based economy, said Gerard Postiglione, a professor of sociology and educational policy at the University of Hong Kong, who heads the Wah Ching Centre of Research on Education in China. The specialized British-style system had many strengths, he said, but it didn't do enough to help Hong Kong compete with what are known as the four S's: Seoul, Shanghai, Sydney, and Singapore. The city "had to move toward a more innovative mode to stoke creativity."
A research initiative known as the Global Liberal Education Inventory catalogs 183 non-U.S. liberal-education programs. It demonstrates particularly strong interest in Asia, where 37 percent of these programs are located, mostly in China, India, and Japan. Europe comes a close second, with 32 percent of non-U.S. liberal-arts programs.
Beyond such economically driven reasoning, there are more subtle, but potentially far-reaching, motivations for the liberal-arts reform, when seen through the lens of Hong Kong's political battles with the central government in Beijing. In the wake of passionate pro-democracy student protests, Hong Kong residents have expressed deep anxiety about preserving academic freedom in the city's universities, as well as a gloomy skepticism about whether the mainland government will hold to its promise of "one country, two systems." Against this backdrop, in addition to helping economic growth, spreading liberal-arts education holds at least a modest promise of bolstering the forces of liberal democracy.
When Hong Kong's education reforms went into effect in 2012, the practical changes were immediate. They altered both the form and content of secondary and university education in the city of 7 million. Secondary-school students, who for several years had begun taking a new liberal-studies requirement, now graduated one year earlier. At universities, a full year was added to what had been a three-year undergraduate-degree sequence. Much of undergraduates' additional time on campus was filled with new courses designed to broaden their academic experience.The new curriculum was a major shift from the British model, in which undergraduates usually study one subject exclusively.
Given autonomy over how they put the changes into action, most institutions opted for pick-and-choose distribution requirements across about five categories, such as humanities, social sciences, natural sciences, China studies, and "global issues." The Chinese University of Hong Kong, however, required some specific classes—a core-curriculum requirement akin to the University of Chicago's Great Books sequence. Nearly one-third of the undergraduate coursework at the Hong Kong University of Science and Technology (or HKUST) is made of a core liberal-arts curriculum. The chance to take classes in a wide range of fields holds enormous appeal for students like Sivaraam "Shiv" Muthukumar, a fourth-year HKUST undergraduate studying mechanical engineering and business management. "I do not know what I'm going to do after university, but I do know what I want to become," Muthukumar says. "I've always had in mind that I wanted to be a Renaissance man."
But implementing an educational approach that departed so much from the status quo was complicated. Chung himself put up a matching donation of $1 million—supplemented by government and university funds—to bring in a group of 24 American Fulbright scholars to help. The rationale was that the Fulbrights, many of them faculty at U.S. universities, had the on-the-ground skills needed to consult with traditional research universities and help them make the transition to a more liberal-arts-oriented model.
"It's all about talent," said Glenn Shive, a U.S. expat who administered the Fulbright program as head of the Hong Kong-America Center and is now vice president for programs at the United Board for Christian Higher Education in Asia.
Universities had been producing memorizers with narrow, career-focused training, rather than the entrepreneurial problem-solvers the business sector wants, Shive said. In contrast, he said, Asian students who have studied in the United States learn to think "beyond the conventional wisdom," which is why the U.S. liberal-arts model has growing appeal.
While advocates remain optimistic, there's no consensus yet about how successful the experiment has been. The reform has never extended to the creation of freestanding U.S.-style liberal arts colleges in the mold of Amherst or Reed. Instead, the focus has been on the two other components of liberal education: curricula that broaden students' intellectual horizons and interactive teaching methods that give them the tools to become rigorous and creative thinkers.
Approaches are vast and varied. Students at the Chinese University, for example, study Aristotle's Nicomachean Ethics as part of the mandatory core curriculum, while undergraduates at the University of Hong Kong have the option of enrolling in classes like "The Press, the Public, and the Public Sphere," in partial fulfillment of the humanities distribution requirement, one of four "areas of inquiry."
There are some obstacles. Universities have tried to combine lectures with small discussion-based tutorials, but financial constraints sometimes mean that classes are too large for meaningful interaction between professors and students.
Nor are faculty always on board with the changes. Some prefer to lecture as they always have. Those who do use the new approach find that it can be hard to get students to open up and speak freely when they're used to listening to lectures, taking notes and regurgitating the answers they think professors want on exams.
As for students, those pursuing traditional professional degrees in engineering, medicine, and law often view the new requirements as a waste of time, a distraction from their progress toward a useful degree. Others call the new approach eye-opening.
The programs have grown quickly, according to a recent analysis by the creator of the inventory, Kara Godwin of Boston College's Center for International Higher Education. While the number remains small in most countries compared to traditional degree pathways, the uptick is unmistakable: Almost 60 percent of non-U.S. liberal education programs were started since 1990, and fully 44 percent came into existence just in the past 15 years.
In Asia, beyond Hong Kong, liberal-arts programs have been introduced at institutions ranging from Seoul National University and Japan's Waseda University to Fudan University in Shanghai. In addition, branch campuses such as NYU-Shanghai, and partnerships such as Yale-NUS College in Singapore, reflect Asia's growing interest in U.S.-style liberal education.
As the Hong Kong experience shows, the desire to foster economic development is a significant component of the trend. Asian governments "understand that overhauling their higher-education systems is required to sustain economic growth in a postindustrial, knowledge-based global economy," Richard Levin, the former president of Yale and now CEO of the online learning provider Coursera, has written.
They realize, wrote Levin, that students "who aspire to be leaders in business, medicine, law, government, or academia," need the ability "to adapt to constantly changing circumstances, confront new facts, and find creative ways to solve problems."
Measured purely in terms of earning power, considerable evidence shows that students who major in traditional liberal-arts subjects, particularly those who study humanities, make considerably less on average than their counterparts upon graduation (assuming, skeptics might add, that they have jobs at all).
But by their peak earning years, from ages 56 to 60, workers who had undergraduate majors in the humanities or social sciences earn slightly more annually—$2,000—than those with professional or pre-professional majors such as nursing or business, the Association of American Colleges and Universities has reported. Engineering graduates have higher earnings than workers who majored in all other fields, but the 40 percent of humanities and social-science majors who go on to obtain graduate and professional degrees see an earnings premium of close to $20,000 a year.
In his South China Morning News article, Chung suggested that the liberal arts can also be politically liberating. Hong Kong's general education reform, he wrote, "will not yield its full benefits unless teachers and students are permitted to use appropriate general education practices that allow different opinions and values to coexist harmoniously in a safe learning environment—not only in the classroom, but in society and within the halls of government."
Since then, Beijing has made heavy-handed efforts to control Hong Kong University's leadership. But pro-democracy student activists, who took liberal studies in high school and have begun taking common-core curriculum in their universities, have demonstrated against this. Beijing's crackdown might actually have had the unintended consequence of fueling the democracy movement.
---
This post appears courtesy of The Hechinger Report.