The Madness of College Basketball Coaches' Salaries
Amid spiraling tuition costs and a growing reliance on part-time faculty, athletic departments pay them millions of dollars a year.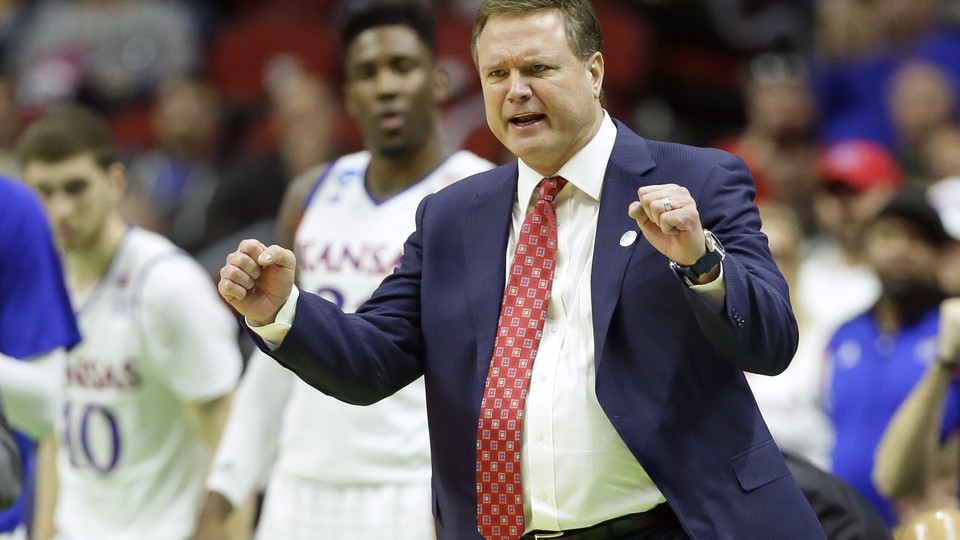 As you pick your bracket for March Madness, stop for a moment and ponder what some might describe as the madness of the coaches' salaries. According to U.S. News & World Report, the highest-paid 25 college basketball coaches earn between roughly $2 million and $6 million per year. Those figures don't include generous perks, such as private jets and housing allowances, or severance packages. There are millions more in bonuses for coaches who take their teams to the championships. And coaches can supplement that income with private endorsement deals, speaking fees, and summer camps.
While million-dollar-plus salaries are commonplace in professional sports, they are highly unusual in the world of higher education, where adjunct faculty and tenured full professors earn between $20,000 to $126,000. The average college president brings in $475,403. In fact, coaches are the highest-paid public employees in several states, including Kentucky and Kansas.
The high earning power of college coaches has for years been under scrutiny; John Oliver even devoted an entire segment last March to skewering college basketball for failing to pay its athletes while handing their coaches millions. A recent survey found that most Americans think that college coaches are overpaid. But public opinion and commentary by late-night talk-show hosts have done little to squelch those big numbers, which continue to rise over the years. One study found that the median compensation for men's head basketball coaches at NCAA's Division I-A schools went up by 102 percent between 2005 and 2011.
Turns out those arguably oversized paychecks can be explained by the amateur status of student-athletes, intercollegiate competition, and pressure from alumni and fans. Yet amid growing concern about stagnant tenured-faculty wages, the rise in part-time teaching staff, and mounting burden of student loans, it's hard to make sense of these super-sized college-sports programs and their highly paid coaches. There isn't strong evidence that a winning sports team benefits the educational mission of a college, helping it enroll higher-quality students or secure more funding for its academic programming.
* * *
According to Andrew Zimbalist, an economist at Smith College who specializes in the college-sports business, these salaries are so high because, unlike the NBA, which gives half of its revenues to players, colleges don't pay their athletes. This frees up a huge chunk of the $11 billion college basketball industry for the coaches.
The amateur status of college athletes helps to drive up the salaries because "star coaches" are used to attract the best players. Unlike professional leagues, college teams can't lure the top players with the promise of a big paycheck. Instead, players typically choose their schools based on lavish stadiums and other amenities, as well as access to coaches who have a proven track record of getting graduates into professional leagues.
Then there's the competition among colleges for these "star coaches," which has also driven up their salaries. "It's an artificial marketplace," Zimbalist said. "There's not any stockholder who want control costs. Instead, you have an athletic director who has one objective, which is to win. There are only stakeholders who want victory, not stockholders who want profit."
College presidents have long defended the salaries of the coaches saying that alumni and the general public pressure the school to make these hires. Lee T. Todd Jr., a former president of the University of Kentucky, said in an interview with The New York Times in 2009, "The money that we use to pay those salaries come through media contracts, primarily football and basketball and TV-related income and other media. Sports is an American marketplace." He felt that the university received generous donations to their academic programs as a result of Kentucky's successful basketball team.
The former chancellor of the University of Maryland and president of Ohio State, William Kirwan, confirmed that college presidents feel this pressure to maintain high-level sports teams and have little control over the situation, almost always approving salaries once they're negotiated by the athletic departments. Now the chair of the Knight Commission, an advocacy group that aims to reform college sports, Kirwan noted that colleges want to have the reputation of being committed to athletics. The public, he said, has an "insatiable appetite for sports."
And when presidents try to rein in spending, according to Kirwan, they're often stymied by the public. He pointed to a former University of Alabama president who tried to cut the university's football team. "[His efforts] lasted all of two months," Kirwan said. "Fans and the state legislature said that we have to have football. Presidents are not in control."
While it might make sense for all colleges to work together to bring down these salaries, no one university wants to act alone out of fear that the competition would lead to the decimation of their athletic programs. If they collude or create a salary cap for coaching, they run the risk of violating federal antitrust laws. Meanwhile, the NCAA, which is a membership organization that includes 350 Division 1 colleges and governs March Madness, "cannot and does not control coaches' salaries," according to Meghan Durham, a spokeswoman for the NCAA. (I reached out to nearly a dozen athletic departments' officials and coaches, all of whom either didn't respond or declined to comment because they were busy with March Madness.)
Some say that colleges can afford these high salaries because their teams bring in millions from alumni boosters, television rights, and ticket sales. However, athletic departments often spend more than they bring in; the money generated by basketball tournaments rarely leaves the locker room. The philosophy department doesn't reap the benefit of the basketball team's profits from television networks or licensing deals with T-shirt companies.
Athletic departments typically channel their profits towards less-profitable sports like tennis and golf, as well as tuition and expenses for the athletes. Other money goes toward the top coaches, maintenance of the facilities, and the salaries for assistant coaches and athletic directors. Incidentally, those other athletic employees have also seen a big jump in salaries. According to The Washington Post, "One of the fastest-increasing athletic costs at many of America's largest public universities ... is the amount of money flowing into the paychecks of the people running those athletic departments."
With those sizable expenses, only a handful of sports programs in the country are profitable, according to Zimbalist and Kirwan, often relying on university subsidies funded by student tuition and fees, endowments, and state contributions. "It's outrageous that institutions are diverting funds from academics into intercollegiate athletics," Kirwan said, stressing that spending for basketball and other sports has risen 10 times faster than other academic spending at universities. "Students are supporting these programs with high athletic fees that can be as much as $1,000 per student," he said. Intercollegiate sports are "a highly commercial enterprise embedded in not-for-profit institutions."
Ultimately, it may take federal action to rein in spending, perhaps by exempting colleges from anti-trust legislation and allowing them to exchange salary information. Since Pell Grant money covers recipients' student fees, including those for athletics, the federal government should be involved, Kirwan argued.
"I'm pointing the finger at myself, too," Kirwan said, citing his 52 years in higher education, including as a chancellor and president. "I will always been disappointed that we weren't able to keep intercollegiate sports under control. Sports have a place in higher education. But right now, it's become the tail that wags the dog."