Why Teach for America Is Scrapping Its National Diversity Office
Some worry students of color will be hurt in the process.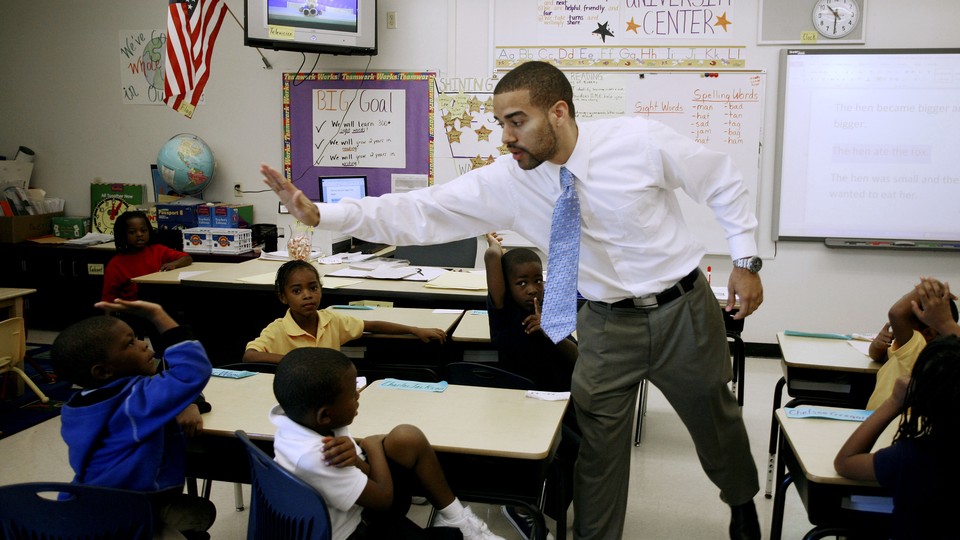 A shakeup at Teach for America, the controversial nonprofit that places recent college graduates in low-income school districts across the country, will eliminate the organization's Office of the Chief Diversity Officer this fall. The announcement comes amid layoffs that will shrink the national staff about by 15 percent.
While Teach for America says the restructuring (first outlined in a blog post published by Diane Ravitch, a former assistant secretary of education who has been critical of the program) is an attempt to move the focus from central management to regional operations, the elimination of the diversity office is a particularly surprising turn for an organization that has prided itself on recruiting people of color to become teachers. While critics have blasted TFA for sending ill-prepared young people into schools that educate some of the nation's neediest students, its ability to put instructors in classrooms who look like and share backgrounds with the nation's increasingly diverse students has been one of its most-lauded accomplishments.
In 2014, children of color for the first time made up half of all public-school students. Yet a report that same year from the Center for American Progress found that more than 80 percent of the teachers serving them were white. Those figures are a red flag not only because, as the report's lead author told me at the time, "There are additional benefits to teachers who are diverse and understand diverse backgrounds who can be cultural brokers for students who don't necessarily have role models in their lives," but because studies suggest that diversifying the teaching pool would actually boost student performance.
About half of TFA applicants in 2015 identified as people of color, more than half came from low-income backgrounds, and a third were the first in their family to go to college. Figures for the previous year were similar. The organization was able to attract a diverse set of teachers in part because it specifically prioritized adding ethnic and racial minorities to its ranks. Exactly what impact the restructuring will have on the diversity among recruits is unclear, and the organization declined to comment on what will happen to specific personnel, including Irma McClaurin, who heads up the diversity office. But the group said in an emailed statement to The Atlantic, "For us, this work needs to live on every team and in every region with clarity of accountability. This shift will ensure that diversity and inclusiveness is integrated throughout our work and sits squarely with those closest to the work." As part of that shift, the organization will also eliminate the School Systems Leaders Fellowship, and focus, it said, on "putting more emphasis on building technology solutions that allow us to serve as a connector—making it easier for alumni to have access to and build community amongst each other."
On the ground, the changes will mean that regional staff have the flexibility to develop culturally relevant practices specific to their location, the organization said, and will increase accountability. Catherine Brown, who currently serves as the vice president of education policy at the left-leaning Center for American Progress but previously worked as the vice president of policy at Teach for America, said she thinks the organization's commitment to diversity "is very deep, very profound." Brown added, "I don't see evidence they're pulling back." But a letter from Elisa Villanueva Beard, the CEO, to corps members and alumni suggests how and who the organization recruits are very much in flux. "To compete for diverse future leaders in the most competitive and challenging recruitment environment in our history, we're changing how we recruit," she wrote. "Our prospect[ive] corps members' experience will unfold over several years, defined in part by meeting corps members, alumni, and students." Several people associated with the organization who did not want to be identified worried that the shakeup could undermine the real progress TFA has made on the diversity front, particularly in an area where traditional teaching colleges still struggle.
Teacher diversity has become something of a national focus in recent years. John King, the recently confirmed U.S. education secretary, spoke about the importance of teacher diversity earlier this month during a panel at Howard University that also included Villanueva Beard and Randi Weingarten, the president of the American Federation of Teachers, one of the nation's two main teachers unions. While they often spar over what they think is best for the nation's students, all agree on the need to increase the number of people of color who pursue a career in teaching. Figuring out how to move the needle on such a complex, multifaceted problem is a long-term challenge. Teacher retention, for example, is a big issue with teachers of color both in and outside of TFA, in part because they tend to end up in resource-starved schools. Any real remedy would have to address school segregation and poverty.
Teach for America has been around for 25 years, and applications dropped for the second year in a row in 2015 following 15 years of growth. So a restructuring is not necessarily a signal of its impending demise. But people who have praised the organization for its attention to the diversity of those it recruits will be watching to see if that particular priority holds under its next iteration.