What College Presidents Think About Racial Conflict on Their Campuses
After recognizing it, administrators vary in their response to strife at school.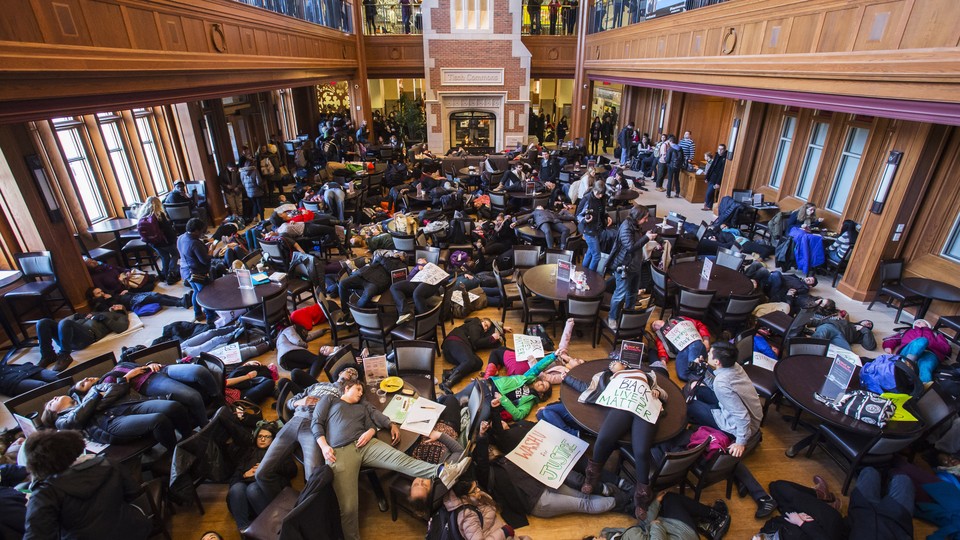 Universities are under increasing pressure to make the racial climate of their campuses a focus, a fact college presidents are beginning to recognize and act upon.
"I know from talking to them that they're struggling with this," said Lorelle Espinosa, the assistant vice president for the American Council on Education's Center for Policy Research and Strategy, which surveyed 567 college and university presidents. "But they're actually acting," she added, pointing to the fact that about a third have taken steps to revise or develop new curriculum, a time-consuming and arduous process.
The survey, conducted online in mid-January and released this month, found that about half of those who lead four-year schools say students have organized around concerns about racial diversity, but a quarter also say that community dialogue has remained about the same, even in the face of high-profile events such as those tied to the Black Lives Matter movement. Around 40 percent said dialogue has increased across campus.
Engagement appears to be lower at two-year schools, where just 13 percent of the presidents surveyed said concerns about racial diversity have prompted students to organize. Four in ten said dialogue remained the same in the face of high-profile events, while just 31 percent said it had increased across campus.
The discrepancy between four-year and two-year schools likely has to do with the fact that fewer of the two-year schools are residential, and are more likely to enroll older students who are working or who have children and other obligations that make organizing and participating in protests or campus discussions more difficult. According to the American Association of Community Colleges, the average community college student is 29, and two-thirds attend part-time. These schools also generally enroll a higher percentage of African American and Latino students than four-year schools.
But older, more demographically diverse students will make up a growing portion of four-year colleges in the coming years, too. The Education Department predicts that the number of college students over age 25 will rise faster than for those under 25 (20 percent compared to 12 percent) between 2012 and 2023. Ultimately, the profile of a typical college student is shifting, meaning college leaders are or will soon be serving a population that expresses a more varied set of views and desires than has historically been the case. The idea of the Ivory Tower is not only undesirable; it's also untenable.
This is especially true at St. Louis Community College's Florissant Valley campus, which sits just a few miles from Ferguson, Missouri, the largely African American city that erupted in protest after a white police officer fatally shot Michael Brown, a black teenager. Race is an ongoing topic of discussion at the school, which mostly serves students of color, said Ruby Curry, the school's interim president. "We're so close to the center of things," she said. "Instead of students protesting, we had faculty-facilitated listening circles, which allow students to express concerns." The school also brought in law enforcement and community members to speak with students.
While Curry said her students are mostly commuters who lived in the Ferguson area and saw campus more as a safe haven and less as a place to protest, the lack of campus protests likely also has to do with the fact that the school has been trying to increase the diversity of its faculty and is undertaking an analysis of where its policies and practices might disadvantage people of color. "It's the curriculum, it's the attitude, just looking at it as a broad spectrum," Curry said. In other words, she's acting with the knowledge that recent protests and demonstrations aren't isolated incidents, but manifestations of a broader debate over racial equality and access to resources, educational and otherwise.
Anonymous comments from presidents surveyed also reveal that they are, at the very least, generally aware that the nation's college students are an increasingly diverse group. "Our typical student is an urban young man of color. Faculty and other staff are mostly white and middle class. I'd like greater consciousness among staff and more dialogue in the community about race," wrote one. "The national issues have manifested at my campus as a genuine focus on eliminating the disparity in student academic achievement by ethnicity and on being more proactive in diversifying the faculty," said another. "Staying in close touch with those I serve is critically important. I use face-to-face meetings of various sizes, open forums, social media, and regular written messages to the campus. Maintaining a healthy campus climate where everything thrives requires hard work and openness to diverse perspectives every day," added a third.
The majority of presidents say they have met with student organizers on more than one occasion. Three quarters of the schools surveyed have taken steps to increase diversity among students, faculty, and staff. Most have implemented some form of diversity or cultural-competency training, and devoted resources toward minority student support services. But few of the presidents surveyed said they have plans to further change policies or procedures in the future. And fewer than half "strongly agree" that their faculty, staff, and governing board "have an awareness or sensitivity to the need for racial diversity and inclusion."
Jia Ireland, a 23-year-old graduate student at the University of Michigan's Flint satellite campus who serves as the historian for the Black Student Union, said her school's administration has attended rallies to show support for students, but she's frustrated by what she sees as a slow process of implementing campus-wide changes (a social justice and cultural center aimed at students of color was created after a 2014 push by the black student union, she said, but still operates with an interim director). "We talk about being inclusive," she said, "but you're still dealing with microaggressions and racism on campus and in the community." And, she added, the Flint campus feels somewhat disconnected from the main Ann Arbor campus, where the president's office is located.
"Staff in the Intercultural Center as well as the Women's and LGBT Center are conducting campus climate surveys and collecting data on the student, staff, and faculty experience with an eye towards becoming an innovative center in diversity, equity and inclusion initiatives," the school's chancellor, Susan Borrego, said in a statement. "There is also the new addition of the Women's Commission and Diversity Council, both advising the chancellor directly on issues related to systemic and cultural chance. We are also proud that our first chief officer for campus inclusion was appointed this year."
Black Lives Matter activists, Muslim student associations, LGBT groups, and others have argued that any recent shifts toward greater inclusion are too slow and too limited. But it's worth noting that deciding how to engage and what to change is a complicated debate for college presidents, who are tasked with serving students, but also representing alumni, and, particularly for public universities, lobbying lawmakers and business leaders. David DePriest, an 18-year-old freshman from Kansas City, Missouri, at Howard University in Washington, D.C., said his professors have incorporated discussions about Black Lives Matter into classes. Some faculty members, he said, have even joined students at marches or encouraged voter registration drives. And, in part because of its status as a historically black school, conversations have been campus-wide, not siloed as they have been on some other campuses. But he said he feels that the president and the Board of Trustees have been "pretty silent."
"There is a recognition that this is a national problem," DePriest said, "but in terms of supporting more homegrown grassroots organizations or groups, there has been a bit of a disconnect." The university did not immediately respond to a request for comment. Espinosa said it's true that "presidents face a number of pressures from external constituents and have to think about all of the players they need to respond to and represent." But she said it's also plausible that others are delegating, or taking longer to share their thoughts than students who want immediate action would like. "They turn to other members of their senior administration, who turn to other staff," she said. "The role of a president is to create space for people in their administration and staff for dialogue by outwardly talking about diversity and inclusion as a priority."
Rooting out entrenched racism is a monumental task, and not something a college president can facilitate overnight. What students are really asking for is not only recognition of individual wrongs or specific problems, but an understanding from their schools that those issues are manifestations of deeper, systemic inequities. Ireland pointed to the lack of tenured professors of color on campus as a striking example.
There are also inequities that begin in elementary school or earlier that have impacts into college and beyond, with students of color more likely to attend high-poverty K-12 schools with fewer resources and qualified teachers, which can make succeeding in college more of a challenge than it is for kids from wealthier backgrounds. A survey of first-year college students found that white students are more likely than their black peers to feel both academically and emotionally prepared for college. Black students are more likely to say college is not "living up to their expectations," and, troublingly, they are more likely to keep their feelings to themselves, which may indicate they don't feel like school is a safe, welcoming space where they can be open.
While students like DePriest and Ireland would like to see change happen faster, Espinosa sees the survey results as a sign that college presidents are becoming more aware of the importance of campus racial climate, and, more importantly, expressing a widespread commitment to addressing it. "This is not going away," she said.