Separate and Still Unequal
In 90 of the largest 95 U.S. cities, more students of color than whites attend school with mostly poor or low-income peers.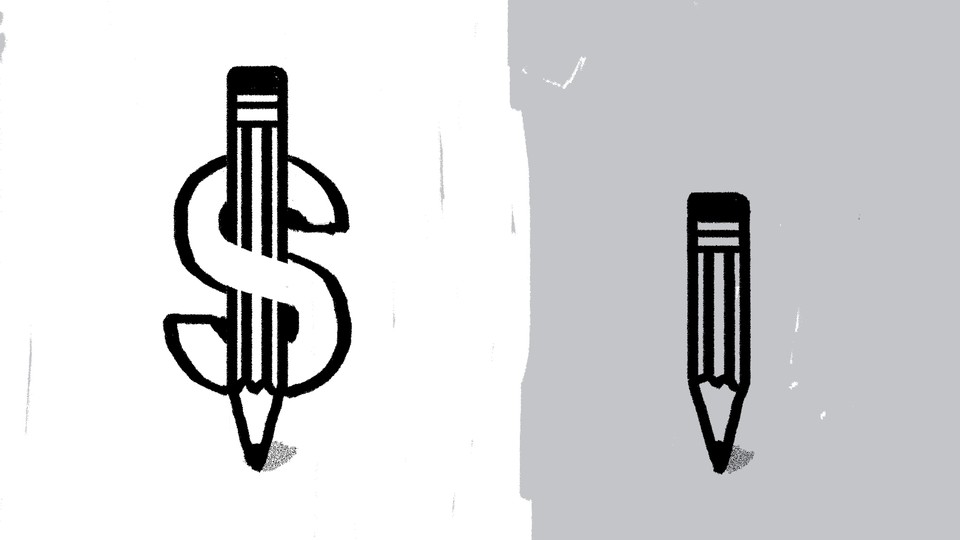 In a modern-day tale of two cities, in virtually every major U.S. metropolitan area students of color are much more likely than whites to attend public schools shaped by high concentrations of poverty, an analysis of federal data has found.
In all but five of the 95 largest cities by population for which data is available, more minority than white students attend public schools where most of their classmates qualify as poor or low-income, according to the analysis of data from the National Equity Atlas. In a full three-fourths of cities, the share of minority students attending mostly poor or low-income schools is at least 20 percentage points greater than the share of white students. In 29 of the cities, the gap is at least 40 percentage points.
Across a wide range of cities, the numbers point to a massive racial imbalance in exposure to concentrated poverty. In St. Louis, 92 percent of black, but only 27 percent of white, students attend schools where most of their classmates qualify as poor or low-income. In Dallas, 38 percent of white, compared to 95 percent of black and 97 percent of Latino students, attend mostly low-income schools. In Los Angeles, the numbers are 49 percent for whites, 85 percent for African Americans, and 96 percent for Latinos.
Even in the cities experiencing the fastest economic growth since the recession, students of color predominantly remain trapped in low-income schools. Austin, Texas, is one of the fastest-growing economically vibrant communities in America, but 75 percent of black and 77 percent of Latino students there attend majority-poor schools, compared to just 12 percent of whites. And in Seattle, where the tech sector is driving the economic boom, only 15 percent of white students, and about two-thirds of black (69 percent) and Latinos (66 percent), attend a majority-poor school. In Denver, 41 percent of whites attend a majority-poverty school, though those numbers more than double for the share of black (83 percent) and Latino students (93 percent).
"Here we are, 60 years after Brown v. Board of Education and our schools are woefully separate and unequal, and in many cases we're actually going backward from where we were," said Brad Lander, a member of the New York City Council. "I think we've been painfully blind to the problem." The contrast between the levels of economic segregation facing white and minority students—a well-established problem—re-emerges from the analysis of data provided by the National Equity Atlas, a joint project of PolicyLink and the University of Southern California's Program for Environmental and Regional Equity, or PERE.
One reason fewer whites attend schools with mostly low-income classmates is that low-income whites are less likely than non-whites at the same income to live in neighborhoods of concentrated poverty, according to research by Sean F. Reardon, a graduate professor of education at Stanford University, and his colleagues Joseph Townsend and Lindsay Fox. But persistent racial segregation of both neighborhoods and schools remains a key factor in the disparity as well. A little over half the 20 cities with the largest gap in the share of white and non-white students attending majority low-income schools also rank among the most residentially segregated cities in the country, according to National Equity Atlas data. The Atlas uses the so-called "multigroup entropy index" to define segregation, which measures a city's demographic "evenness," or the extent to which a city's residential areas reflect its whole population.
The cities experiencing the highest levels of both racial and economic segregation in schools include New Orleans and Dallas in the south, Los Angeles in the west, Chicago in the midwest, and Philadelphia and New York City on the east coast. Almost all have at least a 50-percentage-point gap between the share of white and the share of nonwhite students attending high-poverty schools where at least three-quarters of students are eligible for free- and reduced-price lunch.
Reardon's work has found that the single best predictor of racial gaps in student achievement is the extent to which students attend schools with mostly low-income classmates. But he said in practice it is difficult to disentangle the effects of economic isolation from those of racial segregation. "It's really hard to separate racial exposure to poverty from racial exposure to segregation," he said. "The two are so inextricably intertwined in American society that it is virtually impossible to undo the differences in exposure to poverty without substantially changing racial segregation at the same time. It's not that race doesn't matter. It's that race and class [are] highly intertwined."
It was in part a study from UCLA's Civil Rights Project, which highlighted New York as the city with the nation's most segregated school system, that compelled the city council there to explore options to address school poverty, Lander said. Just one-quarter of white students and more than three-quarters of black and Latino students attend high-poverty schools in New York City, according to Atlas data. "It's much harder for those schools to provide an excellent education for their kids even when resources are equal, which they often aren't, especially when you factor in PTA contributions," Lander said. "It's not impossible, obviously there are schools that succeed brilliantly in doing it, but it is so unfair to expect that schools with highly concentrated poverty can deliver the same level of educational support."
It is indeed rare for a school serving mostly poor students to provide an environment where they can excel. Research shows, for instance, that only six of 102 high-poverty public schools in Allegheny County (the county surrounding Pittsburgh) can also be considered high-performing—scoring better than the state average on reading and math in one of two state exams in both 2013 and 2014. Those six schools have overcome the barriers of poverty by providing "the right support from the right teaching and the right culture," said Rachel Amankulor, the deputy director of policy at PennCAN, an education advocacy organization that published the report.
Pittsburgh is also one of the country's most highly segregated cities, according to Atlas data. As with other cities, its schools show major gaps between the shares of white and non-white students attending mostly low-income schools. A 56-point gap separates the share of all students of color and the share of white students attending a school where at least half of their peers are poor. That gap is even wider—a full 67 percentage points—between white and black students. Ninety-two percent of black students in Pittsburgh attend a majority-poverty school.
Even when high-performing schools are more integrated by income, they don't necessarily educate all students equally, especially without adjusting teaching strategies to better serve the needs of low-income students, Amankulor said. "We've created a system that doesn't serve poor people well. Instead of looking at our system and saying, 'What is our system doing wrong?' we're blaming poverty," she said.
There are only five exceptions where fewer minorities than whites attend majority low-income schools, and in each of them whites are a small fraction of the overall school system: In Detroit, Newark, and San Bernardino, California, whites equal less than 10 percent of the total student population. The remaining two cities, Irvine and Fremont in California, have predominantly Asian student bodies; whites comprise 33 percent of students in the former, and 15 percent in the latter.
The very largest gaps between whites and all students of color attending majority low-income schools are found in Santa Ana, California, and Birmingham, Alabama, as well as Atlanta; St. Louis; Dallas; Austin, Texas; Rochester, New York; Pittsburgh; and Fort Worth and Houston in Texas. Four of the 10 cities with the widest gaps are in Texas.
Looking specifically at the gaps between the share of white and black students attending mostly poor schools, Birmingham, Alabama; Atlanta; Pittsburgh; St. Louis; Austin, Texas; and Rochester, New York top the list. The white-Latino gap is largest in Santa Ana, California; Austin, Texas; Dallas; Charlotte, North Carolina; Omaha, Nebraska; and Anaheim and San Diego in California.
Experts say these high levels of concentrated poverty in schools are symptomatic of broader issues with segregation, housing, and transportation in each city. For that reason, city and education leaders say it will take a joint effort among school and government officials to tackle poverty and create more opportunity in several policy areas.
"We're talking about housing patterns, transportation patterns, commercial development. There's lots of stuff that ultimately influences where people choose to or can live," said Kent McGuire, the president of the Southern Education Foundation, and the former assistant secretary of the Department of Education during the Clinton Administration. "The idea that education policy all by itself can mitigate the effects of poverty, the answer is no. We don't think so."
---
Additional reporting for this article was contributed by Ronald Brownstein.