Ditching Class to Hit the Waves
How talented teenage surfers struggle to balance homework with the travel and commitment required to become pros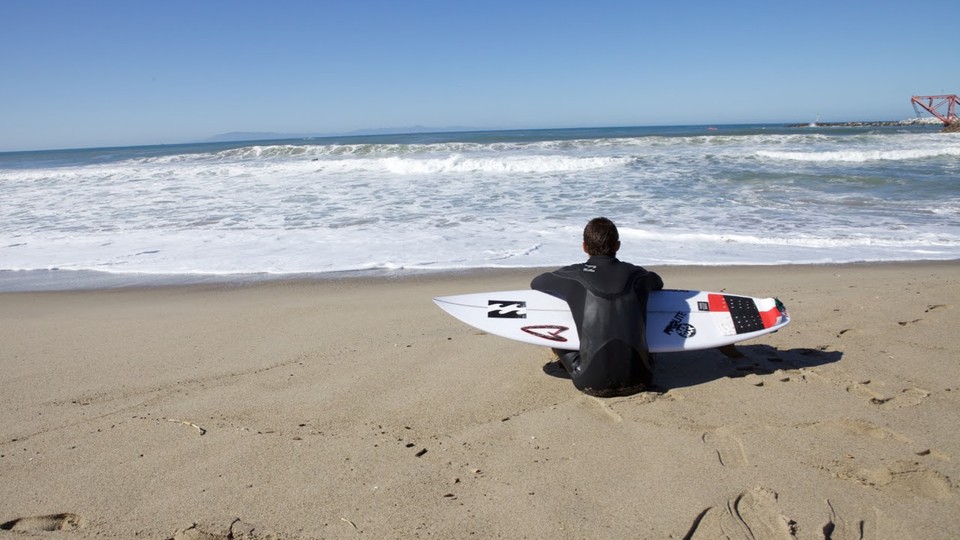 Last July, Eithan Osborne braved the waters of Jeffreys Bay in South Africa, considered a world-class surf spot, to compete in a high-profile amateur surf contest. The 15-year-old won, besting a local favorite. For the budding professional surfer—who is sponsored by major brands like Billabong and Monster Energy—it was a career highlight, inching him closer to his dream of one day joining the top 34 male surfers in the world on the World Surf League's Men's Championship Tour.
Osborne's latest battle, though, isn't in the ocean but in the classroom. Recently, he was forced to leave the public high school he has been attending in his hometown of Ventura, California, a coastal suburb north of Los Angeles. His often-grueling travel schedule requires him to miss class, sometimes for two or three weeks at a time, to fulfill sponsor obligations (like filming surf movies and participating in photo shoots), attend training camps, and compete in contests. It's a romantic existence, traveling the world, living the itinerant, Endless Summer-inspired lifestyle. But while Osborne said he has been diligent with completing homework packets and communicating with teachers from the far-flung locales he travels to, over the course of the school year thus far, he has accumulated enough absences to be in violation of California law. The law mandates that students who are absent three times or more, for more than 30 minutes, without a valid excuse are considered truant. Students are considered "chronic truants" if they miss 10 percent or more of school days in one school year.
About a month shy of his 16th birthday, Osborne is soft-spoken and thoughtful, earning mostly As and Bs in his classes, according to him and his mother. He's fluent in French. "I'm gone so much and that takes away from school. That's probably the hardest part—trying to be at both places at once. But I want to graduate and just get a good education," he said.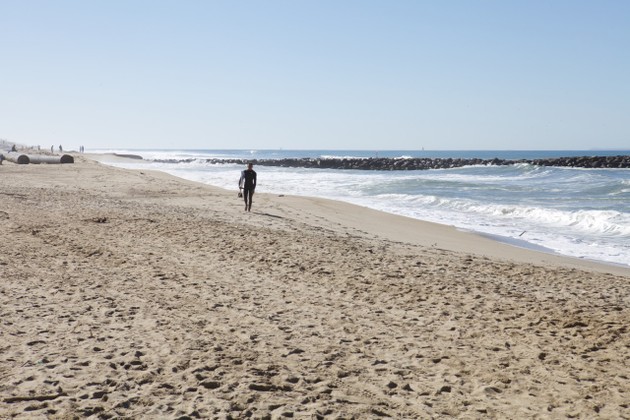 The challenge of balancing school and sport, while not uncommon among talented athletes who jumpstart their careers at early ages, is particularly tricky for young surfers. To advance at the most elite level requires criss-crossing the globe to participate in contests and train throughout the year, not unlike in other sports, although some allow their athletes more options. (Skiers and snowboarders, for example, can attend accredited academies while pursuing their sports competitively.)
While amateur surfers are not required to attend every World Surf League (WSL) sanctioned event, they can sometimes be found jet-setting from surf spots in Australia to Tahiti to Hawaii, within a span of a few days. Securing—and keeping—sponsorship deals is crucial for competitive surfers of any level to help fund travel and contest fees. Athletes are also offered financial incentives for achieving various objectives, like increasing their social-media followings, and, not surprisingly, competing in and winning contests.
For young surfers, the pressure is multi-pronged: to rise in the ranks of a sport that has outgrown its counter-culture roots to be as competitive as other professional sports, yet is still not integrated in most school sports agendas like, say, football or volleyball are. For athletes like Osborne who want to continue traditional schooling, the pressure is also on them (and their parents) to find programs that wouldn't restrict their ability to travel and compete while they are in or nearing their physical primes. It's caused some to question whether surf should win out over school if it means limiting even talented young surfers' abilities to have holistic school experiences—and potential back-up plans in case those pro pipe dreams don't work out.
"Only a few really make it to the top level. I think it's really important for kids to finish high school at least because you might not make it," said Carissa Moore, a three-time WSL women's world champion who counts Red Bull and Target among her sponsors. The women's tour is half the size of the men's with only 17 competitors.
Successfully completing a high-school education, then, is sometimes an exercise in trial-and-error. Take Osborne's Billabong teammate Ryland Rubens, 16, who does a combination of participating in online courses and attending classes in-person at a San Diego charter school when he's in town. Rubens and his family opted for this arrangement after trying homeschooling, an increasingly popular option among action-sports athletes; he only lasted a few days.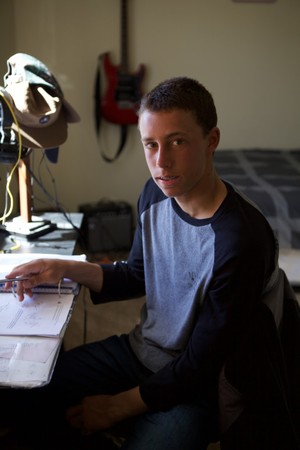 "I was just not into it. I really like working with a teacher. I definitely want to have a back-up plan. I definitely want to get a college degree," said Rubens. The teen surfer has faced some peculiar challenges completing part of his schooling online, like when he traveled to Biarritz, a seaside town in the southwest of France, for a sponsored trip, only to battle hiccuping wi-fi for two weeks.
Which all may sound like a caseful of champagne problems. But it's this decidedly anti-Spicoli attitude that motivated Moore to earn her high-school diploma from Punahou School in Honolulu, a private college-prep institution where President Obama and the golfer Michelle Wie also graduated. After qualifying for the Women's Championship Tour at age 18 during the second semester of her senior year, Moore missed one of the tour's stops to attend her graduation ceremony—a bold choice considering her then-fledgling rookie status. She would go on to win her first world championship a year later.
Now 23, and the current defending world champion, she looks back at her academic experience fondly. While she understands the motivation, Moore laments that the competitive nature of the sport has urged younger athletes to abandon more traditional schooling.
"Sometimes, home-schooling is better for a family. [It] does work for some people, but I do get sad seeing more and more of the younger generation not going to school because they think they need to give 100 percent of their time to surfing," she said. "You don't have to be in the water 24/7."
Her fellow pro surfer Conner Coffin, 22, has a similar stance on academics, having managed to complete two years toward a college degree. After testing out of high school early, Coffin enrolled in his local community college, taking courses in philosophy, Spanish and biology, among others. He would ask his professors for classwork he could complete while away on a fabled "Indo boat trip," or sojourn to surf remote island chains off the coast of Indonesia—an experience considered a zenith of wave wanderlust by recreational and pro surfers alike.
Unlike Moore, though, Coffin started homeschooling in the 7th grade, an experience he credits with allowing him to pursue his career.
"Everyone has the opportunity to be passionate about something and be really good at that, but the traditional school system doesn't really feed that and allow [kids] to cultivate their passions and their interests and go for what they love to do," said Coffin.
But he also sees the increasing pressure to start careers earlier. "It definitely seems like kids now are getting pushed younger and younger to start seriously pursuing a surf career, when they're like 13."
Careers that might never take off. "I see parents pulling their kids out [of traditional school] with the false hopes that their kid has this bright career in the sport when, really, they might not. They're pulled out under false pretenses, and they're missing out on that education and that whole school experience," said Micah Byrne, a Billabong team manager and former pro surfer.
Coffin himself started being sponsored by Hurley, a Nike-owned brand, at age 11. For now, completing his degree is on the backburner; the Santa Barbara native makes his debut on the men's pro tour this season.
The motivation to firm up an educational back-up plan is perhaps more pronounced among young female surfers. While the global surf industry is expected to grow to over $13 billion by 2017, women garner fewer endorsements and other career opportunities compared to their male counterparts, although, in a significant push by the WSL, the Women's Championship Tour reached pay parity with the men's in 2014.
"The guys have different ways of pursuing a surfing career, whether it's charging big waves or free surfing. I think that's part of the reason why the girls are a little more mindful of that kind of stuff," said Mahina Maeda, 18, referring to the chatter she often hears among her fellow female surfers about completing their degrees. Maeda herself missed her high-school graduation ceremony last year when she earned a wildcard spot in a women's pro contest in Fiji.
As for Osborne, he now plans to attend an alternative high school in the same district where he can pursue independent study, take a combination of high school and college courses, and be less obligated to be physically present on-campus. More importantly, he will still be able to graduate with peers from his old school, if he wants to.
"I hate that they have to choose," said Osborne's mother, Karine. "What if going pro doesn't happen? I want him to have a way out, and I want him to understand that it's not the only thing he can do."
It's not an unreasonable concern. Even at the professional level, surfing garners a small fraction of mainstream media coverage compared to other sports. The most high-profile surf story in recent memory arguably happened last year, when a great white shark attacked the former world champion Mick Fanning in the middle of a live broadcast, just days after and not far from where Osborne clinched his own junior title. Of course, this status could all change if surfing makes it into the Olympics, a hope for some surfers if only to further legitimize their sport and careers.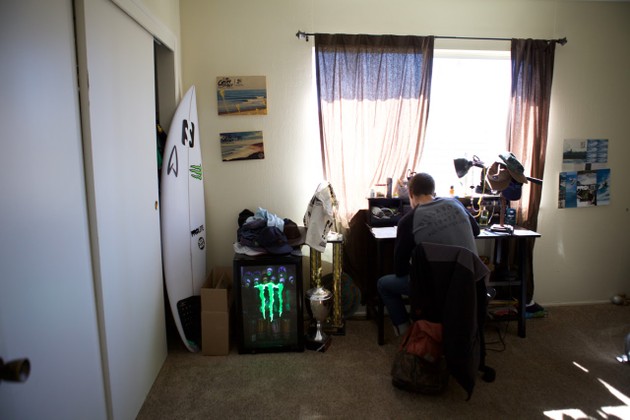 But until surf academies—or something like them—pop up, students like Osborne who want to attend traditional schools while juggling demanding careers are limited in their options.
"I'm super bummed about leaving school. Honestly, I'm surprised I've lasted this long. I knew I would have to choose between school and traveling, and I don't want to give up traveling," Osborne said. He likens his choice to surfing in a competition, where making the most out of less-than-favorable ocean conditions means changing up his strategy and adapting.
On his last full day on-campus, Osborne said goodbye to his teachers and friends; he leaves soon for a month-long training camp in Hawaii. His mom then drove him to the beach to surf and film with one of his sponsors.
"People think surfing, it's just like we get to travel the world and screw around and surf waves. It's not really like that. You're putting your life into it," he said.
"People will say, 'You have the easiest job ever,'" said Coffin, who surfs with Osborne occasionally. "I will say it's a really fun job, but there's no easy part about it." And for young surfers especially, it rings true both in and out of the water.