Big Plans for Toddlers in San Antonio
An early-education experiment could help the city prepare for its future.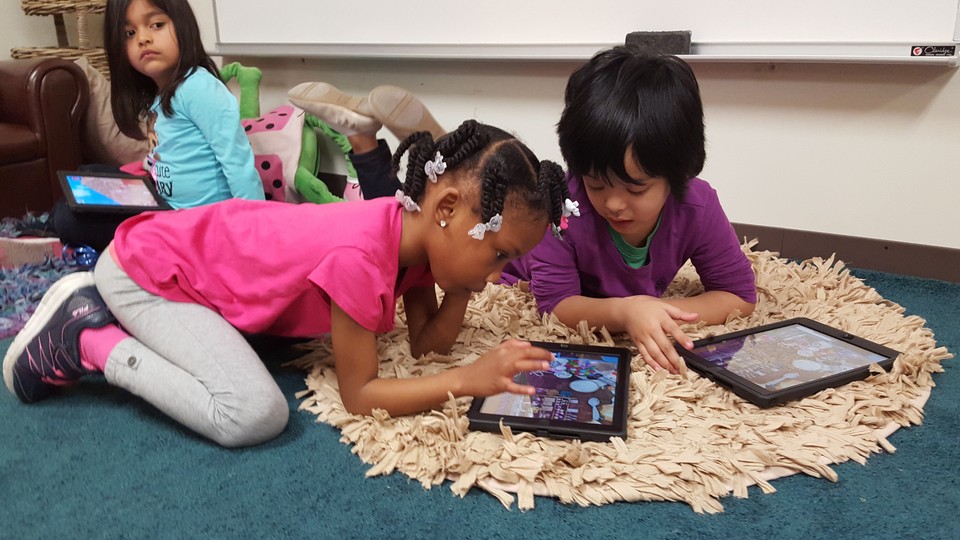 SAN ANTONIO—When rumored vice-presidential contender Julian Castro was still mayor of San Antonio in 2011, he asked its 1.4 million residents to think about what they wanted to see in their city in 2020. The question was both imaginative and practical, but the effort to get it answered was monumental. In two rounds of city-wide open forums—some with attendance numbering in the hundreds—residents came together at community centers, schools, and other venues to discuss issues like education, parks and recreation, transportation, workforce development, and other matters inherent to the needs of a growing city.
Kathy Bruck, a former educator in a local district and the current CEO of Pre-K for San Antonio, recalls her own reticence at the idea of a mayor asking an entire city to tell him what it wanted to see almost a decade down the line. "This is crazy, how are they going to get all these people to share ideas? I went to one of the forums and there were 500-600 people at it—boy scouts, grandma that doesn't speak any English, military generals, CEOs, young families with kids, high school kids, college students," she said.
The result of the weeks of conversations with residents was a book of ideas called "SA 2020." Castro then appointed an exploratory committee dubbed "The Brainpower Task Force," composed of business leaders and educators from colleges and larger school districts, and co-chaired by Charles Butt from the board of supermarket chain HEB and General Joe Robles, a retired CEO of USAA. Castro charged the group with evaluating the ideas and concerns assembled in the book, looking around the country for what worked, and determining the best way for San Antonio to invest in itself to be a better city in 2020 and beyond. (Among its problem areas are its high school dropout rate and low college graduation rate.) A year later, the task force came back with a single recommendation: The city should invest in its youngest residents by creating a strong, full-day pre-kindergarten program. Bruck said that the group looked at college readiness, recovery and dropout prevention, and early childhood initiatives, and determined that "getting all children in San Antonio ready for school would make the most impact." At the time, and still today, many independent school districts in the city and throughout the state could not afford to offer full-day pre-k because the state only funds half-day programs.
The Brainpower Task Force's recommendation was based on its review of data, best practices, and studies that say a strong educational foundation based on academics and appropriate social markers in early childhood is the best predictor of future success. At that time, Census data showed that San Antonio had 20,000 four-year-olds, with about 16,500 eligible for state pre-k funding. Of those, 10,800 were enrolled full-time, with some 5,700 not participating at all.
After zeroing in on pre-k education, the city devised a way to pay for it. It had a one-eighth-cent allotment left in its sales tax, which would need to be voted on by residents, not merely taken up in the city council. The fraction of a penny would add up to about $31 million a year.
"A lot of communities have been asking me, 'How do we do this? How do we get this kind of funding and do a city-wide initiative?' Unfortunately, a lot of cities just lack capacity in their tax code. And one reason for that is because the state legislature continually pushes state obligations onto cities and counties, so when the state isn't pulling their fair share of providing social services, cities have to do it, and they usually do it through their sales tax or property-tax rates," said Chandra Kring Villanueva, a policy analyst at the Texas-based Center for Public Policy Priorities. Many cities cannot max out what they're able to do on the local level because the state has not been, in her words, pulling its weight or doing its fair share.
Bruck, who has been at the helm of Pre-K 4 SA since its inception, said that one of the leading concerns for the mayor and business community was that San Antonio did not have a large-enough, educated workforce that could meet the specialized needs of businesses like Toyota and Rackspace, which have operations in town. She said these and other companies are drawn to the city's low cost of living, the nice climate, the quality of life, and its attractiveness. But "there simply was not enough of a workforce for them," she said.
But not everyone in the city was easily convinced. One vocal opponent was Jill Thrift, who serves on the faculty of Chrysalis International, a Christian non-profit educational institute, and believes it isn't a city's role to expand pre-k. She wrote in opposition of the proposal as it was being promoted to the public, gave interviews to the press about her views, and kept a close eye on Pre-K 4 SA's implementation during its first year. She said that initially she had many questions about why the city was becoming involved in a program that already existed in the public school system. Today, her opposition remains the same. "I know that a host of cities have jumped on the bandwagon, but I think it's a duplication of the existing school system," she said. Thrift likens Pre-K 4 SA to HeadStart, a program she believes has been proven ineffective in substantially improving young children's outcomes, educational and otherwise. Even with plans for the Pre-K 4 SA hubs to evolve as training centers for teachers—within and outside the participating districts in San Antonio—she remains unconvinced. "That kind of initiative is not part of the role for this city. From what I understand of what they're doing, I honestly don't see that it's different from what is happening in the school districts," she said.
The difference is two-fold, according to most supporters. First, Pre-K 4 SA offers full-time instruction, which most districts working within the confines of state funds cannot afford. Second is the intentional location of the centers at the city's four quadrants to try to reach as many underserved communities as possible. Experts argue that geography has a lot more to do with education than people are willing to admit.
"It's really coming down to kids getting educational opportunities based on the zip code that they live in. And we don't offer an equitable education system across the state. It's not just Bexar County that that's happening in; it's reflected in the entire state," Kring Villanueva, who has offered testimony on the issue, said. She said districts only have to offer pre-k if they identify 15 kids who meet certain criteria—being low income, English language learners, in foster care, and other "at-risk factors." But because districts have recognized the value of early education, and especially the value of a full-day program, more of them are taking matters into their own hands.
"For many districts, that comes at the expense of other things, like the curriculum they'd like to offer, because they want to invest in the early years. But other districts are just so tight and they have no additional money to increase their pre-k program, and so we see these ripple effects in the the duration of the day, but also classroom sizes, ratios. There's not a lot of standards that the state has in place across the board for all districts, so we really see an uneven application of early education in Texas," Kring Villanueva said.
Bruck's boss, Sheryl Sculley, who has been city manager of San Antonio for 10 years, said that Pre-K 4 SA "really has surpassed expectations." She should know; She was in charge of writing the business plan that made it happen. She's also the first to admit, "That doesn't mean we've arrived. It is an experiment, but one that is ever-changing. One that is under constant improvement." As city manager, Sculley is tasked with retaining, growing, and attracting businesses to San Antonio, and she says this investment in early childhood education made the most sense to her and will make the biggest difference in growing a workforce that is ready to meet the needs of this growing city.
In its 2014 annual "The State of Preschool" report, the National Institute for Early Education Research recommends that, "When states do not adequately support high-quality pre-k, communities should act on their own as cities across the nation from New York to Seattle have already done." Kring Villanueva agrees: "Local innovations like Pre-K 4 SA really help spur state action and show the state what can be accomplished in innovative ways. So I'm really hoping that this experiment in San Antonio has positive gains for the state as a whole."